Will ShopperWeb.org scam you out of your hard-earned money and waste your precious time?
Or is this a legit money-making opportunity to generate real profits online?
First of all, I need to congratulate you for taking the time to do your own research before investing in another program.
There's a sea of frauds out there, so doing your due diligence is the way to avoid the dangerous scams and find the honest way to make a full-time income online!
When it comes to ShopperWeb.org, the truth is that it's not a legit opportunity to work from home and this honest review will show you the truth.
Here you will find how this program really works, the reasons to stay away from it and more.
ShopperWeb.org review
---
Name: ShopperWeb.org
Website URL: shopperweb.org
Owner: Hidden
Price: $47 + upsells
Overall Rating: 0/10
Recommended? No
---
If you're sick of scams, check out my 1st resource to make money online HERE!
---
What is ShopperWeb.org about?
---
Have you got sent a message or phone call where someone (probably Sarah) tells you that you have been selected for a work from home job with Amazon?
After that, she tells you to visit ShopperWeb.org to learn more details about this job and get started.

If you visited ShopperWeb.org, you probably got redirected to a news article called Real Profits Online or Cash Website Success.
Both news articles look the same and work the same way. Just take a look below to see how similar they are:
These articles are completely fake because they're advertising a fake Amazon work from home job.
Scammers behind this program have created these news articles with the sole purpose of getting you in front of another sales page.
They claim that you can earn $14,000 a month with this job but they don't really tell you what this job is about.
Everything they say makes this opportunity sound like the real deal:
No previous experience or tech skills required

You only need to work 1-2 hours a day

You can choose your own hours
Sounds like the kind of program that can help everyone earn a living online, doesn't it?
I know it's easy to get excited after reading the whole news article, since they also show you a picture of a guy who is said to be making $14,000 a month.
But the truth is that everything on these news articles is fabricated and invented. There's nothing genuine about it!
I have noticed that this scam program is being advertised through many different domains like amazonwealth.org, amazonfromhome.org, amazonrecruiter.org, amazonprofits.co…
Scam artists do this for two reasons:
They want to see which fake article converts better.

They don't want people like you to know the real name of this scam program, just to prevent you from looking for information and finding honest reviews like this one.
How ShopperWeb.org really operates
---
The main goal of the people who have created ShopperWeb.org is to part with your hard-earned money.
You see, the news articles are full of lies and fake claims, and the sales page where you can buy this program is also full of deceit.
After reading the news article, they tell you to purchase a work from home kit that is supposed to help you achieve success with this program.
The problem is that this kit is not valuable and will not help you earn any money, so you will pay for nothing if you end up buying it.
RECOMMENDED: Check Out My FREE Earn Money Online Guide Here!
The real scam program
---
The sales page they want you to visit is called Real Profits Online or Money Sucking Websites, which are the names of the real scam.
Both Real Profits Online and Money Sucking Websites were created by the same unethical people and work the same way.
If you watched the sales video, you probably remember that they claim you can easily make $500 a day doing little to no work.
In the sales video they talk about affiliate marketing, which is a business model that I personally use to earn a 4-digit monthly income online.
If you haven't heard of affiliate marketing before, your job as an affiliate is to promote other people's products/services and earn a commission per sale.
In other words, an affiliate works as an intermediary between the company/vendor and the customer.
The problem is that this program doesn't provide any valuable training to earn money as an affiliate marketer, not to mention that there are people who have purchased this program but haven't got access to the members area.
Just take a look at what one of my readers told me:

So, this proves that the people behind this program don't really care about their customers. If they cared, they wouldn't lie about their contact information and they would have helped this person access the members area.
It's marketed as a get-rich-quick scheme
---
You first were told that this was a job, am I right? They told you that you can get paid $27,50 per hour only working 1 or 2 hours a day.
If you do some math, you can see that you could earn from $27,50 to $55 a day if you work 1 or 2 daily hours, which equals $1,650 a month (given that you work 30 days a month). 
So, where do they get the $14,000/month from? Even if you worked 8 hours a day, you still wouldn't reach $14,000 a month.
Because of this, we can conclude that there's no way you can make $14,000 a month if this is a job. 
So why do they claim you're getting hired by Amazon and you can earn $14,000/month?
Firstly, they want you to believe that this is a job so that you think that you can start making money the same day you get started.
Secondly, they take advantage of the fact that Amazon is a very well-known company to make you believe that they pay $14,000 a month to their employees.
But when you do some math, you can realize it's all fake. $14,000/month can be made selling Amazon products as an affiliate marketer, but it's way more difficult than they claim it to be. 
Working only 1 or 2 hours a day will not get you to the point where you're making 5 figures a month. They're promoting this program as a way to make money fast, when in reality it takes a lot of work and time.
If you're just starting out, you cannot expect to make that kind of money because you first need to learn a lot and apply this knowledge. 
In order to make sales as an affiliate marketer, you need to drive a lot of targeted traffic to your affiliate link, which is something that cannot be done overnight and takes time and work, no matter the method you use.
That's why ShopperWeb.org a.k.a. Real Profits Online is so misleading. They don't tell you the truth about making money online.
It's full of lies and deceit
---
Apart from the fact that this program doesn't work to make you money, you need to know that it's full of lies and red flags that are very common in scams.
One of the red flags is the fact that the characters on the news articles are fake. Chris is not a real member of this program, so it's not true that he has made $14,000 a month. 
The picture of Chris and his family is a stock photo, which means that he has nothing to do with this program.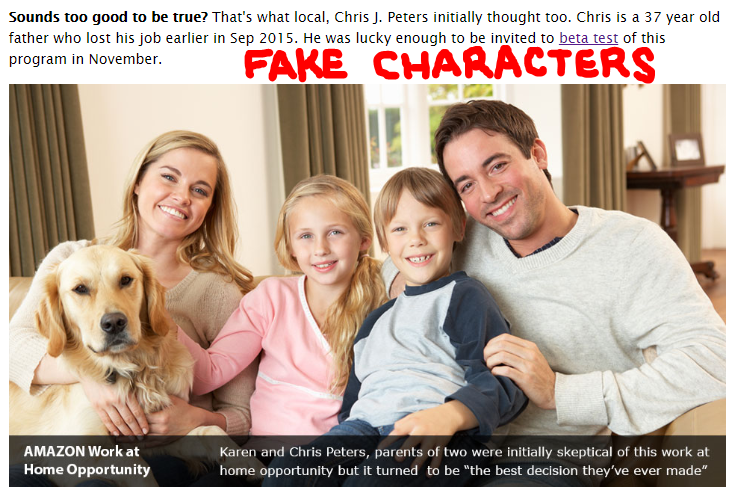 The income proof they show is also fake because it has nothing to do with Amazon. 
Apart from that, the tweets you can see on the news article are completely fabricated. If you are active on Twitter, you probably have already noticed the fakeness of those tweets. 
You can confirm this by searching those users or tweets on Twitter and you will not find them. 
Another lie they tell you is that there are only 150 spots available, which makes no sense because these con artists never limit the amount of money they can earn. So they want as many people as possible to fall for this scam.

Don't be fooled when they tell you that there's some kind of limitation!
Last but not least, the owners of this program don't show up, which is a red flag because it means that they're not being transparent.
They don't show who they are because they don't want to face the consequences of scamming. They want to avoid getting persecuted or sued by the people they rip off.
RECOMMENDED: Learn How I Make a 4-Digit Monthly Income Here!
ShopperWeb.org scam – Final conclusion
---
After everything I've found and explained, I have to say that here's nothing real or genuine in ShopperWeb.org. 
It was only created to get you to buy Real Profits Online or MSW System, which is the same scam program.
There are no real positive reviews about these programs, everything I have found are complaints from customers.
Not only that, I've also received comments from people who haven't received anything after having bought them. The truth is that these scammers just want to take your money and run.
Also, they ask you for your phone number because they want to call you to convince you to buy other products or just give them more information. 
And then, they sell this information to other scam artists. These unethical people just do the most to benefit themselves and they don't care about the harm they do.
It's not ok what they're doing because it's not necessary to lie or deceive others just to make money. It's so cruel and unfair to the people who get scammed…
Because of this and everything I've mentioned, I have to conclude that I don't recommend ShopperWeb.org.
This is how real profits online are made
---
If you want to make real money online, you need to keep in mind that there are no methods or systems that you can use to make it happen overnight or in a short period of time.
Making a living online is like anything worth having in life. It takes commitment, time, learning, patience and work. 
If it was as easy as scammers say, don't you think everyone would be doing this? A lot of people would stop working on jobs they hate.
When I realized that, I stopped wasting my time on get-rich-quick schemes. I found a newbie-friendly business model, affiliate marketing, which has allowed me to earn a 4-digit monthly income online.
There are different ways to use this business model to make money, and the one I use doesn't require me to spend a dime on paid advertising.
That's right, you don't need to spend any money to drive traffic to your recommended products/services =)
Not only that, you can choose a topic you're passionate about to build this business, which will make the process more fun!
There's a lot to say about this business, so I created a FREE step-by-step earn money online guide where you can learn how it all works:
My free guide will show you the 4-step method I use, the main reason this method works, the income potential, how I got started, real success stories…
Additionally, you also get the chance to start today for free! 
I'm not kidding, you don't need to spend a penny to check it all out and make sure this is right for you =)
Your free account will give you access to comprehensive, step-by-step training that shows you the way to get this business started the proper way.
But this is not all! You also can receive help and support from me and other affiliate marketers who want to see you achieve success! 
You see, you'll be able to ask any questions you have because there's always someone willing to give you a hand.
I'm very happy with the messages and feedback I've received. This message below is one of the many that make me smile:
So what will you do? Are you ready to leave the dangerous scams behind and start building your online business today?
CHECK OUT MY FREE EARN MONEY ONLINE GUIDE HERE!
I hope this honest ShopperWeb.org review has been helpful to you and you will make the best possible decision.
Feel free to share it with whoever you believe that will benefit from it!
If there's something else you want to know or you have any questions, don't hesitate to leave a comment below and I'll get back to you ASAP! ? 
Whatever you do next, I wish you nothing but the best =)