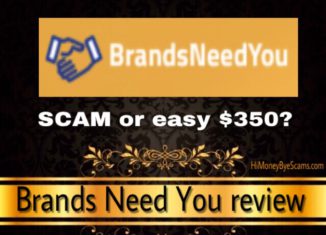 Welcome to my Brands Need You review!
Wondering if BrandsNeedYou is a scam? Or is it a legit site to make money taking paid surveys?
Before answering your questions, I need to congratulate you for taking the time to do your own research before getting involved in another money-making program.
There are sooo many scams out there and they come in different forms, so doing your due diligence is the way to avoid the ugly frauds and discover the genuine way to make passive income online!
When it comes to Brands Need You, I have reviewed various websites like this one so I know how it works.
In this honest review, you will find the full truth about Brands Need You, whether or not is a great opportunity for you and more.
Brands Need You review
---
Name: Brands Need You
Owner: Reward Zone USA, LLC
Price: Free to join
Overall Rating: 2/5
Recommended? No
---
If you're sick of scams, check out my 1st resource to make money online HERE!
---
What is Brands Need You about?
---
Brands Need You is a website that claims you can make $350 or more just for sharing your opinion with well-known brands.
Apart from that, they supposedly give you access to part-time work offers and and trial opportunities. Sounds cool?
Well, you need to know that Brands Need You is no different than other survey sites out there.
In fact, it's the same as another survey site called Survey Voices. They're completely the same, the difference is their name.
As you can observe below, they look very similar: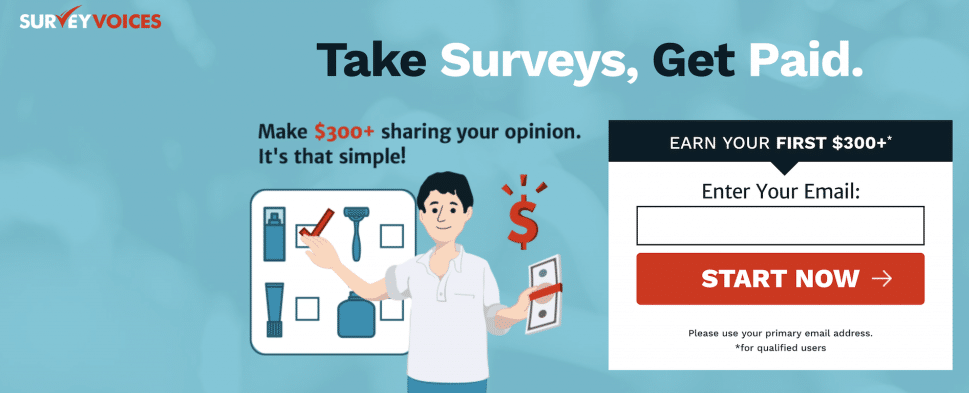 Apart from their name, you can notice that Brands Need You claims you can earn $350 and Survey Voices $300. Both of them are quite misleading for saying this because paid surveys and offers don't pay that much. More on this later.
I personally don't like the fact that they're using another name to promote the same website because that's something that many scam artists do.
Scammers usually create different sites to promote the same program in order to mislead potential victims.
They also do this to test which site achieves better conversions. It's a way for them to see which version gets more clients.
So is this site worth joining? They make it sound like a great opportunity because you don't need any special skills or previous experience to get started.
In addition, it's free to join so it seems that you have nothing to lose, don't you agree? 
Well, there are some things that you need to consider before you decide to join, so keep reading to see how this site really works.
How does Brands Need You really work?
---
Brands Need You is not the kind of site where you can find surveys to complete.
It's a website that works as an intermediary between you and market research companies. 
In other terms, they provide you with a list of third party survey sites that you need to register in order to get sent surveys to complete.
What's in it for them? Why are they letting you join for free?
Well, the reason for this is that they can profit off of you if you join their recommended survey sites through their referral links.
Some of these survey sites are actually legitimate. These are some of them:
Survey Junkie

Opinion Outpost

Swagbucks

OneOpinion

I-Survey

VIP Voice
This is not a list of all the sites they send you to. They also recommend other sites that aren't on this list.
Not only that, they also can change the sites they recommend, so if you join Brands Need You next week or next month, you might find different sites than the ones I listed.
The thing is, they don't really care much about the legitimacy of the sites they recommend because some of the sites are not legit.
So, before joining any of their recommended sites, I suggest that you do some research because joining a scam site is more dangerous than it might seem.
Just because a site is free to join, it doesn't mean it's not a scam, so I recommend that you always do your due diligence.
At first it might seem that they're helping you save some research time, but then you still need to do some research because they recommend some scam sites.
RECOMMENDED: Learn How I Make a 4-Digit Monthly Income Here!
What I don't like about Brands Need You
---
I dislike the fact that they don't care about whether or not the sites they recommend can benefit you.
I mean, they wouldn't recommend scam sites if they really care about you. It's clear that they're doing this for the money.
If you sign up to the sites they recommend and are active, they will get paid commissions.
This is called affiliate marketing, which is a business model I personally use to make a 4-digit monthly income online. 
The problem is that there are people who are not using this business model properly because they don't care about the harm they can do to others.
Promoting scam sites only benefits the creators of the sites and the affiliates. It doesn't benefit members of those sites…
Because of that, I believe that the people behind Brands Need You don't really care if you make money. They only care about earning money themselves.
It's not ok to take advantage of other people's needs just to make a quick buck because they don't really need to do harm just to profit.
Apart from that, they will also try to profit from your email address or whatever information you give them.
These unethical marketers will sell your information to other marketers, so you can expect to get bombarded with spam emails and unwanted sales calls.
Yes, they will also try to get your phone number to ask you for more information and then they will sell it all to other companies or con artists.
So, if you hate spam and sales calls, I don't recommend that you provide them with your personal information.
Will you make $350 taking surveys?
---
It's possible to earn $350 for completing paid surveys, but it's not easy or fast. You will definitely not earn $350 a day with surveys.
Paid surveys cannot make you much money because companies don't pay that much per each survey you complete. Most survey sites pay from pennies to $2 per survey.
Apart from that, you need to note that when you first get started, you will not get many surveys to complete so the amount of money you can earn every day is limited.
Not only that, surveys can take a lot of time to complete and there's no guarantee that you will complete them.
I mean, you might get disqualified after having answered some questions. So you might spend some time trying to complete a survey and earn nothing at the end.
So yeah, it's possible to earn $350 with paid surveys but it takes a lot to make that kind of money. That's why you cannot rely on paid surveys if your goal is to generate a full-time income online.
I personally don't like the fact that Brands Need You make it sound like taking paid surveys is an easy way to earn $350.
They try to get you excited just to get you to join their recommended sites, so that they can profit off of you. 
RECOMMENDED: Check Out My FREE Earn Money Online Guide Here!
Is Brands Need You a scam?
---
Whether Brands Need You is a scam or not really depends on your perspective.
There are people who will not consider it a scam because they don't ask you for payment and some of their recommended survey sites are legit.
Others will call it a scam because of their misleading advertising and the fact that they use emails addresses and other information for their own benefit.
Something I want to point out is that the company behind Brands Need You (Reward Zone USA, LLC) has some complaints on BBB. You can read some of them in the screenshot below or check them out here:
As you can see, you can expect to receive lots of calls from people who will try to sell you stuff, so you might end up spend more than you earn with paid surveys.
Because of that, I don't see this as a great money-making opportunity.
In my opinion, paid surveys are already a waste of time, but if you add the sales calls and the way they use your personal data, you get an undesirable result.
That's why I have to conclude that I do not recommend Brands Need You.
Other similar sites I have reviewed are the following:
Use your time to make passive income online
---
I remember when I started taking surveys to make money online and didn't qualify for most of them. It was very frustrating and the main reason I quitted taking surveys.
I realized that completing paid surveys was not the way I could earn a full-time income online, so I looked for something else.
And now I'm grateful that I found a newbie-friendly business model that has given me a way to make a 4-digit monthly passive income online.
It's a business model that allows you to work anywhere you want as long as you have a computer and an Internet connection.
This business model takes advantage of millions of products and services that are available online, so you don't need to spend time on creating your own product.
There's a lot to say about this so I created a FREE step-by-step earn money online guide where you can check out how it all works:
In my free guide you will find how you can start building this business the right way. You will find how this business works, why it works, real success stories…
Want to know what's cool? You get the chance to start today for free! Exactly, you don't need to spend a dime to ensure this is the right business for you!
To add to it all, you also get the opportunity to receive free support and help from me and other like-minded people who want to see you succeed =)
I'm very happy with the messages and comments I've been receiving lately. Below you can see one of the messages that make me smile:
So what about you? What's stopping you from starting your online business today?
CHECK OUT MY FREE MAKE MONEY ONLINE GUIDE HERE!
I hope this Brands Need You review has been helpful to you and you will make the best possible decision.
Feel free to share it with whoever you believe that will benefit from it!
If there's something else you want to know or you have any questions, don't hesitate to leave a comment below and I'll get back to you ASAP! ? 
Whatever you do next, I wish you the best =)