Welcome to my Wealth Project review!
You have come across wealthproject.net and are wondering if you can earn $17,520 per week or is Wealth Project a scam to avoid?
Before answering your questions, let me congratulate you for taking the time to do your own research.
There are sooo many frauds out there, so I'm glad that you're doing your due diligence because that's the way to avoid scams and find the genuine method to earn a full-time income online!
When it comes to Wealth Project, the truth is that it's no different than other products I have reviewed.
Here you will find all the truth about this program, which will help you make a wise, educated decision by the end.
Wealth Project review 
---
Name: Wealth Project
Website URL: wealthproject.net
Owner: "James Robertson"
Launched in: November – December 2018
Price: $37 + upsells
Overall Rating: 21/100
Recommended? No
---
If you're sick of scams, check out my 1st resource to make money online HERE!
---
What is Wealth Project about?
---
Someone sent me an email that had a link to this program, so I thought I would take a look at it to see if this is another scam or if there's something good in it.
The second I landed on their sales page I thought I was in front of another scam because of some red flags I had noticed, but I still watched the sales video and did intensive research to see if I was wrong.
According to the spokesman, you have been invited to watch the private video presentation. I just had to laugh when I heard that because I've heard the same thing in other videos.
First of all, the video is not private because anyone who has a computer and an Internet connection can watch it. He makes this claim to make you feel special and lucky.
He claims he's going to show you a system that you can use to earn money everyday, and you can get started in under 30 minutes and 21 clicks.
Everything he says about this system sounds amazing because it can supposedly make you $17,520 every week and you don't even need any previous experience or skills to make this happen.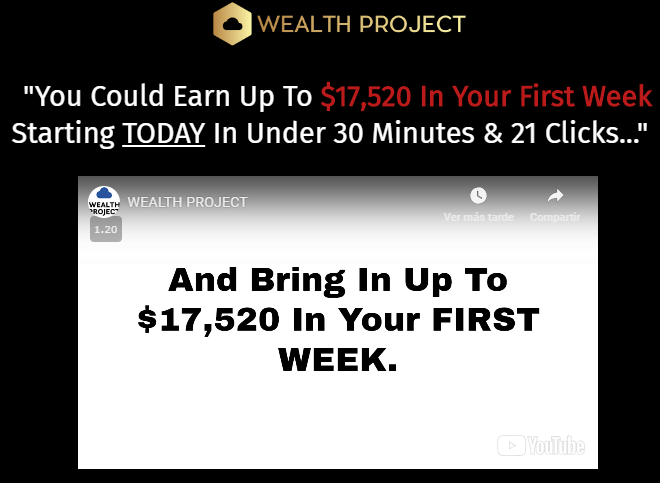 He also mentions some people who have alledgedly used this system to make thousands of dollars their first week, but he doesn't provide any real proof to confirm that what he says is true.
I mean, he doesn't show any picture of these successful members, so I personally don't believe in what he says.
Wealth Project is another system that promises you can make money easily and fast, which sounds too good to be true.
I mean, they don't need to promise millions overnight for a program to sound too good to be true. Promising thousands of dollars within a short period of time can also be considered a get-rich-quick scheme.
The whole sales video makes this system sound so awesome. It sounds like the ideal system that will make your dreams come true.
However, I've reviewed lots of programs and systems and I know that the sales video for Wealth Project is overhyped and full of fake claims.
So let's see how this program really works…
RECOMMENDED: Check Out My FREE Earn Money Online Guide Here!
How Wealth Project really operates
---
The spokesman, "James Robertson", doesn't give you many details on how this system works or what you will have to do to make the kind of money he says.
He claims this has nothing to do with paid surveys, cryptocurrencies or Bitcoin. The only thing he says is that you will be working together and when you make money, he makes money as well.
So, Wealth Project is said to be a system that creates a win-win situation, which means that this is about affiliate marketing or MLM.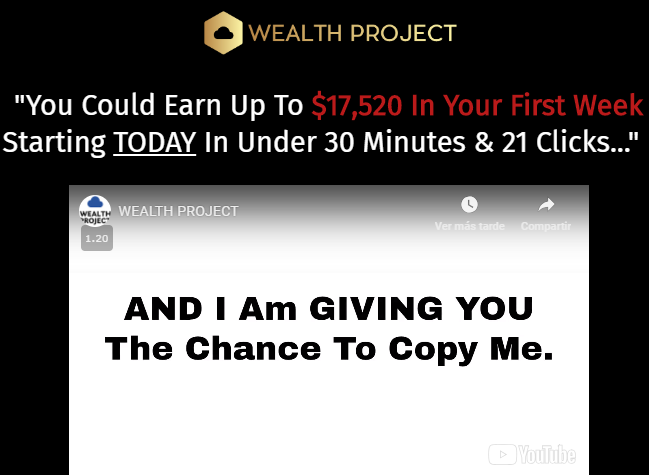 In this case, you will be given training on how to earn money as an Amazon affiliate, which means that you will be promoting products sold on Amazon and will make a commission when other people buy a product through your affiliate link.
It's a legit business model and you can make a living doing that, but the problem is that Wealth Project doesn't provide you with the tools you need to make that happen.
You will learn how to choose a niche, how to build a website to make money as an Amazon affiliate and not much more… The training is quite basic and generic.
They don't give you step-by-step directions so it's easy to get lost and not know what to do next. 
Can you make $17,520 per week with Wealth Project?
---
Wealth Project doesn't give you everything you need to make $17,520 per week, so I would say that no, you can't make that kind of money with this program.
It's possible to earn that kind of money, but not with Wealth Project.
If you're wondering if you could make some money with this product, the answer is probably.
You might learn something from the training provided, so you may earn some cash, but very little because they don't give you what you need to grow your business.
The PDF document they provide is not enough to build an affiliate marketing business and grow it, especially when you take into account that the document is not updated.
I mean, in the online world where everything changes, you need to keep yourself informed about what works and what doesn't, and a PDF document will not teach you that.
That's why you cannot solely rely on the Wealth Project. You will need to look somewhere else if your goal is to build a long-term, sustainable business.
Who's James Robertson?
---
Like I said before, we're not shown any pictures of the people who have supposedly made thousands of dollars with this program, so I believe that those success stories are invented.
Apart from that, James Robertson is said to be a writer, online business expert, researcher and the creator of Wealth Project. But how can we trust him when he doesn't show up?
He doesn't show any pictures of himself and he doesn't tell us if we can find him on social networks, which is a big red flag.
Most experts are on social media, so the fact that James doesn't give us any information on how to get in touch with him is a reason for me not to trust him.
I have reviewed lots of products like Wealth Project and most of them are promoted under fake names, so I believe that James Robertson is not the real creator of this product.
I believe he's a made up characer and the real owners don't reveal who they are because they don't want to get persecuted or face the consequences of ripping people off.
The real cost
---
Another red flag is the fact that they are not transparent when it comes to the cost.
They claim this system only costs $37 and there are no hidden costs or recurring payments, but it's not true.
If you decide to purchase it, they will try to get you to spend more and more on their upsells.
Just take a look at their sales funnel: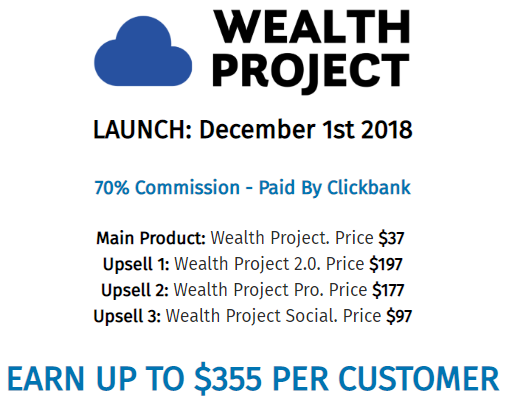 As you can see in the picture above, affiliates can earn up to $355 per sale. If we do some math, the total cost is $488, so that's what they will try to make you spend.
The fact that there are upsells is something that tells me the product is not as good as advertised. A complete product wouldn't need upsells.
Apart from that, you need to take into consideration that there are some additional costs when it comes to building this business. For example, website hosting, a domain name, an autoresponder…
That's something they don't tell you. I dislike the fact that they're not honest about the cost of building this business because knowing how much you will need to spend is something you want to know before starting a business.
RECOMMENDED: Learn How I Make a 4-Digit Monthly Income Here!
Is Wealth Project a scam?
---
Whether Wealth Project is a scam or legit is up to you. It really depends on your perspective.
If you judge Wealth Project based on the fact that you get something for your money, then you might not consider it a scam.
But if you consider the fact that it doesn't live up to its promises and all the lies they tell you, then it's fine if you call it a scam.
In my opinion, Wealth Project is not a total scam because it's a product sold on ClickBank, which is a good thing because it means that you can get a refund in case you buy it and end up not liking it.
A total scam would be something that takes your money and gives you nothing. That's just how I see it.
Wealth Project is no better than these other products I have reviewed:
So, the final decision is up to you. You're free to do whatever you want with your money and time.
I personally have to conclude that I do not recommend Wealth Project.
What if you learn from a trusted source?
---
The way you can finally get on the right track to make a living online is by learning from a trusted source.
If you keep looking for a way to earn money fast or easily, you will keep encountering scams or programs that underdeliver and don't provide you with the information you need, like Wealth Project.
I'm grateful that I found a legitimate and safe place where I learned how to start an affiliate marketing business from scratch.
It's a platform that provides step-by-step training and tools to start this business the right way. At the end of each lesson, you will know what tasks to do next to keep building your business, so there's no way you will get lost!
There are various methods to make money as an affiliate marketer, but the method I personally use (the method that has helped me earn a 4-digit monthly income) is newbie-friendly because it doesn't require you to spend a dime on paid traffic.
You will learn how to drive free targeted traffic to your website, which is the best kind of traffic!
Not only that, you will also learn to build this business based on a topic you're passionate about, which will make you enjoy the process =)
There's a lot to say about this business, so if you're committed to putting in the effort and time, I invite you to check out my FREE step-by-step earn money online guide here:
My free guide will show you how I got started, the 4-step method I use, the reason this method works, real success stories…
Best part is, you will be able to start today for free! Yeah that's right, you don't need to spend a dime to get started!
Your free account will give you 2 free websites, step-by-step training on how to get started and my free help & support! See my free guide for details!
You see, you're not alone in this new venture because you get access to a community full of people who are willing to help you out! You will be able to ask whatever you want because there's always someone willing to give you a hand.
I'm so excited with the comments and feedback I've been getting lately. Just take a look at the message I got the other day:
So what are you going to do? Will you keep wasting your time on get-rich-quick schemes or will you start building your future today?
CHECK OUT MY FREE EARN MONEY ONLINE GUIDE HERE!
I hope this honest Wealth Project review has been helpful to you and you will make the best possible decision.
Feel free to share it with whoever you believe that will benefit from it!
If there's something else you want to know or you have any questions, don't hesitate to leave a comment below and I'll get back to you ASAP! ? 
Whatever you do next, I wish you nothing but the best =)