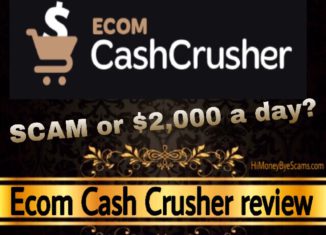 Welcome to my Ecom Cash Crusher review!
Are you wondering if ecomcashcrusher.co is a scam or a legit system to earn $2K daily? If your answer is yes, you're in the right place at the right time because here you will find all the answers to your questions!
Before getting started, I need to congratulate you for taking the time to do your own research before buying another "make money online" product.
The Internet is full of frauds, so doing your due diligence is the way to avoid the dangerous scams and find the honest way to earn passive income online!
I'm very familiar with the way Ecom Cash Crusher works because it's very similar to other products I have reviewed, so here you are going to find the complete truth about this system.
Ecom Cash Crusher review
---
Name: Ecom Cash Crusher
Website URL: ecomcashcrusher.co
Owner: "David Anderson"
Launched in: January 2019
Price: $37 + upsells
Overall Rating: 21/100
Recommended? No
---
If you're sick of scams, check out my 1st resource to make money online HERE!
---
What is Ecom Cash Crusher?
---
I thought I would take a look at this product after opening an email from someone who usually emails me "make money online" programs. 
Honestly, I didn't have high hopes for this because many of the products that I have come across are low-quality or scams so I didn't think that Ecom Cash Crusher would be different, especially after seeing the sales page.
I didn't like the sales page because it's very similar to other scam pages I have seen, so reading that you can earn $2K a day starting today was one of the claims that made me think Ecom Cash Crusher wasn't that great.
When it comes to the sales video, "David", the spokesman makes this program sound like the ideal system that will change your life.
You supposedly don't need any special qualifications or skills to earn $40,000 a month, all thanks to this revolutionary system that allegedly only takes 20 minutes to set up.
He also talks about his life and how it has changed for the better thanks to the money he's making with an e-commerce store. 
Also, we're shown some testimonials who claim to have earned thousands of dollars within a short period of time, which sounds very exciting, don't you agree?
Truth be told, the whole sales video has been designed to get you excited about this product so that you end up buying it. 
Ecom Cash Crusher is just another "too good to be true" product that doesn't work as "David" tells you. There are some important things that he is hiding from you, so keep reading to find the full truth about this system.
Does Ecom Cash Crusher work?
---
Ecom Cash Crusher basically works for the creator/s of this program. It doesn't work for people like you who are looking to make money online.
The whole sales page is full of hype and fake claims, which have the sole purpose of making people like you spend their money on this system.
Just the fact that they claim you can earn $2,000 per day without doing much work is a huge red flag because this is not how online business or earning money online works.
It doesn't matter the business model you use, all businesses take time and effort to build, so people who claim you can make fast money are lying to you.
RECOMMENDED: Learn How I Make a 4-Digit Monthly Income Here!
The business model
---
Ecom Cash Crusher includes training that will teach you to build a dropshipping store.
Dropshipping is a type of e-commerce where you sell other people/companies' physical products without having to buy or stock any inventory.
You basically have to partner with suppliers/wholesalers and find products that you want to sell on your Shopify store.
Once you have researched the products, the pricing and your competitors, you add descriptions and pictures of the products to your website and promote it in order to get visitors and make sales.
After making a sale, you need to purchase the product with the buyer's money and tell the supplier to ship it directly to the buyer. Your profit is the difference between what the buyer pays to you and the product's initial price (what you pay to the supplier).
Even though the products are not yours, you need to take care of refunds and customer service, which takes a lot of time and effort if you are the only one who works on your store.
I mean, if you have the money to hire someone to work for you, you will not have to spend that amount of time on managing arrangements, dealing with customers or refunds.
Because of this, "David"'s claim of only having to work 20 minutes a day is completely fake. You need to work a lot of hours to make this kind of business profitable.
Does it only cost $37?
---
When it comes to the costs, you cannot expect to build a successful business if you only spend $37.
$37 is just the beginning because if you decide to purchase Ecom Cash Crusher, you will be bombarded with some upsells that cost hundreds of dollars.
How do I know? Well, they claim affiliates can make up to $258 per sale, which means that that's the minimum they will try to get you to spend.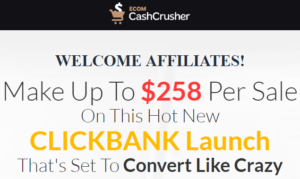 Even if you decide not to buy these upsells, you need to take into consideration the costs of building this business.
First of all, you will have to invest in a Shopify plan, which costs at least $29 a month. 
Second of all, you will need to invest in paid traffic in order to get visitors to your store, so you could spend thousands of dollars before making a profit.
Third of all, if you want to build a list of subscribers to market your offers, you will have to invest in an autoresponder, which is at least $19 a month depending on the amount of subscribers.
I could go on and on, but I hope you see the point I want to make. Building a profitable dropshipping business takes a lot of time, effort and money.
What about "David Anderson"?
---
David Anderson is said to be the owner of Ecom Cash Crusher, but I have my doubts about it.
I mean, how can we trust someone who doesn't show up? He doesn't even tell us what's his online store or if we can find him on social media.
He doesn't provide any pictures of him, his experiences or his family so there's no way to confirm he's the real creator of Ecom Cash Crusher.
If you search for him on Google, you will see that there are many men called David Anderson, but there's no one who claims to be the creator of Ecom Cash Crusher.
On this day and age, most people who have built successful businesses are on social media, so don't you find it strange that "David" doesn't mention anything about this?
I personally believe that David is just a fake name used to avoid disclosing the real name of the creator of Ecom Cash Crusher. I have exposed lots of products like this one and have realized that most of them are marketed under fake names.
Scammers usually avoid revealing their real identities because they don't want to face the consequences of scamming.
The testimonies are not genuine 
---
I know that seeing other people who claim to have made thousands of dollars thanks to this system can be exciting and give you hope, but the truth is that everything they say is invented.
These people have actually got paid to record a video saying what the con artists wanted them to say. They are Fiverr actors who have appeared in other low-quality products so I know that what these testimonials are not real.
Just observe this undeniable proof: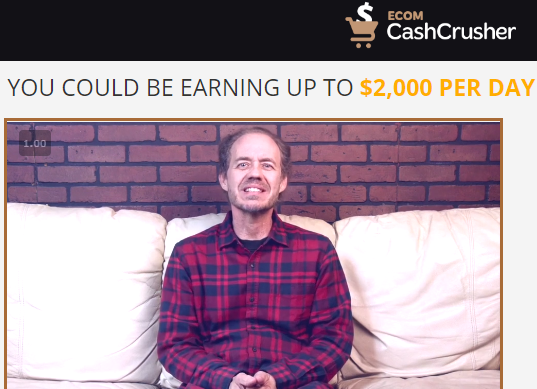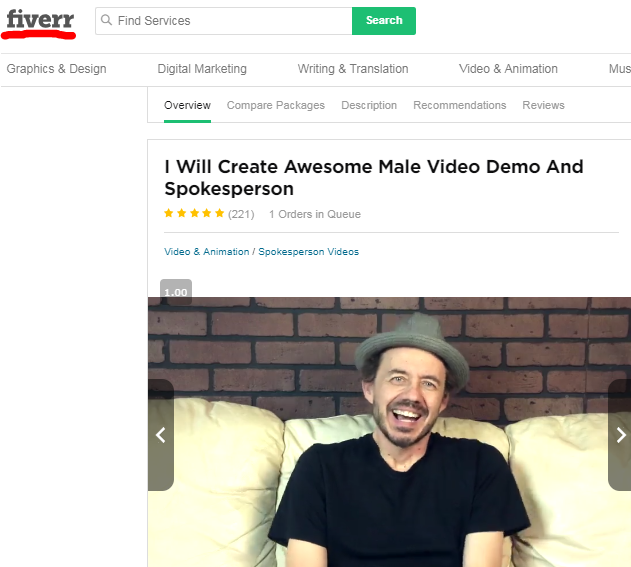 I remember seeing this guy in other scam pages like Inbox Income, which I recently reviewed. So it's clear that he's not earning the kind of money he says. 
Just the fact that they have hired these actors to pretend that there are members who are making money with this system, is a big red flag because it means that no one (without counting the owners) is making those thousands of dollars they talk about.
What will it happen if you give them your email address?
---
Something that I want to point out is that these unethical marketers will share your personal details with third parties a.k.a. other scammers or individuals who sell BS money-making programs.
That's what they state in their privacy policy:
So, if you give them your personal information like your email address and your phone number, you can expect to receive sales calls and spam emails from people you don't know. They will try to take as much money as possible from you, that's what these scam artists live for.
RECOMMENDED: Check Out My FREE Earn Money Online Guide Here!
Is Ecom Cash Crusher a scam?
---
Whether Ecom Cash Crusher is a scam or legit depends on your point of view. 
There are people who will consider this product to be a scam because of the misleading sales video and fake claims.
And there are other people who will not call Ecom Cash Crusher a scam because of the training provided and the fact that it's possible to earn money dropshipping.
I personally will not call this program a scam because it's a product sold through ClickBank, which means that, if you buy it, you can get your money back in case you decide it's not for you.
With that said, I don't believe dropshipping is for everyone because not everyone is willing to risk those hundreds or even thousands of dollars before making a profit.
I have reviewed hundreds of products and programs like this, and I would add Ecom Cash Crusher to the same collection as:
All these programs are very similar because they make empty promises of earning hundreds/thousands of dollars a day but then underdeliver. 
Even though not all of them are outright scams, they have merely been created for the owners to make money at your expense.
Therefore, after everything I have found and explained, I conclude that I do not recommend Ecom Cash Crusher.
Here's why I quitted dropshipping
---
You know what? I actually earned some money dropshipping some years ago, but I ended up quitting when I learned about another business model.
I didn't like dealing with refunds so I'm grateful that I found another business model that didn't require me to do that.
It's a newbie-friendly that also allows you to earn money from other people's products/services, but it doesn't require you to manage arrangements or take care of refunds.
Thanks to this business, I'm earning a 4-digit monthly passive income online, which is so cool because I can choose my own hours and can also work from anywhere as long as I have an Internet connection & computer.
There's a lot to say about this business, so I'm not going to explain it all here because this post would be too long lol.
If you're committed to learning and taking action, I invite you to check out my FREE guide here:
In my free guide you will find out the 4-step method I followed, the business model I used, the main reason this business works, how I got started, real success stories from people who started from 0…
This is not MLM and doesn't require you to do any recruiting. Instead, it's a business that allows you to talk & write about a topic you're passionate about!
You see, this business doesn't require you to spend hundreds or thousands of dollars, in my guide you will find how you can even get started today for free! 
Not only that, you will also be able to receive my personal guidance and help, so know that you're not alone in this new venture 🙂
I'm so excited for you to stop wasting your time on low-quality programs and get on the right track to build your online business!
CHECK OUT MY FREE EARN MONEY ONLINE GUIDE HERE!
I hope this Ecom Cash Crusher review has been helpful to you and you will make the best possible decision.
Feel free to share it with whoever you believe that will benefit from it!
If there's something else you want to know or you have any questions, please don't hesitate to leave your thoughts below and I'll get back to you ASAP! 
Whatever you do next, I wish you the best =)