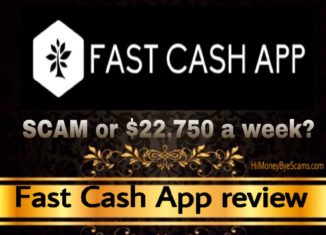 Welcome to my Fast Cash App review!
Wondering if fastcash.click is a scam that was created to take your hard-earned money? Or is this a legit system that will help you make $22,750 in your first week?
First of all, congratulations on taking the time to do your own research before taking out your credit card.
You might already know that there are too many fraudulent websites out there, so doing your due diligence is the way to avoid the undesirable scams and find the genuine way to make a full-time income from home!
When it comes to Fast Cash App, it's not as good as the spokesman told you so keep reading this review to see what this is really about.
Fast Cash App review
---
Name: Fast Cash App
Website URL: fastcash.click
Owner: "Robert Fisher"
Launched in: January 2019
Price: $37 + upsells
Overall Rating: 2/10
Recommended? No
---
If you're sick of scams, check out my 1st resource to make money online HERE!
---
What is Fast Cash App about?
---
I recently received an email concerning this new money-making system called Fast Cash App, so I thought I would look deep into it to see if there was something good.
Honestly, I didn't have high hopes for this one because I didn't like the name "Fast Cash App", since it sounds like a name for a get-rich-quick scheme.
I remember reviewing other products with similar names, like Fast Cash Club and Smart Cash App, and these products turned out to be low-quality.
However, I didn't want to come to a final conclusion without doing my homework so that's what I did.
According to the spokesman, you have been invited to watch the video presentation, which actually made my laugh because I've heard the same thing in some scam videos.
They want you to believe that the video is private so that you feel lucky and special to have been selected, but the truth is that the video is public and anyone can watch it.
Just reading that you can make $22,750 in your first week made me think this is another overhyped sales page that is giving newbies false expectations.
They're being misleading about what it takes to make money online because it's not as easy and fast as they want you to believe.
You see, $22,750 a week is over $90,000 a month which equals over $1,000,000 a year, and this system is said to cost only $37. So don't you think this sounds too good to be true? How are they going to help you become a millionaire for only $37?
Oh, and the fact that you supposedly don't need any special skills and don't have to do much work to make money makes it very tempting to give this system a try.
I have reviewed lots of overhyped systems like this on this website, but it's been a while since the last time I heard this kind of exaggerated claims. 
Fast Cash App is really the definition of a push-button system or get-rich-quick scheme that only works for its owners to profit themselves.
Everything the spokesman says sounds amazing, but he's basically telling you what you would like to hear just to make a sale. He's not being honest about what you're getting into so I cannot take the sales page seriously.
After doing intensive research, I have realized that Fast Cash App is no better than these other programs I have reviewed:
How does Fast Cash App really work?
---
Fast Cash App does not work as advertised, plain and simple.
This "system" works by trying to get you excited about earning lots of money quickly without doing much work.
You probably have been sent a spam email concerning an awesome money-making system. And then you clicked on the link they told you and got taken to the Fast Cash App sales page.
Once on the sales page, they tried to make you believe that this system is the solution to all your money problems so that you end up making a purchase.
It's not ok that they are taking advantage of people in need just to profit. It's unethical and cruel to the people who get scammed.. 
The fact that they make lots of fake claims proves that they don't really care about you. They only care about making money themselves.
If you end up buying it, you will receive some generic and basic training about "making money online", but it will not be enough to earn the kind of money they talk about.
Products like this usually contain some outdated PDFs or old YouTube videos that you can find online for free, so you are not getting anything special that will help you earn thousands of dollars.
RECOMMENDED: Discover How I Make a 4-Digit Monthly Income Now!
The real cost
---
If you end up buying Fast Cash App for $37, you will be bombarded with some upsells that cost hundreds of dollars.
So I can guarantee that these con artists will try to get way more than $37 from you. 
I have been reviewing ClickBank products like this one and have noticed that most of them cost $37 and then have some upsells in the hundreds.
I remember one of the products I bought didn't even give me access to the members area if I didn't spend at least $200 on one of their upsells, so I wasted my time on that product because I paid for nothing.
The only good thing is that I could get my money back because it was a product sold on ClickBank, but I could not get back my time.
With that said, these are the 3 upsells that you will be hit with:
Fast Cash 2.0 – $197

Fast Cash Pro – $177

Fast Cash Social – $97
So they will try to get you to spend more than $500, taking into account the initial offer. They will tell you that these additional products can help you accelerate or increase your earnings to convince you that you need them.
But that's just what they say. If they don't live up to their promises with the initial offer, what can we expect from the upsells? 
Fast Cash App is not a complete product because if it were complete, don't you think they wouldn't need the upsells? 
Why I don't trust Robert Fisher
---
Robert Fisher claims to be a writer, researcher and online business expert, but I don't believe it because I've heard the same thing in other videos.
For example, the alleged owner of another product called Wealth Project, James Robertson, also claimed to be an online business expert, writer and researcher. 
The thing is, he didn't even show up a picture of himself so I didn't think he was the real owner of Wealth Project.
Apart from that, some months ago there was a prodct called Smart Cash App, and you know what? The owner of this product was also said to be Robert Fisher!!
Because of this, I believe that Fast Cash App is the same or very similar to Wealth Project and Smart Cash App. 
You see, con artists usually launch a product and then change the name of the product to launch it again and make it look like a different product, but the content is the same.
The reason they do this is to prevent potential victims from finding negative honest reviews about their scam. 
So, after everything I have found, I have to say that I do not trust Robert Fisher or whoever is behind Fast Cash App. 
If they were transparent, they would show their faces or they would tell us how to get in touch with them! But they are probably hiding their identities to avoid facing the consequences of scamming people.
Success stories cannot be verified
---
There's a part in the sales video where "Robert" mentions the names of some people who have allegedly earned thousands of dollars with this system.
But there's no real proof to confirm that he's saying the truth. He doesn't show any picture of these members, so how can we trust what he says?
It's very easy to say that someone has earned something, but that's something that anyone can do. Anyone can record a video or voice note and say that they have made x amount of money. 
I personally don't believe his claims because they sound too good to be true, especially when you consider that success is not an overnight thing and Fast Cash App is no different than the other BS money-making systems I have reviewed.
You can ask any experienced marketer and they would tell you that those claims are not real. I've heard the same claims in many scam videos.
RECOMMENDED: Click Here To Get My FREE Earn Money Online Guide Now!
Is Fast Cash App a scam?
---
Fast Cash App is a scam or not depending on your point of view and your expectations.
If you buy this product thinking that you can earn money overnight or thousands of dollars in your first week, then you will get disappointed and call it a scam because this is not a system that can make you easy or quick cash.
But if you decide to purchase Fast Cash App thinking that you will learn something new, then you might not feel ripped off. 
I personally will not call this system a scam for two main reasons:
You get something for your money

You can get your money back because it's sold through ClickBank.
However, the fact that I don't consider it to be a 100% scam doesn't mean that I like it.
I don't like the lack of transparency, the empty promises, the lies and misleading claims they make. They're not marketing this product in an ethical way, which says a lot about the people who have created it.
Also, if you give them your email address, you can expect to get some spam emails concerning other BS systems like this one. 
So, you can do whatever you want with your money and time, but my final verdict is that I do not recommend Fast Cash App.
Stop wasting time on get-rich-quick schemes
---
When I realized that there wasn't a system or a method that could help me earn thousands of dollars on my first week, I stopped wasting my time on push-button systems and get-rich-quick schemes.
I realized that making a full-time income online is like anything worth achieving in life because it takes time and effort. So you cannot expect to make it if you are not willing to work your butt off.
I'm grateful that I found a newbie-friendly business model that has given me a way to earn a 4-digit monthly passive income online, which is so cool.
It's a business model that allows you to talk and write about a topic you are passionate about, which makes the process enjoyable!
It's actually been decades that this business model has been working and it's only getting better because every day more and more products are available online.
With that said, this is only for people who are willing to learn, take action and never give up. If this sounds good to you, I invite you to check out my FREE guide here:
In my free guide, you will learn everything you need to make sure this is the right business for you.
You will learn the 4-step method I followed, the business model I use, the main reason this business works, what you need to build your business, real success stories…
Best part is, you don't need to spend a penny to get started today! Yes, getting started is free!
Not only that, you also get the chance to receive free help and support from me and other like-minded people who want to see you succeed =)
So what are you waiting for? Will you keep wasting your time on low-quality programs or will you read my free guide and start building your future today?
CHECK OUT MY FREE EARN MONEY ONLINE GUIDE HERE!
I hope this Fast Cash App review has been helpful to you and you will make the best possible decision.
Feel free to share it with whoever you believe that will benefit from it!
If there's something else you want to know or you have any questions, please leave your thoughts below and I'll get back to you ASAP! ? 
Whatever you do next, I wish you nothing but the best =)