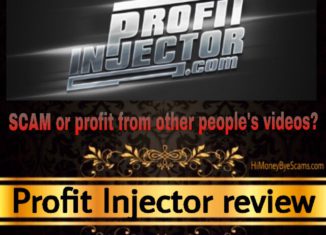 Welcome to my Profit Injector review!
Are you wondering if this is a legit program that can help you earn money from other people's videos? Or is Profit Injector a scam that will not work?
If that's what you are wondering, you are in the right place at the right time because here you will find the complete truth.
First of all, let me congratulate you for taking the time to do your own research before getting involved in another money-making opportunity.
There are sooo many frauds out there, so I'm glad that you are doing your due diligence because that's the way to avoid the scams and discover the genuine way to make passive income online!
When it comes to Profit Injector, here you are going to find everything you need to conclude whether or not it's the right product for you.
Profit Injector review
---
Name: Profit Injector
Website URL: profitinjector.com
Owner: Jamie Lewis
Launched in: January 2019
Price: $37 + upsells
Overall Rating: 3/5
Recommended? Yes and no (I'll elaborate)
---
If you're sick of scams, check out my 1st resource to make money online HERE!
---
What is Profit Injector about?
---
I received an email concerning this new ClickBank offer, so I thought I would check it out to see if this one would be different than the others.
The sales page is not like most sales pages of the programs I have reviewed, which actually surprised me because most "make money online" products sold through ClickBank tend to have scammy sales pages. So the fact that the Profit Injector sales page was different was a good sign to me.
Profit Injector is said to provide a method that can help you earn affiliate commissions from other people's videos.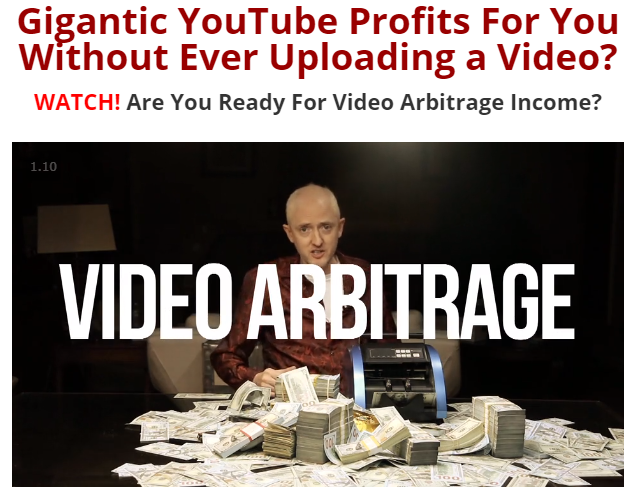 Jamie Lewis, an experienced Internet marketer (at least he's not a fake character or paid actor), makes this method sound very cool because you will not have to spend any money on ads and you will not have to spend lots of time on complicated methods.
I'm glad that he actually explains what this method is about because many of the products I have reviewed usually don't contain much information about what you will have to do to make money.
According to him, you only need to have basic computer skills, 2 hours of daily work and you also need to email him to tell him your results. 
You see, most people meet these requirements so is Profit Injector the ultimate program that will allow everyone to make a full-time income online?
What I didn't like about the sales video was that Jamie shows money everywhere and he shows income proofs too many times, which makes it look a little scammy because scam artists usually show pictures related to the luxurious lifestyle.
He also makes this program sound a little bit too good to be true when he says that everything is 100% automated because automating a business is not that easy.
Also, there's something important that he doesn't tell you about so let's see how this program really operates.
RECOMMENDED: Click Here To Get My FREE Earn Money Online Guide Now!
How Profit Injector really works
---
Profit Injector is about making money using a legitimate business model called affiliate marketing.
If you haven't heard of affiliate marketing before, it's about promoting other people's or companies products and earning commissions for each sale you make.
I actually use this business model to earn a 4-digit monthly income online, so I know how it works and also know that there are different methods to use this business.
When it comes to Profit Injector, it's focused on promoting your affiliate offers on other people's YouTube videos.
You will be taught to find videos that are not monetized and then contact video creators to make a deal, so that they post your affiliate links within the description of their videos.
When people who watch the videos click on your affiliate link and purchase your recommended products, you will earn commissions. And a part of your commissions will be paid to the owners of the videos.
This is such a great method because it creates a win-win scenario between you and video creators. Thanks to them, you get some free advertising and thanks to you, they get to profit from videos that were not monetized.
Something I like is that the training is not only focused on the "make money online" niche, you can get involved in other niches like beauty, health & wellness, travel… Most money-making programs usually recommend that you promote Internet marketing products, so I'm glad that Profit Injector is different.
If you decide to purchase it, you will get some video training and PDF guides on how the system works. You will also get some email swipes that reveal what you need to say to video creators to get them to accept your deal, a keyword tool and a software created by Jamie.
The training is quite good, but I don't believe it's for newbies because there's not enough information about getting started. Information like how to choose relevant affiliate products, how to find affiliate programs/networks… which is very important to know if you are on the "getting started" phase because that's something that you need to know how to do to make this system work.
The real cost
---
Something that I believe you need to know is that the $37 initial fee is only the beginning of the Profit Injector sales funnel.
Most money-making products have upsells, and Profit Injector is not different when it comes to this.
If you spend $37 to get access to this program, you will immediately be hit with these 3 upsells: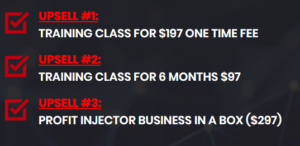 I personally don't like that there are products that have upsells because it means that the initial product is not that good.
Don't you think that a complete product wouldn't need upsells?
Also, in any business there are always some unexpected and additional costs, especially when you want to grow your business.
Lack of legal pages
---
There's something I noticed in the Profit Injector sales page & Profit Injector login page is that there's a lack of legal information.
I didn't find the privacy policy or terms & conditions pages, which I didn't like because I believe this is essential information that anyone who's thinking of getting into a business opportunity needs to know.
You see, I have reviewed hundreds of websites and I have noticed that websites that don't have a privacy policy or terms & conditions page tend to collect people's personal information and sell it to other companies or scammers.
So, I personally don't like getting involved with websites that don't contain any information about the way the owner is going to use email addresses or phone numbers provided by customers.
Even though Profit Injector is not a scam, the lack of transparency is the reason why I don't consider it to be 100% legit.
RECOMMENDED: Discover How I Make a 4-Digit Monthly Income Now!
Is Profit Injector a scam?
---
I don't consider Profit Injector to be a scam, it's a decent product to me because you get some training & tools for your money and you can also generate profits with this method.
Also, it's a product sold through ClickBank, so you can get a refund if you don't like it in case you buy it.
Even though this method can work, something that I want to point out is that there's no proof that James has earned most of his income using this method. So if you are a beginner, don't expect to make that kind of money within a short period of time because you first need to learn how it works and acquire some experience.
Also, I don't see this method as a complete method to build an affiliate marketing business because you are not taught how to build something that you own like your own website.
I mean, you don't have any control over the YouTube videos, so there's the possibility that in the future, video creators replaced your affiliate link with their affiliate link without telling you. After all, their videos are content created by them, so they have the right to do whatever they want.
Apart from that, you could also find yourself spending a lot of time looking for videos that are not monetized and even after that, there would be no guarantee that you make money because not everyone who clicks on your affiliate links will make a purchase.
Therefore, even though this is not one of the most expensive ways of building a business, there's some risk involved.
I personally believe that Profit Injector is for intermediate & advanced marketers who want to grow their affiliate marketing businesses, so if you are one of them, you can get it here.
In case you are a beginner, I don't recommend Profit Injector to you.
Focus on building your online asset
---
If you are a beginner and still haven't got started, I believe it's best that you first focus on building a solid foundation for your business.
When I was getting started, I remember getting involved in systems that weren't newbie-friendly, so I wasted some money and time.
But now I'm grateful that I found a beginner-friendly method to build an affiliate marketing business, and thanks to this method I'm earning a 4-digit monthly passive income online.
This method is about building your own website and driving free targeted traffic to make sales. Yes, this method allows you to have control over your online asset and doesn't require you to spend much money either.
To be completely transparent with you, it's a method that takes learning, time and work, so this is not for people who are not committed to putting in the effort.
If that sounds cool to you, I invite you to check out my FREE guide here:
If you read my guide until the end, you will discover the reason this method works, how I got started, the step-by-step training and tools you need to make this method work, real success stories from people who started from zero…
Best part is, I reveal how and where you can start today for free! Yes, you don't need to spend a dime to make sure this is the right business for you =)
Not only that, you also get the chance to get my personal guidance and help, so you can rest assured knowing you are not alone in this new venture!
The place I show you also has a community full of affiliate marketers who want to see you succeed, so you can ask whatever you want knowing that there's always someone willing to give you a hand 🙂
I'm so excited for you to start building your online asset today! Are you ready? 
CHECK OUT MY FREE EARN MONEY ONLINE GUIDE HERE!
I hope this Profit Injector review has been helpful to you and you will make the best possible decision.
Feel free to share it with whoever you believe that will benefit from it!
If there's something else you want to know or you have any questions, please leave your thoughts below and I'll get back to you ASAP! ? 
Whatever you do next, I wish you nothing but the best =)