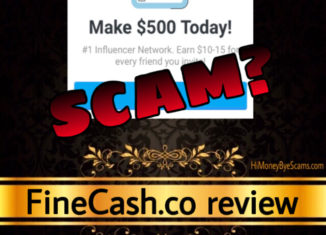 Will FineCash.co scam you and waste your time? Or is it a legit site that you can rely on?
I'm glad that you have found this FineCash review because here I reveal the complete truth about this platform.
You know, there are too many fraudulent sites out there, so I'm happy that you have done your due diligence.
That's how you can avoid scams and find the genuine way to earn passive income every single day!
Before getting started, I want to let you know that here you will not find any referral link because I'm not promoting this site.
Instead of that, here you will find how finecash.co really works and what others haven't revealed. My purpose is to help you decide whether it's right for you or not.
FineCash.co review
---
Name: FineCash
Website URL: finecash.co
Founder: Unknown
Cost: Free (but it can end up costing you a lot)
Best for: The founder
Recommended? No
---
If you're sick of scams, check out my 1st resource to make a 4-digit monthly passive income HERE!
---
What is FineCash.co about?
---
FineCash.co is a website that claims you can make money by inviting other people to sign up.
It claims to be the #1 influencer network, but I haven't seen any influencer promote or use it.
Not only that, I have come across lots of websites that claim to be the #1 influencer network but they ended up being total scams.
So the fact that FineCash.co is said to be the top influencer network is already a red flag in my opinion.
According to the info on their site, FineCash's purpose is to help as many people as possible change their lives by using social media.
They claim to make money from ads and sponsorship products, but I have my doubts because I see no ads on their site, not to mention that there's nothing for sale on there. They are not selling any products or services, so how do they make money?
How can they afford to pay $10 per referral if joining is free? There's no way they can afford to pay that kind of money if nobody is paying to sign up.
Oh, and the fact that each member gets $25 after joining sounds too good to be true. It's clear that they don't allow members to withdraw that money just for joining.
In fact, the $25 sign up bonus is just a trick they use to get you to join. 
FineCash.co is no different than these other websites I have reviewed:
Does FineCash.co work to make you money?
---
FineCash.co only works for its creators because they're the only ones who get paid from it.
The truth is that there aren't any members who have got paid from it, even if finecash claims to have paid over $44,000,000. 
I have heard the same claim in the other copies of this fraudulent website. The others also claim to be the top influencer network, when in reality they're not legit sites.
Some people who join these sites tend to believe that they're making money because this is what they see in their accounts.
Many members think they're earning money because they see their finecash.co account balance increase and increase, which is something that gets them excited and makes them keep sharing their links.
Apart from sharing their links, they also submit youtube videos to promote finecash.co. They think that they will earn $50 just for uploading a video. 
And that's not all! Some of them even spam their social networks with their referral links, which is actually negative because it can get their accounts disabled.
Finecash.co also claims you can make $20 per each task you complete, but the problem is that these tasks are very dangerous and won't get you paid.
These tasks require you to visit fraudulent sites, fill out forms with personal info, download programs that are infected with viruses…
They even tell you to subscribe to services that ask you to make a payment, not to mention that they will spam you with text messages that can cost you a lot of money.
If you don't want to waste money, waste time or get your device damaged, I don't recommend that you bother completing those tasks.
Sick of scams? Want to make passive income every day?
Check Out My FREE Earn Money Online Guide Here!
What does FineCash.co want from you?
---
If FineCash.co is free to join, what's the catch?
Some people believe that there's no danger in joining a free site, but the truth is that it's more dangerous than it first seems.
The reason they allow you to join for free is that this is the way they can easily get you to join.
When someone joins, they immediately collect your name, email address and password. That's what they really want: your personal info!
After that, they tell you to get referrals because the more people who sign up, the more information they get.
Once they have a big list of email addresses, names and passwords, they will sell it all to other fraudsters and hackers, who will do the same. It's a never-ending cycle.
And it doesn't end there! They will also try to get access to your personal accounts to get more information and try to take all your money. 
For example, they will try to access your PayPal account and see if it's linked to your bank account or credit card. There are people who have fallen for other similar scams and have had all their money stolen: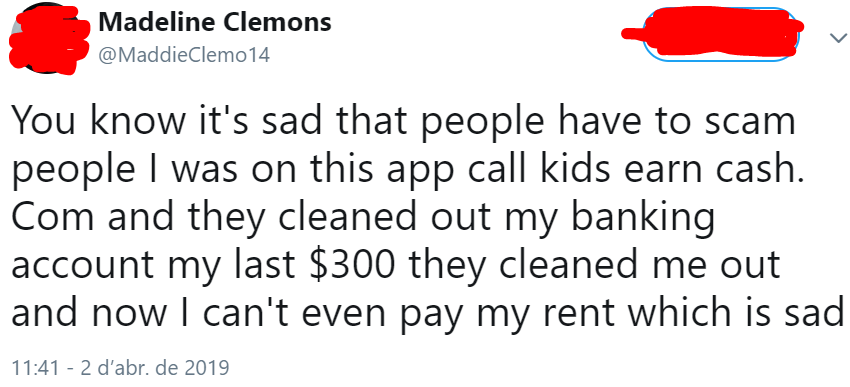 What will it happen if you try to cash out?
---
If you ask for a withdrawal, they will send you a payment confirmation, but don't fall for it. 
Payment confirmations are a notification they send to everyone who asks to get paid, but they will never pay you. 
They claim you will get paid a determined day, but that day will come and you will see they don't pay you. 
Many people get very frustrated when they find out they haven't got paid, and then they contact support but no one replies.
When it comes to the account managers, they don't really exist. The photo of the person who's said to be your account manager is a fake photo, and if you look for their username on skype, you will realize they have no skype account.
FineCash.co is a copy of CloutPay
---
I took a look at the terms & conditions of FineCash.co and I noticed that they mention CloutPay instead of FineCash.
This is a big red flag because CloutPay was a scam website that ripped many people off. They changed from CloutPay to Paid4Clout because CloutPay had been exposed by many people.
The owners of FineCash.co don't want you to find the negative comments and complaints because if you read them, you wouldn't fall for the scam.
As you can see here, the finecash.co terms mentions Clout Pay instead of FineCash, which is an indication that these terms were used for CloutPay.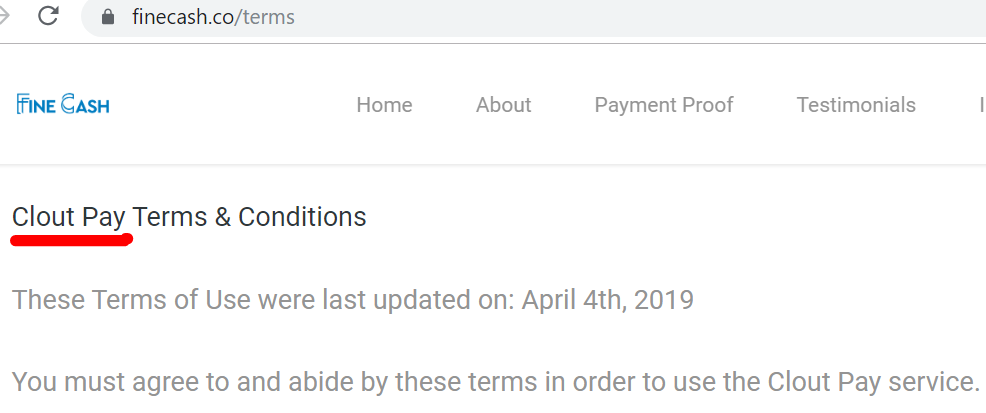 In other terms, FineCash is the same as CloutPay. The only difference is the name, but it works exactly the same way as CloutPay.
Here you can see some CloutPay complaints: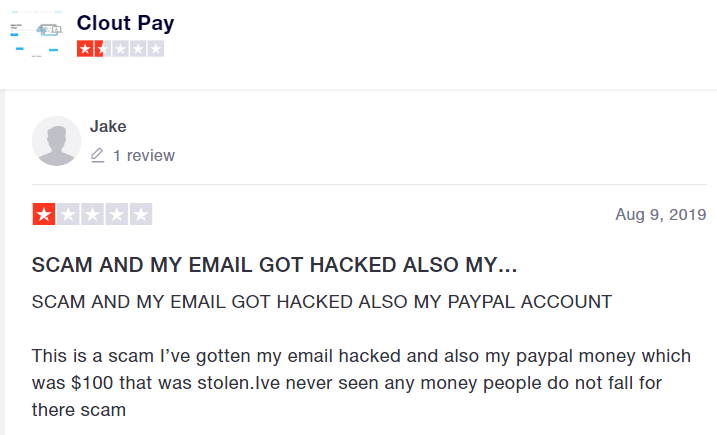 As you can read, there are people who fell for CloutPay who got viruses on their devices and got their money stolen. 
This is a valuable proof because it exposes the potential dangers of getting involved in a website like FineCash.co.
Will FineCash.co scam you?
---
FineCash.co may not be a scam to some people because it's free to join, but after everything I have seen, I have to call it a scam. 
The fake promises, the red flags, the fake testimonials, the fake payment proofs, the anonymous owners… and the fact that it's the same as CloutPay is enough for me to conclude that FineCash.co is a fraud. 
Just the fact that they claim you can make $500 the same day you get started is a huge scam sign because it's not possible to make the kind of money on the first day.
It's possible to make $500 per day, but it takes a lot of work and time, so don't be fooled by people who claim you can earn that money with ease.
The other copies of this scam also claim "make $500 today" and they have never worked. There are so many scammers who take advantage of the fact that there are people who need money fast.
What they're doing is unacceptable and unethical because they have not paid their members.
I would never recommend FineCash for several reasons:
It's a waste of time

It could take my money

It could harm my device

It could put other people in danger

I would be helping scammers who don't deserve it
If you have joined FineCash.co, you are free to decide what to do. If you feel ripped off, you can stop promoting it and add extra protection to your personal accounts. You can also let other people know FineCash is not legit.
What you decide to do is up to you, I just hope this FineCash.co review has been helpful to you.
What about sharing links to legit sites?
---
There are too many scam sites like FineCash.co, but the good news is that it's possible for you to make money online every day.
Did you know that you can get paid if you share legit links a.k.a. links to legit sites? Well, sharing links is a part of the method I use to earn passive income every single day.
This method is about helping other individuals and legit companies increase their sales. When you drive traffic to their sites and someone buys a product/service through your link, you get paid.
It doesn't matter if you don't know how to sell because you only need to send traffic.
If someone like me can do it, I'm convinced that you can make it happen too. I'm living proof this method works, as you can see here: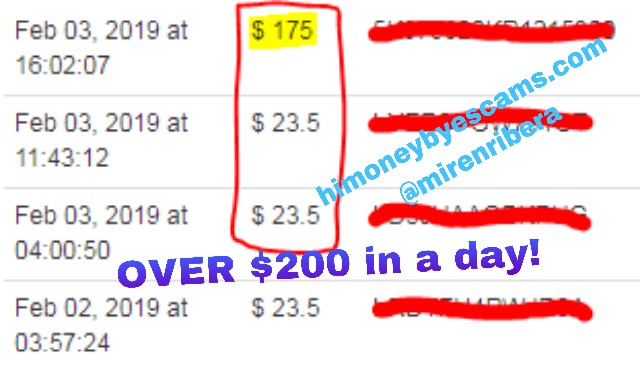 This has nothing to do with MLM and investing and it doesn't require you to recruit anyone. This is a beginner-friendly legit business model that allows you to profit while writing & talking about a topic you are passionate about.
If you're interested in learning how this business works step-by-step, I invite you to read my FREE guide here: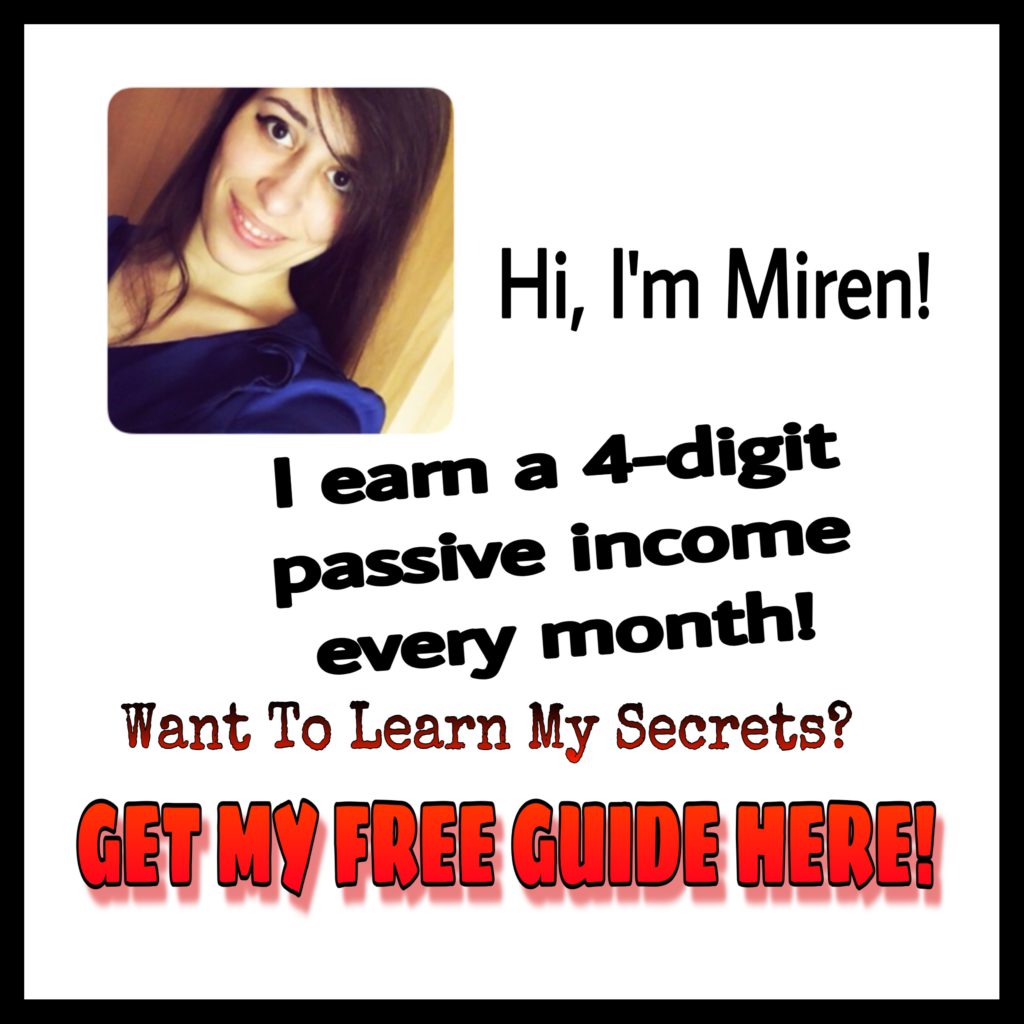 My guide is FREE (no login information required, just click here to start reading it), which means that you have nothing to lose and a lot to gain 🙂
Oh, and don't you worry if you ever get stuck! I'm not like those scammers because I reveal my identity and I also tell you how you can contact me.
In my free guide you will learn how you can get answers to your questions and help from me and other online entrepreneurs.
Stop wasting your energy on data harvesting scams and start your passive income journey today!
I will leave this quote here:
If you want something you have never had, you must be willing to do something you have never done.
I hope this FineCash.co scam review has been helpful to you and you will make the best possible decision.
Feel free to share it with whoever you believe that will benefit from it!
If there's something else you want to know or you have any questions or would like to share your experience, please leave a comment below. I love hearing from you all!
Whatever you do next, I wish you nothing but the best =)