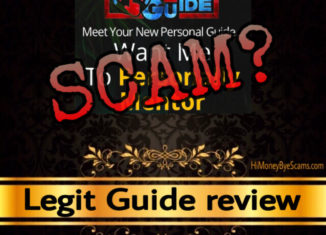 Welcome to my Legit Guide review!
Have you been sent to legitguide.com and are wondering if this new program by Jamie Lewis is a scam to avoid?
Or is it really a legit system that will help you make a full-time income online?
If that's what you are wondering, I'm glad that you are doing your own research and have found this post.
You know, there are too many scams out there, so doing your due diligence is the way to avoid frauds and find the real way to earn passive income every single day.
To be frank with you, this Legit Guide review is different from the others because here you will not find any affiliate link.
Instead of thatm, here you will learn how this program really works. My purpose with this post is to help you decide whether Legit Guide is right for you or not.
Legit Guide review
---
Name: Legit Guide
Website URL: legitguide.com
Founder: Jamie Lewis
Cost: $27 + upsells
Is Legit Guide a scam? No, but… (I'll elaborate)
---
If you're sick of scams, check out my 1st resource to make a 4-digit monthly passive income HERE!
---
What is Legit Guide about?
---
Legit Guide (found at legitguide.com) is the name of the latest product by Jamie Lewis. 
He's an experieced digital marketer who has already launched many "make money online" products, such as Wealthy Agency, Bank Ramp, Profit 365, Profit Injector, Cash Grab… I have reviewed them all and remember not recommending them.
These products are not scams and they are actually more valuable than many of the Internet marketing products that are being launched nowadays.
But most products are nothing new because they contain similar ideas and training as most. Many marketers launch many products instead of focusing on bettering one of them. They focus on the quantity over the quality of the product.
Anyway, when it comes to Legit Guide, it's said to be a program that will help you generate a full-time income online in 1 or 2 months a.k.a. 30-60 days.
Jamie claims to hold you by the hand and provide you with one-on-one mentorship and training, which sounds awesome because he's an expert. Who wouldn't want to be coached by someone who's making thousands and thousands of dollars online?
But the fact that he's an expert doesn't mean all his products are high-quality. Like I said, I didn't recommend his other products because they weren't of high-quality to me.
Legit Guide sounds a little too good to be true because it can lead you to believe that you don't need to do much work to reach the point where you're making a full-time income online.
After all, the Legit Guide sales page claims you don't need any investment or marketing experience to make a full-time income within 60 days, but that's not 100% true because this program is not free, so it requires you to make an investment.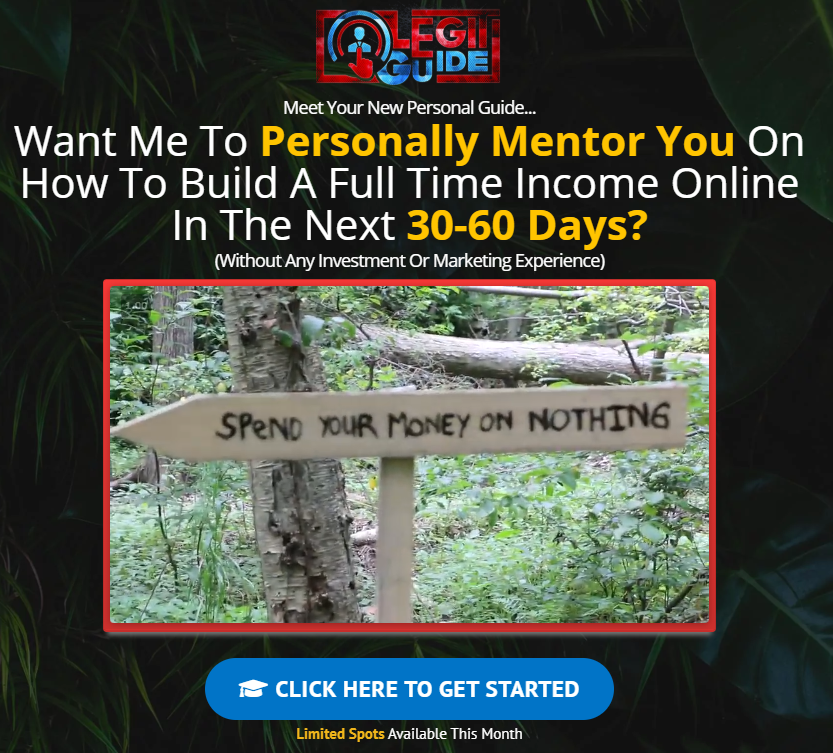 How does Legit Guide really work?
---
I have to confess that I had a good laugh while watching the sales video because it was a movie kind of video, different than most promotional videos I have watched.
But just because the presentation video is that good, it doesn't mean the program is going to be good too.
Legit Guide is being promoted as a one-on-one training program, but the truth is that it's not that different from the other programs created by Jamie. 
You see, it sounds too good to be true to get one-on-one coaching with Jamie for only $27 (you can get it for $17 if you try to exit the page).
I mean, it makes no sense to offer all his help for a small amount of money. The truth is that the 1-on-1 training requires you to pay an extra fee, so you can expect some upsells.
After paying $17/$27 for the basic Legit Guide membership, you get access to some weekly webinars (it's limited), but these webinars are for everyone who's bought the membership. It doesn't give you personal, one-on-one coaching with Jamie.
Apart from that, the basic membership also gives you access to some training videos that touch different ways of making money online. 
Then there's the premium membership that costs way more than $27, it's much more expensive than the basic one. This is the membership that gives you access to more weekly training classes.
Sick of scams? Want to make passive income every day?
Check Out My FREE Earn Money Online Guide Here!
The downside I see
---
One of the issues I see with the training is that it doesn't give you a specific direction. As you may already know, there are different ways to make an income online, but this is also a problem because you cannot focus on multiple methods and expect to make them work.
Legit Guide gives you access to training videos that cover different methods, but they're not in-depth. This is definitely something that can make it hard for you to choose which path to follow.
This is similar as wanting to do many things in a day. It's easy not to know where to start and you end up doing very little because you spent your time on thinking what to do next.
I have gone through it and I didn't make anything work until I focused on a single method. With Legit Guide, you will learn about leveraging other people's videos to market stuff, creating digital products, flipping domain names… 
It's easy to get overwhelmed with so many information, and feeling overwhelmed makes it hard to take action. That's why (I don't want to sound pessimistic) I don't believe it's possible to reach a full-time income within 60 days of getting started…
You first need to choose a method to follow, and then you need to learn a lot about that method. And of course, you need to take action.
What about the cost?
---
Like I said, Legit Guide doesn't only cost $17/$27. You will be hit with some upsells and you will be pressured into buying them because that's where most of Jamie's money comes from.
Most Internet marketing products have upsells, even though they don't say it in the sales presentation. This is something I don't like because as a customer, you want to know how much you will have to spend to receive what you were promised.
Apart from it, you also need to take into consideration the costs of building your business. Depending on the method you choose, you will have to invest money in tools or other training, even in paid ads.
For example, if you want to build your own website, you will have to purchase a domain name and hosting. 
What I want to point out is that you cannot expect to earn a substantial amount of money just by buying the basic membership of Legit Guide.
Many of these programs are advertised in a way that makes customers believe they can start making huge money by investing little to no money, when it doesn't really work that way.
There are legit methods that don't require you to invest that much, but if you don't want to invest money, you need to be prepared to invest time. 
Is Legit Guide a scam by Jamie Lewis?
---
The answer to "is Legit Guide a scam?" depends on your definition of scam. 
If you define a scam as something that makes you spend money for nothing, then Legit Guide wouldn't be a scam because you get something for your money.
I mean, it's way better than other products I have exposed because the owner of this program at least shows up. There are many money-making opportunities whose owners don't reveal their identities. 
In case you purchase Legit Guide with the expectation that you will make a full-time income within 30 or 60 days, you will consider it a scam because chances are it won't happen.
I personally don't consider Legit Guide to be a scam because it has a money-back guarantee and it also allows you to learn different methods to earn an income online, but I don't believe it's enough solid to help you do it. 
Like I said, it includes information about various methods without giving you a specific direction, which means that it will be easy for you to get frustrated and feel lost not knowing what step to take next.
Even though you can get your money back, you cannot get your time back, so choose wisely.
What you decide to do next is up to you, but I have to conclude that I don't recommend Legit Guide.
What about using a simple method?
---
When I was starting out, I didn't know what method would be best for me to start making money online.
I even wasted time and money on systems and programs that didn't work… but they helped me find a legit newbie-friendly business model.
This business is about helping other people or companies increase sales. Don't you worry if you're not good at selling, you just need to drive traffic to these companies.
They will provide you with a link and when someone buys something through your link, you'll get paid. 
This method doesn't require you to pay for traffic, but it will take time and effort. No matter the method you use, an amount of effort is always needed.
Something cool about this method is that it allows you to promote products or services that are related to a topic you have a passion for, so this is about doing more of what you love!
I'm living proof this business works, as you can see here: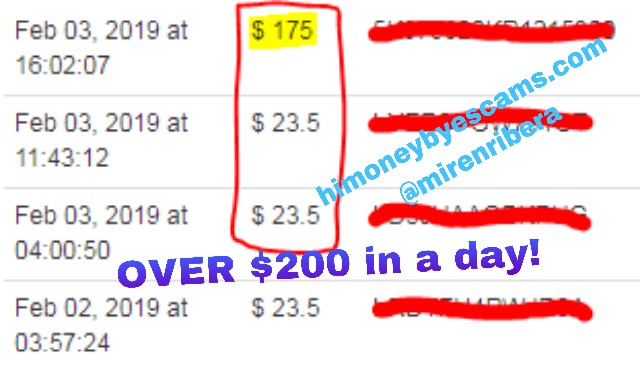 If someone like me (I started with no experience and English is not my native language) can do this, I believe anyone can do it too. It's all a matter of time, effort and consistency.
If you're interested in learning how this business works step-by-step, I invite you to read my FREE guide here: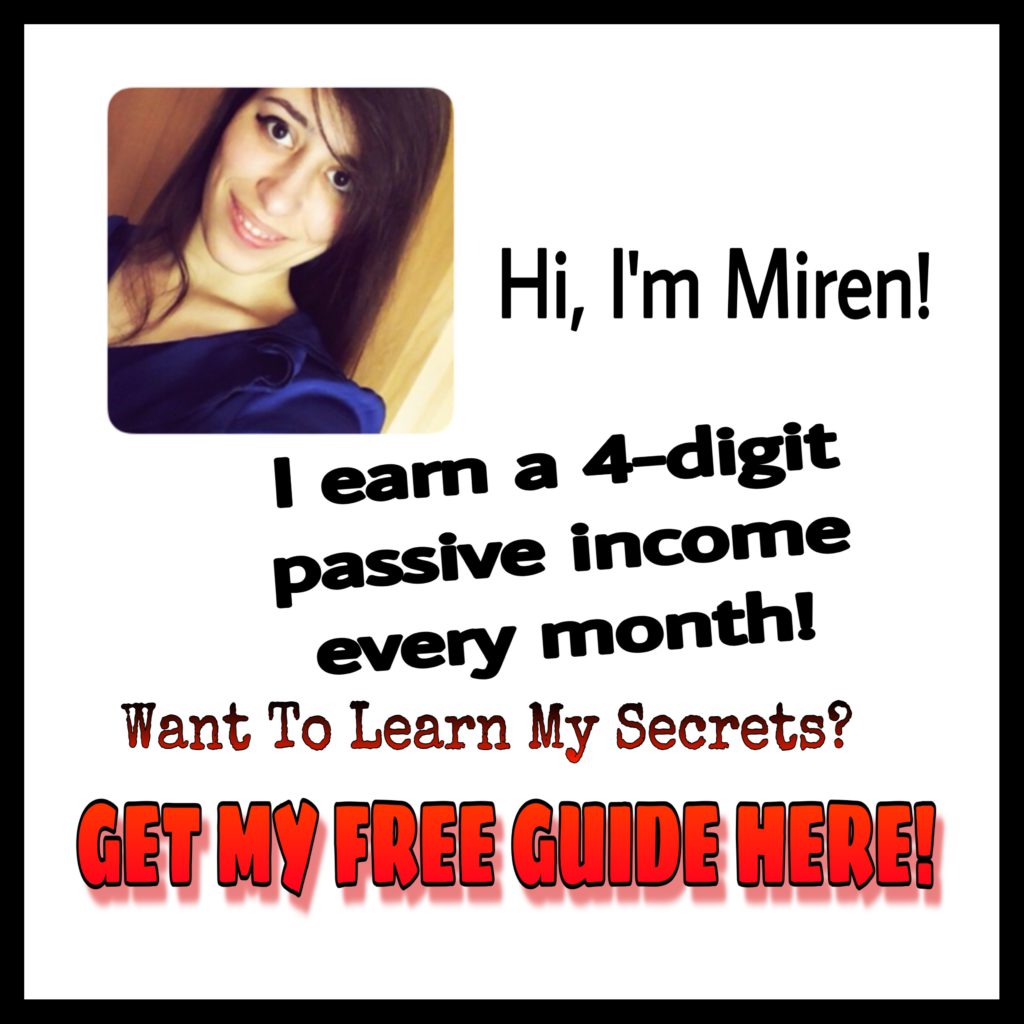 My guide is FREE (no login information required, just click here to start reading it), which means that you have nothing to lose and a lot to gain 🙂
Oh, and don't you worry if you ever get lost! You'll learn step-by-step how this business works and how you can start today for free.
In my free guide you will learn how you can get your questions answered and how you can receive support from me and other online entrepreneurs.
Stop wasting your energy on low-quality programs and start your online biz today!
I will leave this quote here:
If you want something you have never had, you must be willing to do something you have never done.
I hope this Legit Guide review has been helpful to you and you will make the best possible decision.
Feel free to share it with whoever you believe that will benefit from it!
If there's something else you want to know or you have any questions or would like to share your experience, please leave a comment below. I love hearing from you all!
Whatever you do next, I wish you nothing but the best =)