Welcome to my Profit 365 review!
Have you come across one of Jamie Lewis' products and are wondering if it's legit? Or is profit365.co a scam waiting to leave you out of pocket?
I'm glad to see that you are looking for answers before getting involved in another money-making program.
You know, the Internet is full of frauds, so doing your due diligence is the way to avoid scams and find the genuine way to earn passive income online!
When it comes to Profit 365, I have taken the time to look deep into it, so keep reading to find everything you need to know to make an educated desicion concerning ths product.
Profit 365 review
---
Name: Profit 365
Website: profit365.co
Owner: Jamie Lewis
Launched in: February 2019
Price: $34 + upsells
Overall Rating: 3/5
Recommended? Yes and no (I'll explain why)
---
If you're sick of scams, check out my 1st resource to make a 4-digit monthly passive income HERE!
---
What is Profit 365 about?
---
I received an email about this new product by Jamie Lewis, called Profit 365. I've been reviewing his products lately so I thought I would check out this one as well.
The sales page for Profit 365 is very similar to sales pages for other Jamie Lewis products, like Profit Injector and Wealthy Agency.
Jamie starts off showing some of his earnings from his ClickBank account, which looks awesome because he's making thousands of dollars a day.
This system is said to be for beginners and it doesn't matter if you have fallen for scams before or if you don't have any previous experience. It's a system that can supposedly make you $2,800 a day.
Everything Jamie says about this system sounds amazing, doesn't it? He says that he gets to make commissions on autopilot while he's doing anything different than working, like watching a movie, eating, sleeping, traveling…
In other terms, he lives the lavish lifestyle thanks to his online business that runs on autopilot. And now, he claims anyone can do the same.
Honestly, Jamie is very good at marketing his products and usually makes them look like they are some kind of automated systems that can make you money without doing much work.
He's been involved in this Internet marketing industry for 14 years already, so he has a lot of experience and knows his stuff.
But I don't like the fact that he makes earning money online seem like it's easy or fast, and he shows too many income proofs in my opinion.
Don't get me wrong, showing income proofs is good because it shows what it's possible to achieve, but showing too many of them and not being 100% transparent about how that money was made is not much ethical from my point of view. 
Also, there's no proof that he has earned those ClickBank commissions using this Profit 365 system. Not only that, not all his ClickBank earnings come in commissions because he's not only an affiliate, he's a product creator too. This means that part of that money comes from selling his digital products like Profit 365 and the ones I mentioned before.
So, Profit 365 is no different than his other products and can actually work for you to make money, but the sales presentation is hyped up and Jamie doesn't mention everything you need to know before making a final decision.
RECOMMENDED: Check Out My FREE Earn Money Online Guide Here!
Does Profit 365 work?
---
Profit 365 can work to make you money, but it does not work as easily as Jamie makes it seem in the sales video.
This system is about making money with affiliate marketing, which is a legit business model that you can use to profit from other people's products. 
As an affiliate marketer, you work as an intermediary between product creators/vendors and customers, and get paid a commission per sale.
It's a business model that I personally use to earn a 4-digit monthly income online, but what I do is different than what is taught in the Profit 365 members area.
You see, there are various ways and methods to use this business model, a method that works for someone might not work for you, and vice versa.
In this case, this method involves PPC (Pay Per Click), Solo ads and ClickBank products. It's about buying paid traffic to promote ClickBank products as an affiliate.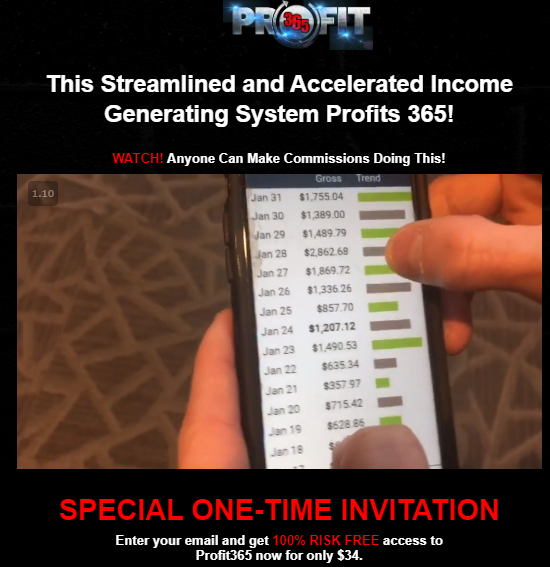 If you purchase Profit 365 for $34, you will get access to some step-by-step video training, 40 done-for-you solo ads that contain keywords for the ClickBank products that you will be promoting.
Jamie also recommends the kind of products and niches you should promote, which can save you some research time, but what I don't like about this is that some of the products he recommends you to promote may be low-quality.
Just because a product is profitable, it doesn't mean it works for the customer. Lots of ClickBank products (especially from the "make money online" niche) tend to be poor quality and don't work as advertised, which can leave customers disappointed.
So I recommend that you only promote products that you believe in or products related to a topic that you are passionate about. After all, your business should not only be about making money, it should also be about providing value to your audience. 
Is it possible to make money with Profit 365?
---
Yes, it's possible to earn money with Profit 365, but there are lots of factors to take into consideration.
Firstly, if you are getting started, you cannot expect to earn those thousands of dollars that Jamie talks about.
Like I said, he has lots of years of experience so he knows what works and what does not work for him.
In order to make your affiliate marketing business profitable, you need to know how to drive targeted traffic to your offers so that it converts well. 
Profit 365 is focused on solo ads, which consists in paying other marketers to get your offers emailed to their subscribers. This is a fast way to get traffic to the products you promote, but it's risky and not the best kind of traffic. 
You see, there's no guarantee that the lists you will be paying for have the kind of subscribers that are interested in the products you promote. The list could have been bought from a third party site without taking into account the quality of the subscribers, or some subscribers could happen to be inactive. 
In my opinion, paid traffic is not for beginners or people who cannot afford to spend much to get started, since it takes a lot of trial and error to find out the right formula. This means that if you go through this route, you need to be prepared to lose money when you first get started. 
I believe that it's best to build your own email list than it is to pay for other people's lists, since that's the way for you to be in control of your traffic sources, which is important because that's how you can find out what traffic source is best for you.
Another thing that I don't like about Profit 365 is that there's no training on website building or content creation, which is very important because your website is the foundation of your business. 
The upsells
---
If you buy Profit 365, there are some upsells waiting for you just after paying the $34 initial fee.
This is very common in all ClickBank products, and Profit 365 is no different. 
These upsells are not bad but I don't believe you need them to build your online business, especially the first one. 
Just because these done-for-you campaigns are high converting for Jamie, it does not mean that it works for everyone else.
I've never liked done-for-you stuff because when something is handled to you, you learn little to nothing. 
Also, it makes you dependent on this system, which is not the way to go if your goal is to build a long-term business. 
From my experience, I have learned that done-for-you systems basically work for the owners, who are the ones who are in control of them. 
Relying on done-for-you systems is not safe because if they get shut down, you are left with nothing. Instead, if you learn to build your own business, you acquire marketing skills that can be useful for multiple situations and it's also the way to become independent.
RECOMMENDED: Learn How I Make a 4-Digit Monthly Income Here!
Lack of legal pages
---
Something that I want to point out is the fact that there's a lack of legal information in the profit365.co website.
For me, not knowing how someone is going to use my data is a red flag, so I try not to get involved with websites that have no privacy policy or terms pages.
I have reviewed hundreds of websites, and I have realized that many of the ones that don't provide this legal information end up being websites that collect people's information to sell it to third parties.
In this case, Profit 365 is not a scam but I don't like this lack of transparency because that's what I've found in fraudulent websites.
Therefore, I don't recommend that you get involved in websites that lack this kind of important information.
Is Profit 365 a scam?
---
Profit 365 is not a scam because you get something for your money and you can learn from the training provided.
Also, it's a product sold on ClickBank, which means that you can get a refund if you buy it but are not satisfied.
However, you cannot expect to make the kind of money Jamie talks about, especially if you are getting started.
Even though Profit 365 can work, I don't believe it's for everyone.
If you already have your own website, an email list and are already earning money, then you might benefit from Profit 365 (get it here) because you will learn new ways to market your affiliate offers. But I don't recommend that you promote any product, only products related to your niche.
In case you are a newcomer to the Internet marketing world, I don't recommend Profit 365 to you because it doesn't provide you with the training you need to build the foundation of your online business and it doesn't contain training on free traffic methods.
In the end, you can do whatever you want with your money and time, this is just my take. I hope this Profit 365 has helped you determine whether or not to purchase this product.
The newbie-friendly method to make passive income
---
Want to know the beginner-friendly method to build an affiliate marketing business that has worked for me and many people?
This method is about building a website and create valuable content to attract free targeted traffic, which means that you don't have to spend a dime on traffic. Yes, you will learn how search engines can send you traffic FOR FREE!
You will learn the way to build your affiliate biz without having to depend on done-for-you systems that don't work for the long-term. 
Not only that, you will also learn Internet marketing skills that can be useful for you in whatever venture you get into.
To be completely honest with you, this business requires time, learning, effort and consistency to make it successful, so this is only for people who are committed to doing real work.
Well, you will be talking and writing about something you love, so there are times that you it will not feel like work because you will be enjoying what you do =)
If that sounds great to you, I invite you to check out my FREE guide here:
My free guide leaves nothing hidden! You will learn step-by-step how to build this business, the training and tools I used, the reason this method works, real success stories from people who started as complete beginners…
Want to know what's cool? You will discover how you can start today for free! I'm not kidding, the place I show you allows you to take a look at everything without spending a cent!
It's easy to get stuck when you are starting something new, but thanks to this community you will not feel lost because you will be able to get answers to your questions! 
Oh, and did I mention you can also receive my personal help and guidance? See all the details in my free guide =)
I love lots of the messages that I have been getting from people who have chosen to join me. For example, this one here:
So what about you? Will you do nothing to improve your life? Or will you get on the right way to build your affiliate marketing life-changing biz?
CHECK OUT MY FREE EARN MONEY ONLINE GUIDE HERE!
I hope this Profit 365 review has been helpful to you and you will make the best possible decision.
Feel free to share it with whoever you believe that will benefit from it!
If there's something else you want to know or you have any questions, please don't hesitate to leave your thoughts below and I'll get back to you ASAP! 
Whatever you do next, I wish you nothing but the best =)