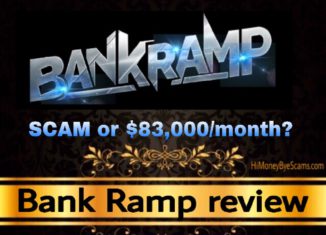 Welcome to my Bank Ramp review!
You have come across this new product by Jamie Lewis and are wondering if it's a scam, am I right?
Or is Bank Ramp a legit system that can help you make thousands of dollars online?
I'm glad that you have landed on this post because here you will find answers to all your questions.
First of all, I need to congratulate you for taking the time to do your own research before getting involved in another money-making opportunity.
There are too many frauds out there, so doing your due diligence is the way to avoid the terrible scams and discover the honest way to generate passive income online!
To be completely honest with you, I am not associated with Bank Ramp so you will not see me trying to get you to buy this product.
Bank Ramp review
---
Name: Bank Ramp
Website URL: bankramp.com
Owner: Jamie Lewis
Launched in: February – March 2019
Price: $37 + upsells
Overall Rating: 3/5
Recommended? No
---
If you're sick of scams, check out my 1st resource to make a 4-digit monthly passive income HERE!
---
What is Bank Ramp about?
---
Bank Ramp is a product by Jamie Lewis that has got launched recently on ClickBank.
The sales page looks very similar to the sales pages for other Jamie Lewis' products, such as Wealthy Agency or Profit 365.
According to him, this system only takes you 15 minutes to set up, activate and that's it, you can already get results.
Apparently, this system doesn't require you to learn much at all, so it can work for anyone. And you will not even have to buy any "make money online" systems ever again.
In the sales video you can see Jamie Lewis and his friend Matthew, who show income proofs on their phone. These income proofs are actually real, but they are not completely honest about how they have made that kind of money.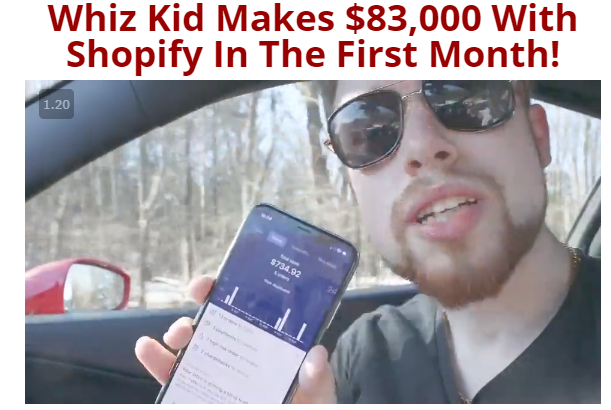 Something that I don't like about most sales videos is the fact that they usually focus on how much money you can earn instead of how to make it.
Most sales videos that show luxury stuff like expensive cars, mansions or exotic vacations tend to be scams or low-quality products. 
In this case, Bank Ramp is not a fraud, but Jamie is making this business sound easier and faster than it really is. It's basically about making money with dropshipping, a type of ecommerce.
It's completely possible to earn the kind of money they show, but it's not as easy or quick as they want you to believe. They already have experience and know how the Internet marketing world works, which is something that everyone who wants to build an online business needs to learn.
So it's not true that you will not have to learn anything or that this method doesn't require you to do much work. This method is no better than other methods of making money because all methods take work and time.
RECOMMENDED: Check Out My FREE Earn Money Online Guide Here!
Does Bank Ramp really work?
---
Bank Ramp does not work exactly as Jamie tells you in the sales video because this is not a method to earn quick or easy money, which I'm about to explain now.
Like I said, this is about earning money with the dropshipping business model, which is a form of ecommerce.
Dropshipping consists in selling physical products that you don't own, so you don't have to stock any inventory.
You'll have to partner with some suppliers, go to their online stores to find the products you want to sell and list them (add descriptions, prices and pictures to your store).
After making a sale and receiving the money, you go the store where you found the product you have sold and purchase it. You tell the supplier to ship it directly to the buyer.
Your profit ends up being the difference between the amount of money the buyer pays and the amount of money you pay the supplier (customers pay you more than you pay suppliers).
The concept sounds pretty simple and it's totally possible to make money this way, but it takes more time than it initially seems.
Why droshipping takes time and money
---
There's a lot of work that needs to get done in this business. You need to find good products to sell, set up your online store, drive visitors to your store, manage arrangements, deal with refunds, take care of customer service…
When it comes to finding good products to sell, you need to do a lot of research to compare competitors prices and find the ones with higher profit margins.
You see, if competitors' prices for a determined product are very similar to the supplier's price for that product, the profit margin will be low. So you need to find a product that competitors are selling for a price way higher than the supplier's price.
Apart from that, you also need to spend time on writing descriptions and finding pictures of the products you want to sell, which is something that also takes time because you cannot copy it from your competitors. 
Another reason this business takes a lot of time is that the more products you sell, the more arrangements you have to make. 
For example, if you made 100 sales a day, you would have to place 100 orders, which is something that takes time. 
Also, you are the one who's in charge of refunds, answering customers' questions or even dealing with complaints, which can be quite uncomfortable if you are the kind of person who doesn't like conflict. 
RECOMMENDED: Learn How I Make a 4-Digit Monthly Income Here!
Does it only cost $37?
---
Getting access to Bank Ramp costs $37, but this is not the only cost.
Paying $37 will give you access to some training on how to set up your Shopify store, how to use Amazon and eBay for dropshipping.
Just after making the payment, you can expect these upsells waiting for you:
So, if you decide to buy them all, you can expect to spend $400 (taking the initial offer into account).
I personally find that the sales presentation is kind of misleading because they are marketing this product as if you only had to spend $37 in order to start making your first dollars.
But then you see that you have to spend way more than that to get access to more information that you need to build this business.
You see, it would make no sense that they sold valuable information for only $37. Programs like this always have upsells, that's how product owners get to earn those thousands or millions of dollars.
And that's not all. You also need to take into consideration other costs like hosting for your online store, a domain name, an autoresponder (if you want to build an email list), advertising costs to bring traffic to your store…
When it comes to driving visitors to your store, you have two options: spend a big amount of time to drive free targeted traffic or spend a lot of money on paid ads.
The fastest way to bring traffic to your store is with paid traffic, but this is also highly risky because there's no guarantee that people who come to your store will purchase something. And you cannot get a refund. You could spend thousands of dollars before you start making your money back.
In my opinion, paid advertising is not for people who are on a low budget or newbies because it takes a lot of money to find what works and what doesn't work for you. 
Lack of privacy policy
---
Something that I don't like about Bank Ramp is that there's no information on how Jamie is going to use your personal details, such as your name and your email address.
Most ClickBank products that I come across have a privacy policy, so I don't like the fact that Bank Ramp doesn't have this kind of information.
I believe that knowing how your data is going to be treated is important before making a final decision. 
After having reviewed hundreds of products & websites, I have realized that the ones that lack legal information tend to be sites that collect people's data for the owners to sell them to other marketers or companies.
Therefore, I personally decide not to get involved in sites that don't provide this kind of information.
Is Bank Ramp a scam?
---
Whether Bank Ramp is a scam or legit depends on your expectations.
On one hand, if you buy this product with the expectation that you can make money easily or with little work, then you will call Bank Ramp a scam.
On another hand, if you purchase it to learn from the training and start building your dropshipping business, then it's not a scam.
The sales page is a little bit misleading because Jamie doesn't tell you the complete truth, but this is what happens with most ClickBank products that I have come across. There's always some level of hype within sales pages.
When it comes to the training delivered, it's good and I think you can benefit from it if you want to build a dropshipping business.
With that said, I believe Bank Ramp is only for those who have at least $1,000 to invest and people who are convinced that dropshipping is their business model.
Like I said, it's a product sold on ClickBank, which means that you can get a refund if you buy it but end up not liking it.
What you end up doing is up to you, I knew that dropshipping wasn't for me so my final conclusion is that I do not recommend Bank Ramp.
Why I quitted dropshipping
---
Some years ago when I was getting started, I tried to make money dropshipping, and even though I earned some money, I ended up quitting after learning about another business model.
I'm glad that I discovered this other business model, which has showed me the path to making passive income everyday.
There are days that I have earned over $200, as you can observe below:
This business model also takes effort and time, but it doesn't require me to deal with refunds or manage arrangements.
Also, I learned a method to send traffic to my website for free, so I don't need to risk thousands of dollars. Sounds cool?
It's similar to dropshipping because you don't need to sell your own products, you will not only be able to sell other people's physical products, you also get the chance to profit from digitial products & services!
With the right training and tools, I believe you can make this business work for you, given that you are committed to learning and taking action.
If that sounds great to you, I invite you to check out my FREE guide here:
If you read my guide until the end, you will learn the method I followed step-by-step to build this business, the tools and training I used, inspiring success stories from people who started from zero…
You will get to enjoy the process because your business will be based on a topic you have a passion for, so you will not get bored =)
Oh, and did I mention that you can start today for free? That's right, in my guide I reveal how you can check it all out without spending a penny, you will be able to decide if this business is right for you risk-free!
And that's not all! You will discover how you can get my personal guidance and support! You will be able to ask as many questions as you need inside my favorite online community, which is full of Internet marketers who are always helping each other =)
I love the messages and feedback I have been receiving lately. This message you can read below is from one of the thousands of people who have decided to join me:
I'm so excited for you to get in the right way to start your passive income business today!
CHECK OUT MY FREE EARN MONEY ONLINE GUIDE HERE!
I hope this Bank Ramp review has been helpful to you and you will make the best possible decision.
Don't hesitate share it with whoever you believe that will benefit from it!
If there's something else you want to know or you have any questions, please feel free to leave your thoughts below and I'll get back to you ASAP! 
Whatever you do next, I wish you nothing but the best =)