Hey guys!
You've come across the Click Cash System and are wondering whether this one can really make you $1000 per day or it's just another ugly scam, right?
Well you're in the right place because I've taken a closer look to Click Cash System and I've decided to write a review to let you all know the truth about it.
My initial thought was that it was not legit as the Click Cash System sales page looks like another scam page but let's see what it is in more detail.
.
Click Cash System review
---
Name: Click Cash System
Website URL: www.clickcashsystem.net
Owner: Aaron Ward
Price: $47 + upsells
Created in: 2017
Overall Rating: 13/100
.
---
If you're sick of scams, check out my 1st resource to make money online here!
---
.
What is Click Cash System?
---
The moment I came across Click Cash System I saw something I didn't really like.
They claim 3 newbies have made $1,000 within 60 minutes and how you can make $1,000 per day for life.
Then you're asked to complete a form with your name, phone number and email address, which is a big red flag. Why are they asking for your information without telling you what this system is about? 
Imagine someone you don't know knocks on your door and asks you for your personal details without saying why he/she needs them. Would you give your information away? I surely wouldn't.
This told me it was probably a scam because scammers always hide their identity and real intentions but ask for personal and financial information.
So I completed that form with random details just to watch the sales video and find out if Click Cash System was really a scam.
The man who appears in the video claims that video is highly confidential and people who have access to it have received a private invitation, which I couldn't help but laugh at lol. 
I found that page while doing a Google search so unless he's referring to Google as the one who has invited me, I may be an exception lol.
The truth is that everybody who has an Internet connection and a laptop or smartphone can access that page and watch that video, it's not privated and no one has been selected as he claims.
So this man claims to be Aaron Ward and he says he's sick of the scam artists, all the gurus and all the BS. He also says he's been scammed before so that you think he's not going to scam you.
His mission is to have you making $50,000 per month or more within 60 days. That's too much when we consider that making huge amounts of money online takes waaay more than 2 months, especially if you're a newbie or are on a low budget.
He talks about how lucky he's been to have met Justin, who gave him the formula to make millions of dollars online. 
According to him, this formula is F + G + Y = M. This means that the money (M) comes from Facebook (F), Google (G) and YouTube (Y).
His "cash machines" are said to grab all the traffic from Facebook, Google and YouTube and present high-converting offers to people who are searching for them. 
The great thing is that those cash machines work on autopilot because of a secret code Justin put into them, so you won't have to work much as they do all the work for you.
Sounds too good to be true, right? Looks like another "magical system" that plainly does not work. 
It's possible to make money from Google, Facebook and YouTube but it doesn't work like "Aaron" claims.
.
What can you expect from Click Cash System?
---
You can expect Click Cash System to make money to the scam artists who have created it, not you.
According to "Aaron", he's made all his money from affiliate commissions, so Click Cash System is about affiliate marketing.
He says that his cash machines extract millions of targeted traffic from Google, Facebook and YouTube, then sends them high-converting affiliate offers and then you get affiliate commissions deposited to your bank accounts when people make purchases through your affiliate link.
It's more than possible to earn money as an affiliate marketer, a.k.a. promoting other people's products and getting paid a commission for it.
However, this doesn't work as "Aaron" claims. There's no system or machine that can extract traffic from Google, Facebook or YouTube. It this existed, it would cost waaay more than $47 and not everyone would be able to afford it. 
I guess these scammers are looking to take advantage of people who don't know how Google, Facebook or YouTube work so that they believe that there's still a magical system that works and buy into the scam.
The truth is that the training you'll get if you purchase Click Cash System is low quality training. You're shown some snapshots of ClickBank and ClickSure affiliate accounts but they're from 2013.
It's clearly out of date. They'll merely teach you how to make money as a ClickSure or ClickBank affiliate. 
The problem here is that ClickSure is known to be the house of scam products so you can expect them to teach you to make money by promoting other scam products, which is completely unethical.
Apart from that, you can also expect these scammers to sell you other products way more expensive than $47. If you've given them your real phone number and email address, you can expect them to:
Call you to convince you to buy other products.

Send you BS emails related to other scam offers.

Sell your personal information to other scam artists.
.
Why Click Cash System doesn't work
---
This system doesn't work because it can't extract traffic from Facebook, Google or YouTube.
These three sources don't even work the same way. 
Google is a search engine that is constantly changing its algorightms to rank websites and decides which sites will be on the first page when people do searches. 
Websites like Click Cash System don't rank well because they only have one page and new and valuable content is not being added to them.
That's the kind of site you'll get if you purchase Click Cash System and the way you'll have to get lots of traffic to it is by paying for ads, which can be quite risky if you're a newbie.
When it comes to Facebook, the way to get people to visit your site is by paying for FB ads or promoting it on FB groups.
YouTube also decides which videos are the first to appear when someone does a search so there's no way you'll get lots of traffic to your site without creating a video that people are interested in watching and that is relevant to your offer and then put a link to your site in the description.
As you see, this is not an automated system and it will require that you put in the time and work to earn affiliate commissions. It's just not possible to make money online without doing nothing.
.
Is Click Cash System a scam?
---
Click Cash System is a scam, without any doubt.
In the previous section I've explained why it will not work and now let's see other red flags that expose Click Cash System as the hoax it is:
Lie about the price. "Aaron" first claims he'll give you this system for free but then you see that it costs $47 just to get started, not to mention the rest of products they'll try to sell you.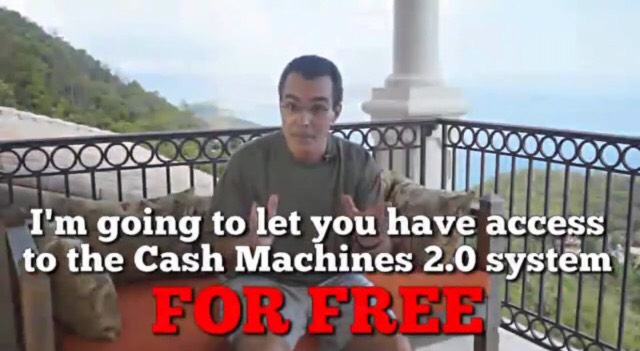 Aaron Ward is a fictional character. That's right, the scam artists behind Click Cash System have paid the man who claims to be Aaron Ward just to play a role. He's not a millionaire and doesn't live in the private island they show in the sales video.
Click Cash System is a rehashed scam. It's clear that they've used the same sales video they created for a scam named Cash Machines 2.0 that came out in 2013. Scam artists always change the name of their scams after enough people have been scammed just to mislead potential victims. It's not weird the fact that they don't mention "Click Cash System" in the sales video and they mention Cash Machines instead.
.
A real opportunity to make money online
---
I didn't need to purchase Click Cash System to know it's a scam. I've already wrote more than 100 reviews so I can recognize when I'm dealing with a scam. 
Some of the other scam pages and crappy programs that I've reviewed and you should avoid are the following:
Truth be told, making money online is like making money offline as working hard and having patience is required.
There's no shortcut when it comes to earning a living online and the sooner you realize this, the sooner you'll stop falling for scams and the sooner you'll get on the right track to earn a full-time income online.
If you're willing to do what it takes to generate an income online, I highly suggest that you check out my favorite platform.
This platform provides step-by-step training, courses and other useful tools tha will get you to start and grow an online business the way that works for the long-term.
I've been a member of that platform for over a year already and haven't looked back since. It's very affordable and you can even  join for free to see if you like it. 
You'll also get help and support from me and other members inside this platform, you can ask whatever you want as there's always someone willing to give you a hand!
If you're interested in learning more about my recommended platform, click the button below and read my full review now:
.
I hope I have answered the questions you had before reading this review. Don't hesitate to share it with whoever you believe that will benefit from it.
Feel free to leave a comment below if you have any questions or want to share your thoughts and I'll get back to you ASAP.
Have a great day! 🙂