Wondering if Cash At Home Bonanza is a scam? Or perhaps you hope this is a legit system that will help you become financially free, right?
First of all, congratulations for taking the time to do your own research before purchasing another money-making program!
The Internet is full of frauds, so doing your due diligence is the way to avoid the ugly scams and discover the honest way to make a substantial income online!
Cash At Home Bonanza is no better than other programs I have reviewed and my honest review will prove it to you.
Here you will find how this program really operates and whether or not it's worth your money and time.
Cash At Home Bonanza review
---
Name: Cash At Home Bonanza
Website: bonanzacash.pw
Owner: Hidden
Price: $47 + upsells
Overall Rating: 10/100
Recommended? No
---
If you're sick of scams, check out my 1st resource to make money online HERE!
---
What is Cash At Home Bonanza about?
---
The second I saw the Cash At Home Bonanza sales page, I didn't like it because it reminded me of some scam pages I have come across in the past.
But I thought I would give it a try to see if I was wrong and this one would turn out to be legit.
Cash At Home Bonanza is said to provide you with money-making methods that you can use to earn $500 a month.
You supposedly don't need any technical skills or previous experience to make this program work for you, and you can do this in your spare time, even if you have a full-time job.
The spokesman claims this system will not make you rich overnight and he will not even show you fake screenshots to prove that it works.
Honestly, I believe he says that because he wants you to think that this is different from the other scam systems. But the fact that he talks too much about the kind of money you can earn is something that can make you skeptical.

I mean, most scam videos focus on how much money you can earn instead of what you have to do to make money.
He says that this system has nothing to do with MLM (Multi Level Marketing), but he doesn't explain exactly how it works.
He tells you to provide your personal information in a form below the video to get access to another video where he's supposed to tell you how this system works.
I personally don't like programs that require you to give away your information before they give you details about what you're getting into.
After getting access to the second sales video and watch it completely, I can say that this is like other programs I have reviewed.
It's not as awesome as the spokesman wants you to believe, so keep reading to see how it really operates.
How Cash At Home Bonanza really works
---
In a few words, Cash At Home Bonanza gives misleading information to part with your hard-earned money. That's how it works.
In the second video, the spokesman claims this is about ad link posting, which is a misleading name for a legitimate business model.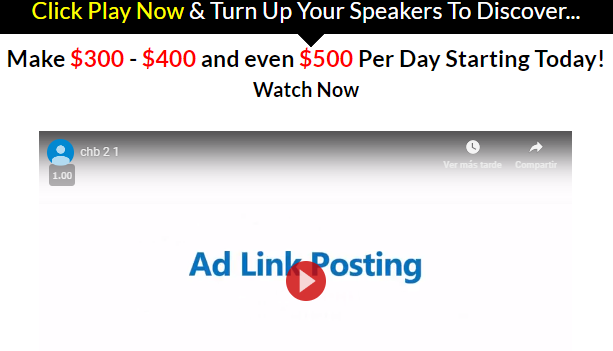 Ad link posting is not really a money-making opportunity because posting links doesn't guarantee that you will make money.
According to the spokesman, you only need to follow 3 steps: 
Follow their step-by-step system

Pick an ad link posting company to work with

Start enjoying your money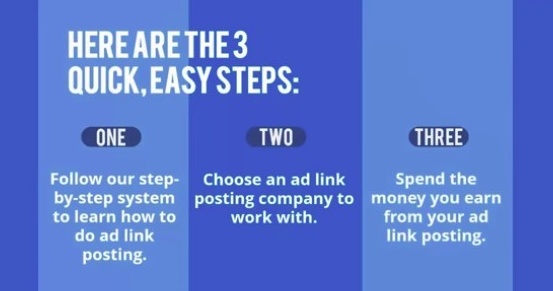 I know the process sounds simple but the truth is that there's so much more to it.
He claims you can earn $300 an hour if you post 20 links that make you $15 each one. Lol if only making money online was that easy.
The truth is that you could post as many links as you want and still not earn a dime. Why? Because posting links is not what makes money to companies.
The companies you choose to work with don't care about the amount of links you post. They care about making sales, so you will only get paid when you make sales.
Why Cash At Home Bonanza is misleading
---
So the CAHB sales video is very misleading because it makes this money-making opportunity seem easier than it really is.
Posting links is just a part of the method you need to follow to make money. If you don't get anyone to click on your links and make a purchase, you will not get paid. 
The goal is to get other people to buy the products through your links, so you need a lot of targeted traffic to make a lot of money.
I mean, you could get visitors but if they're not interested in the product you're promoting, you cannot expect to make sales. That's why you cannot just post links on social networks like Facebook or Twitter and expect to make a lot of money.
You first need to build an audience before thinking of making money. Without targeted traffic, there's no money to be made. You could even have lots of followers on social media and still not make a cent.
For example, if most of your followers are hip-hop music fans but you promote classical music albums, you cannot expect someone to click on your link and make a purchase.
That's something the spokesman doesn't tell you. He's actually promoting this opportunity as if it was a job because he claims you can get paid just for posting links.
He wants you to believe that you can get paid everytime you post a link, so you can get paid starting today because you can start posting links the same day you get started.
That's a misleading way to market this money-making opportunity. A way that can leave people like you feeling ripped off or disappointed when you realize that it doesn't work like you were told.
The real name for "ad link posting" is affiliate marketing. I noticed that the spokesman doesn't mention this name in the sales video and I guess the reason for this is that he doesn't want you to look for information and find the truth.
Can we trust the people behind this system?
---
How can we trust someone who doesn't show up? 
Not only that, the spokesman doesn't even reveal his name and he doesn't show any picture of himself. That's why I cannot trust him.
First of all, he doesn't say the truth about how this system really works, which is enough for me not to trust this guy or whoever behind this program.
Second of all, he doesn't tell us how to get in touch with him or how to get some support, which is something that indicates he really doesn't care about us.
Third of all, he makes empty promises and misleading claims, which is another reason not to take this program seriously.
I have reviewed many programs like this one and I've come to the conclusion that the creators of these programs don't show up because they're running a scam, so they don't want their victims to report or persecute them.
Some tricks they use to take your money
---
These scammers do the most to take your hard-earned money. 
For example, he claims they can only help a limited amount of people so you need to buy the system as fast as possible not to lose your spot. 
That's complete BS because they're not even helping the people who buy this system. They don't really want to help anyone.
There's no limit when it comes to the amount of positions available because these con artists want to sell this system as many times as possible.
They will never limit the amount of money they can make so don't let them fool you when they say that there's some kind of limitation.
Apart from that, saying that you're not required to do much work to earn money with this system is another tactic they use.
They're marketing it as a get-rich-quick scheme because the spokesman makes it sound "too good to be true", which is another scam sign because programs that are marketed as a solution to making "easy and quick" cash tend to underdeliver or end up being straight scams.
Is Cash At Home Bonanza a scam?
---
Whether Cash At Home Bonanza is a scam or not actually depends on how you define a scam.
Some people call a scam something that takes your money for nothing in return, so for them CAHB might not be a scam because they provide some training.
Others would call Cash At Home Bonanza a scam because it's very misleading and doesn't live up to its promises. The training they provide doesn't contain enough information to make the kind of money they talk about, so it will not help you achieve your goal of making a living online.
I also want to point out something I believe you need to know. I took a look at their privacy policy page and found something I didn't like. 
See what I mean below:

They will share your personal information with third parties a.k.a. other individuals or companies, which means that you can expect to receive spam emails from emails you haven't subscribed to, given that you give them your email address.
If you give them your phone number, you will receive unexpected calls from numbers you have never heard of. These con artists will try to convince you to spend more money on their BS products, which is something that they do with everyone who provides their phone number.
Like I said, they do the most to make money at your expense. So they will use whatever information you give them to benefit themselves.
Apart from that, in the picture above I have highlighted "easykits.org" because it's the company behind CAHB. I looked for opinions and reviews of this company and everything I've found is negative.
Below you can read some complaints:
As you can see, we cannot trust the people behind Cash At Home Bonanza because they're the same scam artists who are running the easykits.org scam.
There's nothing ethical or legal about a company that only cares about making money at other people's expenses.
Because of everything I've mentioned, I have to conclude that I highly don't recommend Cash At Home Bonanza.
How I earn a 4-digit monthly income from home
---
The day I realized that making a substantial income online required time and work, I stopped wasting my time on get-rich-quick scams and "push-button" systems.
I'm glad that I learned about the affiliate marketing business model and found a trusted, comprehensive training that helped me start making money online.
There are various methods you can use to build this business but the method I use is newbie-friendly because it doesn't require a large capital.
Like I said before, you will need to drive targeted traffic to the products you promote and the good news is that it can be done for free!
You don't need to spend a dime to get traffic when you know how to do it. I'm grateful that I learned the way to do that.
This business is so cool because it enables me to work wherever I want as long as I have an Internet connection and it also allows me to earn recurring income.
There's a lot to say about this method so if you want to know more, I invite you to check out my FREE step-by-step earn money online guide here:
I want to be completely transparent with you, so I don't recommend that you read my free guide if you're not committed to taking action. Like I said, this is not a way to get urgent cash.
If you decide to read my full free guide, you will learn why my 4-step proven formula for affiliate marketing works, how it works, real success stories, how I got started…
Not only that, you will see how you can start today for free!
I'm not kidding, the place I show you gives you some free lessons that will enable you to get this business started the right way.
In addition, in my free guide you will also find how you can receive free help and support from me and other affiliate marketers. I can guarantee you will not be alone in this new adventure, you will get all your questions answered =)
So what will you do? Will you keep wasting your time on scams or will you take action and get your affiliate marketing biz started today?
CHECK OUT MY FREE EARN MONEY ONLINE GUIDE HERE!
I hope this Cash At Home Bonanza review has been helpful to you and you will make the best possible decision.
Feel free to share it with whoever you believe that will benefit from it!
If there's something else you want to know or you have any questions, please leave your thoughts below and I'll get back to you ASAP! ? 
Whatever you do next, I wish you nothing but the best =)