Welcome to my Click2Sell.co review!
Wondering if this advertising platform is another scam you need to avoid? Or maybe you hope that this is a legit online advertising platform?
First of all, I need to congratulate you for doing your own research before getting into another online money-making opportunity.
There are many frauds out there so doing your due diligence is the way to avoid scams and find the legitimate way to earn recurring income online!
When it comes to Click2Sell, I found out that there are 3 platforms with that name: click2sell.eu, click2sell.com and click2sell.co, which is the one I'm going to talk about. 
Click2Sell.co review
---
Name: Clicks2Sell
Website URL: clicks2sell.co
Owners: Hidden
Launched in: 2018
Price: $200 or more
Recommended? It depends
---
If you're sick of scams, check out how I make passive income every day HERE!
---
What is Click2Sell.co about?
---
The Click2Sell.co website looks very professional and legitimate, something that can make you think this is legit.
But I didn't want to come to any conclusions without doing my homework so I did intensive research.
Click2Sell.co is said to be an online advertising platform that enables agencies, brands, affiliate networks and basically anyone to run, track and manege their online marketing campaigns easily.
They claim their goal is to create a world where more people can become successful Internet marketers, so they have been developing tools that are said to enable marketers communicate and cooperate.
The cool thing is that anyone can take part of this platform and earn money. No matter your experience, knowledge or skills, you can benefit from this platform.
All you need is a laptop or smartphone and an Internet connection to work with Click2Sell. So is this platform the ultimate online place that will enable everyone to make money online?
It seems a legitimate money-making opportunity and something giving a try, but I don't think it's for everyone, which I'm going to explain why.
RECOMMENDED: Check Out My FREE Earn Money Online Guide Here!
How does Click2Sell.co work?
---
In order to get started, you have to fill out a form with your name, last name, email address and phone number.
After that, you will get access to the platform and will be told to pick one of their packages and invest in it. Without buying one of their packages, you will not be able to use this platform.
So it's free to get access but then you're required to invest at least $200 to get started.
That's how the platform looks after registering:
Doesn't it look beautiful? The layout is nice, there seems to be a lot of options and it's easy to navigate.
However, the fact that there are lots of information makes it a little bit hard to know where to get started. I would have appreciated an introductory video.
Anyway, to start making money you first need to buy one of their packages so let's take a look at them.
These are the packages you can choose to get started:
Depending on the package you choose, you get more or less training and support, as you can observe above.
After buying a package, you can start creating your ad campaigns to test them out to see which ads perform better and then you can resell them for a higher price.
When it comes to the ways of making money, there are 4 ways:
PPC (Pay Per Click). It's the total number of clicks generated by a campaign. You can receive 85% of the revenue generated from a campaign, so the more clicks your ads get, the better.
PPA (Pay Per Acquisition/Action). It's the total number of sales. When people click on your ad, they will be taken to a brand's website where they can buy products, so when they make a purchase you can receive a 85% commission of the total revenue.
Resell your ads. If you have tested out an ad and it doesn't perform well, you can resell it for a higher price.
Refer your friends. They claim you can get paid $100 when one of your referrals purchase one of the packages. So if you can get paid up to 10 referrals, is $1000 the maximum amount of money you can earn from their affiliate program?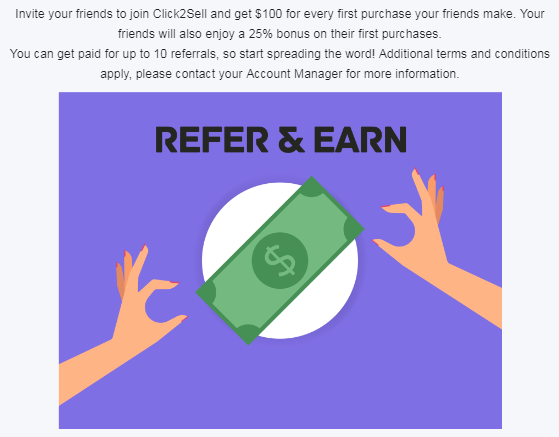 When it comes to creating campaigns, it's easy to do that. You just have to go to their marketplace, select a category (art, gaming, business, sports…) and choose an ad to create a campaign.
Then you need to name your campaign, choose the size of the ad and its placement on a website, pick a pre-written headline and finally launch your campaign.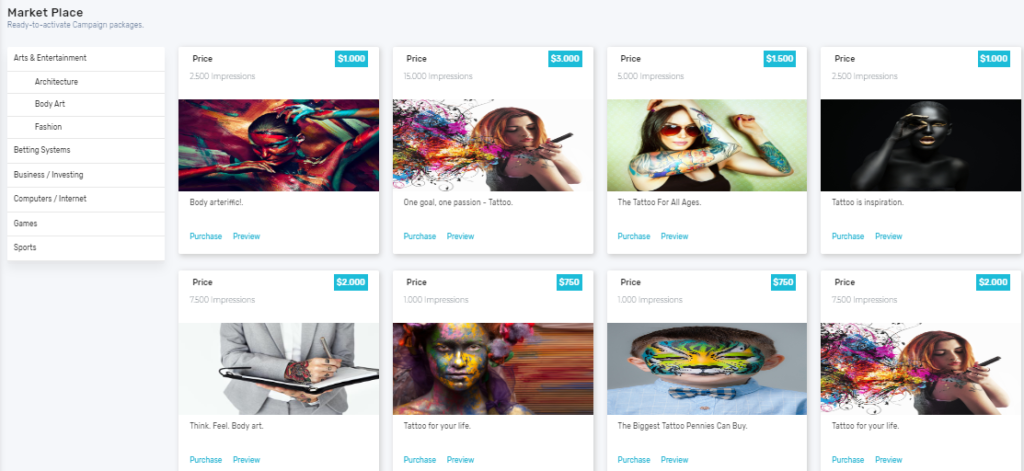 I love the banners from the body art category, they look nice, don't they? But they're quite expensive, in my opinion. The cheapest of them all costs $750, so people who start out by investing in the starter package cannot do much testing.
They claim this is for beginners, but I'm not so sure. I mean, people who are starting out might want to invest less than $200 to get started, so it would be great that they provided cheaper options.
Someone who has tried the platform has told me about his personal experience, so I thought I would post it:
First thing first, although the minimum deposit amount is $250, I was offered the chance to buy some nice packages which included additional services. I decided to buy the Starter pack to test things out in the beginning, and I got a few "gifts" with it. Other than a cool 20% Welcome Bonus to get more additional credit, they also provided me with an eBook to get some background of the digital advertising industry, and a one-on-one session with an experienced agent who gave me some advice about the online marketing platform itself.
Creating a new campaign from scratch
Armed with my new knowledge I made my own custom campaign rather than buying a pre-made one from the market. The entire process is very simple and straightforward. I started by selecting the category of the campaign, such as Architecture, Sports, Fashion, or Gaming, its length, and the amount of money I wished to invest. Then I chose the banner and where to place it on the website or mobile. Different locations may bring different results, so in the beginning, I created several campaigns with smaller budgets to test things out. Nicely enough, instead of having to write my own headline, I had the option to choose from a list of pre-written ones.
Final considerations – Can You make money using it?
The bottom line is that this platform is rather cool. There are many options to choose from, meaning that you have to play with them for a while before you can find a definitive "formula" that can bring you a profit. However, if you got some money to invest, it can easily bring you a little bit of money with a relatively limited effort. It's like having my own piece of virtual real estate on the Internet which I can use to make another income from home.
RECOMMENDED: Learn How I Make a 4-Digit Monthly Income Here!
Is Click2Sell.co a scam?
---
Whether Click2Sell.co is a scam or not depends on your perspective.
In my opinion, this platform is not for everyone because not everyone is interested in online advertising, other people prefer other options to make an income online.
If you are an experienced marketer, Click2Sell may not be suitable for you because this platform is quite simplified, so you would probably profit more by using other platforms like Google AdWords.
In case you are a beginner who wants to get into digital advertising, you could probably benefit from Click2Sell.co because it makes it easy for you to get started.
Before getting into a money-making opportunity, I always tell my readers to read the legal pages like disclaimers and terms & conditions.
It's important that you take a look at their terms & conditions, since you need to consider that you will have to provide them with some personal documents in order to make withdrawals.
This is something that I have seen in other platforms and it actually makes sense because without them knowing some information, they wouldn't be able to send you any money. Also, the information you have to give them depends on the payment method you choose to get the money sent.

Online advertising is a risky business, so note that there's certain level of risk and there's no guarantee that you will profit. That's why I don't recommend that you invest more than you can afford to lose.
As you can read in their US disclaimer, you could lose some or all of your initial investment:
What you end up doing is up to you, these are just my thoughts. I hope this Click2Sell.co review was helpful.
What about a proven business model to make an income online?
---
I'm grateful that I found a proven business model that is newbie-friendly and has given me a way to earn a 4-digit monthly income online.
I have to confess that I was quite skeptical when I got started because I had seen lots of people fall for scams, so I did my own research (just like you have done) and I found a legitimate platform where I learned how to use this business model the right way.
This business model doesn't require me to spend time on creating my own products and I don't even have to recruit anyone into a system that doesn't last for the long term.
Instead of that, this is a proven business model that has been working for decades and enables you to make money from other people's products.
It's very cool because it allows you to work from anywhere as long as you have a computer and Internet connection, and it also gives you the chance to earn passive income.
I'm living proof that this business works, as you can see below, there are days that I have earned over $200: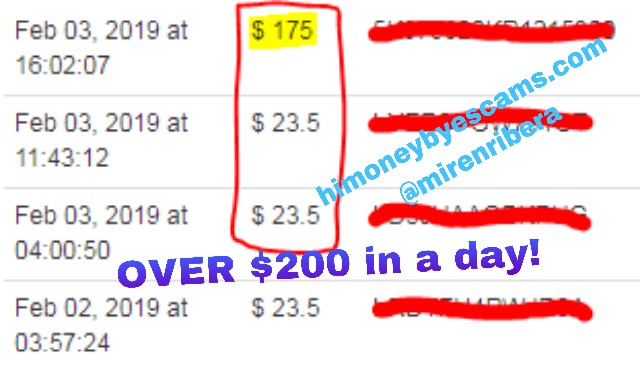 With that said, you need to keep in mind that this business takes a lot of time and work to build. This is just like anything worth accomplishing in life, you need to make efforts to reach your goals.
If you're ok with it, I invite you to check out my FREE step-by-step earn money online guide where I explain what I do to make a consistent income online:
By clicking the button above, you will learn how you can build your online business with the 4-step method I followed.
Not only that, you will also learn why this method works so well, real success stories, how I personally got started…
Oh, and did I mention that you will be able to start today for free? Isn't it cool the fact that you can check it all out without spending a dime?
My free guide will also show you how you can receive free support and help from me and other like-minded people! You will have all your questions answered because in my favorite community there's always someone willing to give you a hand =)
I love the messages and feedback that I've been getting lately. This message below is from one of the +4K people who have taken action:
So what will you do? This is your time to get on the right way to build your passive income source!
CHECK OUT MY FREE EARN MONEY ONLINE GUIDE HERE!
I hope this honest Click2Sell.co review has been useful to you and you will make the best possible decision.
Feel free to share it with whoever you believe that will benefit from it!
If there's something else you want to know or you have any questions, don't hesitate to leave a comment below and I'll get back to you ASAP! ? 
Whatever you do next, I wish you nothing but the best =)