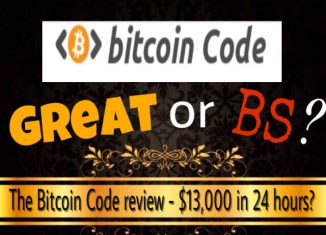 Hey people! 
Today I came across a website called The Bitcoin Code, so I wanted to know whether it's a scam or not and write a review to inform you all about the truth.
To be honest, the moment I saw that website, the word "scam" already came to mind because of the website's layout. However, I wanted to make sure what it really was so I checked it out and did a research.
So let's see what is The Bitcoin Code all about!
.
The Bitcoin Code review
---
Name: The Bitcoin Code
Websites:
thebitcoincode.com

the-bitcoincode.com

thebitcoin-code.com

the-bitcoin-code.com

thebitcoinscode.com
Owner: "Steve McKay"
Created in: 2017
Price: "Free"
Overall ranking: 0/10
.
---
If you're sick of scams, check out my 1st resource to make money online here!
---
.
What is Bitcoin Code?
---
The Bitcoin Code is supposed to be a software that can make you money by trading bitcoins.
Steve McKay, the presumed founder of Bitcoin Code, says that he was a software developer who used to work for a Wall Street firm. One day his boss told him to work on a new bitcoin software for wealthy clients, but he realized that his boss had really tricked him into inventing his personal ATM machine. When his boss left town, he tried the software for himself as no one else knew about it, and then he started generating $550 per hour.
The creator of the Bitcoin Code claims that he's currently offering free copies of his software to 25 people.
He also states that everybody who joins is guaranteed to earn more than $13,000 in 24 hours ($550 per hour) just by working less than 20 minutes per day and he also says that Bitcoin Code members have become millionaires within 90 days or less.
Sounds too good to be true, doesn't it? Of course, these claims are very common in get-rich-quick scams. Don't you think that everybody would be taken advantage of this software if it really worked?
.
Is Bitcoin Code a scam?
---
Sad to say, but yes. Bitcoin Code is a nasty binary options scam like 1K Daily Profit and 6 Figure Method, among others.
After watching both videos (the promotional video and the video I was redirected to after entering an email and a name), taking a closer look at the website and searching for information about Steve McKay, I blacklisted Bitcoin Code. 
In this section I'm going to provide proofs that will show how everything about Bitcoin Code is fraudulent.
.
Red flag 1 – Steve McKay is an invented character
---
I noticed that the Bitcoin Code is in other languages like Spanish, so I checked it out to see the differences between the website in English and the one in Spanish and I found out that they've changed the name of the supposed creator of this software. 
As we know, in English the founder is Steve McKay, but in Spanish is Sergio Marón, as you can observe in the pictures below: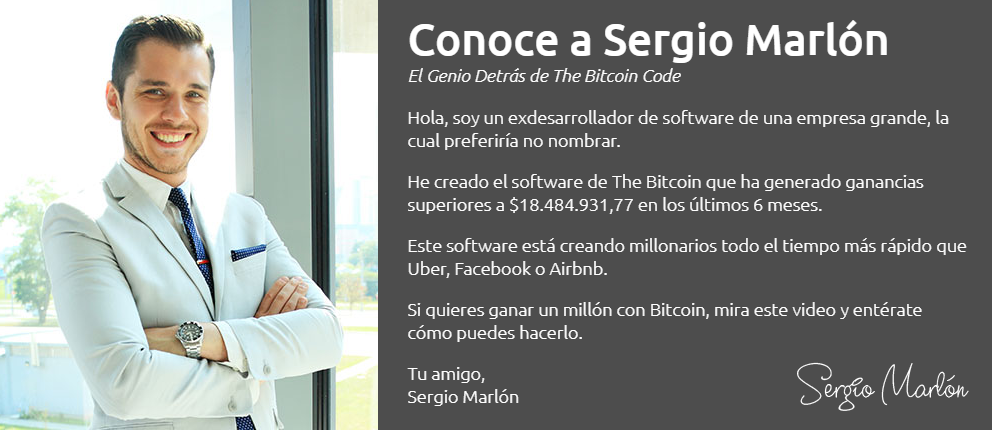 As you see, the person is the same, but with a different name. What does it mean? The founder of Bitcoin Code is not real, it's merely a character made up by the  real creators of the Bitcoin Code (a.k.a. the scammers).
Then who would join a software whose owner is fake? I obviously would not.
.
Red flag 2 – Fake testimonials
---
After finding out that the owner of Bitcoin Code was fake, I thought that the testimonials would be false too. I identified one of those people who claim that Bitcoin Code has changed their life by making them millions. Below you can see a paid actor I found on Fiverr: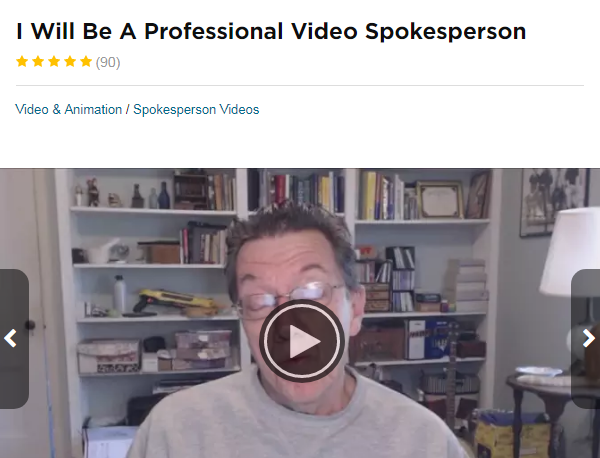 These crooks always pay actors in exhange of a positive review about their crap, this way it's easier for them to convince people to join. The truth is that all those people who praise the Bitcoin Code haven't even tried it.
.
Red flag 3 – Fake reviews
---
There are some comments in the Bitcoin Code website that are not genuine at all, but it wasn't unexpected after knowing that software is a fraud. I detected its fakeness by checking out the website in both English and Spanish, since the name of the memberss change but the picture remains the same, like how can a person have two different names? No way.
See what I mean below: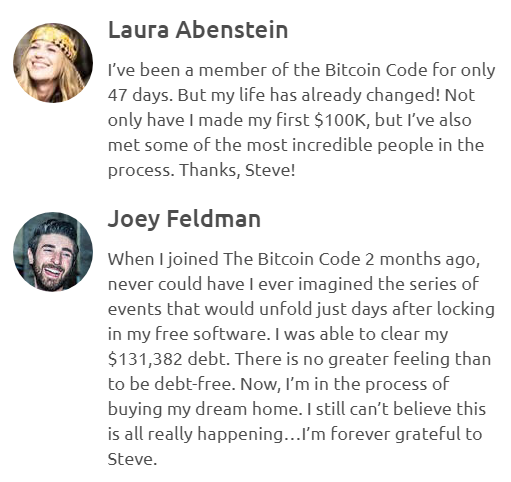 If you understand both English and Spanish, you know that these reviews are simply translated. However, the rest doesn't make sense. 
Why would someone join a software whose opinions are fake?
.
Red flag 4 – Fake trades
---
In the second page, after posting a name and email, I saw a trades history so I thought it would be fake too. Therefore, I took a look at it and I found out it's unreal because the execution date (August 4th 2016) is previous to the domain registration date (June 19th 2017), yes this scam software isn't even 3 months old lol. This means that the Bitcoin Code didn't exist in 2016 so the execution time of these trades can't be true.
Lol I also noticed that these fake trades are just copied from another scam software I exposed yesterday, CFD Society. May this mean that the crooks behind these two scams are the same people? 
.
Red flag 5 – Disturbing pop-up
---
I've lost the count of the times this annoying pop-up appeared while I was watching the scam video lol. Fraudsters usually use pop-ups as a way to catch their victims before they leave the scam site. They shamelessly are capable of doing anything to convince you to give them your personal information and eventually steal your money.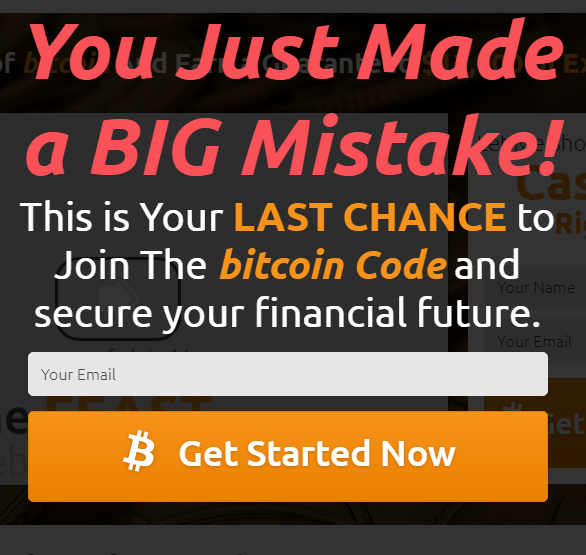 Can you imagine how annoying it is to continuously see it appear in your screen? Also, see how they do the most to get you inside the Bitcoin Code by saying that it's your last chance. Oh, and they want you to feel guilty with the "you just made a big mistake".
.
What would it happen if you joined Bitcoin Code?
---
After making sure that Bitcoin Code is a shady scam, you can't expect anything good if you join it.
When you provide them with your name, your email, your phone number and a password for your trading account, you can expect to receive lots of spam emails, some phone calls to incite you to invest everything you can and these criminals can even sell your personal information. 
And this is only what can happen if you give them your information. Imagine if you give them your financial information like your credit card, they'll steal all the money they can.
After you enter your personal information to register, you'll be redirected to a trading account and they'll tell you to fund it with the minimum broker's requirement (usually $250) to activate it and start trading.
If you make the investment, forget about getting your money back. No matter whether you win or lose the trades, they won't let you transfer the money from the trading account to your bank account. These criminals work with unlicensed brokers who pay commissions to the scammers. 
If you ask them for your money back, they won't reply or will try to persuade you to give them your information or trick you again so you invest more into their scam. These fraudsters really have no limits and try to get away with everything they can.
In conclusion, don't be fooled by all these manipulative and sneaky tactics these swindlers use to ruin your life. 
.
Is it possible to earn money online?
---
I know there are people who've already fallen for this scam, and for those of you who have heard of it and are thinking whether to join or not, I hope you make the good choice after reading this review.
I know these unscrupulous folks called scammers don't only steal money or personal information, they also discourage and upset honest and hard-working people.
If you've been searching to make money online but have been scammed, I have good news for you. It's possible to earn money online by working hard, being passionate and consistent. 
If you're looking to earn money online in a legit way or just want to create a successful online business, then I highly recommend that you give Wealthy Affiliate a try (free to join! 🙂 ).
WA is an online business platform where you'll learn to build a digital business through step-by-step courses and training. If you join, you'll be getting full support from me, other community members and the owners of the platform. 🙂 
You can read more information about Wealthy Affiliate by clicking below:

.
I hope this review has been useful to you and you never fall for craps like Bitcoin Code. Please feel free to share this on social media so more people get to know about this scam software and avoid it. 
If you have any questions, comments or experiences related to the Bitcoin Code, other scams or Wealthy Affiliate, leave a comment below and it'll be a pleasure for me to connect with you! Thanks for dropping by! 😀