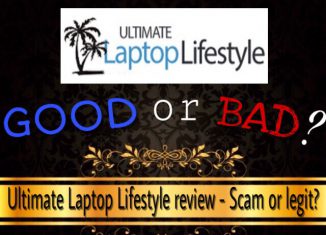 Hi y'all!
I've recently come across a program called Ultimate Laptop Lifestyle, which sounds interesting. Therefore, I wondered whether it's a great opportunity or not worth our times or money. Perhaps that's what you're wondering too. 
To be honest, the moment I stumbled upon that website I didn't like it as it gave me that "scam vibe", since its layout is similar to other scams.
Anyway, I did my research and have reviewed it to help you make a decision in case you're thinking of joining this program.
.
Ultimate Laptop Lifestyle review
---
Name: Ultimate Laptop Lifestyle
Website: www.ultimatelaptoplifestyle.com
Founder: Jeff Lerner
Created in: 2017
Price: $49 + upsells
Overall rating: 31/100
.
---
If you're sick of scams, check out my 1st resource to make money online here!
---
.
What is Ultimate Laptop Lifestyle about?
---
Ultimate Laptop Lifestyle is an online business program created by a business man named Jeff Lerner. 
When I started watching a video I thought it was a scam because of the layout of the website and the fact that Jeff Lerner doesn't give much information about how you're going to make money or what is the product about.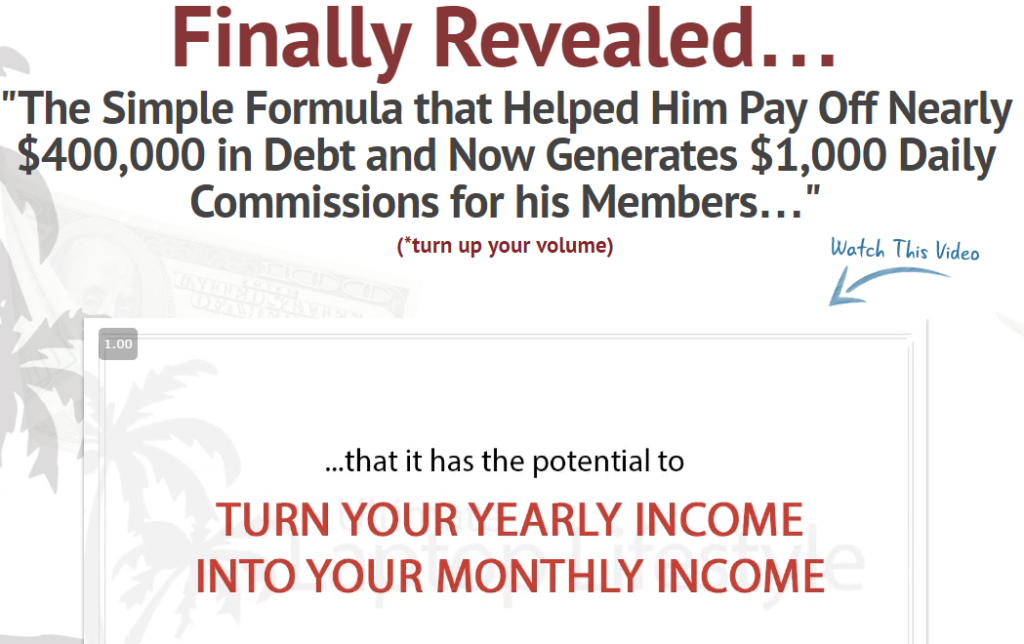 He mostly talks about him and his life and the lifestyle you can have if you join Ultimate Laptop Lifestyle. Similar stuff is done by most scammers, who talk about their history, their earnings and that luxurious lifestyle but don't talk much about how you're going to earn money.
However, after watching the video (it's so long by the way), I could understand what it's about. It's a high ticket program like Digital Altitude (I wrote a review about it), what means that you'll have to spend thousands of dollars in other products in order to promote them and earn those $1000 commissions that he's talking about. 
According to Jeff, this is what he's taken into account when creating Ultimate Laptop Lifestyle:
Traffic & lead generation

Split-testing and conversion optimization

Products and services to market

Sales funnel and well-defined sales process

Merchant processing

Billing and receivable

Broadcasts

Customer relationship management software

Technology, servers, websites, hosting

Email marketing

Follow up messages
Fulfillment on products and services
Jeff claims that you don't need any prior experience and it doesn't matter if you don't know anything about building an online business because he has everything covered for you, it's a "done for you" system.
To be honest, it sounds so appealing that it's all "done for you", but it also keeps you dependable because your business depends on what other people (in this case Jeff and his team) have created for you, so this kind of systems don't let you enhance your creativity or come up with different solutions.
.
Who is behind Ultimate Laptop Lifestyle?
---
Before joining a company or purchasing a product, I believe it's important to know the person or the people behind it, who is Jeff Lerner in this case.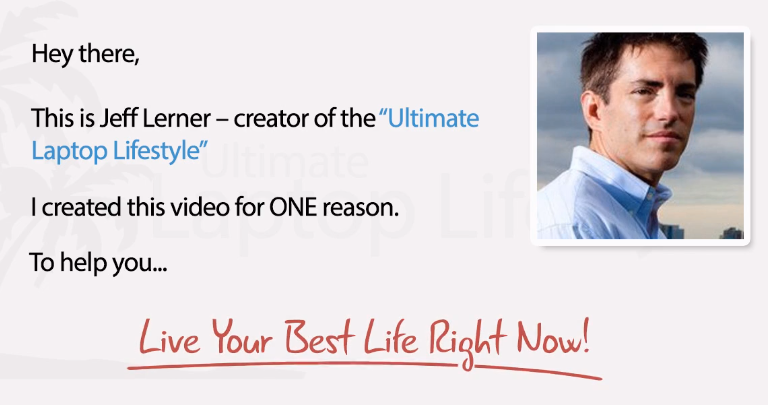 I searched information about him and found out he's on social networks like Instagram, Facebook and Twitter. What he says in the video about himself is true, he makes lots of money online, he's appeared in magazines, he holds $10,000 seminars…
So this tells me the Ultimate Laptop Lifestyle may not be a scam.
.
How does Ultimate Laptop Lifestyle work?
---
In order to get started, you'll have to submit an application to work with Jeff and his team. They want you to submit an application because they want to find out people who are really serious and people who are not, since Jeff claims that they only want to work with people who are committed.
And this application is not free, it costs $49. You'll see that you can add a bonus (support from Jeff Lerner and other Ultimate Laptop Lifestyle members on their private Facebook group), which is free the first month but then it'll cost $39 per month. 
By paying $49, you'll have access to the Laptop Lifestyle Toolkit and 7-Day Training. You'll also have to wait 1 day until a coach contacts you to let you know if your application has been accepted. Jeff claims that you get to keep the training even if your application has been rejected.
If you're qualified to work with them, your coach will recommend the products or programs to purchase and promote so you can start making commissions off them. Note that these products are high ticket products, what means that you'll need to spend thousands of dollars.
You'll be basically taught how to make money by promoting Jeff's products.
.
Is the Ultimate Laptop Lifestyle a scam?
---
If I hadn't watched the video or had not done my research, I would have said that Ultimate Laptop Lifestyle is a scam. I just don't like the way they're marketing this system because of the scam signs I've seen in the sales page and the promotional video. I'm going to post some of them in this section.
.
Another "private invitation"?
---
If you've watched the typical scam videos, you may have already heard of the "private invitation" thing. In this case, I don't understand why he mentions it as you're taken to a public page if you enter your details, so it's not private.
Another thing is, there's not a limited number of spots, I've checked their site a lot of times and the offer is still available and has been available for some months.
.
The noisy pop-up
---
This one is so common in scams. They usually contain words like "wait" or "stop" so you stay in their website.
.
The fake countdown
---
This one is used to get you join fast. I know it's fake because I refreshed the page a few times and the countdown went to how it was the first moment I stumbled upon the page.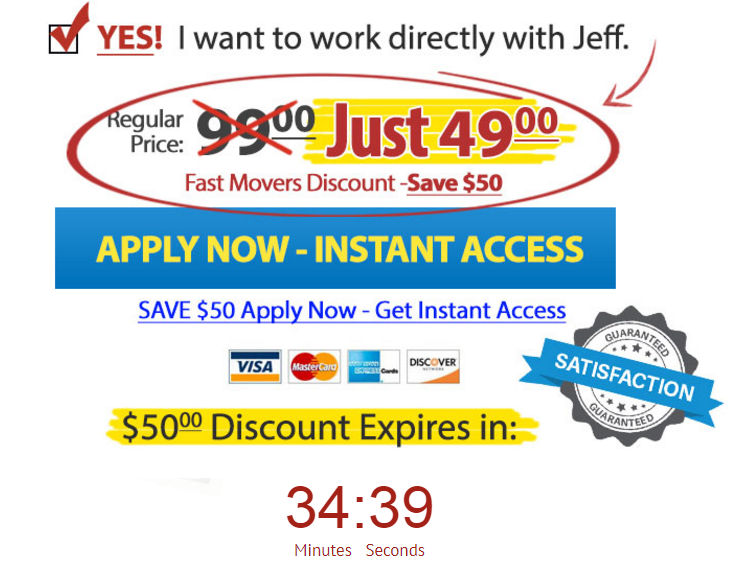 Even though I don't like these tactics that are used to get people into this system, I can say that Ultimate Laptop Lifestyle is not a scam, since you're getting what you pay for. The creator of the system is real, the testimonials are also real and the system works. I consider to be a scam those products or programs designed to steal your money, but this one delivers what Jeff says and can make you money, of course.
What I don't like is the fact that they don't let you try it for free and don't even mention the price of all the products you'll have to buy.
Therefore, I won't be recommending it to people who're just getting started or are on a low budget, since you would need to spend a vast amount of money to earn those $1000 commissions. 
.
Another opportunity to make money online
---
Ultimate Laptop Lifestyle is not a fraud, but as I said before, it's not suited for beginners. 
The truth is that most people who are searching how to make money online are on a low budget, which means that they're not willing to spend lots of money, like why to spend thousands of dollars to get started when you can start for free?
I don't think newbies are willing to spend thousands of dollars to get started, that's why I recommend Wealthy Affiliate (it's not overpriced and suited for newbies and experts). It's an online business platform where you'll learn to start a successful online business through step-by-step courses and training. 
You'll also get support and help from the community members and the owners, this way you won't feel stuck or alone along the process. You can find out more about Wealthy Affiliate by clicking below:

.
The moment you join, you'll complete your profile and get a welcome message from I and other members. I'll be so excited to see you there!! 🙂 
I hope I've helped you make a decision with the information I've provided in this review. If you've found it useful, don't hesitate to share it on social media. 
In case you have any questions or comments, feel free to leave a comment below and I'll reply as soon as possible. Thank you for reading!