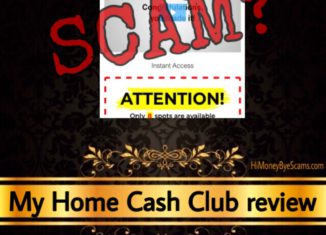 Welcome to My Home Cash Club review!
Have you been wondering if myhomecashclub.com is a scam? Or is it a legit system that will make you $500 per day?
If that's what you need to know, I'm happy that you have found this post because here I reveal the whole truth about this program.
As you can imagine, there are too many scams out there, so I'm glad that you are doing your due diligence. That's the key to avoid frauds and discover how to make thousands of dollars online!
When it comes to My Home Cash Club, it's not as awesome as they have told you and here I explain why.
So keep reading to find out if myhomecashclub.com is right for you or not!
My Home Cash Club review summary
---
Name: My Home Cash Club
Website URL: myhomecashclub.com
Owner: "Greg Thomas"
Price: $47 + upsells
Launch date: July 2019
Best for: the owner and affiliates 
Recommended? No
---
If you're sick of scams, check out my 1st resource to make a 4-digit monthly passive income HERE!
---
What is My Home Cash Club about?
---
The moment I saw the My Home Cash Club sales page, I thought I was in front of another get-rich-quick scheme because it looked very similar to other scam pages I have come across. 
But I didn't want to conclude it wasn't legit without looking deep into it, so I took the time to do my homework.
The spokesman, "Greg Thomas", claims this system will help you make $500 per day with only 30 minutes of daily work. This claim is what makes this system sound like a scam because it doesn't give you real expectations.
He talks about how much money you will make on autopilot but he doesn't explain how it will be done. He acts as if all you had to do was to click a few buttons to activate the system and let it make you money.
It's possible to make $500 per day online, but it requires way more than 30 minutes of daily work and it doesn't work on complete autopilot.
If making thousands of dollars was so easy and only required you to invest 30 minutes per day, don't you think that most people would quit their jobs?
I mean, why working for someone else and get paid little money when you can work online and make thousands & thousands of dollars in passive income? If it didn't take much work, maaaany people would be doing it. 
"Greg" basically tells you what you would like to hear, not what you need to hear. He knows that if he told you the truth, you probably wouldn't buy this system. 
And to make more sales, he claims there are only spots available. This is a fake scarcity tactic that he uses to get you afraid of missing out, so that you buy this system as soon as possible. 
But you can confirm it's fake if you refresh the page or exit and come later, since there are always spots available. 
You see, if he wants to make as much money as possible, would it make sense that he put a limit to the amount of people who can buy My Home Cash Club? It wouldn't!
Sick of scams? Want to make passive income every day?
Check Out My FREE Earn Money Online Guide Here!
Does My Home Cash Club really work?
---
It actually depends on what you would like to achieve.
If your goal is to make $500 a day, then My Home Cash Club does not work.
If your goal is to make money overnight, it doesn't work for it either.
My Home Cash Club primarily works for the owners to profit, and then it can work if you want to learn about the affiliate marketing business model.
However, they do not provide what you need in order to earn the kind of money they talk about. 
What you will find in the members area is generic & outdated training videos on how to make money with affiliate marketing.
If you've never heard of it, affiliate marketing allows you to earn commissions by promoting other people's products/services. 
When someone buys something through your affiliate link, you get paid. I personally use this business model to make passive income online, so I can say that it really works. 
If you want to learn more and get started for free, click here. 
Anyway, the problem with My Home Cash Club is that they don't provide high-quality or in-depth affiliate marketing training. The training provided is not enough for you to start profiting. 
It's not step-by-step training, which indicates that you can easily get lost or stuck not knowing what to do next. 
You definitely do not get a system that can help you make $500 a day. The concept of a done-for-you system that makes you money on autopilot doesn't really exist. It's something that scammers invented to make money at your expense.
Can we trust Greg Thomas?
---
I personally don't believe that Greg Thomas can be trusted because he doesn't do anything different than the other con artists.
He doesn't show up and he doesn't even tell us how we can contact him. This is a red flag because without knowing who's behind My Home Cash Club, how can we know if it's any good? 
After reviewing hundreds of sites, I have concluded that sites/programs whose owners hide tend to be scams that don't work. 
You see, when someone is proud of something he/she has created, he/she is proud and confident enough to show up. 
I'm actually not surprised at the fact that the owner of My Home Cash Club doesn't show up because I have seen the same thing in other programs like this one.
For example, the owner of Your New At Home Career (it's a copy of My Home Cash Club) also claimed to be Greg Thomas and he didn't show up either. 
They're not honest about what they provide
---
In the My Home Cash Club main page, they claim to provide you with training about dropshipping.
This is a business model that allows you to make money from other people's physical products. It's not the same as affiliate marketing because dropshipping requires you to take care of refunds and customer service. 
But after paying $47 and getting access to the members area, you can see that there's nothing about dropshipping on there. So why do they advertise My Home Cash Club as a dropshipping ebook? I don't like programs that have false advertising.
Lack of transparency with regard to the cost
---
My Home Cash Club is being advertised as a way to earn thousands of dollars by only investing $47. 
However, as I have explained, this is not a system that can help you make money.
And I also want to point out that it costs way more than $47. If you purchase it for $47, you will be hit with some upsells that cost hundreds of dollars. 
Those upsells don't include other tools that you need to build this business, so you also need to take into account that there are other costs apart from the upsells. 
This is what I don't like about this kind of programs. They never mention how much money you need to start making money. 
Tired of scams? Want to make money online every day?
Check Out My FREE Earn Money Online Guide Here!
Has anyone succeeded with My Home Cash Club?
---
In the myhomecashclub.com sales page, there are some testimonials who claim to have earned thousands of dollars within a short period of time. 
Truth be told, these people haven't bought My Home Cash Club, which means that their income claims are totally fake.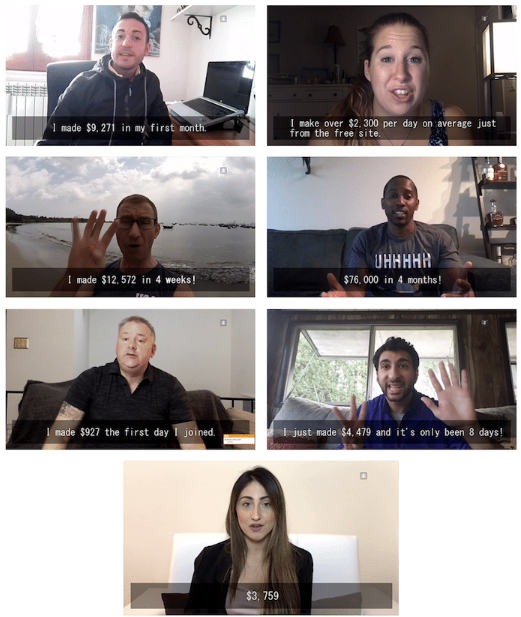 The reason they claim to be making money is that they have got paid for saying it. They're paid actors from a freelancing site called Fiverr. 
Below you can see some of their Fiverr gigs:
Because of this, I cannot take their claims seriously. 
This is an indication that My Home Cash Club does not work as advertised. If it really worked, there would be no need to use false testimonials.
My Home Cash Club review – Is MyHomeCashClub.com a scam?
---
After everything I've explained, it's up to you to decide if My Home Cash Club is a scam or legit program.
Some people will consider it to be legit because they give you something for your money. It's not one of those programs that leave you with nothing. 
Other people will call it a scam because the sales page is very misleading and you don't receive what they promised. So it would be totally fine to call My Home Cash Club a scam.
The fake testimonials, the outdated training, the fake income claims, the lack of transparency… All of this is enough for me to believe that My Home Cash Club is not worth my time.
Another thing is, there's no guarantee you'll get a refund in case you have bought it, since this program is not being sold through a network. So this is not risk-free.
What you decide to do is up to you, but I have to conclude that I do not recommend My Home Cash Club.
It's best to learn from a comprehensive training
---
If you're starting out and feel lost or stuck because you don't know where to find a proven method to make passive income online, keep reading. 
Like I told you, I use affiliate marketing to earn money online every day, and I have realized that without a step-by-step training, I wouldn't have earned anything. 
As you can see, I'm living proof that affiliate marketing really works: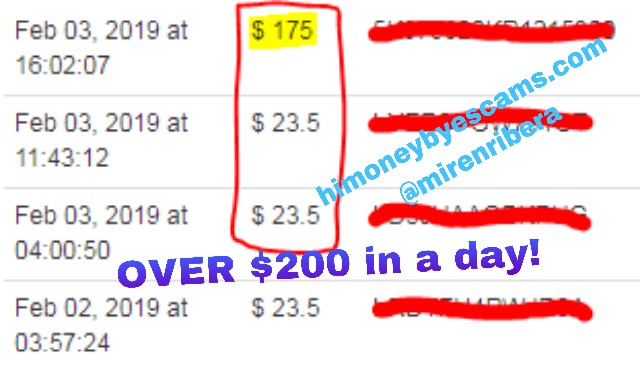 This method is newbie-friendly because it doesn't require you to spend any money on advertising. And it doesn't matter if English is not your first language. There are people from all over the world doing it!
The good news is that getting started is risk-free because you don't need to spend a dime. 
That's right, in my FREE guide I reveal how you can start today for free: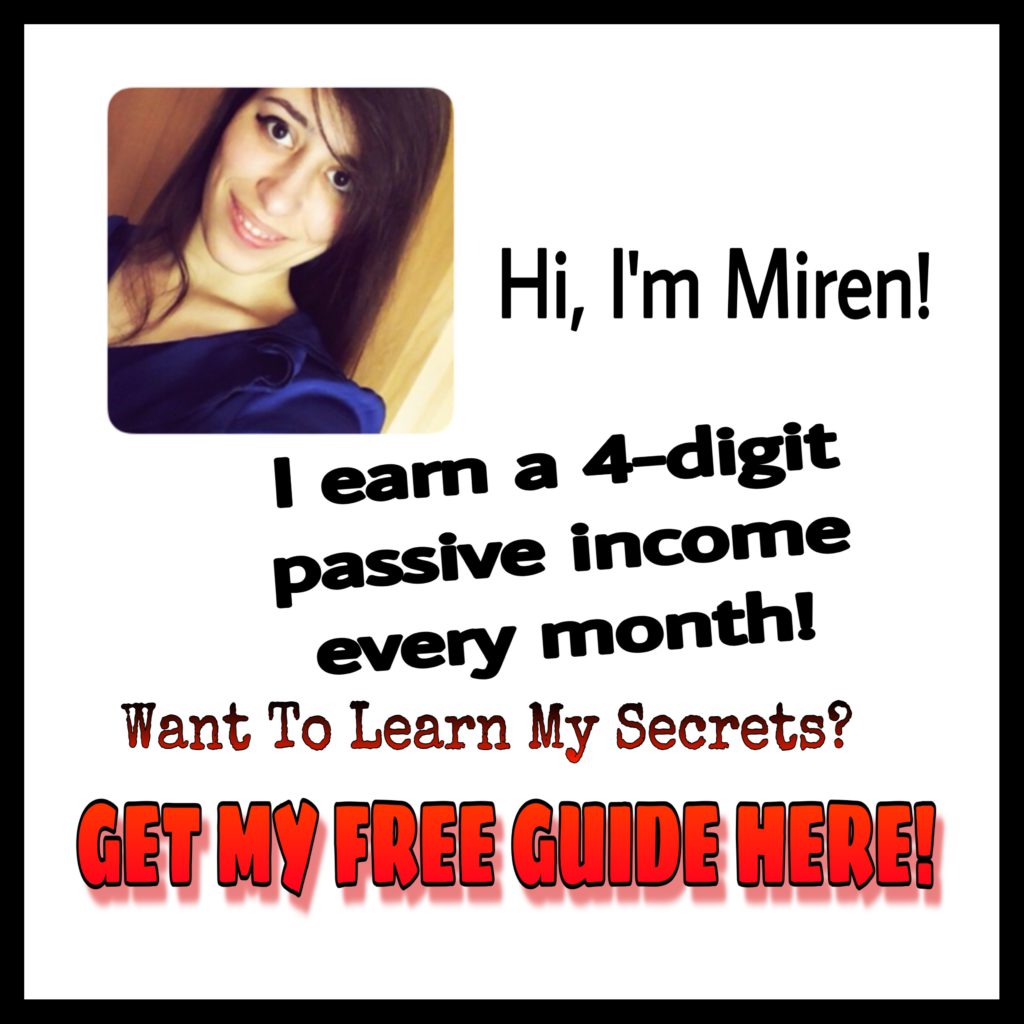 If someone like me can do this, you definitely can make it happen as long as you take action!
My guide is FREE (no login information required, just click here to start reading it), which means that you have nothing to lose and a lot to gain =)
Oh, and don't you worry if you ever get stuck! I'm not like "Greg" because I'm honest about who I am and I also tell you how you can reach out to me.
In my free guide I reveal how you can get lots of help and support from me and other Internet entrepreneurs.
Stop wasting your time on dangerous frauds and start your affiliate marketing journey today!
I'll leave this quote here:
If you want something you have never had, you must be willing to do something you have never done.
I hope this My Home Cash Club review has been useful to you and you will make the best possible decision.
Feel free to share it with whoever you believe that will benefit from it!
If there's something else you want to know or you have any questions or would like to share your experience, please leave a comment below. I love hearing from you all!
Whatever you do next, I wish you nothing but the best =)