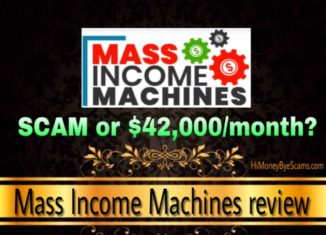 Welcome to my Mass Income Machines review!
Wondering if this system is legit? Or is it another ugly scam that will take your money and waste your time?
First of all, I must congratulate you for taking the time to do your own research before taking out your credit card to buy another money-making product.
You might be aware of the fact that there are too many frauds out there… so doing your due diligence is the way to avoid the dangerous scams and discover how I earn a 4 digit monthly income online!
When it comes to Mass Income Machines, it's not as awesome as the sales page makes it seem so here I am to tell you the full truth in this honest review.
Mass Income Machines review
---
Name: Mass Income Machines
Website: makemoneyonline.network
Owner: "Jacob Allen"
Price: $37 + upsells
Overall Rating: 2/10
Recommended? No
---
If you're sick of scams, check out my 1st resource to make money online HERE!
---
What is Mass Income Machines about?
---
Someone sent me an email to the Mass Income Machines sales page, so I thought I would look deep into it to see if this one would be legit or just another scam.
The moment I landed on their sales page, I thought it was another "too good to be true" program because of how similar it looked to other scam sales pages I had come across in the past.
But I didn't want to believe it was a scam so I did my homework before reaching a final conclusion.
The spokesman, "Jacob", claims he's going to show you a way of making money online that only a select few know about.
You supposedly don't need any special skills or previous experience to start making money the same day you get started, all thanks to his amazing system.

He says that this system is so powerful because it creates a win-win situation for everyone involved in the system. When someone makes money, others people in the group get to profit as well.
"Jacob" makes this system sound like the perfect solution for everyone who is looking to make a full-time income online, and he even shows some income proofs to lead you to believe that his system works.
He shows you how the brand new ClickBank account he opened made him money within a few days, just to prove that his system works.
But will it work for you? What does "Jacob" hide? Does this system really work like he says?
From my experience, I can say that this system doesn't sound any different than the other products/systems I have reviewed.
Everything the spokesman talks about sounds awesome, but there are some important things that he doesn't mention and I have also noticed some red flags that you need to take into consideration.
Mass Income Machines is no better than these other products:
Does Mass Income Machines work?
---
Mass Income Machines does not work like "Jacob" tells you because you're not getting a system that you only need to set up and activate to profit.
He makes the process of making money online sound very easy and fast, when in reality it takes time and work.
I know it's easy to get excited when he shows the income proofs but the truth is that there's no proof that he has made that money thanks to this system.
I mean, what if he has used methods that are not taught inside Mass Income Machines?
Also, he does not tell you what you're exactly going to receive after purchasing the system and he doesn't even mention what you will be selling or promoting to earn the kind of money he shows.
How is it possible that he made hundreds of dollars days after opening a new ClickBank account? 
Well, the truth is that he's no newbie and that's something he doesn't say. He already knows how to drive traffic to the products he wants to make money from, something that beginners still need to learn.
When it comes to making money online, traffic is one of the most important pieces of the equation because without traffic, there's no business!
For example, if you owned a restaurant but no one came to eat, there would be no money to be made. The same would happen if you had an online shop or website.
In the whole sales video, he doesn't mention how important traffic is and he makes the process seem very easy.
He only shows you how he creates the ClickBank account and the money he has earned from it, but he doesn't say what he sold or where he promoted whatever he was trying to sell.
Marketers like him have years of experience so they already have an audience and where to get traffic from and how to get it.
Because of this, it's not fair that he makes making money online seem so easy and fast. People who are starting out need to learn and acquire new skills before generating the kind of income he shows. 
Get My FREE Earn Money Online Guide Here!
Jacob Allen is not the real owner of Mass Income Machines
---
Just when I realized that Jacob Allen was not the real person behind Mass Income Machines, I knew I could not trust what he said.
How did I find? I scrolled down to the bottom of the Mass Income Machines sales page and found this disclaimer:
So there's no way to know the creator of Mass Income Machines, which is a red flag because it indicates a big lack of transparency. 
Would you buy something from someone you don't know? I personally would not trust a product from someone who hides his identity and is not honest about what's exactly included in that product.
The upsells
---
If you decide to pay $37 to buy Mass Income Machines, you can expect to get bombarded with upsells that will cost you hundreds of dollars.
Did you think these people would only charge you $37? They want to earn much more than that!
In my opinion, it would not even make sense that they offered a valuable product for only $37.
They will tell you that you can make more money or you can accelerate your profits if you buy these upsells, but can they even be trusted?
When a product has upsells, it means that the first product (Mass Income Machines in this case) is not as good as advertised. A complete product wouldn't need anything else to make it work.
My shocking discovery: Mass Income Machines was previously called Profit 24-7!
---
Just the moment I saw the URL "makemoneyonline.network", I thought I had come across it before so I did some research and it turns out that I wasn't wrong.
I have reviewed hundreds of products like this and I remember that some months ago I wrote about another ClickBank product called Profit 24-7, which was promoted in this URL makemoneyonline.network.
Because of this, I think that the people behind Mass Income Machines are the same who created Profit 24-7 because the same URL has been used to promote two products.
In fact, I believe that Mass Income Machines is just another name to promote Profit 24-7 because the sales videos for both products are very similar.
Not only that, they even mention Profit 24-7 in the sales video for MIM.
Also, I searched for "makemoneyonline.network" on Google and I saw they still mention Profit 24-7 instead of Mass Income Machines.
So why have they changed the name of this product? I have noticed that scammers usually change the name of their BS products to mislead potential victims.
In this case, they're not promoting Profit 24-7 anymore because they want to prevent future customers from finding honest reviews like mine.
Just the fact that they don't want people to find the truth is something that indicates they don't really care about their customers.
Lack of legal information
---
Last but not least, they don't provide any legal pages like privacy policy, terms & conditions or income disclosure.
I actually got surprised when I saw that they don't have any of these pages because I have found them in most ClickBank products.
This is a big red flag because it means that they are not honest about many important things. For example, the way they are going to use your personal data.
Are they going to sell it or share it with other people or will they keep it private? No way to know, but I wouldn't be surprised if they shared it with other vendors or scammers because that's what many of these unethical marketers do.
If you have given them your main email address, you can expect to receive emails regarding Mass Income Machines and other money-making programs.
Check out My FREE Earn Money Online Guide Here!
Is Mass Income Machines a scam?
---
Whether Mass Income Machines is a scam or not depends on how you define a scam.
I know some people might not call it a scam because it gives you some training for your money and you might learn something from it.
Others will call this product a scam because it doesn't live up to its promises, since it's not as good as advertised and doesn't provide all the knowledge you need to have to earn the kind of money they talk about.
With that being said, I don't consider Mass Income Machines a total scam because it's a product sold on ClickBank, which means that you can get a refund in case you buy it and end up not liking it.
But I don't like the fact the misleading advertising on their sales page because it gives beginners false expectations and they might end up feeling disappointed.
They're marketing Mass Income Machines like a get-rich-quick scheme, which is a big scam sign because programs that are advertised this way end up being low-quality programs or complete scams.
Also, the lack of important information is another factor that tells me this product is not to be trusted.
Because of everything mentioned, I have to conclude that I do not recommend Mass Income Machines.
How I make a 4 digit monthly income online
---
If you're serious about making a full-time income online, you need to keep in mind that it takes commitment, consistency, patience, learning, effort…
This is like anything worth achieving in life, without putting in the work and time you will not accomplish anything.
When I realized that, I stopped wasting my time on scams and low-quality products and started working on my online business.
I'm grateful that I got to learn about a business model that is newbie-friendly and takes advantage of the millions of products & services that are available online.
I learned a method that allows me to earn passive income online and now I get to enjoy making money while I sleep, eat or listen to music. And the best part is that I don't have to deceive or lie to anyone.
There's a lot to say about this business so I created a FREE step-by-step earn money online guide where you can find how it all works:
You will see that I hide nothing in my free guide. I show you the 4-step formula I used, the business model, the reality of making money online, the main reason this business works, some real proofs…
I also reveal the step-by-step training I learned from & the tools I used and you will see how you can start using them to build your own business as well.
Not only that, you will find how you can start today for free! You don't need to spend a dime to check it all out and decide if this is right for you, so getting started is risk-free =)
And another great thing is that you will be able to receive help and support from me and other like-minded individuals! You will see how safe is the place that helped me create my passive income stream and how supportive are the people on the community.
There's always someone willing to give you a hand so you're not alone in this new adventure 🙂
I'm so excited for you to stop wasting your time on the low-quality programs and start building your online biz today!
CHECK OUT MY FREE EARN MONEY ONLINE GUIDE HERE!
I hope this Mass Income Machines review has been helpful to you and you will make the best possible decision.
Feel free to share it with whoever you believe that will benefit from it!
If there's something else you want to know or you have any questions, please leave your thoughts below and I'll get back to you ASAP! ? 
Whatever you do next, I wish you the best =)