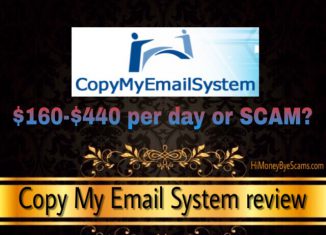 Welcome to my Copy My Email System review!
Have you come across copymyemailsystem.com and are wondering whether you can earn money by sending emails everyday or is Copy My Email System a scam created to rob you blind?
There are many scams nowadays so you need to ensure you know what you're in front of before opening your wallet. That's the way to avoid scams and find the legitimate way to earn passive income online!
I'm glad you've landed on this review because you're going to find out the truth about CopyMyEmailSystem.com, whether it can help you make money or not and more.
.
Copy My Email System review
---
Name: Copy My Email System
Websites:
Owners: "Bobby", Brian Jones?, Michael Beeson?
Price: "Free" 
Recommended? No
.
---
If you're sick of scams, check out my 1st resource to make a 4-digit monthly passive income HERE!
---
.
What is Copy My Email System about?
---
The moment I saw how the Copy My Email System sales page looked, the words "get-rich-quick scheme" came to mind because of the bold claim "$160 to $440 a day sending simple emails…".
It just sounded too good to be true so I started watching the sales video to find out how this works.
The spokesman, who is supposed to be named Bobby, claims he's been working online for 19 years and has managed to earn millions through email marketing.
He talks about the lavish lifestyle he has. He travels the world, he doesn't have to worry about paying the mortgage, his wife doesn't have to work and he gets to spend time with his children. Sounds amazing, doesn't it?
Now he's giving you the chance to partner with him and start earning money immediately, and the best part is, it's completely free.
According to him, he now has over a million subscribers on his email list, so he's looking for people to send emails for him and he's going to pay them in return.
It seems a win-win situation because you'll be helping him send emails faster and profit more, so he'll pay you for that.
And you will not even have to worry about building a list. You'll just have to log in every day, select an email to send and then you'll get paid $0.20 every time someone clicks a link of your email. If you do this everyday, they're supposed to add 500 subscribers to your list every week.
Oh, and they also offer an affiliate program, so you're supposed to make money by getting others to join. They claim you can earn 10 cents for each of their link clicks.
Sounds great, doesn't it? Yes, it seems a great money-making opportunity for everyone because we all know how to send emails, so it would be awesome to get paid for it.
However, after doing intensive research, I found out that CopyMyEmailSystem is not what it appears to be.
Let's see how it really works.
.
How does Copy My Email System really work?
---
After joining Copy My Email System for free, you get access to the members area where you can start watching the videos where they explain what you have to do next.
They'll tell you to purchase an email sending account so you can start sending the emails and make money.
This costs $1.95 the first 5 days and then an additional payment of $97.
Then they claim you can jump start your commissions by 10 weeks if you buy a package of 5000 subscribers for a one time fee of $199.

But this doesn't finish here. There's more.
Remember that they have an affiliate program? Well, they claim every referral that generates 100 clicks a day can make you $300 per month in commissions. 
Therefore, they're 3 offering packages of referrals a.k.a. emailers: 
20 referrals for $297

5 emailers for $97

2 emailers for $47
After all this, I'm wondering:
Where do the subscribers come from? Are they going to be interested in the emails they get?

Where do the referrals come from? And how can I know they're real people?
They don't explain anything of that, something that's important to know to ensure an informed decision. 
And then, after you set up your account, start sending emails and people click links, your red flashing commissions amount will start to rise and rise, something that will make you believe this is the real deal.
However, you need $500 in order to claim your payment, something that's not that easy to achieve in little time.
If you do some math, you need 2500 clicks to earn $500.
Anyway, we've seen that this is not free like "Bobby" claims. This is a big red flag.
.
Is Copy My Email System a scam?
---
After everything I've found out regarding Copy My Email System, I've reached the conclusion that it's a scam.
In fact, it's not new. This scam has other names like Guaranteed Email System, GIM System, The Email Syndicate, Guaranteed Income Machine…
I believe the people behind this are the same who are running another scam I've exposed in the past called Profit With Michael.
Scammers usually change the name of their scams in order to mislead and confuse potential victims. 
Let's see the scam signs and red flags that prove this system is not worth it.
.
The testimonials of the members area are not real members
---
If you've joined Copy My Email System and have taken a look at the members area, you might remember some of the video testimonials. These people claim to have been successful with this system.
For example, this one below:

However, I found out she's a paid actress who sells her services on Fiverr for $5: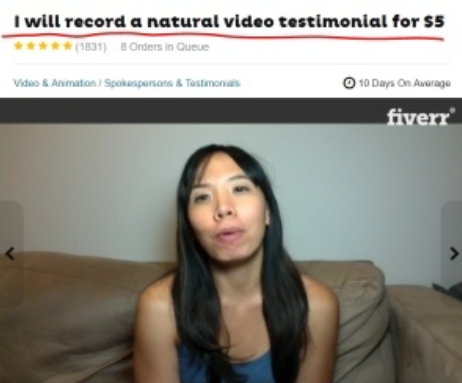 If people had been successful with this system, then the con artists behind CMES wouldn't have paid for positive opinions.
RECOMMENDED: Learn How I Make a 4-Digit Monthly Income Here!
.
The type of emails you'll be sending
---
What about the type of emails you'll be sending? What are they about? 
While watching the videos, I noticed some examples of the emails you will send if you decide to buy this system.
Here's one of them:
As you can observe above, I highlighted the red flag found in that email. 
Do you believe it's ok to tell people they can make a full time income online in 5 minutes?? It's a complete lie and you wouldn't be doing your subscribers any favor by saying that.
We all know that making money online doesn't happen fast or easily, so saying things like that only creates false expectations.
In fact, that's not what genuine entrepreneurs do. That's what scam artists do.
By sending emails like that, you would only be doing the scammers dirty work. I guess the links on those emails will take people to other scam programs.
Those email examples just prove what kind of people we're dealing with. I personally don't want to do business with con artists like the ones behind Copy My Email System.
.
The complaints
---
If the video testimonials that can be found in the Copy My Email System members area are paid actors, then what about the people who have bought this system? How's their experience been?
As I said before, this system goes by other names. I've found out many complaints about the GIM System. 
Let's see some of them: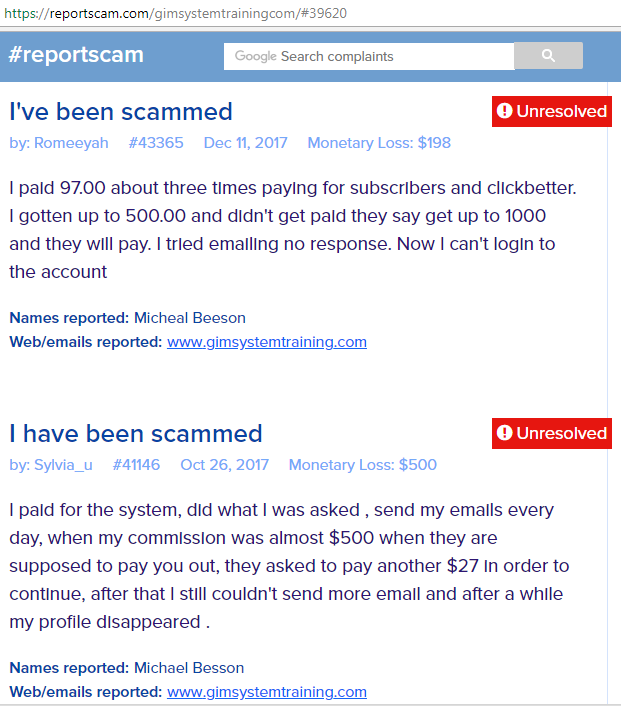 No one who has tried this system has got paid. It's all fake and fabricated to get you to believe you're making money so that you upgrade and pay and pay, and then when you reach the payout threshold of $500, they will make excuses or will not reply.
Many people have been emailing them and the scammers have even terminated their accounts. That's what you can expect from these swindlers, they do the most to get your money and then run.
.
Get on the right way to make money online
---
I definitely don't recommend that you purchase Copy My Email System. No one has made money from it but the scammers who have created it.
When it comes to making money online, there are more scams than programs I can recommend. 
Scammers take advantage of the fact that there are people who are in need and don't know the truth about earning money online. 
Truth be told, no matter the method you use to make money online, you'll have to put in the work and time. It will not happen without making efforts. 
It was when I realized this that I stopped believing in get-rich-quick schemes and started working my butt off.
The business model I use has given me the way to generate a consistent income month after month.
And I believe you can do this too if you get the proper training, tools & support and you're committed to learning, working hard and never giving up.
Many people are doing this and have been able to quit their day jobs and work from home full-time.
If you're interested in learning how and where you can get started for free, click the button below now:
You'll learn how this business works and where you can find the right step-by-step training, tutorials and tools that will help you build a sustainable online business.
I also let you know that you'll get help and support from me, other bloggers & Internet entrepreneurs. Looking forward to seeing you in the right track to make money online!
I'm very happy with the messages and feedback I've been getting lately. This is one of the messages that make me smile:
I hope you've found the answers you were looking for in this Copy My Email System review.
If you have any questions or want to share your opinion, leave your thoughts in the comments area below and I'll get back to you ASAP.
Cheers 🙂