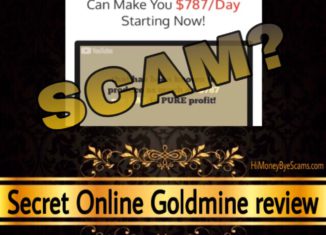 Welcome to my Secret Online Goldmine review!
Is secretonlinegoldmine.com a scam? Or is this a legit system that will enable you to earn $787 per day? 
If you have questions like these, I'm glad that you have found this review because here you will find the answers.
There are so many fraudulent sites out there, so it's great that you are doing your due diligence because that's the way to avoid scams and find the genuine way to earn a full-time income online!
When it comes to Secret Online Goldmine, note that I'm not associated with it, so you will not see me telling you to purchase it.
Here you will find a transparent Secret Online Goldmine review will all the scam signs exposed!
Secret Online Goldmine review summary
---
Name: Secret Online Goldmine
Website URL: secretonlinegoldmine.com
Owner: "April Collins"
Price: $47 + upsells
Launched in: April 2019
Recommended? No
---
If you're sick of scams, check out my 1st resource to make a 4-digit monthly passive income HERE!
---
What is Secret Online Goldmine about?
---
Someone sent me an email concerning the Secret Online Goldmine system, so I thought I would have a look at it because I was wondering if this one would be worth it or just another ugly scam to avoid.
Honestly, the moment I landed on their sales page, I didn't get good vibes because it was very similar to other sales pages I have come across in the past. 
But I don't think it's fair to reach a conclusion without knowing what something is really about, so I took the time to look deep into it.
According to the spokesman, she doesn't know how you've found that page but you're so lucky because she's going to give you access to a scret online goldmine that can help you make $787 per day.
I personally didn't like that she says she doesn't know how you have found that page because the truth is that she knows it has been sent to you by her or one of her affiliates…
She claims you're lucky to make you feel special and make you believe that this is such a valuable system, this is something that I have heard in many sales videos for scammy products that didn't work.
This is about tapping into a "little known" industry that generates over $2.8 billion dollar annually, so you can supposedly make over $20,000 per month with ease. Well, that's what she says…
So what is this secret goldmine about? It has nothing to do with trading, selling on Amazon or MLM. Just like most of these sales videos, the spokesperson is not clear about what this is really about.
She wants you to think that this is something secret that will allow you to make money without doing much work. 
You supposedly only need 15 minutes of daily work to start making hundreds of dollars a day, and it doesn't matter if you don't have any previous experience or special skills.
So is this the ultimate money-making system that is going to help everyone make thousands of dollars online and quit their jobs?
Well, she claims that there's limited availability because there wouldn't be enough profits for everyone if she allowed everyone to take advantage of this opportunity.
Truth be told, there's no limit when it comes to the people who can buy this product because it's not as awesome as "April" claims, so what she really wants is to make as many sales as possible. 
This is a fake scarcity tactic that lots of scam artists use, so don't be fooled when you hear that there's some kind of limit because they will never refuse a payment.
She tries to make you think that this is not a get-rich-quick scam by telling you that you will not become a millionaire overnight.
But saying that you can earn hundreds or thousands of dollars within a short period of time is also a get-rich-quick scheme because making money online does not work that way.
Does Secret Online Goldmine really work?
---
Secret Online Goldmine really works for the people who have created it. It does not work for individuals like you who are looking for make an income online.
They first send you an email about this "awesome" system and tell you what you want to hear just to get you in front of the Secret Online Goldmine sales page.
Once on the sales page, you start watching the sales video that talks about making $787 per day within a short period of time. The spokeswoman tells you what you would like to hear just to lead you to believe that this system is the solution to improve instantly your financial situation.
However, once you are inside you realize that this different than what they told you outside. 
The business model
---
The truth is that you are not getting a system that you just need to activate to start making money right away.
They provide some basic and generic training on how to earn money by using email marketing, but she doesn't explain how it works. 
I mean, you can use email marketing to make money in different ways, so the fact that she's not straightforward about what you will have to do is a big red flag.
You can't definitely expect to start making money by only sending emails because you don't get paid per email sent. 
She acts as if you only had to spend some minutes per day sending some emails and that's it. You first need to build your email list, which is something that takes time and work, not to mention that you will also have to invest some money.
You see, if you don't have any subscribers, who are you going to send emails to? The truth is that you will be sending emails to promote products or services, and you only get paid when other people buy what you are promoting.
Therefore, you first need to build your email list and then you need to make sure that your offers are relevant to your subscribers. You need to focus on helping your subscribers before you think about getting paid.
All of this takes waaay more than 15 minutes a day, which is something that the spokeswoman doesn't tell you because if you knew that Secret Online Goldmine doesn't work as she claims, you probably wouldn't buy it.
The video testimonials are fake
---
Is anyone making money with Secret Online Goldmine?
The truth is that the only ones who are benefitting from it are the owners, affiliates and the paid actors. There are no real members who have made money using the "system".
Yes, the people who appear in the sales video are not real members… They are paid actors from a freelancing platform called Fiverr. 
I know they are not genuine testimonials because I have seen them appear in other sales videos for other scammy products.
Just take a look at this undeniable proof: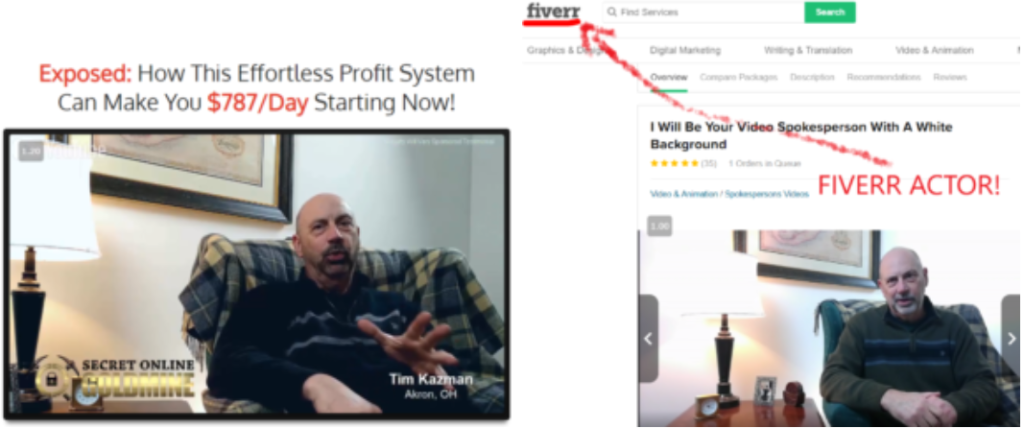 Sales videos that contain fake testimonials are always used for products that tend to be low-quality or scams, and it actually makes sense because if there were any real members making money, the creators of this product wouldn't have had to hire actors.
RECOMMENDED: Learn How I Make a 4-Digit Monthly Income Here!
April Collins is not the real owner
---
After seeing that the testimonials are fake, I was like "what if April Collins is not the real owner?" and looked for information about her.
She's said to be a successful Internet marketer but I don't believe her. I don't even believe the story she tells because she's not the person from the picture we're shown.
As you can see below, the picture of her is a stock picture:
The fact that they are not transparent about the people who are behind this product is a big red flag because it means they are trying to hide something.
If Secret Online Goldmine was as awesome as they claim, don't you think that the owners would be proud enough to show their identity?
In my opinion, they don't show up because they don't want to face the consequences of ripping people off. 
It's connected to other scams
---
I searched for information about Secret Online Goldmine and found that it's connected to another scam called Your Freedom Mentor, which is the same as other scam systems called Explode My PayDay and Seven Figure Profit Code.

This is actually a red flag because it means that the people behind Secret Online Goldmine are the same people who have created these other scams.
You see, they usually change the name of their products to prevent potential victims from finding the truthful reviews that expose their lies.
Does it only cost $47?
---
They claim you just need to pay $47 to get access to this "system" and start making money right away.
However, just after making the first payment, you will get bombarded with some upsells that cost hundreds of dollars.
If you refuse to buy them, they will send you some emails concerning other money-making products that don't work as advertised.
They will tell you that you can increase or accelerate your profits if you buy those products, but how can we trust people who have already lied about their identities and the testimonials?
The fact that this product has upsells is an indication that the front-end offer is not as good as they first tell you because a complete product does not need upsells. 
Apart from that, there are other costs to build this business, such as an autoresponder that costs at least $19 per month. The more subscribers you get, the more you'll have to pay each month.
Is Secret Online Goldmine a scam?
---
Whether Secret Online Goldmine is a scam or not depends on your perspective.
If you define a scam as something that takes your money for nothing, then Secret Online Goldmine wouldn't be a scam because you get some training for your money.
However, if you take into consideration that it's very misleading and does not work as advertised, then it's ok to call it a scam.
In my opinion, it's not a total scam because it's sold on ClickBetter, which means that there's a 60-day money-back guarantee, so your money wouldn't be lost.
With that said, I didn't buy it because it's not worth my time. They state that the typical purchaser doesn't earn any money using this "system", so what do you think? Is it worth your energy?

They are basically telling you that what they said in the sales presentation is a complete lie…
Because of this and everything I have mentioned, I have to conclude that I do not recommend Secret Online Goldmine.
Here's how you can build your own online goldmine
---
If you are tired of the get-rich-quick scams and want to leave them all behind, it's best for you to focus on building your own system instead of spending time on other people's systems that don't work.
When I realized that making an income online takes work and time, I stopped wasting my time on "too good to be true" prorams that only worked to make the scam artists richer.
I'm grateful that I found a legitimate business model that has been working for many years and many people are using it to generate an income from home.
As you can see below, there are days that I have earned over $200: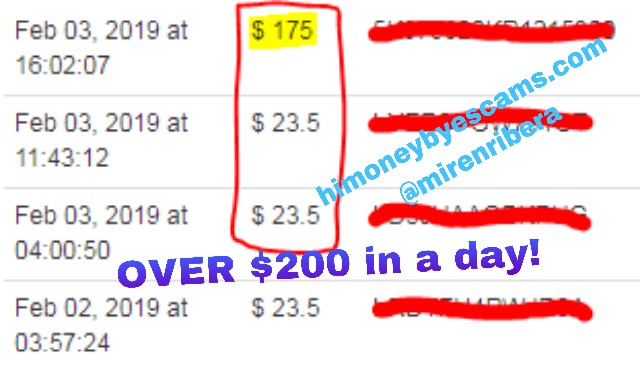 To be honest with you, I didn't do this by only working 15 minutes a day. You can ask any successful marketer what it's taken them to get where they are and none of them will tell you that it happened within a short period of time.
As long as you are committed to learning and taking action, I believe you can make it happen. Many of us started with no prior experience or tech skills, not to mention that English is not our native language either.
There's a lot to say about this business, so I'm not going to explain everything on here because this post would be too long lol. If you are interested in learning more, you can check out my FREE guide here:
My free guide shows you the step-by-step training and tools I used to build this business, the reason this business works, real & inspiring success stories from people who started from scratch…
Not only that, what if I told you that you can get started today for free? That's right, in my guide I reveal how you can check it all out without spending a dime, so make sure this business is right for you risk-free!
If you are wondering what this business is about, let me tell you that this has nothing to do with MLM, paid surveys or trading. This is a business that will allow you to research, talk & write about a topic you are passionate about! Sounds cool?
I love the comments & feedback that I've been getting lately. This message below is from one of the +4K people who have joined me:
Will you be next? So excited to see you inside! I can guarantee you will find lots of help and support from me and other like-minded people! You will have all your questions answered =)
CHECK OUT MY FREE EARN MONEY ONLINE GUIDE HERE!
I hope this Secret Online Goldmine review has been helpful to you and you will make the best possible decision.
Don't hesitate share it with whoever you believe that will benefit from it!
If there's something else you want to know or you have any questions about Secret Online Goldmine or anything else, please feel free to leave your comments below and I'll get back to you ASAP!
Whatever you do next, I wish you nothing but the best =)