Hey everyone!
Have you come across GoProfyts and are wondering whether you can trust that site or is GoProfyts a scam?
There are lots of scam sites & programs on the net so I'm glad you've done your research before getting into GoProfyts as I'm going to explain all you need to know in order to make a good decision.
.
GoProfyts review
---
Name: GoProfyts
Website: goprofyts.com
Owner: hidden
Price: $390 or $97.50 (75% discount) or $6.50 for affiliates 
Created in: May 2017
Overall Rating: 51/100
.
---
If you're sick of scams, check out my 1st resource to make money online here!
---
.
What is GoProfyts about?
---
The first time I came across the GoProfyts site I thought it was legit as it doesn't look like other scam sites. The GoProfyts site doesn't have any high income claims and looks pretty complete.
GoProfyts is said to be an online money-making training program that will teach you to earn money online using four different methods.
Each of these methods is called source of income and it comes with training that you can follow in order to understand how to make money from that income stream.
It sounds good and looks like this program might be a good opportunity for people who are looking to try out different methods to make money online and find out which one is better for them, since not all methods & ways work the same way for everyone. What works for me might not work for you and vice versa.
.
What does GoProfyts include?
---
Now let's see the four different methods you'll learn about within GoProfyts.
.
Starter level
---
The starter level includes three ways to make money:
Get paid per click. You can earn some cash for clicking links through some networks.
Easy to do tasks. You'll get access to networks that will pay you for doing simple tasks like filling some forms, taking surveys, downloading apps, signing up for other sites…
Top surveys. This one is like making money for performing tasks. In this case, they'll give you access to sites you can sign up to and make money by completing surveys.
This level is just for people looking to earn extra money. Sites & companies don't pay much for doing simple tasks like taking surveys as I explain in this article I wrote about paid surveys.
.
Intermediate level
---
Unlimited $5 payouts. They claim this one is about selling any skill you have for at least $5 and increasing it to $200 and more.
High-end gigs. This one is basically about working as a freelancer and selling your services on freelancing sites like Fiverr.
The golden talent. This is a skill everybody has but almost no one is thinking it can make them money, according to them.
.
Pro level
---
The pro level is about affiliate marketing. You will basically learn to earn money by selling other people's products.
They'll help you choose the right affiliate networks where you can find other vendor's products and sell them as an affiliate and will also help you find out good products to promote.
Apart from that, they claim they'll mention the traffic source that made them $500 out of $5 investment. I guess they're referring to PPC a.k.a. paid advertising here.
Traffic is really important when it comes to an affiliate marketing business as without traffic it's not possible to make sales. In other terms, without traffic there's no business.
I've written some posts about affiliate marketing before that you can check out. This is the busienss model I use and know it's lucrative when done the proper way.
.
Elite level (GoVendor)
---
This is the higher level and it revolves around creating your own digital products using their GoVendor program. 
You'll also learn to launch an affiliate program for these products and get others to promote your products for you.
.
Their initial price is $390 but they offer a 75% discount so the final price is $97.50, but you can get it for $6.50 if you promote it as an affiliate.
.
Is GoProfyts a scam?
---
GoProfyts is not a scam because you're actually getting something in exchange for your money. I believe you can make money if you try some of the methods they teach.
With that being said, I want to be fair so I'm going to mention what I like, what I don't like and other things to take into consideration about this program.
.
What I like about GoProfyts
---
The methods they teach are proven methods. Affiliate marketing, selling your own products, freelancing and doing tasks like paid surveys are real ways of making money online.
They give you options. I like that they teach more than one method so you can choose the one that best suits you.
You can make money as an affiliate. You get to earn 75% commission for every GoProfyts sale you make.
You can get a refund. GoProfyts is a ClickBank product so you can request a refund within 60 days after having bought it.
The training & tutorials are easy to follow. I like that they provide step by step training that makes it easy not to get lost.
.
What I don't like about GoProfyts
---
The comments might not be real. I've taken a look at the testimonials on their page and found out they're real people (the pictures are not stock pictures and the names are not invented), but this doesn't mean the comments are not invented. They may be invented as I've found out there's nothing about those people being involved in this program outside the GoProfyts site.
There's no way to know who's behind GoProfyts. The owners of GoProfyts don't present themselves and don't even mention their names. This is a red flag as it indicates they're trying to hide something. I personally don't trust sites whose creators don't show up.
There are no real positive reviews about it. The only positive reviews I've found out are from GoProfyts affiliates who are trying to sell it to make commissions.
They let you promote GoProfyts as an affiliate without testing it. Before the starter level, they focus on their #1 source of income which is basically about making money by promoting GoProfyts. There's nothing wrong with that but why can't they first tell you to try the other methods and then promote GoProfyts if you benefit from what they teach?
The contradictions. I don't like that in their sales video they claim you can earn $300 the first day thanks to their first source of income as it's not that fast to make money.  Their sales video looks similar to other scam videos in my opinion. If you read their FAQs section you can also see how they kind of contradict themselves when they claim you will make money very fast and then claim this is not for people who are looking to earn money overnight. They shouldn't say you'll make profits very fast or $300 from day 1, it sounds kind of scammy in my opinion.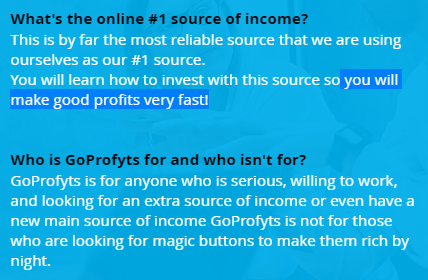 No way to verify their proofs of earnings. Their proofs of earnings don't show enough information for us to confirm they're real. They might have photoshopped them as it's not that hard to do that nowadays. 
.
Other things to considerate
---
There's no guarantee you'll make money or succeed. If you scroll down to the bottom of the GoProfyts site you'll read this little note, which basically states that there are a lot of factors to take into consideration when it comes to making money. I don't like the fact that they've shown testimonials that don't apply to the typical purchaser. Why can't they show real testimonials?
People behind GoProfyts recommend other sites and services you'll have to pay for. They tell you to sign up to sites and services like autoresponders, which might require you to pay a monthly fee. They do this through their affiliate links so they'll make money if you make any kind of payment. Just note that GoProfyts is not the only product you'll have to pay for in order to make profits.
They might sell or share your information. You can expect them to sell your personal information to third parties so you can expect to receive emails from them and other marketers about other "make money online" programs. 

.
My final verdict
---
GoProfyts is a decent program even though I won't be recommending it because there are better options.
Summarized, the starter level is about making money by doing simple tasks, the intermediate level is about freelancing, the pro level is about affiliate marketing and the elite level is about selling your own products.
If you buy it and your goal is to earn a full-time income, then I don't recommend that you try the starter level as you won't make much money by taking surveys and doing simple tasks. There are better ways to use your time.
I personally don't agree on the fact that they tell you to promote GoProfyts before telling you to focus on the other levels.
I know they do it to grow their business and get more customers but why can't they first tell you to first try one of the other methods and then promote GoProfyts if you're satisfied with your results?
I also find there's a lack of transparency when it comes to who's behind GoProfyts. Why can't they reveal who they are? 
Anyway, the final decision is up to you. After everything I've explained, you get to decide whether GoProfyts is worth it or not. 
When it comes to making money online, the truth is that you'll have to put in the effort and be patient and persistent to get to the point where you make a job replacing income.
I suggest that you stay away from programs & systems that promise you'll make money fast and easily as most of them end up being scams.
If you're starting out or are looking for a legitimate business opportunity, then I suggest that you check out my favorite affiliate marketing platform.
This platform provides step-by-step training, courses and other business tools that will help you build an affiliate marketing business. It's been over a year since I got started and never looked back.
I also love the fact that you can get started for free and test it to see if you like it. 
Once you're inside, you can count on me and other bloggers & entrepreneurs to help you out during your journey. There's always someone willing to give you a hand so don't hesitate if you have any questions to ask =)
If you're interested in learning more, click the button below now:
.
I'm glad you've done your research and have read this review, I hope it's been useful to you and you get to make an informed choice. 
If you have any questions or opinions regarding GoProfyts or anything else, feel free to leave a comment below. I always reply to my readers!
Have a great day 🙂