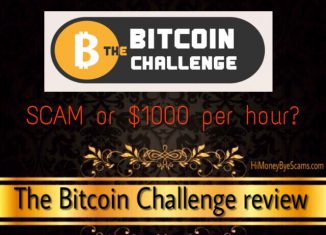 Welcome to my review of The Bitcoin Challenge!
You've come across The Bitcoin Challenge and are wondering whether this is an amazing opportunity to make money by trading bitcoins or is The Bitcoin Challenge a scam you need to stay away from?
I'm glad you've come across this review because you're going to find out what The Bitcoin Challenge really is and whether it can make you money or not.
.
The Bitcoin Challenge review
---
Name: The Bitcoin Challenge
Website URL: thebitcoinchallenge.co
Owners: unknown
Price: at least $250
Created in: November 2017
Overall Ranking: 1/10
.
---
If you're sick of scams, check out my 1st resource to make money online here!
---
.
What is The Bitcoin Challenge about?
---
The Bitcoin Challenge is said to be a cryptocurrency trading software that works on autopilot and can supposedly make you $1000 per hour or more.
The spokesman claims this program was created for the every day user and the expert trader. 
According to him, he will check out your trading account balance every 30 days and he will take the 5% of your profits for himself if you've earned less than $30,000. If you've made more than $30,000 in 30 days then you'll get to keep everything.
The software will tell you when to trade and what to trade, which means that you'll be told which buttons to push without having to do any research.
Sounds amazing, right? Yes, it sounds so easy and that anybody can do this as there's no hard work or experience required. You'll basically have to click a few buttons and that's it.
But will it work? Will this software generate profits for you? I don't think so, to be honest. Let's see why I don't think this Bitcoin Challenge software is what they claim it to be.
.
Is The Bitcoin Challenge a scam?
---
The Bitcoin Challenge is a scam, in my opinion. Their sales video and page are full of red flags and scam signs which tell me that this software should not be trusted.
Let's take a look at these red flags I've found out.
.
Who is behind The Bitcoin Challenge?
---
The narrator of the Bitcoin Challenge video doesn't show up and doesn't even tell us his name. There's no way to know who we're dealing with. 
Below the Bitcoin Challenge sales video there's a section about the team members. The problem here is that these members are fabricated characters.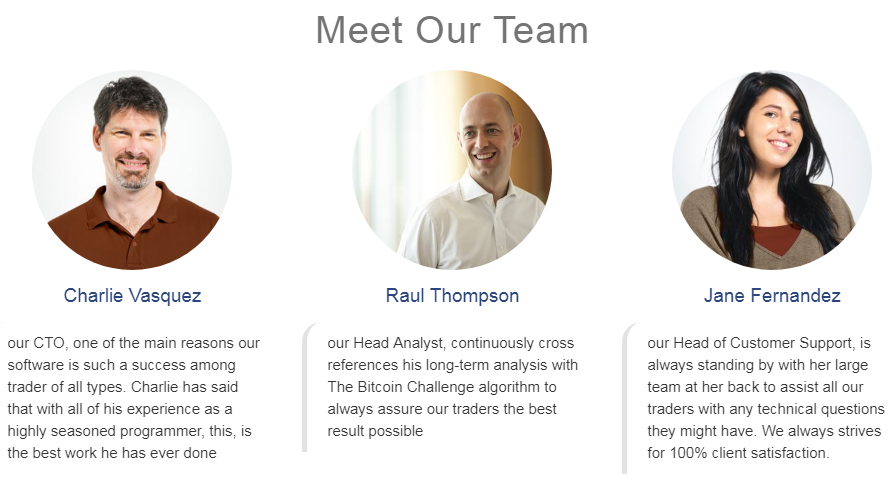 I did some images searches and I found out those images have been used in other sites:

This is what happens with most (not to say all) scam sites. The scammers behind them use pictures from other sites and create fictitious characters. 
.
The testimonials are not real
---
The Facebook testimonials, the Twitter testimonials and the rest of testimonials are all fake. 
Truth be told, there's not a single person who has tried this software and made money from it.
You can search for those Facebook testimonials and will not find out any of them. The same happens with Twitter, I searched for one of them and got 0 results.
Juanita Brewer is a fictional character and has nothing to do with the Bitcoin Challenge. The @juanita_brewer Twitter username does not even exist: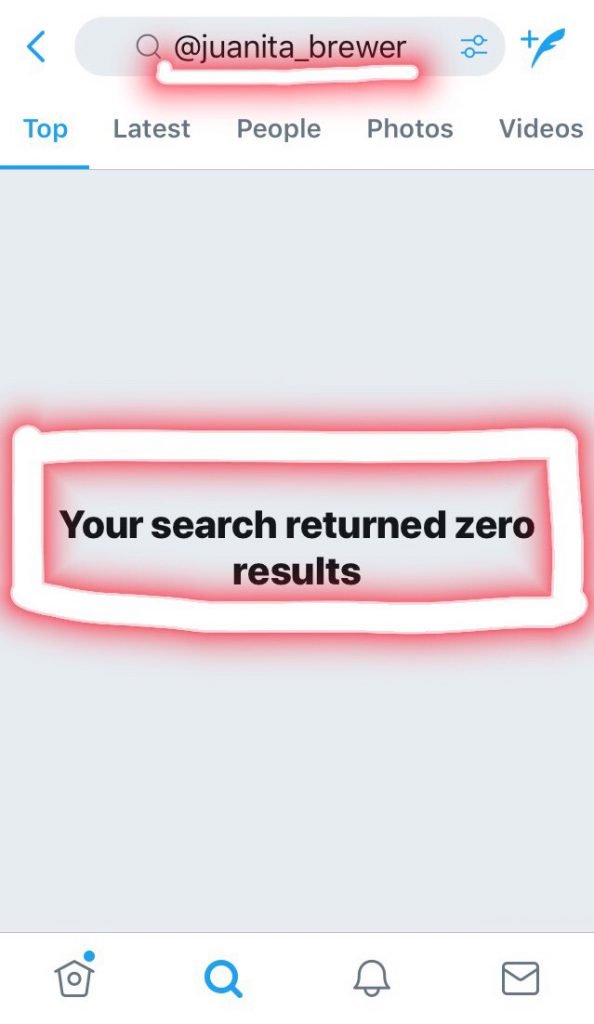 I also tried to follow them or like their comments and it's not possible. It's all a complete fabrication.
These scam artists just want you to believe that there are real people who have tried this software. If it really worked then they wouldn't have to fake those testimonials & comments.
.
It doesn't make sense
---
They claim that you can start with just $250 and then earn over $30,000 but this is far from the reality.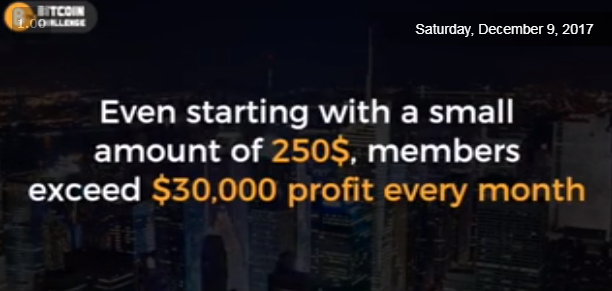 Yes, the Bitcoin price has been and is increasing a lot and some people have made a fortune by trading Bitcoin. But some of these people have been early investors or have invested a lot of money in Bitcoin. 
It's possible to earn over $30,000 by trading Bitcoin but this will require you to invest waaay more than $250.
People who are making profits by trading Bitcoin and other cryptocurrencies are continuously learning and take a look at the market charts before trading. They don't rely on an automated software like The Bitcoin Challenge.
If this software really worked, lots of people would be using it already, don't you think?
.
Can you make money with The Bitcoin Challenge?
---
No, I don't believe The Bitcoin Challenge is designed to make you money. I'm sure this software was created to generate profits for the unethical people behind The Bitcoin Challenge.
The truth is that this software is no different from other binary options scam softwares like these:
They claim you can sign up for free but then you'll have to invest at least $250 to start trading, and this is where they'll get you. 
The software will lose the trades so you can expect to lose all your capital. These scam artists behind The Bitcoin Challenge work with unlicensed brokers that are known to get away with the traders money.
These con artists get paid a commission each time someone makes a deposit with the broker they recommend.
They even say you'll lose your money in their earnings disclaimer:

They can make all the fake claims they want in their sales video that they'll get away thanks to their earnings disclaimer. 
Another thing you can expect from these swindlers is to receive spam emails related to other scam programs & systems. You can also expect to receive unwanted calls from people you don't know as these scammers are also known to sell their victims information to other scam artists.
.
My final thoughts
---
There's no way I can recommend The Bitcoin Challenge. There are many things that tell me this software is a scam that will waste your precious time and hard-earned money.
I can't recommend a program or a software whose owners don't show up and tell lies about the testimonials and the money you'll make. 
If it were that easy to make $1000 quickly, don't you think that everybody would be doing it? Don't you think that everyone would already be making a living online?
The truth is that earning a full-time income online has never been easy or fast, and anyone who promises you easy riches is trying to make a quick buck at your expense.
When it comes to earning money online, there are more scams than programs I can recommend. If you're committed to working hard, being patient and persistent to achieve your goal of making a living online, then I highly suggest that you check out my favorite digital marketing platform.
This platform is quite affordable (free to join by the way) and provides step-by-step training, courses, resources and other useful marketing tools that will help you start an online business and take it to the next level in a way that's viable for the long-term.
I love the fact that this platform offers many ways to get help and support from other members, so you can literally ask a question whenever you have issues or doubts and rest assured knowing that there's always someone willing to give you a hand!
If you're interested in learning more about my top recommendation, feel free to click the button below now:
.
I hope you've found the answers you were looking for before coming across this review.
Don't hesitate to share your thoughts in the comments section below if you have any questions or opinions regarding The Bitcoin Challenge or anything else. I always reply to my readers! 🙂 
All the best =)