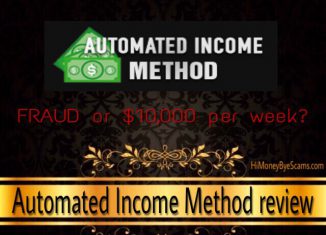 Hey there!
I guess you're here because you've come across Automated Income Method and are wondering whether it's the real deal or just another scam, am I right?
The good news is that I've taken a closer look at it and prepared this review to let you know everything you need about Automated Income Method and end up making an informed decision.
.
Automated Income Method review
---
Name: Automated Income Method
Website: automatedincomemethod.com
Owner: Richard Paul
Cost: $97 + thousands of dollars in upsells
Created in: 2017
Overall Rating: 21/100
.
---
If you're sick of scams, check out my 1st resource to make money online here!
---
.
What is Automated Income Method?
---
Automated Income Method sounds like a program that allows you to earn money on a complete autopilot, doesn't it?
According to the information of the first page of Automated Income Method:
It allows you to start earning money instantly.

You can set your own schedule as you're your own boss.

You don't need any special skills or prior experience.
At the top of the page I read it's limited to only 50 people, which left me feeling suspicious of it like why can't they explain what this is about before claiming the spots are limited? I've seen this kind of stuff in other scam sites & systems.
I wanted what it really was about so I completed the form with random details and then got access to the second page, where I started watching the video presentation.
The second page looked like another scam page because of the lack of important information and the high income claim ($5,000 – $10,000 profit per week).
They even claim you'll get $500 just for watching that video. Sounds unbelievable, right? Like if it really worked I would tell all my loved ones to watch that video. But it doesn't work that way. 
Apart from that, they claim that you'll earn thousands of dollars in commissions without having to talk to anyone or do any selling. This system apparently does everything for you.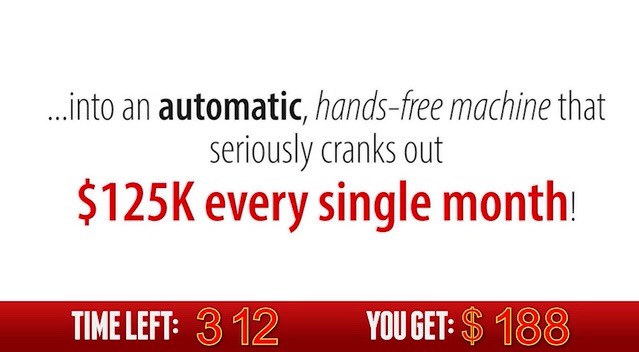 Richard Paul, the man who allegedly created this system, claims he's giving you all his websites, his training, the advertising, the payment processing and a personal "millionaire mentor".
It just sounds too good to be true and after watching the video I found out Automated Income Method is just a page that funnels to another program.
.
Can you make money with Automated Income Method?
---
Yes, you can make money but it's important that you know that Automated Income Method is not the name of the real program here.
The program they're trying to get you into is called Aspire, which belongs to Digital Altitude, a known high-ticket MLM platform.
This program is not a scam but you need to know how it really works before getting into it as there are some essential things that they don't tell you about in the Automated Income Method sales video.
First of all, the $97 you're required to pay to join is only the beginning.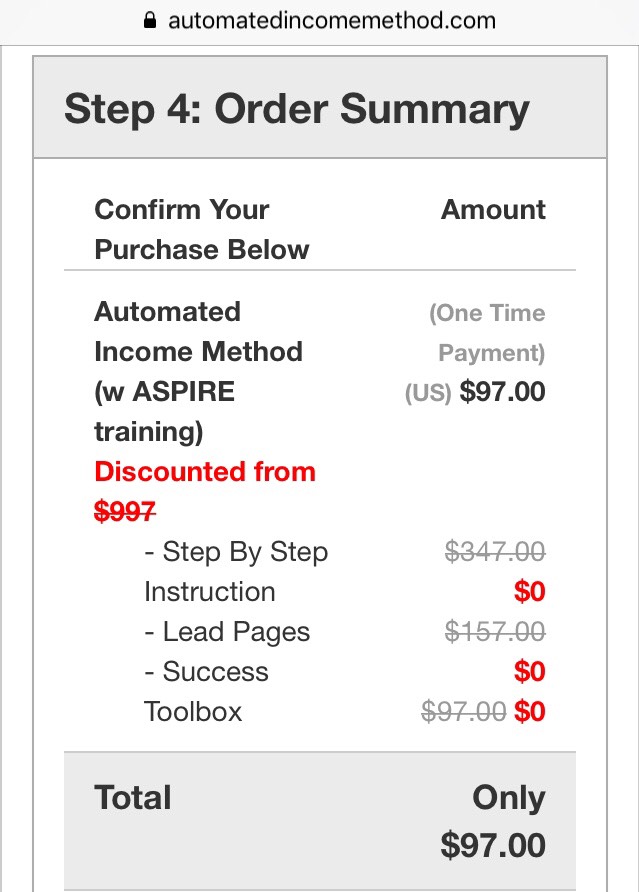 In their checkout page you can read the Aspire training is included, something they don't mention in the Automated Income Method sales video.
After paying the $97, you'll have to pay $37 per month as that's what the first level of the Aspire membership costs. 
But that's not all, that's only the beginning.
Remember the millionaire mentor Richard claims you're going to get? Well, that "millionaire mentor" is not always millionaire.
He/She's your sponsor and will not only help you make sales, he/she will also try to get you to purchase the Digital Altitude memberships and packages in order to earn commissions off your purchases.
This is what all Digital Altitude packages & memberships cost:
Aspire Walker – $37 per month
Aspire Hiker – $67 per month
Aspire Climber – $127 per month
Base – $597
Rise – $1,997
Ascend – $9,997
Peak – $16,997
Apex – $27,997 
So before you get to earn those thousands of dollars in commissions, you'll have to purchase the most expensive packages. Yes, you'll have to spend over $10,000 in order to make them back! 
Note that if you buy Base and one of your referrals purchases Rise, the commission you would earn will go to your sponsor. You only get to earn commissions when your recruits buy into the same or lower level than you.
And then you'll have to get other people into the program and sell them the same you've purchased in order to make commissions. 
You'll use the squeeze pages, websites & tools they're giving you to get leads. In other terms, you'll have to do the same Richard Paul is doing to you.
And the sales you make will not only benefit you, your sponsor and other people above you get to make commissions as well. Your referrals are their referrals! That's why they're giving you the sales pages & marketing tools, you'll be literally building their businesses.
.
Is Automated Income Method a scam?
---
It depends on your point of view. 
If we take into account the fact that Automated Income Method is not a real system and their sales page and video are full of fake claims and misinformation, then it can be considered a scam.
If we only considerate the fact that Automated Income Method is just a page created to get you into Digital Altitude, then it's not a scam as Digital Altitude is not a scam. 
With that being said, I believe you need to know some of the lies and misleading claims that are present in the Automated Income Method video & page:
They don't mention the real system. There's no single moment they mention they're trying to get you into Digital Altitude as Digital Altitude has some negative reviews so they know some people wouldn't join if they let you know the real program is Digital Altitude instead of Automated Income Method. 
It's not as easy as they claim. They make it look like it's so easy to start making money with this system. They make you think you'll only have to pay the initial $97 fee, set up the system and press go to start making thousands of dollars, but without putting in the effort and buying the Digital Altitude expensive packages you won't make a full-time income.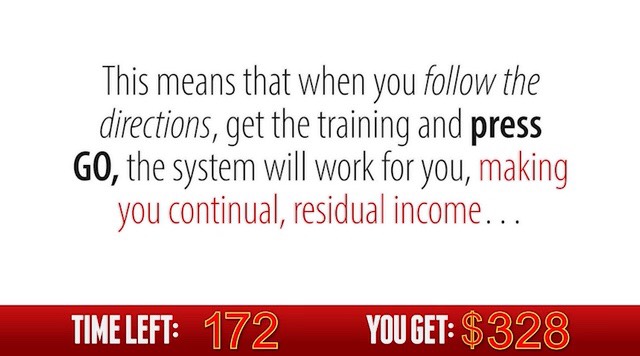 They are not honest about the real cost. Richard claims he's not going to charge you $2000 but this is not true as they'll try to sell you the Digital Altitude packages which cost way more than $2000. 
Don't fall for the $500 guarantee. They first claim you're going to get $500 just for watching the video and at the end they say you'll get the $500 if you don't make a big commission within 30 days. The catch here is that you'll have to spend thousands of dollars to make a huge commission and qualify for the $500 if you don't make the commission. They'll only pay you $500 if you purchase the Digital Altitude pricey packages.
.
My final verdict
---
I do not recommend that you fall for Automated Income Method and get into Digital Altitude.
Even though Digital Altitude is not a scam, I don't recommend it because you'll have to spend thousands of dollars to earn a full-time income and their affiliates use scam tactics to make sales. 
That's something I don't like. Maybe I'm too naive but that's not how I want to do business. It's possible to do business the proper way and still succeed. 
Their training is also geared towards selling Digital Altitude to others, something I'm not a fan of. I personally prefer training programs that encourage you to build a business based on something you're passionate about.
Apart from that, you don't need to spend thousands of dollars to build a business. You can get started for free thanks to my top recommended digital marketing platform.
This platform provides step-by-step courses, video training and other useful tools that will walk you through the process of building an online business from scratch, in a way that's sustainable for the long run.
I also love the fact that they offer many ways to get support within this platform. You can ask questions, interact with other members on the live chat, write comments on other people's profiles…
You can count on me and other bloggers & entrepreneurs to be there for you. It's great to know that you're not alone in this!
If you're interested in learning more, you can click the link below and read the review I wrote about my top recommendation now:
.
I hope you've found the answers you were looking for before coming across this review.
In case you have any questions or opinions concerning Automated Income Method or anything else, feel free to leave your thoughts in the comments section below. I always reply to my readers!
Best wishes 🙂