Welcome to my Notion Cash review!
You have landed on the Notion Cash site and are wondering if it's legit? Or is NotionCash.com a scam that you must avoid at all costs?
First of all, congratulations on doing your own research before getting involved in another money-making opportunity.
As you may already know, there are too many frauds out there, so doing your due diligence is the way to avoid scams and find the legitimate way to make passive income online.
When it comes to notioncash.com, you will see that I'm not promoting it so here you will not find any referral link.
Instead of that, you will find a genuine review that will give you an idea of how Notion Cash really works so that you can make a wise decision.
Notion Cash review summary
---
Name: Notion Cash
Website URL: notioncash.com
Owner: Hidden
Created in: March 2019
Price: Free 
Recommended? No
---
If you're sick of scams, check out my 1st resource to make a 4-digit monthly passive income HERE!
---
What is Notion Cash about?
---
Notion Cash is no different than other sites that claim you can make money for referring people.
In this case, you can allegedly earn $30 per each simple task you complete and $15 per person who joins notioncash.com through your referral link.
They claim to be a market research panel that offers their members great rewards and gift vouchers in exchange for taking surveys.
However, I don't think that's the best way to describe this platform. It looks professional and legitimate, but after doing my homework I believe it's no better than other platforms I have come across in the past.
They make this money-making opportunity sound awesome because they claim you can get $25 when you join for free.
But after joining you realize that you cannot cash out those earnings. It actually wouldn't make any sense that they gave away $25 to everyone for free.
I mean, if they gave $25 to every person who joins NotionCash.com, don't you think lots of people wouldn't stop creating free accounts?
They make earning money online sound way too easy and fast, when in reality it takes work and time. 
You see, if making money online was that easy, don't you think lots of people would have already quitted jobs they hate? 
Sites like Notion Cash haven't been created for people like you to make money, they have been created for the owners to profit.
How am I so sure that notioncash.com is not legit? Let's see…
How Notion Cash really works
---
Notion Cash works in a way that wastes your time and leaves you frustrated & disappointed.
It's a platform that doesn't live up to its promises because the only ones who make money are the creators of Notion Cash. Members never get paid.
They first tell you what you want to hear to lead you to believe that Notion Cash is the easiest and fastest way for you to earn an income online.
Also, they make it free to join because this is the way to make you think you have nothing to lose.
I mean, who would think that a website that doesn't ask for payment is a scam? 
In this case, Notion Cash is a scam because it's been created to waste your time and make money to the scammers.
Once you have joined, you get access to the dashboard area where you can find some tasks to complete and your referral link.
These tasks are supposed to take about 3 minutes to complete and make you $10, but this is not accurate.

You see, earning $10 in 3 minutes sounds too good to be true because that would be $200 per hour! If you do some math, you can conclude this sounds like a get-rich-quick scheme because making money online doesn't work that way.
Most paid surveys take over 15 minutes to complete and they don't even pay $3, so saying that you can make $10 in 3 minutes is giving you unrealistic expectations.
Apart from that, those tasks that they tell you to complete require you to visit unsafe & fraudulent websites that are dangerous.
These kind of sites ask you for your personal & financial information and also ask you to download apps or programs that can contain viruses & malware.
Therefore, if you try to complete those tasks you could harm your computer or whatever device you are using. I definitely do not recommend that you spend time on those tasks because you will not get paid.
Sick of scams? Want to make passive income every day?
Check Out My FREE Earn Money Online Guide Here!
Why the NotionCash.com scam will not make you any money
---
It makes no sense that you are making money when you share your referral link and get other people to sign up.
I mean, when you are sharing your referral link on social networks like Facebook or Twitter (it really doesn't matter where you share it), you are not making any money because Notion Cash doesn't get paid for getting visitors.
When you get other people to sign up through your link, Notion Cash doesn't get paid because no one pays when they join. If they asked people to make some kind of payment, then it would make sense that they paid you for getting other people to join, but it's not the case.
When it comes to the tasks they tell you to complete, if you complete them then they get paid but they will not pay you because they don't get paid as much money as they claim.
Their real goal is to get as much people as possible to sign up because the more people who sign up, the more money they make.
You see, when you sign up, you give them some personal info like your email address, which they can use for profit.
Therefore, the more email addresses they collect, the more money they can make.
Once they have a list of email addresses, they can use them to send spammy emails related to other money-making opportunities that aren't legit.
Not only that, they also sell these email addresses to other marketers, so you can expect to receive emails from people you don't know, given that you have joined Notion Cash with your main email address.
So I will not be wasting my time on sharing my notioncash.com referral link because doing it would be doing the scammers' work. 
It doesn't matter whether you share your referral link or you just try to complete those tasks. All the money you see in "your earnings" balance will not get paid to you because that's "fake" money, it doesn't really exist. It's part of the scam that some unethical marketers have designed.
Notion Cash scam signs revealed!
---
Still not sure that NotionCash.com is a scam? Let me show you some scam signs that make it clear this platform is not legit.
Lack of information about the owners
---
Who's behind the NotionCash.com site? There's no information about its owners, which is a big red flag because it means that they are trying to hide something.
I have reviewed lots of sites like this and I have realized that most of the ones whose owners don't show up end up being frauds.
In this case, the creators of notioncash.com avoid revealing their real identities because this is how they can avoid facing the consequences of ripping people off.
They know that if their victims knew who these con artists really are, they would get sued or persecuted.
Therefore, I cannot trust Notion Cash because the owners lack transparency.
The testimonies are fake
---
What about the video testimonials? Have those people really earned money with Notion Cash?
The ugly answer is no, those people haven't even shared their notioncash.com referral links, not to mention that they have not even joined Notion Cash.
Truth be told, they are paid actors that sell their acting services on a freelancer platform named Fiverr.
For example, this woman below has appeared in other scammy products like 7 Minutes Daily Profits:
You see, it doesn't even say that this testimonial is for Notion Cash. It says it's an Influencer Club testimonial but it can be found on the notioncash.com website. What's the Influencer Club? It's probably another copy of the Notion Cash scam or other similar scams like Kids Earn Cash.
This is a proof that this woman hasn't earned any money as a Notion Cash member, not to mention that the others are paid actors as well. 
I've never seen a legitimate site use fake testimonials, so the fact that Notion Cash is full of fake testimonials is a huge red flag.
Income proofs are fabricated
---
As I said, I have exposed lots of scams like Notion Cash, so I know what to look out for.
One of the payment proofs that I have found in the notioncash.com site is a fake payment proof that has been used in other scams like ViralBucks.co and ViralDollars.co.
These two sites are almost identical to Notion Cash because they have the same structure, the same fake claims and they work the same way.
As you can observe below, this tweet is completely fake because it has been used in the three websites (viralbucks.co, viraldollars.co and notioncash.com), which makes no sense. It doesn't make any sense that this person has received a payment from the three websites on the same date.
Not only that, you can also look for this tweet to confirm it doesn't exist. You will not find this tweet on Twitter.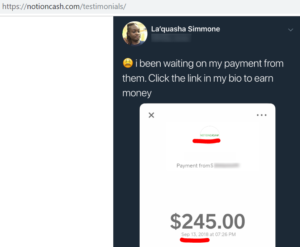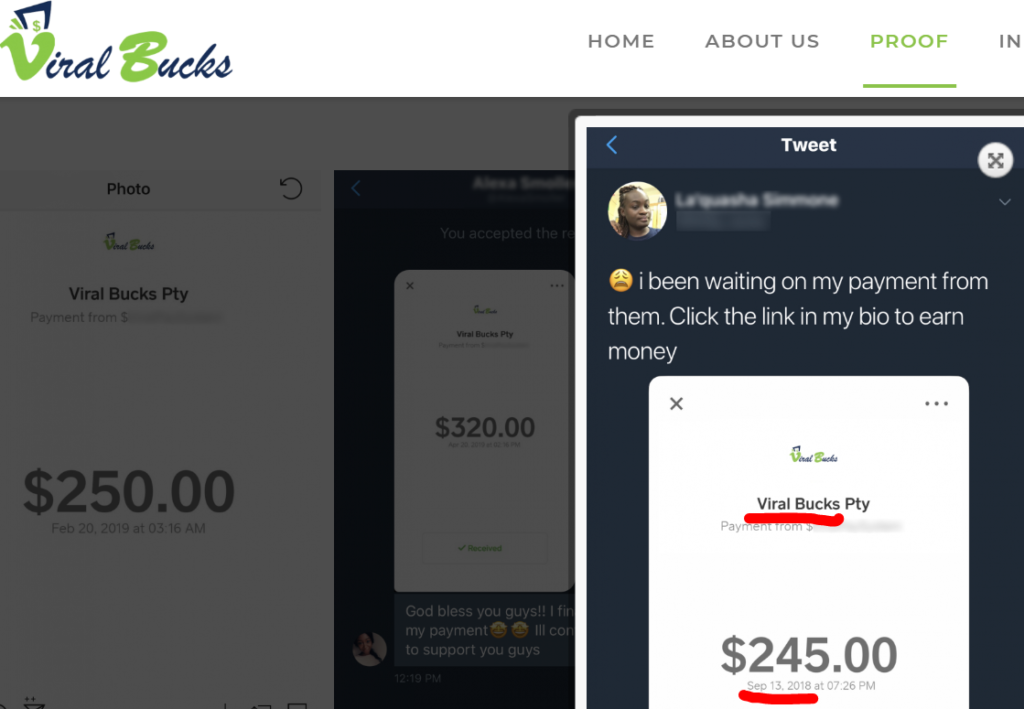 RECOMMENDED: Check Out How I Make A 4-Digit Monthly Income Here!
Notion Cash review – Final verdict
---
I definitely don't recommend that you join Notion Cash because it's a fraudulent platform that only works for the owners to make money at your expense.
It's the same as other scams I have mentioned. Yhere are lots of scam sites like this one, so the good thing is that now that you have read this review, you know what to look out for if you ever come across another website like notioncash.com.
In case you have joined NotionCash.com, I recommend that you stop promoting it and tell people it's a scam. You can share this Notion Cash review with them to let them know the truth.
What will it happen if you claim your payment? They will lock up your account, so you will not be able to access your account anymore.
If you contact them via email, they will not reply because they just don't care about you. These scammers only care about making money themselves…
You don't want to get your friends and family involved in a scam platform, don't you agree? You don't want other people to waste their time and end up frustrated when they realize they have been ripped off, so I highly don't recommend Notion Cash.
Ready to start your money-making journey?
---
If you're tired of wasting your energy on scams and are committed to making an income online, you want to know what I'm about to tell you.
Earning passive income online is completely possible, but it comes with learning, effort, time and persistence.
I'm grateful that I found a legit business model called affiliate marketing that has allowed me to:
Work from anywhere I want as long as I have a laptop and Internet connection

Earn passive income every day

Get started for free
You see, this business doesn't require you to recruit or lie to anyone. You'll be able to make money while writing and talking about a topic you have a passion for, which is awesome, don't you think?
As long as you are willing to put in the work and time, I believe you can make it. If someone like me has had $200 days (as you can see below), you can too!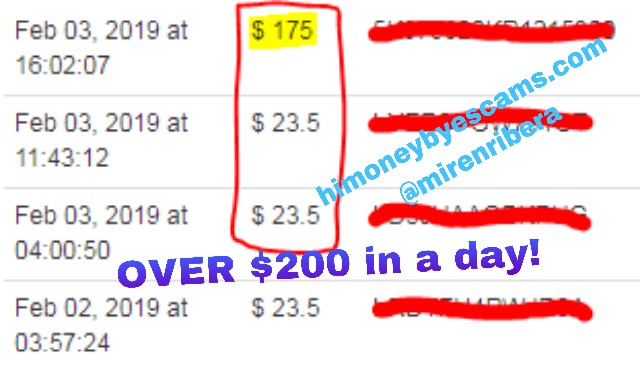 Also, as I told you, you will be able to start today for free! Want to know how? Click here to get my free guide now!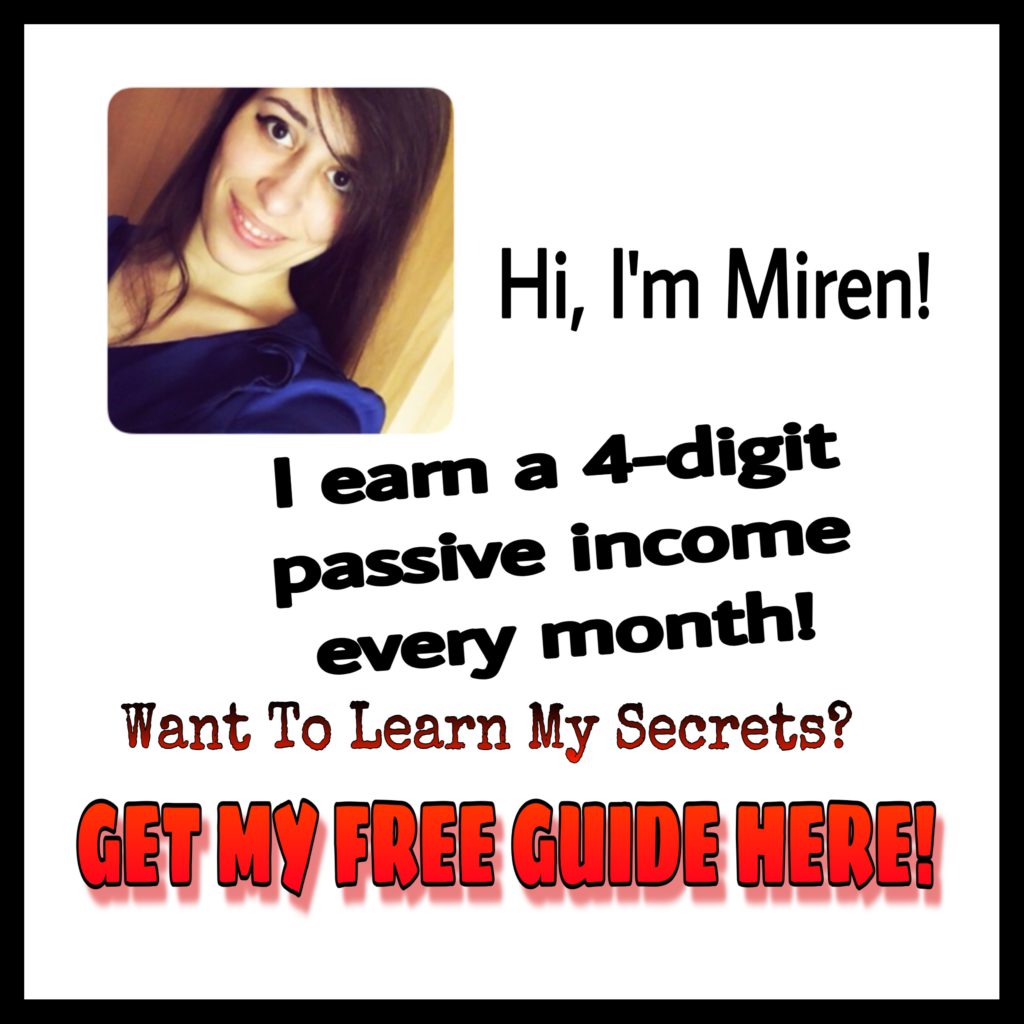 My free guide will show you what I and many people do, how you can get started today, where you can get help and support… and so much more!
I hope this Notion Cash review has been helpful to you and you will make the best possible decision.
Feel free share it with whoever you believe that will benefit from it!
If there's something else you want to know or you have any questions, please share your thoughts below and I'll get back to you ASAP!
Whatever you do next, I wish you nothing but the best =)