Welcome to my review of Secret Millionaires!
I guess you've come across this review because you want to know whether Secret Millionaires is a scam or the real deal to make money online.
You're in the right place because I'm going to explain what you need to know about the Secret Millionaires to ensure you make the right decision by the end of this review.
.
Secret Millionaires review
---
Name: Secret Millionaires
Website URL: https://secretmillionaires.net/
Creator: unknown
Year of creation: 2017
Price: $37 per month + thousands dollars in additional products
Overall Ranking: 20/100
.
---
If you're sick of scams, check out my 1st resource to make money online here!
---
.
What is Secret Millionaires about?
---
I initially thought that Secret Millionaires was a scam as the sales page looked like a scam page due to the high income claims and the red flags I noticed.
I even thought it was similar to another scam I exposed some days ago called Secret Millionaires Club, but I wanted to find out what Secret Millionaires really was about so I watched the sales video and did intensive research.
Secret Millionaires is said to be a system that can make you $2,740 per day, which I think is not true because there's no way a system can make you an exact amount of money everyday.
What you earn depends on a lot of factors so it's not guaranteed that you're going to earn a specific amount of money in a specific amount of time. 
Apart from that I've noticed that systems and programs that make high income claims are not what they claim to be and there's always a catch.
After watching the Secret Millionaires video I got an idea of what it really is.
This is what the man who narrates the video claim this system to be:
Easy to follow and understand.

You can become a millionaire thanks to it.

It works for anyone as it doesn't require you to have tech or special skills.

It's a done-for-you system because all the websites, products, payment processors and marketing is done.

You won't have to dedicate long hours to it.
Oh, and you'll also get a "millionaire mentor" who will keep you on track, hold your hand until you're a millionaire and motivate you.
Sounds amazing, right? I know the idea of getting a done-for-you system is kind of attractive but it's not as great as they want you to think because of this:
It's not only done-for-you, it's done for many other people which means that there will be lots of people who will get the same websites and tools to sell the same products.
You don't have control over the system as you're not the person who has created it.
It keeps you dependent. You depend on the people who have created that system and this is a problem because if they shut down you'll stop making money with this system.
It doesn't estimulate creativity as you don't have to come up with different ideas and ways to create a system that works for you, you'll merely be doing the same as other people who are part of that system.
With that being said, let's see what you'll have to do to make money with Secret Millionaires.
.
Can Secret Millionaires make you money?
---
The narrator of the Secret Millionaires video claims his students are earning hundreds of thousands of dollars per month with this system, but is it that simple?
I found out that Secret Millionaires is nothing more than a page used to get you into another program called Aspire, which is part of Digital Altitude. I've lately come across lots of pages that are being created with the purpose of getting new recruits for Digital Altitude. 
The person who has created Secret Millionaires is a Digital Altitude affiliate who wants to expand his team of people who purchase the Digital Altitude membership levels so that he can earn more commissions.
If you've watched the sales video, you might remember having seen this:
It's true that Aspire offers good digital marketing training and you can earn commissions with it but there are important details that they don't say and you need to know.
The millionaire mentor they say you're going to get will not only close your sales, he/she is a trained sales person who will also try to sell you the Digital Altitude membership levels which cost thousands of dollars. The most expensive level is Apex and costs almost $28,000! Yes, this is not a joke.
The $37 initial fee is only the beginning. In fact, $37 is what the Aspire membership costs each month which means that you'll have to spend at least $37 per month to keep your membership active and this is something they don't say that you need to know because it's important to know all the costs involved without making a purchase. 
So that's it, you'll have to spend a lot of money in order to promote the same products and earn thousands of dollars off the sales you make. The system is created in a way that the people at the top are the ones who get to make most of the money. This is something common in MLM companies.
And you'll have to do the same they're doing to you. You'll have to recruit people and sell them the Digital Altitude products.
If you don't purchase a membership level and recruit someone who buys a higher level than you, you will not earn commissions off their purchases. Your sponsors or people above you are the ones who will profit from that.
In fact, each time you earn commissions, they'll earn more money in commissions. You're helping them build their business and that's why they give you their websites, sales funnels and other tools.
.
Is Secret Millionaires a scam?
---
Secret Millionaires can be considered a scam if you take into consideration the fact that it's not system itself.
When it comes to Aspire or Digital Altitude, I don't consider it a scam but I don't recommend it either.
When it comes to the Secret Millionaires page and video, you need to know some of the red flags and fake claims they make.
.
No information about the creator of Secret Millionaires
---
The man who narrates the Secret Millionaires video doesn't mention his name and doesn't even show a picture of him so there's no way to know who he is.
I guess the Digital Altitude affiliate who has created that page doesn't want you to know who he/she is, which is a red flag because that's something scam artists do.
I believe they've hired a voice actor and paid him to recite the script the Digital Altitude affiliate has given to him.
.
They don't say the truth about the costs
---
They try to fool you by saying that you're getting a huge discount but that's a lie.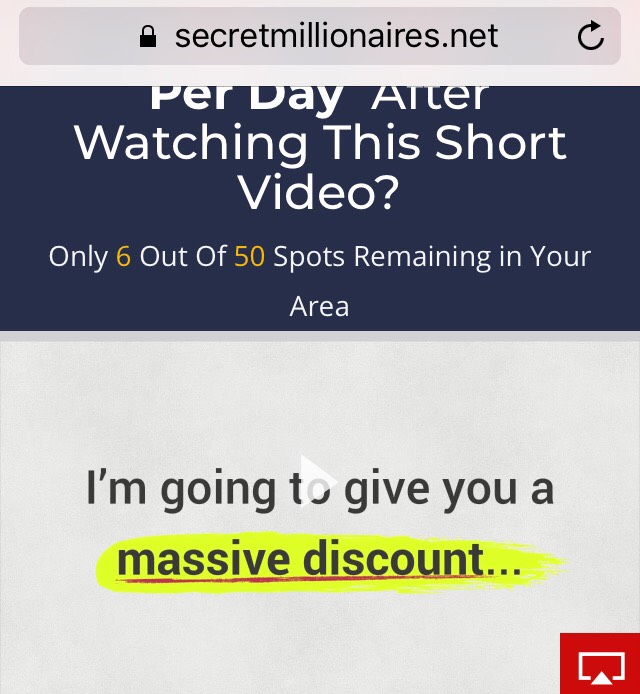 $37 is the price of the Aspire membership regardless if you purchase it through the Secret Millionaires sales page or the Digital Altitude site, so it's not a discount.
Apart from that, they don't say anything about the thousands of dollars you'll have to spend to purchase the higher levels. In fact, they say nothing about Digital Altitude and I don't consider it to be honest.
They're doing the same scammers do when they tell you they're going to give you their magic system for free.
They do that to get you inside the program and then they'll try to convince you to pay even more by telling you that what you need to purchase is essential for your success.
I personally don't like their way of doing business, they should let you know all the costs involved as the more information you have, the better the decision you make.
.
They push you to join
---
They claim there's a limited number of spots available, nothing new when it comes to scam pages.
They force you to join by telling you that that offer won't be available tomorrow, which is completely fake because I came across that page some days ago and nothing has changed. 
You know they're lying when you check out the page later and see it's the same it was when you first stumbled upon it. 
They create this sense of urgency so that you don't have time to think about it and question their real intentions.
.
Another fake claim
---
They say that there's no other offer that will give you what you need to earn a living onine but this is completely false.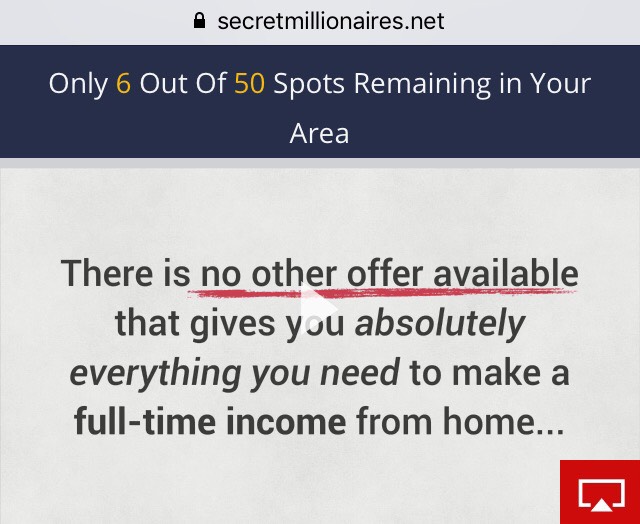 They make this fake claim just to make you think that you don't have other options so that you end up purchasing Aspire. 
But the truth is that there are legitimate places online where you can find and learn what you need to generate an income online. Never believe someone that claims their way is the only way, there are lots of ways to achieve the same goal.
.
My final conclusion
---
Secret Millionaires just serves as a way to get more recruits to Digital Altitude. I guess they haven't used the Digital Altitude name because of the complaints and negative reviews it has.
Digital Altitude is not a scam as you're getting good digital marketing training but it's really overpriced and they don't even encourage you to build a business based on your passions.
I don't recommend it to you if you are starting out, are on a low budget and don't like the MLM business model as you'll have to recruit others into the program to make money. 
Apart from that, I don't like the way they're trying to get you into it. They're lying and using unethical tactics so there's no way I will be recommending it. I don't believe they're worthy of trust as they're using the same deceitful tactics scam artists use.
There are other pages similar to Secret Millionaires that I don't recommend:
There are legit places online where you can build an online business for a very affordable price, you can even get started for free in my #1 online business platform. 
This is not a get-rich-quick scheme, you'll have to work your butt off to become successful. This is like making money offline, if you don't work you will not make a penny.
If you're willing to do what it takes, then you will benefit from my favorite digital marketing platform. 
This platform offers step-by-step training, courses and other tools that will help you start and grow an online business in a way that's sustainable for the long-term.
You'll also get help and support from me and other members within the platform. There's always someone willing to give you a hand, so you can rest assured knowing that you are not alone in this!
If you're interested in learning more, I suggest that you go read my full review by clicking the button below now:
.
I hope this review has answered the questions you had about Secret Millionaires and now you have enough information to make the right choice for you.
Feel free to leave a comment below in case you have any questions or would like to share your opinion about Secret Millionaires or other online money-making opportunities.
Have a great day! 🙂