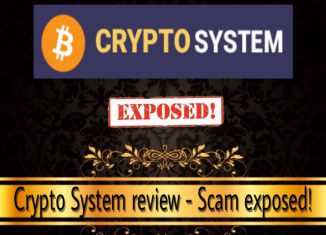 Hey there!
I've just come across Crypto System and the word "scam" is the first that came to mind because it looked very familiar to other scams I've stumbled upon.
I decided to look deep into it just to make sure it really was a scam and write a review to let you all know the truth about Crypto System.
If you've been thinking of joining, read this review because you're going to find out why signing up to the Crypto System is not a good idea.
.
Crypto System review
---
Name: Crypto System
Websites:
en.cryptosystem.cc (English version)

es.cryptosystem.cc (Spanish version)

it.cryptosystem.cc (Italian version)

de.cryptosystem.cc (German version)
Owner: "Kyle Stanford"
Price: "Free"
Created in: 2017
Overall Rating: 0/10
.
---
If you're sick of scams, check out my 1st resource to make money online here!
---
.
What is Crypto System about?
---
Crypto System is said to be an auto trading software that can make you money by trading bitcoins.
According to Kyle Stanford, the alleged creator of this system, you can earn $5000 per day without doing much work as the software works on complete autopilot. 
He claims this software has a 99.8% winning rate so it usually wins the trades. This claim is nonsense because there's no software that almost always wins. I've heard about the same absurd claim in other scams. They want you to think that there's no risk so that you believe you won't lose.
He also says that all the people who have joined his magical software have become millionaires. And the best part is that it's free! So is he saying that you can become a millionaire for free?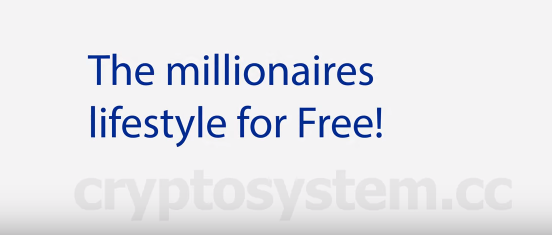 We know that no one will give you great things for free so don't be fooled by those scam artists. In the next section I'll explain why Crypto System is far from free.
I've lately seen lots of scams being created to take advantage of the cryptocurrencies boom, and Crypto System is another one of them. 
.
How does Crypto System really work?
---
Crypto System is designed to only generate profits to the scam artists behind it. 
If you're wondering how it can be a scam if they claim that it's free, let me explain.
They'll tell you that you need to fund your trading account with at least $250 to start trading. Without making that initial deposit, you won't be able to trade so that software would be useless if you don't invest $250 as a minimum.
Those con artists behind Crypto System are affiliated with unlicensed brokers that part with the trader's money, so each time these scammers refer new depositors the broker pays them huge commissions! 
If you make that initial investment, you'll see how this auto trading software starts losing trades until reaching 0, so you'll lose all the money you invest. 
Another thing to take into account is that they'll contact you to convince you to invest more by telling you that you'll make your money back.
Keep in mind that they ask you for your personal information like your email address and your phone number so expect to receive spam emails related to other scam offers and expect them to call you to try to steal more of your money and information with you.
Oh, and these scammers also sell their victims information to other scammers so that's why they want your personal information too.
In addition, don't let them trick you by making you think that you'll be able to withdraw your money. Most of these unregulated brokers only let traders make withdrawals if they reach a minimum amount of capital.
Moreover, if you check out their disclaimer, you can read how they mention nothing about trading Bitcoin but they mention binary options. You can also read how risky it really is so it's clear that they lie when they say it's risk-free in the Crypto System sales video.

.
Is Crypto System a scam?
---
I can confidently say that Crypto System is a scam that will only make you lose your money and time and leave you frustrated.
In the previous section I've explained how these swindlers scam people and now I'm going to post some proofs that expose Crypto System as the hoax it is.
.
Kyle Stanford, from Freedom Circle to Crypto System?
---
I've heard of the Kyle Stanford character before, he's been in another binary options scam I exposed some months ago named The Freedom Circle.
They haven't even changed the text about him as you can see below, they've only changed the name of the scam and the picture:
You can read how they mention the Liberty BTC System, which is nothing more than another name for the Crypto System. Scam artists usually use various names for the same fraud just to mislead potential victims.
They're preying on hard-working people who don't like their jobs or are struggling to make ends meet.
Both of those pictures can be found on stock sites so the scam artists behind those two scams have purchased or downloaded those images to create fictitious characters.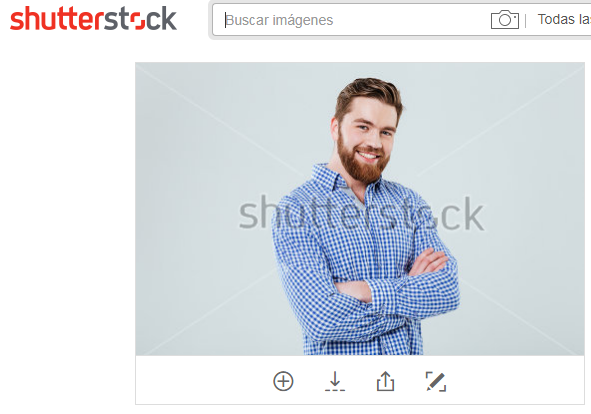 .
A lot of money and little to no work
---
These get-rich-quick schemes always want you to believe that you can make a lot of money fast without doing nothing. 
I guess they're preying on people who are tired of working hard or people who think there's really a magical system that can make them money fast without having to put in the effort.
Don't you think that these systems would be famous and everybody would be rich by now?
Another thing you need to consider is that money would have no value if it were that easy to obtain. 
The truth is that it's not possible to make thousands of dollars by doing nothing. You need to contribute and provide something valuable to others in order to earn a lot of money.
.
Fake testimonies
---
In the Crypto System sales page there's a section where you can read comments from people who are supposed to have tried this system.
The truth is that those comments are fake and the pictures of those people have been downloaded from other sites.
See what I mean below:
Meneo Olvera is not the real name of the guy seen above at the right. His real name is Ivo Georgiev and he has a Twitter account as you can observe below:
.
Only 30 invitations?
---
They claim they've sent only 30 invitations but this is completely fake.
They haven't sent any kind of invitation as anybody can access the Liberty BTC System or Crypto System page and watch that video. 
And the reason why they say they've only sent 30 invitations is to make you feel important and lucky to have landed on that page. But then you question it and realize that nobody has invited you to watch that video. 
They're just playing with your emotions by trying to make you believe that their miraculous system is going to make you a lot of money and change your life.
.
My final verdict
---
Liberty BTC System or Crypto System is another binary options trading scam that you need to stay away from. It was only created to make money to the scammers and leave you in a worse situation.
I obviously haven't tried it and don't plan on doing it but it's up to you whether to invest in this system or not. I just don't like how they lie and try to manipulate you to get into it. I believe I've provided enough proofs and information that show why this system is not worth it.
I suggest that you avoid the following crappy systems I've exposed in the past:
There are lots of scams out there and you really need to be careful before giving your personal or financial information. Doing your research before making any kind of purchase is very important and I'm really glad that you've landed on this review, I hope I've saved you from getting scammed.
If you're looking for a legit online money-making opportunity, I believe my favorite digital marketing platform will benefit you if you're willing to put in the effort, have patience and stay persistence.
This platform is very affordable (free to try) and provides step-by-step training, courses and tools that will teach you to create and grow an online business based on your passions. 
You'll also get support and help from the community members (myself included) and the owners. I'm been a member for over a year already and there's always been someone who has asked my questions so know that you're not alone in this! 🙂 
If you're interested in learning more, you can go read my review of my top recommendation by clicking the button below now:
.
That's it for today! I hope I've answered the questions you had before coming across this review. 
In case you have any questions or would like to share your thoughts, feel free to leave a comment below and I'll get back to you ASAP.
All the best =)