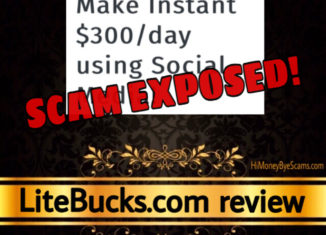 Welcome to my LiteBucks review!
Have you been sent to litebucks.com and are wondering if it's a scam? Or is it a legit money-making platform that can help you earn $300 per day?
No matter the questions you have, you're in the right place because here I reveal exactly how litebucks.com really works.
Knowing that there are too many frauds out there, I'm glad to see that you're doing your due diligence.
That's the way to avoid frauds and find the legitimate way to make passive income every day =)
For your information, this LiteBucks review is not like the rest because it doesn't contain any affiliate link. 
My purpose with this post is to help you decide whether LiteBucks is right for you or not, so keep reading!
LiteBucks review summary
---
Name: LiteBucks
Website: litebucks.com
Owner: Unknown
Price: Free to join
Launched in: September 2019
Best for: The owner
Recommended? Hell no!
---
If you're sick of scams, check out my 1st resource to make a 4-digit monthly passive income HERE!
---
What is LiteBucks about?
---
LiteBucks.com is a website that claims to help you earn money with social media. They claim to be the #1 influencer network, the only legit influencer network that pays up to $10 per referral.
But you know what? I've heard the same thing maaany times. There are other websites that claim to pay that amount of money per referral, and all these sites turn out to be scams that don't work for people like you.
LiteBucks also claims you can make $300 per day, which sounds awesome, doesn't it? I mean, if it really worked like this, many people would end up quitting jobs they hate. Most jobs don't pay $300 per day!
Why go to an office every day if you can make $300 per day just by sharing links and completing tasks? 
Well, the truth is that it's possible to make $300/day and even more, but it's not possible to do it with LiteBucks.com.
In other terms, litebucks.com will not help you make $300 per day, not to mention that it won't help you earn any money.
Unfortunately, most members don't believe it doesn't work just after getting ripped off. That's why I'm glad that you are reading this review, here I will show you why litebucks.com is not what you've been told.
You see, it makes no sense to pay $10 per referral if no one pays to sign up. They claim to pay you for the traffic you bring to their site, but that's not true.
If nobody is paying to join, where does their money come from? If they have no ads on their site, how can they pay you for every person who clicks on your referral link? They will simply not pay you.
Don't be fooled by these scammers and keep reading to see why it does not work!
Sick of scams? Want to make passive income every day?
Check Out My FREE Earn Money Online Guide Here!
Does LiteBucks.com work?
---
LiteBucks.com only serves its owners. It was basically created for its owners to profit at other people's expenses.
In short terms, litebucks.com does not pay its members.
Just because you see your litebucks account balance rise and rise, it doesn't mean you will get paid. What you see inside litebucks is completely fake, included the money you think you're earning.
That's why it should be called FakeBucks instead of LiteBucks!
If you wanted to reset or change your password, they wouldn't allow you to do it. They do not give any options for members to change their passwords, not to mention that you don't even get a confirmation email after signing up.
This is indeed a red flag because it's an indication that they don't care if you lose your account. All legit websites and programs I've come across allow their members/customers to change or reset their passwords.
It really doesn't matter if you share your litebucks.com referral link, if you upload a youtube video or if you complete the tasks they tell you because they will never pay you.
Their goal is to get your information to profit from it. They tell you to promote litebucks.com because they want their scam to reach as many people as possible. The more people who sign up, the more information they get and the more they profit.
Once they have collected lots of email addresses, names and passwords, they will sell it to other scam artists and hackers, who will do the same. It's a never-ending cycle.
And that's not all! They will also try to hack your personal accounts. They will try to get access to your PayPal, email address or bank account.
In other terms, they will do anything & everything they can to steal as much money as possible. This is their real goal.
If you try to complete the tasks from the $30 taskwall, you'll be required to visit fraudulent sites that will ask you for your information (phone number, credit card, email…), and this is very dangerous because your information can fall into the wrong hands.
That's why I don't recommend that you try to complete those tasks. If you give away your phone number, they will send you text messages that can cost you a lot of money, and if you install the programs they tell you, you can get your device damaged because those programs/apps contain viruses.
How do I know it? I've reviewed lots of websites that work exactly the same way as litebucks.com and I've read a lot of complaints from people who've got scammed by these scam sites. 
Fake payment proofs exposed!
---
There are some litebucks.com payment proofs that look real because they seem to be PayPal payment proofs, but I'm convinced 100% that they're fake.
You see, these payment proofs are said to be from August 2019 or before, which is not possible because LiteBucks didn't exist back then.
According to whois, the litebucks.com domain name was registered in 16th September 2019. So it didn't exist in August 2019.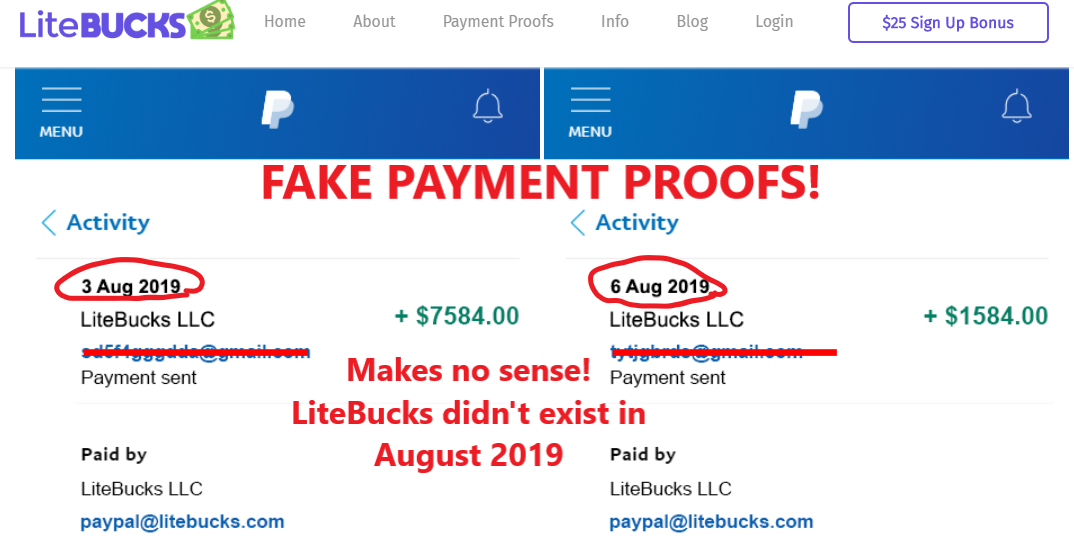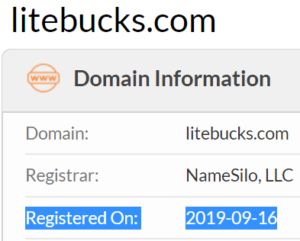 It's obvious that those payment proofs are fake. That money has not been sent to real members. 
Just the fact that litebucks.com was created in September 2019 is enough to conclude that their website stats are fake. They haven't paid millions to their members and litebucks was not founded in 2015 (in their about section they claim litebucks was founded in 2015).
Apart from that, don't be fooled by the testimonials. There's no way they have earned the kind of money they claim because litebucks hasn't been around long enough for members to get those payments.
Well, litebucks has not paid anyone and will not pay anyone because it works like the other scams that haven't paid anyone.
Sick of scams? Want to make passive income every day?
Check Out My FREE Earn Money Online Guide Here!
No info about the owners
---
Another red flag is the fact that there's no information about the people who are running litebucks.com.
Inside your litebucks.com account, you can find a picture of a woman who's said to be your account manager, but the truth is that this person has nothing to do with litebucks.
If you search for the skype username "litebucks.anda", you won't find anything. This is an indication that there's no support. They don't really care for their members because people who care offer real support instead of lying.
Their email address is not real either. If you send them a message, you won't get a response. So there's no point in trying to get in touch with them.
The fact that they don't show up is a clear indication that they have something to hide. If litebucks.com were the #1 influencer network, why don't they reveal their identities? They aren't even on social media… Don't you think that something that's considered the first influencer network should have social networks profiles?
It's obvious that litebucks is not the #1 influencer network, I haven't seen any influencers mention it and it doesn't surprise me because litebucks is only being promoted by people who hope to make money easily or fast.
If you search for litebucks payment proofs outside the litebucks.com website, you won't find anything relevant. And if you search for real litebucks reviews, you won't find anything positive. I've only found litebucks reviews from some members who are promoting because they think they will make money.
It's the same as PaidLeaf
---
In the Litebucks FAQ section, there are some questions and answers where they mention "PaidLeaf", which is the name of another scam site that works like litebucks.
This is an indication that they have copied and pasted the information from the paidleaf.com site to litebucks.com. They've simply forgotten to change from "paidleaf" to "litebucks". 

Lol they're nothing special because they're no different from the other scam sites that have the same claims and work the same way. 
CloutPay, Paid4Clout, InfluencersEarn, InfluencerCash, Cash4Clickz, NiceCash, Tap2Earn, FineCash, CloutBucks, ReferralPay, CashOG, RainMoney, KashTree… just to mention some of the copies of this scam.
Here you can read some PaidLeaf complaints, and below you can read what it can happen if you keep using litebucks (the same as CloutPay):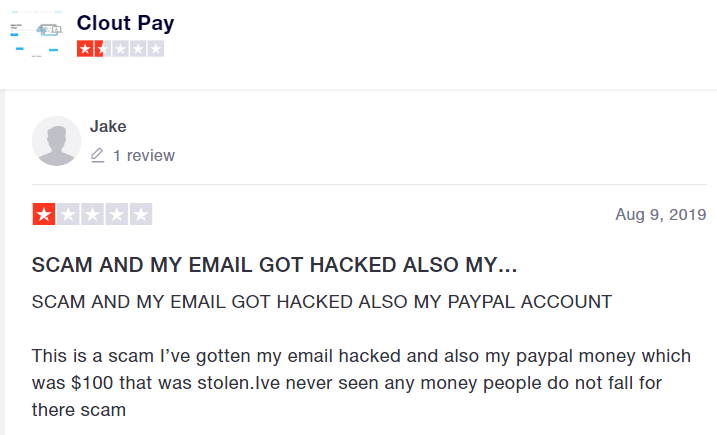 Will LiteBucks.com scam you?
---
You will call LiteBucks a scam if you keep using it and realize it does not work.
If you keep using litebucks.com, reach the minimum payout threshold and ask for your payment, they will send you a payment confirmation (it's fake) and will wait and wait but will never get paid.
Instead of sending you money, they will try to get access to your paypal or bank account because they want to steal as much money as possible from all the people who fall for the scam.
If you have given away your password or email address, I recommend that you change your email address and add extra protection to all your accounts. 
LiteBucks was created by the same unethical individuals who created the other scam sites I have mentioned. And they have no intentions of paying members, they don't care if they take everyone's last dollar because these fraudsters only care about their own benefit.
They want you to spread their scams when they're the only ones who profit, don't you think this is unfair and unacceptable? 
To begin with, if they are not transparent about who they are (they don't reveal their identities or contact information), why should you give away your information? It's not fair to ask for something they aren't willing to give.
I won't be wasting my energy on litebucks.com because it won't benefit me in any way, and I won't be recommending it because it won't benefit anyone but these scammers.
What you decide to do is up to you, but my final conclusion is that I highly do not recommend LiteBucks.com.
If you're willing to take action, this is what really works
---
If you're sick of fraudulent websites that don't work, keep in mind that all websites that claim you can easily or quickly make money tend to be scams that only make some scammers richer.
The good news is that it's totally possible to generate the kind of money they talk about, just know that you will need to put in the work and time.
When I realized it, I stopped wasting my time on scams. I'm grateful that I found a legit business model that has been working for decades.
If you have brought traffic to a scam site like litebucks.com, you can definitely succeed in this business because this is about driving traffic to legitimate companies/websites.
Just to give you an example, if you drive visitors to stores like Amazon and someone purchases something, you will get paid commissions!
This is a real business model that people from all over the world are using to generate passive income every single day.
You will be able to choose from thousands of products, so you can profit from something that is related to a topic you love.
What if you don't have any previous experience or tech skills? No problem, as long as you're committed to following a step-by-step method, you can get awesome results.
I'm living proof this business works, as you can see in this screenshot: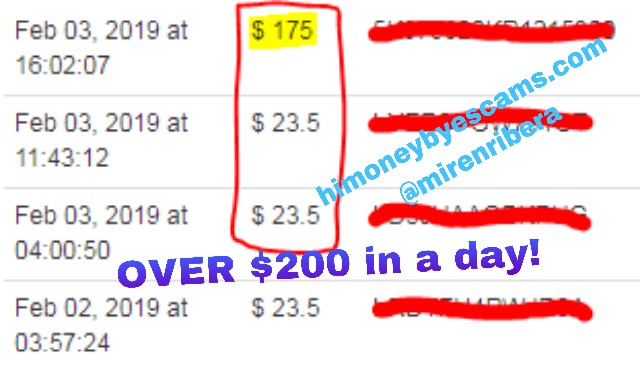 If somebody like me can do this, I'm 100% convinced that you can do it too! I started with no experience and English is not my native language, so don't you ever limit yourself, you can achieve whatever you put your mind to =)
Do you want to know all the details of this business? I invite you to read my FREE guide here: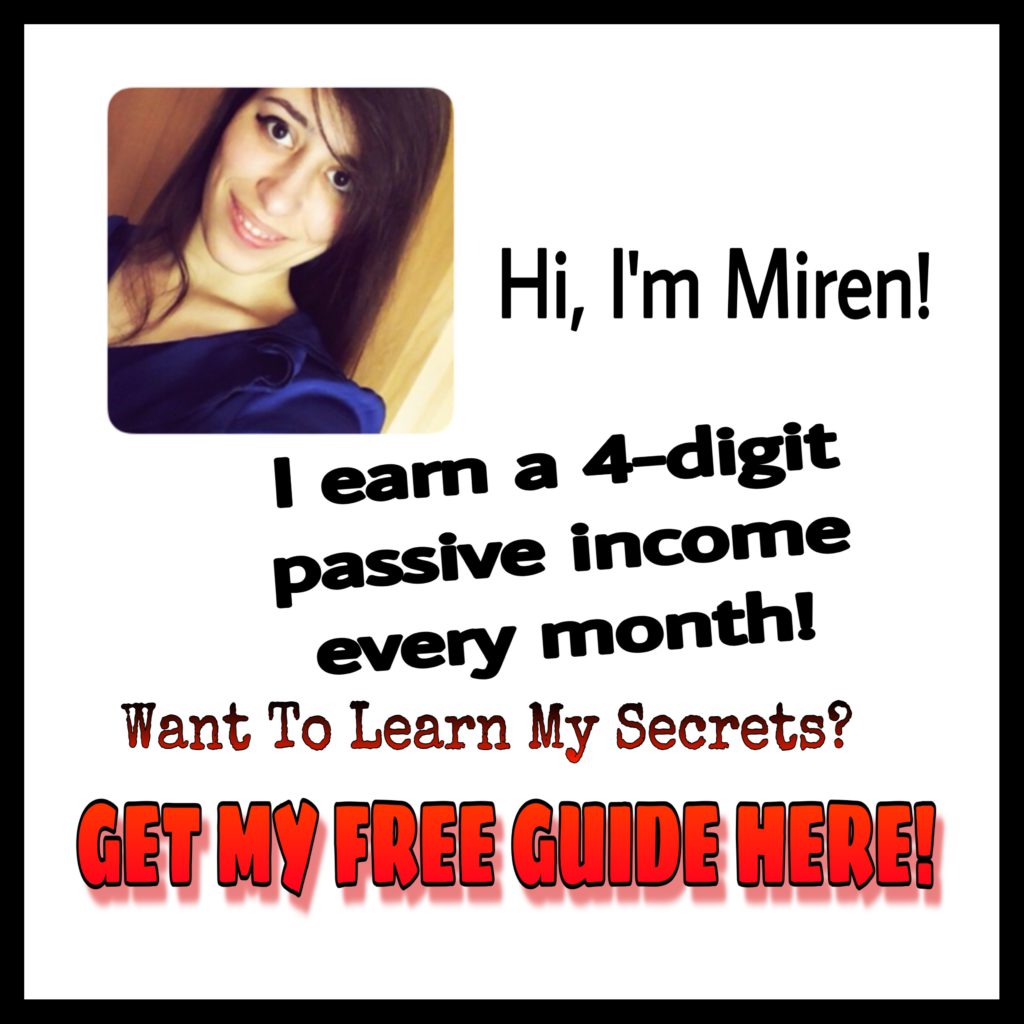 My guide is FREE (no login information required, just click here to start reading it), which means that you have nothing to lose and a lot to gain 🙂
Oh, and don't you worry if you ever get stuck! I'm not like those fraudsters because I'm honest about my identity and I also tell you how you can message me.
In my free guide I will show you how you can get all your questions answered and an amazing place where you can get support from me and other like-minded people.
Stop wasting your energy on ugly scams and start your online money-making journey today!
I will leave this quote here:
If you want something you have never had, you must be willing to do something you have never done.
I hope this LiteBucks.com scam review has been helpful to you and you will make the best possible decision.
Feel free to share it with whoever you believe that will benefit from it!
If you have any questions or would like to share your thoughts with us, please leave a comment below. I love hearing from you all!
Whatever you do next, I wish you nothing but the best =)