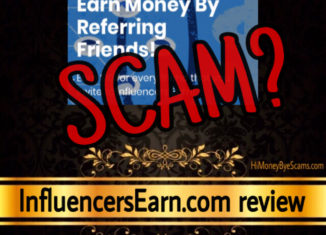 Will InfluencersEarn.com scam you and leave you frustrated? Or is it a legit site to make money from social media?
No matter the questions you have, this InfluencersEarn review will reveal the answers you're looking for.
There are sooo many frauds out there, so I'm glad that you're one of those people who take the time to do some research.
That's the way to avoid scams and find the real way to earn passive income every single day!
To be completely straightforward with you, I am not promoting influencersearn.com, which means that here you will not find any referral link.
My purpose with this influencersearn.com review is to help you decide whether this platform is right for you or not.
InfluencersEarn review summary
---
Name: InfluencersEarn
Website URL: influencersearn.com
Founder: Anonymous
Cost: Free (but it can cost you a lot, you'll see what I mean)
Best for: The founder
Recommended? No
---
If you're sick of scams, check out my 1st resource to make a 4-digit monthly passive income HERE!
---
What is InfluencersEarn.com about?
---
InfluencersEarn (found at influencersearn.com) is a website that claims you can earn money by getting others to join.
It's a free-to-join site, but they say that you can get $10 per referral, which makes no sense to me.
I mean, how are they willing to pay $10 per member if no one has to pay to sign up? Where does their money come from?
They claim to pay you with the money they generate from sponsors and ads, but I don't believe it's true because the influencersearn.com site doesn't have any ads. 
Apart from that, they also claim to give you $25 just for joining, but there's a catch… After joining, you can see $25 in your influencersearn.com account, but they don't allow you to withdraw it so it's the same as getting nothing.
InfluencersEarn sounds too good to be true, and it really is. Many people sign up and give it a try because it's free to join, so they don't think they have something to lose.
Unfortunately, many members realize it doesn't work when it's too late. And with "too late" I mean that they realize it's fake when they've already wasted their energy on it, since they wait and wait for their payments to come, but they never get paid.
InfluencersEarn is no different than these other sites that have never paid their members:
How does InfluencersEarn.com really work?
---
InfluencersEarn.com only works to make money to the people who have created it.
People who sign up a.k.a. members don't benefit from influencersearn because they never get paid. 
InfluencersEarn.com works in a way that can make members believe they're making money when in reality they aren't earning any money.
I mean, members start sharing their referral links and see their accounts balance rise and rise, which gets them excited. Getting excited about it is something that incites them to keep promoting influencersearn.com, since they think that they will get paid.
Members share their referral links on social networks, upload youtube videos with their referral links, and they also try to complete tasks.
No matter the way you have tried to make money with InfluencersEarn, they will not pay you. It doesn't matter how many times you've shared your link, how many clicks or referrals you've got or how many tasks you've completed.
Well, doing that is something that will make the owners of influencersearn.com richer, but it won't help you in any way. 
Like I said before, it makes no sense to pay $10 per referral because they're not getting paid when people sign up. 
When it comes to the YouTube video, it makes no sense to pay $50 per video because they're not earning that much money for a single promotion.
And the tasks are waaay more dangerous than they seem. They require you to download/install programs that are infected with viruses, which is something that can get your device damaged, so it can end up costing you money!
In addition, these tasks require you to give away your personal information like your phone number, credit card or email address. If you give this information to the wrong people, they will not hesitate to use it to their advantage.
For example, they will sell it to other scammers, they will send you spam emails and they will also send you text messages that will cost you money.
And that's not all! They will try to hack your personal accounts and steal your identity. Giving away your personal info is more dangerous than it first seems.
Sick of scams? Want to make passive income every day?
Check Out My FREE Earn Money Online Guide Here!
Fake payment proofs
---
Everything about influencersearn.com is fake, from their stats to their payment proofs.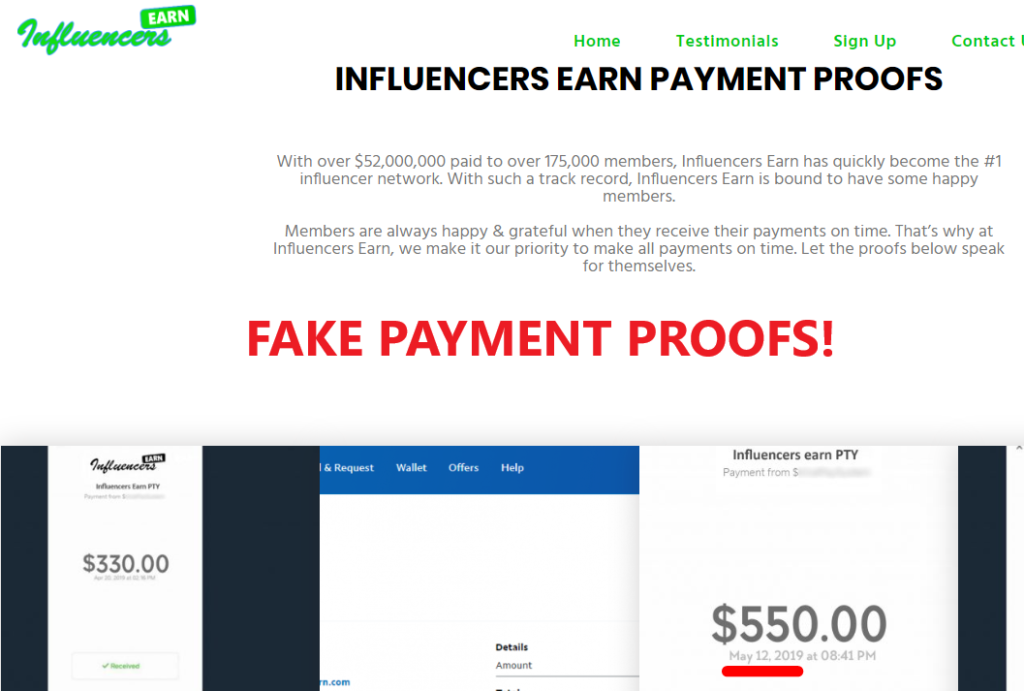 First of all, they claim to be the #1 influencer network, which is something that I have seen in other scam sites. But I haven't seen any real influencers promote or talk about influencersearn.com.
The truth is that InfluencersEarn is not the top influencer network, and it hasn't been 10 years in business. That's another lie they tell you to look like they have been around long enough to make their stats look real.
But the truth is that their stats are all fake, since it's not even been 2 months since InfluencersEarn was created.
As you can see below, the influencersearn.com domain name was registered back in September 25th 2019: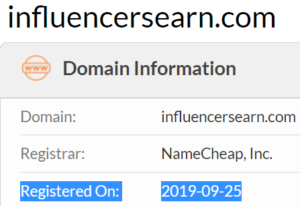 Because of this, there's no way that those payment proofs are real. One of them is said to be from May 12th 2019, and this is not possible because influencersearn.com didn't exist in May 2019.
Nowadays is not hard to fake testimonials or payment proofs, so you can be sure that the people behind influencersearn.com have invented these testimonies & payment proofs.
Their goal is to get you to believe that InfluencersEarn.com has paid other people, since this is something that can incite you to sign up and do what they tell you.
But the truth is that influencersearn.com has not paid any members. If you look for payment proofs or real reviews outside of the influencersearn.com site, you won't find anything.
If you find youtube reviews, know that these video reviews have been uploaded by members who are trying to make money with influencersearn. But these members cannot provide any payment proof because they haven't got paid.
No information about the owners
---
InfluencersEarn.com doesn't provide any information about the people who have created it, which is a big red flag because it means that they're trying to hide something.
To be honest, I didn't get surprised when I saw that they don't reveal their real identities because this is something that I have seen in the other copies of this scam.
This kind of scams never reveal who's behind them because the owners don't want to get caught or sued. They don't want to face the negative consequences of ripping people off.
Apart from that, they don't even reveal their email address. This is another scam sign because it means that they don't want to be available for their members.
Yes, they claim to be on Twitter, Instagram and Skype, but I checked it out and their social media accounts don't look good.
First of all, their Twitter account has nothing to do with influencersearn.com and they haven't even interacted with real members.
Second of all, their Instagram account only has 29 followers and has 0 posts. If they claim to be the #1 influencer network, don't you think they would have more followers? Just the fact that they haven't posted anything is a red flag.
Third of all, their Skype username does not exist! If you search for "influencersearn" on Skype, you'll get 0 results.
Will InfluencersEarn.com scam you?
---
InfluencersEarn.com was created for the owners to profit at your expense.
They want your personal information because the more info they have, the more they profit. 
Their goal is to create a big list of email addresses, names and passwords. And once they have this list, they will sell it to other scam artists, who will do the same.
They will also use your information to hack your personal accounts like your email or PayPal. Some people who have fallen for other copies of this scam have had all their money stolen, so it's clear that these scammers do the most to get as much money as humanly possible.
They don't care if they take your last cent or if you need that money, they only care about their own benefit. 
InfluencersEarn.com is the same as other scams I have exposed, and many of these scams like CloutPay already have complaints: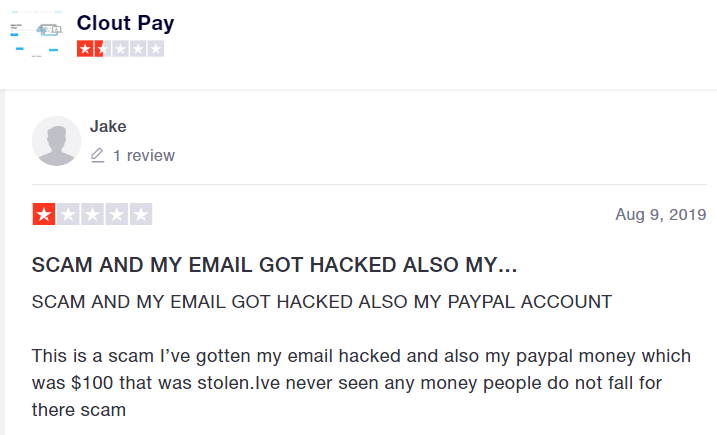 You've already seen that their payment proofs, testimonials and website stats are completely fake. And the fact that they're hiding important information is another reason I cannot trust InfluencersEarn.com.
Many people who fall for this kind of fraud end up feeling guilty because they've told their family and friends to get involved. 
If you're one of those people, please know that your intentions were good and I hope that your loved ones will understand how you feel.
After everything I've told you, the last decision is yours, but my final verdict is that I highly don't recommend InfluencersEarn.com.
What about sharing legitimate links?
---
Instead of sharing scam links a.k.a links to scam sites, what do you think it will happen if you shared legitimate links a.k.a. links to real sites? You would make money!
That's right, there are legit websites and companies who are willing to pay you to help them get more clients.
It doesn't matter if you don't like selling or are not good at it, you can succeed in this business because you just need to drive traffic to these legit sites.
For example, if you bring visitors to products sold on Amazon and someone purchases a product through your link, you will make a commission!
This is a real business model that people from all over the world are using to make a full-time income online. You will be able to choose from thousands of services and products to promote, so you can make money from a product that is related to a topic you're interested in. 
Don't you worry if you don't have any prior experience or tech skills, as long as you're committed to putting in the time and work, you can build a successful business.
I'm living proof this business works, as you can see in this screenshot below: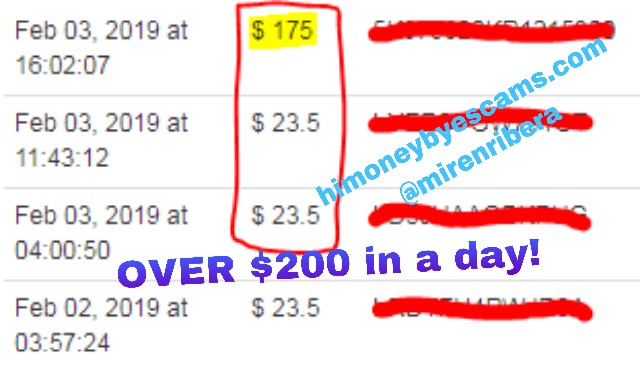 If somebody like me can do this, I'm convinced you can do it too! I started with no experience and English is not my first language, so don't ever limit yourself, you can achieve whatever you put your mind to =)
If you're willing to learn and take action, I encourage you to read my FREE guide here: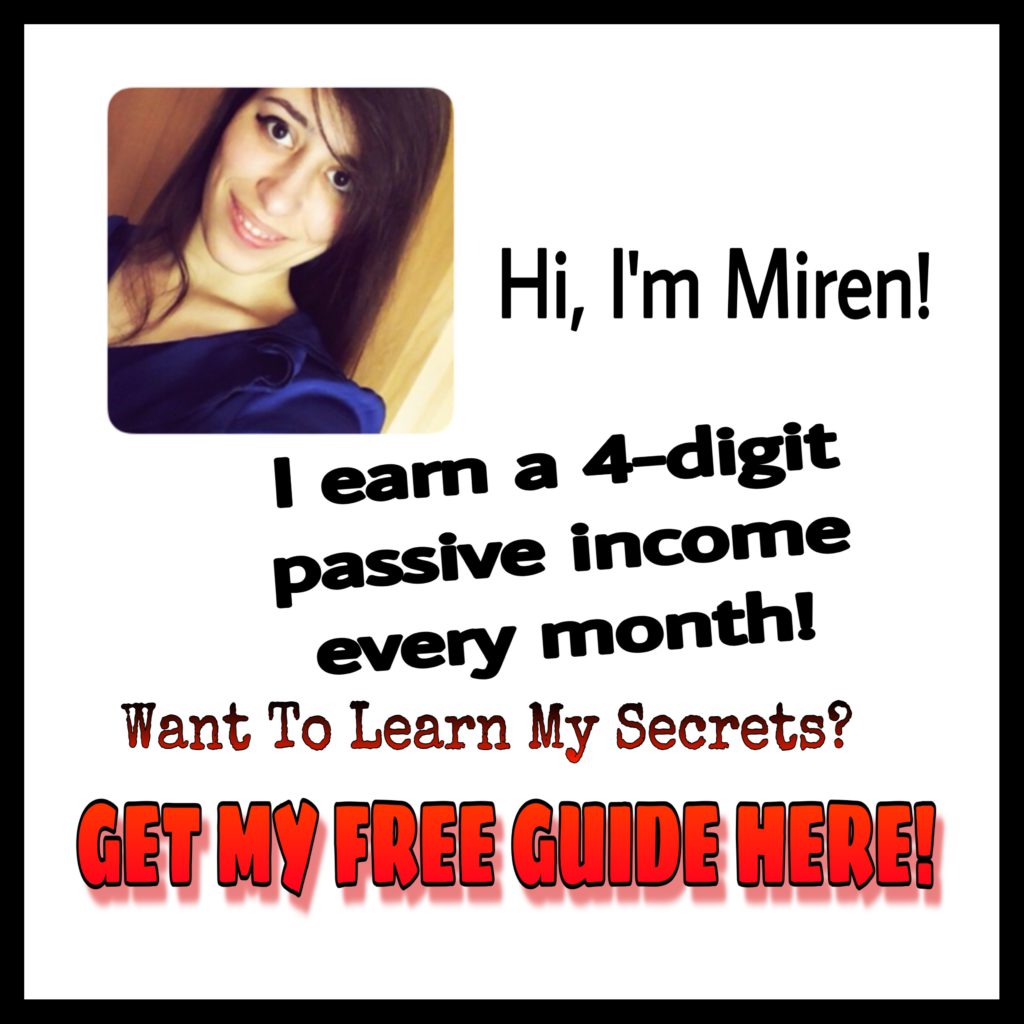 My guide is FREE (no login information required, just click here to start reading it), which means that you have nothing to lose and a lot to gain 🙂
Oh, and don't you worry if you ever get stuck or lost! I'm not like those fraudsters because I'm honest about who I am and I also tell you how you can get in touch with me.
In my free guide you will learn how you can get answers to your questions and support from me and other Internet marketers.
Stop wasting your time on phishing scams and start your passive income journey today!
I will leave this quote here:
If you want something you have never had, you must be willing to do something you have never done.
I hope this InfluencersEarn.com scam review has been helpful to you and you will make the best possible decision.
Feel free to share it with whoever you believe that will benefit from it!
If there's something else you want to know or you have any questions or would like to share your experience, please leave a comment below. I love hearing from you all!
Whatever you do next, I wish you nothing but the best =)