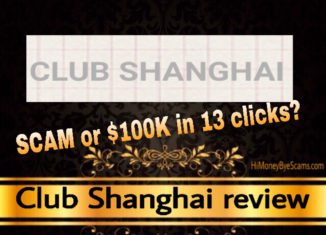 Welcome to my Club Shanghai review!
Are you wondering if clubshanghai.co is legit or another scam that you need to stay away from? If your answer is affirmative, you are in the right place!
Before answering your questions, I need to congratulate you for taking the time to do your own research before buying into another money-making product.
There are lots of scams out there, so I'm glad that you are doing your due diligence. That's the way to avoid the fraudulent websites and find the genuine way to make a living online!
When it comes to Club Shanghai, it's not as awesome as advertised, so here I am to show you the complete truth.
Club Shanghai review
---
Name: Club Shanghai
Website URL: clubshanghai.co
Owner: "Jermaine"
Launched in: January 2019
Price: $37 + upsells
Overall Rating: 3/10
Recommended? No
---
If you're sick of scams, check out my 1st resource to make money online HERE!
---
What is Club Shanghai about?
---
Someone sent me an email concerning this new ClickBank product called Club Shanghai, so I thought I would look deep into it to see if this one was worth it or just another ugly scam.
The sales page for Club Shanghai didn't give make me feel confident about it because it looked like other scam pages I have come across.
But I didn't want to think this one was another scam so I did my homework before coming to a final conclusion. 
According to the sales video, Club Shanghai is an awesome system that can help you earn thousands of dollars through Messenger marketing.
Jermaine, the spokesman, claims to be a former online business journalist who earned $128,538.50 in just 13 clicks, thanks to this "never seen before" secret system.
He claims this system doesn't require you to have any special skills or experience, so you can make it work regardless of your knowledge. It apparently does not matter whether or not you have made money online before.
Jermaine says that this is your time to stop falling for those softwares and systems that don't work. He allegedly knows how it feels to fall for scams, so does this mean he's not going to scam you?
Honestly, everything he says about this system makes it look like another "too good to be true" system. I remember hearing similar claims many times before in other sales videos.
Club Shanghai has supposedly changed his life overnight, which sounds quite unrealistic because it gives you the idea that there's a secret system that can change your life for the better within a short amount of time.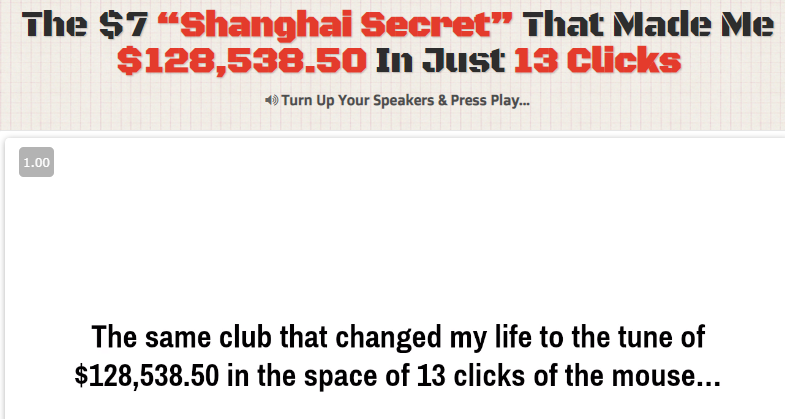 I mean, success isn't overnight because if it was, don't you think everyone would be successful? It doesn't matter what you want to succeed at, great things take time and effort to achieve.
So for me, hearing that this system helped him change his life overnight is a big red flag and makes me believe that this system is not as awesome as he claims.
I've reviewed hundreds of websites, so I have to say that I have come across other sales pages with more hype than this one. 
But Club Shanghai is definitely not better than the following:
RECOMMENDED: Learn How I Make a 4-Digit Monthly Income Here!
How Club Shanghai really works
---
Club Shanghai does not work the way the spokesman claims because there's no product or system that you can use to earn thousands of dollars with "13 clicks".
In my opinion, he doesn't give much information about what you will exactly have to do or how this system can help you earn thousands of dollars.
This is itself a red flag because it's something you need to take into consideration before investing in a business opportunity.
"Jermaine" claims this system works by using WeChat, which is a messaging app that was created in 2011 in China and it's being used by almost a billion people.
Just like Facebook Messenger and WhatsApp, WeChat gives marketers an opportunity to explot it to generate huge profits.
I don't use this app to make money myself, but I know a lot of people use it and it's possible to earn big money.
You see, a messaging app is just another online place to get in touch with other people, so when it comes to business, you can use the app to contact clients and sell your offers.
With that said, there are other factors to take into account while building a business, like the offer or product you promote or sell and the way you market it.
Club Shanghai is not a system that you can activate and expect to earn money easily or fast or on autopilot. The Internet is definitely not an ATM machine.
The real cost
---
The truth is that this product doesn't only cost $7. Well, you can spend $7 just to get the initial offer, but building a business will cost you more than that.
Products like this always have some upsells waiting for you just after you've made the first payment. Yes, they will bombard you with upsells before giving you access to the members area.
Even if you decide to ignore the upsells, you will have to spend hundreds or even thousands of dollars on advertising because driving traffic to your offers takes time or money.
If you cannot afford to spend money on ads, you will need to spend a lot of time to get leads. 
Therefore, building a profitable business takes a lot of time or money. 
It's a new name for an old product
---
So I took a look at the login page for Club Shanghai and I found out it's the login page for Club 365! 
Club 365 was a ClickBank product that I reviewed back in September 2018, and I remember it was advertised as an awesome platform.
Honestly, I believe it wasn't as amazing as portrayed and that's why they have changed the name to Club Shanghai.
You see, programs that are high-quality don't usually change their names because changing the name of a product is a way to mislead potential customers, so that's something that only scammers do.
So I wouldn't be surprised if in some months Club Shanghai has another name or gets replaced, it will depend on the success rate they have. 
Who is Jermaine?
---
Jermaine is said to be the person behind Club Shanghai, but I actually doubt it.
He doesn't show us any picture of himself and he doesn't even tell us how to get in touch with him, which is something that indicates a lack of transparency.
I personally believe that Jermaine is not the name of the real owner of this product because products like this are usually being marketed under fake names. 
You see, most websites that don't reveal the real identities of the owners tend to be low-quality products or scams. 
Scammers usually hide who they really are because that's the way they can avoid facing the consequences of scamming.
Lack of legal information
---
Most ClickBank products usually provide some legal pages like privacy policy and terms & conditions, so I got kind of surprised when I saw that Club Shanghai doesn't provide any of these pages.
I usually avoid getting involved in websites that don't give this kind of information because this legal information is something important to consider before making a final decision.
How are they going to use the personal details we provide? Are they going to share your data with third parties? No way to know it, but I have noticed that websites' owners who hide this information tend to collect email addresses and sell them to other individuals or companies.
Therefore, if you give them your main email address, you can expect them to send you spam emails related to scams or other money-making products similar to Club Shanghai.
RECOMMENDED: Check Out My FREE Earn Money Online Guide Here!
Fake scarcity
---
The fact that they say there are only 100 memberships available is a red flag becuase it means that they are trying to get you to buy this product as fast as possible.
This is completely fake because there's no limit when it comes to the number of spots available. You can even check out the sales page another day and you'll see that they say the same thing.
It doesn't even make sense that they are limiting the amount of sales they can make because these people want to earn as much money as possible.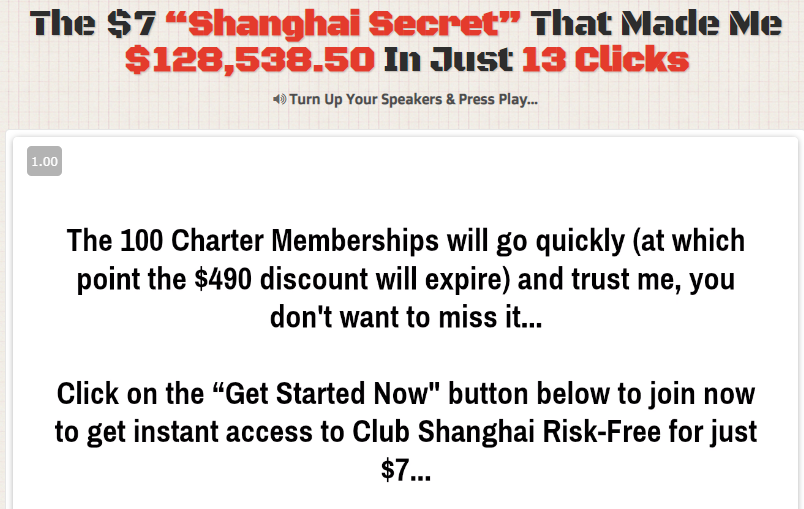 Also, it's not true that you are getting a $490 discount. This is another fake claim they make to get you afraid of missing out so that you end up buying Club Shanghai as fast as possible.
Is Club Shanghai a scam?
---
The answer to "is Club Shanghai a scam?" really depends on how you define a scam or what you expect to gain with this product.
If you expect to earn thousands of dollars with little effort, then you will call Club Shanghai a scam because this is not a solution to making easy or fast cash.
However, if your goal is to learn from the training provided without fast money expectations, then you will not consider this product to be a scam because you receive some training for your money.
In my opinion, Club Shanghai is not a scam because it's a product sold on ClickBank, which means that you can get your money back in case you buy it and don't like it.
I have never liked products or programs that promote "making money online" as something easy or quickly, since there's no shortcut to success. 
This kind of programs are the ones that give a bad reputation to the whole Internet marketing industry because lots of newcomers hope to find a system or secret that will make them money overnight, and when they realize they have been lied and deceived by scammers, they may lose hope and faith, which is not good for their mental health. 
So, I'll never support this kind of programs. That's why I have to conclude that I do not recommend Club Shanghai.
Are you ready to leave the scams behind?
---
The way you can stop wasting your time on scams is by keeping in mind that building an online business takes learning, time, commitment, patience, effort…
There's no push-button system or magical website that you can use to get instant cash on demand, so whoever promises you easy riches is trying to scam you.
I'm glad that I realized that and found a legitimate business model that has enable me to earn passive income every single day, which is so cool!
This business model takes advantage of millions of products and services that are available online, and it's only getting better because more and more products are coming out.
It's not MLM and it doesn't require you to recruit. You'll be able to choose a topic you have a passion for to build this business!
If that sounds great to you and you are the kind of person who's committed to doing what it takes, I encourage you to check out my FREE guide here:
If you read my free guide until the end, you will discover step-by-step how you can build this kind of business starting from zero.
This is a newbie-friendly business that doesn't require you to spend much money, you can actually start today for free!
That's right, in my free guide you will find out how you can get started without spending a dime, so it's risk-free to make sure this business is right for you!
In my free guide I reveal how I got started, the training & tools I used, the reason this business works so well…
Not only that, you also get the chance to get to receive my personal guidance and support, so know that you are not alone in this new venture!
I'm very happy with the messages I have been receiving lately. This message below is just one of those beautiful messages I love reading:
So what about you? Are you ready to stop wasting your time on scams and start building your digital business today?
CHECK OUT MY FREE EARN MONEY ONLINE GUIDE HERE!
I hope this Club Shanghai review has been helpful to you and you will make the best possible decision.
Feel free to share it with whoever you believe that will benefit from it!
If there's something else you want to know or you have any questions, please don't hesitate to leave your thoughts below and I'll get back to you ASAP! 
Whatever you do next, I wish you the best =)