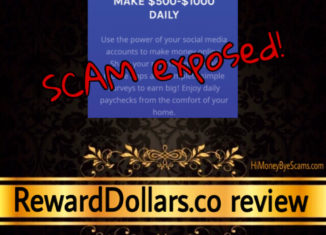 Welcome to my RewardDollars.co review!
Are you wondering if RewardDollars is a scam? Or is it a legit social media network to make $500-$1000 a day?
No matter the questions you have about this platform, I'm glad that you have found this post because here I reveal the complete truth.
There are too many scams out there, so I'm glad to see that you are taking the time to do your own research.
That's the way to avoid frauds and find the legit way to make passive income every day!
For your information, you will not find any referral link in this RewardDollars.co review because I have decided not to advertise this platform.
Instead of promoting it, my purpose is to help you decide whether RewardDollars is for you or not.
RewardDollars.co review summary
---
Name: RewardDollars
Website URLs:
rewarddollars.co

inboxdollar.co
Owner: Hidden
Created in: March 2020
Cost: Free to join (but it can end up very expensive)
Who is it for? The owner
Do I recommend it? No, it's bogus!
---
If you're sick of scams, check out my 1st resource to make a 4-digit monthly passive income HERE!
---
What is RewardDollars said to be?
---
RewardDollars (found at rewarddollars.co and inboxdollar.co) is a website that claims to be the #1 social media network that can help you earn from $500 to $1000 a day.
According to them, all you have to do is to share your referral link, complete surveys and install phone apps, which sounds simple and easy, right?
I mean, anyone with a smartphone and basic computer skills can do this. So is RewardDollars.co the website that will help most people make a full-time income online?
You know, most people are staying at home right now because of the Coronavirus crisis (as of this review), which means that there are lots of people who are looking for ways to make money online, especially those who have lost their jobs.
So will RewardDollars.co help these people? Or is it just another website that will make them lose even more money?
RewardDollars.co is free to join, which is one of the reasons many people sign up without wondering what the risks are.
Also, the fact that RewardDollars claims you'll receive a $25 bonus after joining is another reason it sounds very attractive. 
I mean, who wouldn't like to get paid just for joining? I believe that everyone would like to join rewarddollars.co, if it were a real website.
So why aren't most people joining it? Why are most people still struggling to make ends meet? Because sites like RewardDollars never work as advertised. 
As someone who has reviewed hundreds of websites, I can say that RewardDollars.co is nothing new or different from what I have already seen. 
After having done my research, I can affirm that RewardDollars is no better than these other sites:
How RewardDollars.co really works
---
RewardDollars.co does not work because it will not help you make $500-$1000 a day, it will not even help you earn a cent.
Instead of helping you, RewardDollars is only helping its owners profit at your expense. That's the hard truth.
If you sign up and get referrals, clicks and complete tasks, you will see your rewarddollars.co account balance increase and increase, but the problem is that that amount of money is completely fake.
The system is designed in a way that can make you believe you're making money, when in reality you're not earning anything. This is like a game where you gain points but cannot use them for anything.
And that's something that many members realize when they see they don't get paid. 
After reaching a minimum payout threshold and cash out, you will receive a payment confirmation that states the day you will receive the money, but that day will come and you will not get paid.
The reason they send members a payment confirmation is that they want you to think you will get paid, just to keep you promoting RewardDollars.co.
Many members wait and wait for something that will not happen because RewardDollars.co will never pay them.
Why RewardDollars.co cannot work
---
If you think about the way RewardDollars claims to make money, you can conclude RewardDollars.co cannot work.
First of all, they claim you can earn $2 for every person who clicks your link, which makes no sense because the owners of rewarddollars.co don't get paid when people visit their site, since rewarddollars has no ads. If they're not making money with ads, they cannot afford to pay for each visitor.
Second of all, they say that you will earn $20 per referral, which doesn't make any sense because signing up is free. If the owners of this platform are not getting paid when people sign up, they cannot afford to pay for each referral.
Third of all, they make money when you complete surveys and tasks, but the problem is that they don't earn as much as they claim to pay you. They definitely don't make $50 per task, so they definitely will not pay you for that. 
It doesn't matter how many visitors, referrals you get or how many tasks you complete because RewardDollars.co does not pay. 
Sick of scams? Want to make passive income every day?
Check Out My FREE Earn Money Online Guide Here!
Why does RewardDollars.co exist?
---
If RewardDollars.co does not pay and it's free to join, then why does it exist?
Like I said, the owners of this platform are the only ones who make money with it, and the more people who sign up, the more money these scammers will make.
They want as many people as possible to join because the more people who sign up, the more personal data they get.
These con artists want to get your personal info because they want to profit from it.
Once they have collected lots of email addresses and passwords, they will sell them to other fraudsters and spammers, who will do the same.
If you have used your main email to sign up, you can expect to see your inbox full of spam or unwanted emails. 
But that's not the worst! Worse than that is the fact that they will use your email and password combination to access your personal accounts. 
For example, they will try to access your email and paypal to steal all your money and information. They will even try to hack your bank account.
This is what they have done to people who have fallen for other websites like rewarddollars. 
Apart from that, they also want you to complete tasks and install mobile apps because this is what they need to make more money.
For each task you complete, they earn like $3, so imagine how much money they will make if everyone completes those tasks! 
But the problem with these tasks is that they require you to visit other fraudulent sites that ask for your info, not to mention that some websites ask you to make a payment or subscribe to something you probably don't want.
In addition, the apps they want you to install are filled with malware, which means that they can harm your device. 
You see, RewardDollars.co is more dangerous than you probably thought.
If these scammers get your info, they can even steal your identity, which can get you into huge trouble!
Who's behind RewardDollars.co?
---
There's no info about the people behind RewardDollars.co, which doesn't surprise me because showing up is no convenient for them.
The reason they don't reveal who they are is that they don't want to get caught, sued or reported. They don't want to face the negative consequences of ripping people off.
They know damn well that they are playing dirty and can get into trouble if people discover who they are, so they think that remaining anonymous is the way to keep making money illegally.
When RewardDollars.co gets exposed lots of times, they will change the name of this scam or create another scam site that will have similar promises.
There are so many sites that claim to be the #1 influencer network and promise hundreds of dollars a day for little to no work.
I don't know about you, but I personally cannot trust a website whose owners are being dishonest.
Fake payment proofs
---
Like I said, RewardDollars.co has not paid anyone, and this is something that I can prove.
All their site stats, testimonials and payment proofs are completely fake. No one has got paid.
How do I know? Because I know that RewardDollars.co was not created in the year 2000! RewardDollars.co didn't even exist in 2019!
According to a reputable website called whois, the rewarddollars.co domain name was registered in 30th March 2020, which means that it's a very new site (as of this review).
If you have seen their payment proofs, you have probably noticed that they are prior to March 2020.
Here you can observe what I mean:
All the payment proofs have been photoshopped to look real, but they're completely fake because RewardDollars.co has not paid anyone. 
You see, it makes no sense those payment proofs are from 2019 because RewardDollars.co didn't exist back then.
Also, the RewardDollars.co stats are fake because it's very new, so there's no way they have paid millions of dollars to their members. 
They want to seem a legitimate company when in reality it's nothing but a fraud. A legit company wouldn't have fake payment proofs, fake stats or fake testimonials.
Sick of scams? Want to make passive income every day?
Check Out My FREE Earn Money Online Guide Here!
---
If RewardDollars.co was the #1 social media network, wouldn't you expect to find it on social networks like Instagram, Twitter or Facebook?
I mean, any well-known company is on social networks, so don't you think it's strange not to find RewardDollars.co on social media?
In my opinion, this is a red flag that indicates that RewardDollars doesn't practice what it preaches. They claim to help you make money with social media when they're not even on social media? It's clear that RewardDollars.co cannot be trusted.
In addition, there are not positive rewarddollars.co reviews on Google or social media. This is another indication that no one has got paid by RewardDollars.
RewardDollars.co is like other scams
---
Another big red flag is the fact that RewardDollars.co is basically a new name for the InboxDollar.co scam site, which I exposed a month ago (as of this review).
If you visit inboxdollar.co, you'll be redirected to RewardDollars.co, which indicates that the owners of inboxdollar.co are the same individuals behind RewardDollars.
This is a scam sign because a legit site wouldn't change its name in such a short period of time. The reason they have changed inboxdollar.co to rewarddollars.co is that there were lots of negative InboxDollar.co reviews and complaints. 
These fraudsters want as many people as possible to sign up and spread this scam. They have created countless of websites like this because the more names this scam has, the more it will mislead potential victims.
Is RewardDollars.co a scam?
---
The answer to this question depends on how you define a scam. 
If you define a scam as something that asks for money but gives you nothing, then RewardDollars.co wouldn't be a scam because they don't ask for money.
But the thing is, RewardDollars.co was created to make money at other people's expenses, which is enough to call it a scam. I'm sure that everyone who joins and puts effort into it, will consider it a scam because they will not get paid.
RewardDollars.co has the following scam signs:
Fake testimonies

Lack of info about the owners

Fake payment proofs

Fake company story

Lack of social media presence

Fake contact information

Lack of legal information

It's connected to other known scams
You see, they don't even provide a private policy or disclaimer, which is another big scam sign because it makes RewardDollars.co illegal. 
Because of everything I have explained, I won't waste my time on RewardDollars. Many of the people who have fallen for this scam end up feeling guilty and ashamed for having told their friends and family to sign up. 
So RewardDollars.co is not only a waste of time and effort, it can take your money and it can also make you feel negatively.
What you decide to do is up to you, but I have to conclude that it's best to stay away from RewardDollars.co.
Stop wasting your energy on scams! Here's how to make passive income
---
The Internet is full of websites like RewardDollars.co, but there are also legit programs that can help you achieve your goals.
Something you need to keep in mind is that there are no websites you can use to make fast or easy money. All websites that promise quick cash end up being scams that don't work.
There are also legit GPT (Get Paid To) websites that pay, but the truth is that they pay way less than a normal job so they're not worth it, that's why I don't recommend them if you really value your time.
That's why my suggestion for you is to build your online business using the business model I use called affiliate marketing. This is the method that I have been using to make passive income every day.
As an affiliate marketer, you don't need to create your own products and you don't even need to purchase the offers you want to make money from. You basically provide solutions to other people's problems, and when people buy the solution, you make affiliate commissions, pretty cool right?
This business model has been working for decades, and it's here to stay because there are lots of products & services to make money from right now.
Here are my top 3 reasons to use affiliate marketing:
Because it enables you to earn residual income

Because you will enjoy writing/talking about something you have a passion for

Because it can help you make more money than you make with your job
I'm living proof this business works, as you can see in one of my payment proofs here: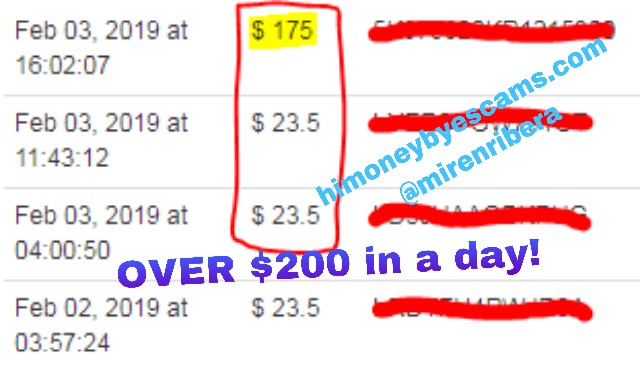 If you're willing to learn and take action to make a full-time income online, I invite you to check out my FREE guide here: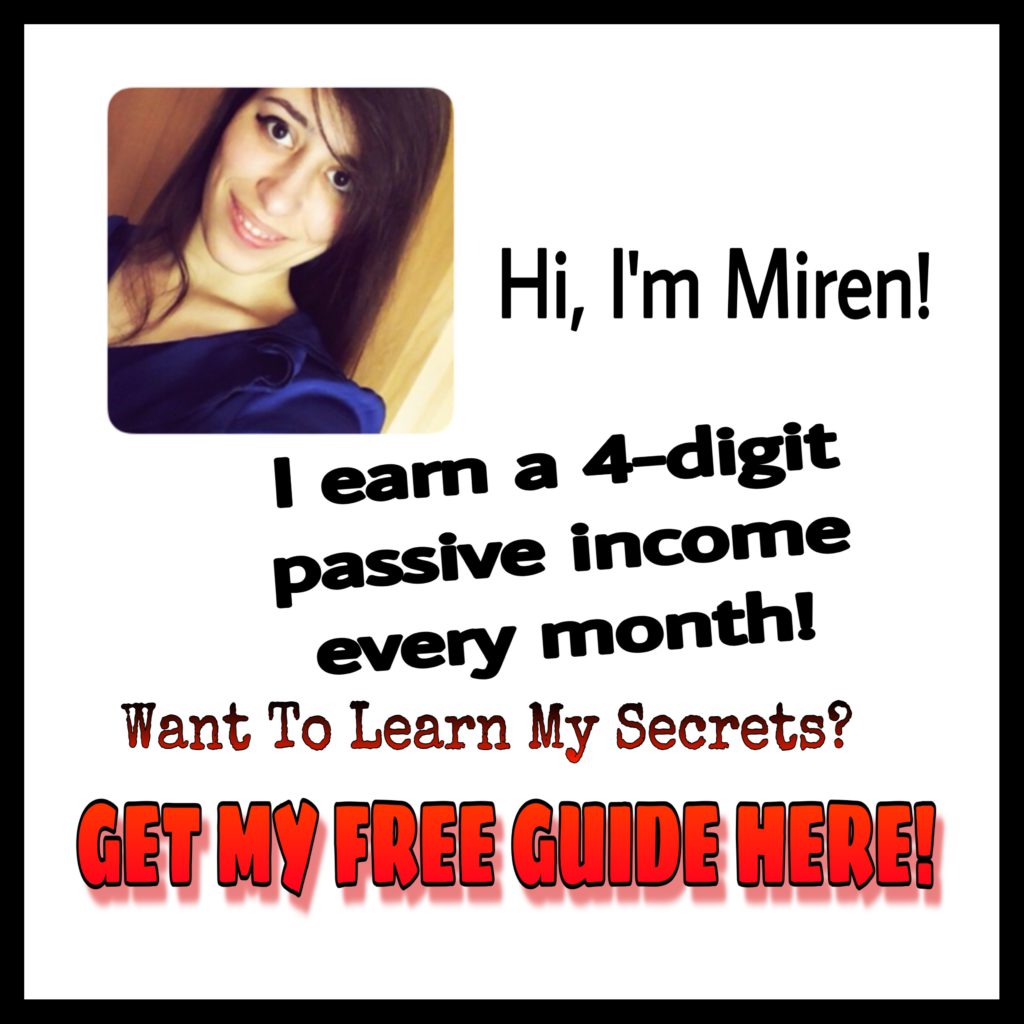 My guide is FREE (no login information required, just click here to start reading it), which means that you have nothing to lose and a lot to gain 🙂
If you read my free guide until the end, you will learn how you can start today for free, what training & tools I have used, the reasons this method works, proof that it works and so on. 
You are definitely not alone in this new venture because you will be able to receive help from me and other affiliate marketers. All the details in my guide!
Leave the scams behind and start your way to passive income online today!
I will leave this quote here:
If you want something you have never had, you must be willing to do something you have never done.
I hope this RewardDollars.co review has been helpful to you and you will make the best possible decision.
Feel free to share it with whoever you believe that will benefit from it!
If there's something else you want to know or you have any questions about rewarddollars.co or would like to share your experience, please leave a comment below. I love hearing from you all!
Whatever you do next, I wish you nothing but the best =)