Welcome to my CB Wealth review!
Are you wondering if cbwealth.net is a scam or legit system that can help you make $1,000s online?
If you have lots of questions, I'm glad that you are here because I'm going to reveal everything you need to know about this program.
First of all, I need to congratulate you for taking the time to do your own research before purchasing another money-making product.
The Internet is plagued with fraudulent websites, so I'm glad to see that you are doing your due diligence. That's the way to avoid scams and find the genuine method to earn passive income online!
There's a lot to say about CB Wealth, so keep reading to discover how it works and whether it's worth it or not.
CB Wealth review
---
Name: CB Wealth
Website URL: cbwealth.net
Owner: "James Robertson"
Created in: February 2019
Price: $37 + upsells
Overall Rating: 1/5
Recommended? No
---
If you're sick of scams, check out my 1st resource to make money online HERE!
---
What is CB Wealth?
---
The moment I landed on the sales page for CB Wealth, I thought I was in front of another "too good to be true" product because of the high income claim I read.
However, I didn't want to think it was another scam because I always like to see the good in everything, so I decided to take a closer look.
According to the spokesman, one of his close personal friends has sent you to watch the video. Honestly, I couldn't help but laugh after hearing that because it's something that I have heard in lots of scammy sales videos.
He says that he's going to give you access to his done-for-you system called CB Wealth, which can supposedly make you up to $25,921.75 in 30 days, even if you have no prior experience. Sounds cool, right?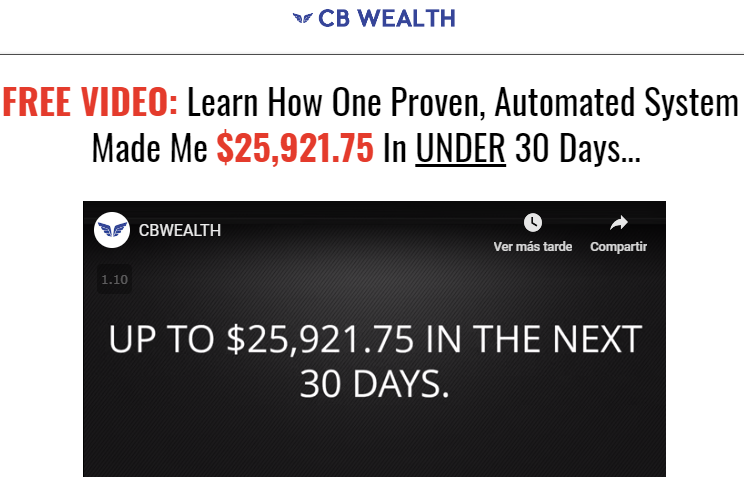 I mean, it sounds like the ultimate system that can help anyone earn a life-changing income online. 
He also mentions some people who have supposedly made money with this system, but it doesn't convince me. More on this later.
This system has nothing to do with paid surveys, crypto currencies or anything illegal. But he's making it look like a get-rich-quick scam when he says that you can earn over $17,000 in your very first week.
Just because a system doesn't promise millions overnight, it doesn't mean it's not a scam. Systems that promise thousands of dollars within a short period of time can be considered get-rich-quick schemes too because this is not how making money online really works.
The whole sales video is basically about how you can earn thousands of dollars and live a life of luxury, all thanks to this system.
James Robertson, the alleged owner, actually tells you what you want to hear and provides no explanation of how this system works, which is a big red flag because this is very common in scam programs. They promise the world but then deliver very little. 
After having done intensive research, I can say that CB Wealth is no different than these other products:
RECOMMENDED: Check Out My FREE Earn Money Online Guide Here!
How CB Wealth really operates
---
CB Wealth does not work like "James" claims because you are not getting a system that you can use to earn thousands a week.
In fact, there's no system or website that you can activate to get instant money. The Internet is not like an ATM machine or a place you can go to get money on demand. 
Therefore, it's complete possible to make thousands of dollars a week and even more, the sky is the limit when it comes to making money online. But it's not possible to get money doing little to nothing, whoever promises you easy or quick cash is trying to scam you out of your hard-earned money.
When it comes to CB Wealth, if you purchase it, you will get access to some generic & basic training. I've personally bought products like this one and they usually contain some YouTube videos that can be found on the Internet for free and outdated PDFs. 
CB Wealth is no different that most ClickBank products I have bought because it does not provide the kind of training you need to make the amount of money they talk about.
Red flag 1 – James Robertson
---
If I asked you "who is James Robertson?", what would you say? Would you say that he's the owner of CB Wealth? 
If yes, would you be able to prove it he's the creator of this product? I personally cannot prove that James Robertson is the person behind this program because he doesn't show any picture of himself and he doesn't even tell us how we can contact him.
You see, if he's making that much money, don't you think there would be some information about him outside the CB Wealth sales page? He claims to be a writer, online business expert and researcher, so there should be some information about him or he should be on social networks.
I personally do not believe that he's the real owner because I have heard his claims in another ClickBank product called Wealth Project, which I exposed some months ago.
The owner of Wealth Project also said he was James Robertson, so I personally believe that this is a made up name that the real owners are using to market this program.
Not only that, the script for the Wealth Project sales video was very similar to the CB Wealth sales video so I believe that CB Wealth is like a rehashed version of Wealth Project.
This is what con artists usually do. They don't reveal their real identities to avoid facing the consequences of scamming other people and they usually change the name of their scam products to mislead potential victims.
Red flag 2 – No way to verify success stories
---
Another red flag is the fact that there is no way to confirm the success stories "James" mentions are genuine.
In my opinion, I have exposed hundreds of products like this one, and I believe that these success stories are fake because there's nothing that proves they are real.
They don't show any pictures of the people who have supposedly made this kind of money and they don't even mention the last name of each person or how they made these huge amounts of money.
Anyone can record a video and invent a success story, and I've seen the same thing in other sales videos for scams or low-quality products.
Scam artists usually create fake success stories or fake testimonials to make you believe that their system works. But when it's time to prove that it works, there are no real proofs. That's how you can conclude they are fake.
You see, if this program was as good as they want you to believe, don't you think there would be positive reviews? I personally haven't even found any positive CB Wealth reviews, so I believe that everything the spokesman says is invented, from his story to the success stories.
Red flag 3 – Lack of legal information
---
I thought I would also point out that there's no privacy policy or terms & conditions page for CB Wealth.
This legal information is something that you would expect to find on legit sites, so the fact that CB Wealth doesn't allow you to know whether your information is protected is a big red flag.
Many of the sites that I have reviewed that don't provide any legal information tend to be fraudulent or low-quality sites. The reason they don't let you know the rules of the game or how your information will be used is because they don't want you to know, since the owners of these sites tend to collect the information like email addresses and then sell it to other individuals or companies.
So, if you give them your email address, you can expect to receive some spam emails related to other money-making systems. 
Because of this, I tend to avoid websites that don't provide any legal page.
Red flag 4 – It's a done-for-you system
---
Remember that they say this is a done-for-you system? 
I believe that they say this is to make you believe that most of the work is done for you, which in reality is really not.
Even if they did some of the work for you, a "done-for-you" system still wouldn't be great because when something is done for you, you learn nothing!
I never recommend done-for-you systems because they usually don't last for the long-term, so depending on them would be risky if your goal is to earn a stable income online.
You see, making money with these systems might actually be possible, but it doesn't last because when they shut down, they leave you with nothing to show for. 
Because of this, I consider done-for-you systems to be a disservice.
RECOMMENDED: Learn How I Make a 4-Digit Monthly Income Here!
Red flag 5 – Lack of transparency about the real cost
---
I don't like the fact that they don't mention all the costs involved.
CB Wealth is marketed in a way that it seems you only need to pay $37 to make thousands of dollars a week, when the truth is that $37 is only the beginning of the sales funnel.
So, after doing some math, you can see that the total cost of CB Wealth is $508! 
Honestly, I'm not surprised that CB Wealth has upsells because this is very common with ClickBank products. 
There's nothing wrong with upsells, but I don't like the fact that they are not marketed properly because they are just marketed the same way as the front end offer. It's all marketed like a get-rich-quick scheme.
If the front end offer underdelivers, what can you expect from these upsells? They don't provide much more value than the core product.
Also, affiliates who promote CB Wealth get to earn a 75% commission per sale. I actually make a 4-digit monthly income through affiliate marketing, so I could make some money by promoting CB Wealth. 
However, I will not be promoting this program because it's not something I believe in and I wouldn't feel good promoting a product that doesn't live up to its promises.
Is CB Wealth a scam?
---
CB Wealth is not a scam, in my opinion, even though I believe that there are people who would call it a scam.
If you buy it with the expectation that you will make thousands of dollars within a short period of time, then it's ok that you call CB Wealth a scam.
However, if you purchase it to learn something without having high expectations, it wouldn't be a scam.
The reason I'm not calling CB Wealth a scam is because you get some training for your money and you can also get a refund in case you buy it but don't like it.
I personally have not bought it because of all the red flags I have seen. A product that does not live up to its promises is not worth my time, so buying it would mean that I would waste my precious time, which I cannot get back.
This is just my opinion, but you can do whatever you want with your money and time. Just take into consideration that no matter the goal you want to achieve, success doesn't happen overnight.
Final verdict: I do not recommend CB Wealth.
A proven path to making passive income online
---
No matter what you want to accomplish, it takes work, time, patience, persistence… 
When it comes to making a substantial income online, it's no different than anything worth achieving in life. Without working your butt off, you get nowhere.
When I realized that, I stopped wasting my time on "done-for-you automated" systems that only work to make the gurus richer. 
I'm glad that I learned about the affiliate marketing business model, which has allowed me to make passive income every single day!
I'm grateful that I'm able to work from home and other beautiful places as long as I have my computer and an Internet connection.
You see, this business doesn't require you to recruit or promote the same products as everyone else. You will be able to build this business based on a topic you love =)
If that sounds great to you and you are the kind of person who's committed to doing what it takes, I invite you to check out my FREE guide here:
Reading my free guide will let you know how this business works, what you have to do to make it work, real proofs that it works…
Something cool is that the proven method I followed doesn't require you to spend much money before making a cent. You will certainly not have to spend $500 before starting to make money.
In fact, you can get start today for free, so getting started is risk-free =)
The place I show you lets you check it all out without spending a dime, so you can make sure this is right for you with no worries!
In addition, I also reveal how you can get my support along the way! You will be able to ask as many questions as you want because there are lots of affiliate marketers willing to help you out 🙂
I've been receiving many beautiful messages lately, this is just one of them:
This is your chance to leave the scams behind and get on the right way to start building your online passive income streams!
CHECK OUT MY FREE EARN MONEY ONLINE GUIDE HERE!
I hope this CB Wealth review has been helpful to you and you will make the best possible decision.
Feel free to share it with whoever you believe that will benefit from it!
If there's something else you want to know or you have any questions, please don't hesitate to leave your thoughts below and I'll get back to you ASAP! 
Whatever you do next, I wish you nothing but the best =)