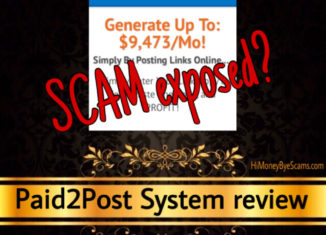 Welcome to my Paid2Post System review!
Have you been asking yourself if Paid2Post system is a scam? Or is paid2postsystem.com a website that will help you earn by posting links?
No matter the questions you have about this program, I'm glad that you have found this Paid2Post review because here I reveal all that you need to know about this money-making opportunity.
The fact that you're doing your own research means that you're smart enough to know there are too many scams out there. 
And I need to congratulate you for that because this is how you can avoid frauds and find the real way to make passive income every day.
When it comes to this Paid2Post review, here you will find all the pros and cons of this program, as well as everything they have been hiding from you!
Paid2Post System review summary
---
Name: Paid2Post System
Website URL: crazymoneyonline.com
Created in: January 2020
Owner: "David Humphries"
Cost: $17 + upsells
Do I recommend it? No
---
If you're sick of scams, check out my 1st resource to make a 4-digit monthly passive income HERE!
---
What is Paid2Post System about?
---
Paid2Post (found at paid2postsystem.com) is a website that claims you can earn about $9,000 a month by posting links. Sounds awesome, right?
I mean, anyone with basic computer skills know how to copy and paste links, so why aren't more people quitting their jobs and posting links? Why are there people who're still struggling financially? 
That's some food for thought, don't you think?
According to the alleged owner of this system, there are so many links to post and his team cannot handle it all, so they need you to work with them.
There are companies like Amazon, ClickBank, Commission Junction and Walmart apparently need your immediate help. 
Paid2Post apparently works as an intermediary between these companies and you because Paid2Post claims to get links from these companies and you, as a "link poster" will get paid for your efforts.
They claim you only need to work part time to make $9K per month, which sounds too good to be true because that's not how making money online works.
You can even search for jobs within those companies and you will not find anything about "link posters". So David is not being clear about something, don't you think?
For a "job" that can be done by so many people, don't you think that $9,000 a month would be so much? An average salary for a full-time job is not even half of it. So that's why I think that David is not being transparent with us.
There are lots of red flags that indicate that Paid2Post system does not work as advertised, ready to know how it really works?
How Paid2Post System really works
---
Paid2Post doesn't work as advertised because it will not help you earn $9,000 a month.
According to the info on the sales page, all you have to do is to register, login to your member area and decide how many links you want to post, copy and paste a code and click submit.
It sounds so simple and fast to do, doesn't it? 
But if you think about it, you can notice that they don't give important details. 
The questions I have are: Where do I need to post the links? Why are those links important to companies? Do those links need to be clicked on? Why does the amount of links matter? How do those links help companies make money?
All of this is important to know, but they don't tell you about it, which means that the people behind Paid2Post are not being honest. 
Oh, and the fact that they require you to pay to get this "job" is another red flag. Have you ever paid to get a job? Shouldn't you be the one to get paid for doing the job? 
Truth be told, this is not really a job. The reason they claim this is a job is that it's something that can make potential customers believe they can start making money the same day they get started.
So what is this? An online business called affiliate marketing, which is legitimate and makes it possible to make over $9,000 per month. 
I'm very familiar with this business model because I use it myself and have also come across other programs that use the words link posting to refer to affiliate marketing. 
The thing is, posting links is a part of affiliate marketing, but there's more than that. 
You know, companies need to profit from the links you post, so the links need to make them money. 
For that to happen, there has to be people who click on those links and purchase something.
If you post links but nobody sees them, you won't get paid because there need to be people who click on those links and buy products/services from those companies.
You see, it wouldn't make sense to pay just to post links because posting links doesn't guarantee that there will be sales. You could post a thousand links and make no sales because no one sees them.
But even if people see them, there's still no guarantee they will click on them and make a purchase.
They will only buy if they need it, that's why you need to make sure that you bring high quality traffic in front of those links.  
Another thing to point out is the fact that driving high quality traffic to a link is not easy.
It takes time and effort, which means that you cannot expect to get this traffic the same day you get started unless you decide to pay for traffic. 
Paid traffic is the fastest way to get people to click on your link, but the truth is that it's also the riskiest way to get traffic. If you don't want to spend or lose a lot of money, paid traffic is not recommended for beginners.
Programs that require to do copy & paste usually recommend members to spend money on ads, and it's usually some thousands of dollars that need to be spent to determine what ad campaign works better for you and scale it up. 
This is something that they don't mention in the sales page, and I believe it's important that you know about it because this Paid2Post system is being advertised in a way that can lead you to believe that you don't need to spend much money to start making thousands of dollars a month. It definitely can mislead potential customers. 
Sick of scams? Want to make passive income every day?
Check Out My FREE Earn Money Online Guide Here!
The real owner remains anonymous
---
Whenever I review a website, I like to take into consideration who has created it because it helps me determine whether it can be trusted or not.
You know, I wouldn't trust a website that has been created by a known scammer because we cannot expect anything good from a scam artist.
After having reviewed hundreds of websites, I have noticed that scammers usually hide their identities or fake them, which is what happens in the case of this Paid2Post system and others like Perpetual Income 365, Zendyx and Website Profits Pro.
We're told that David Humphries is the owner of this system, but the problem is that the man you see in the photo is not him because that picture is a stock photo. 
His picture can be found on multiple sites like AdobeStock, which means that the real owner has purchased or downloaded that stock photo and used it to create a fake persona. 
You see, he doesn't talk about his life and he doesn't even mention how we can contact him, which is a big red flag because it indicates a lack of transparency.
If we add the fact that he's faking his identity, we can conclude that the owner of this system doesn't want customers to know who he really is. And the reason for this is that he knows that if clients knew who he is, they would probably sue or report him because Paid2Post does not work as advertised. 
This is very common among scams! Con artists hide their identities because they think that's the way to be able to keep ripping people off without facing the negative consequences.
Misleading earnings screenshot
---
In the sales page there's an earnings screenshot that I know it's from ClickBank because of the layout.
The thing is, there's no proof that those earnings have been generated thanks to the info provided by this Paid2Post system. 
Many vendors and product owners usually post income proofs that have nothing to do with what they're selling. They're trying to mislead you because they want you to believe that it's possible to make thousands of dollars easily when in reality they don't provide any explanation about how they generated that income.
Oh, and these unethical marketers also fake their earnings so whatever they say or show cannot be taken seriously. If the owner of Paid2Post system is lying about his identity, who says he's not lying about his earnings?
Lack of transparency about the cost
---
Paid2Post is said to cost $17, but do you think that's a good price for a system that can allegedly make thousands of dollars a month?
If you were selling a system like that, you would like to earn more than $17 per sale, right?
The owner of this product clearly wants to profit as much as possible, so you can expect to be hit with some upsells if you pay $17. 
This kind of products always have upsells and downsells because that's how the owners make most of their profits. 
If we add the fact that these upsells don't include the cost of the ads to get traffic, you can conclude that the total cost would be in the thousands. 
I personally don't like this kind of offers because they can be very misleading for customers and can easily make them feel deceived.
Sick of scams? Want to make passive income every day?
Check Out My FREE Earn Money Online Guide Here!
Fake scarcity
---
Another red flag is the fact that they try to make you buy on impulse by using a fake countdown and saying that there's limited availability.
How would the owner limit the amount of sales he can make? It wouldn't make sense, right?
The truth is that there are no limited spots, and you can confirm it because if you visit the website tomorrow, it will say the same thing.
I've seen this fake scarcity tactic too many times to know that scammers make these claims to make you afraid of missing out. 
The owner of Paid2Post basically wants you to purchase this product as fast as possible without doing your research and finding Paid2Post system reviews like the one you're reading.
---
According to their privacy policy, they will use your personal data to send you other similar products, which means that you can expect to receive other spam emails related to money-making programs that don't work.
And that's not all! They also claim to share your info with third parties who will send you their programs. So you can expect to receive lots of unwanted emails from people you don't know.
Those emails will contain links to other scam/low-quality products so I don't recommend that you open them. 
Another thing these unethical marketers do is to sell their clients information to other who do the same. This is dangerous because if your info falls into the wrong hands, they could steal your identity!
Is Paid2Post System a scam?
---
This product is a scam or not depending on how you define a scam. 
If you define a scam as a product or website that takes your money but gives you nothing, then this product wouldn't be a scam.
In case you call a scam something that doesn't live up to its promises, then Paid2Post would be a scam because it has too many red flags that prove it doesn't work as advertised. 
The fake owner, the high-income claims, the fake scarcity, the misleading income proofs, the lack of transparency about the cost and the business, the fact that they share your info with others… 
There are too many scam signs, and another red flag I haven't mentioned is the fact that there are no positive reviews or testimonials. 
I read the little note that can be found at the bottom of the Paid2Post sales page and I believe that there's nobody who has succeeded thanks to this system. 
As you can see, they state that the typical purchaser doesn't earn any money with this system:
For me, this is enough to confirm that Paid2Post system does not work as advertised. 
The only positive thing I have found is that it's being sold via Clickbetter, which means that you can get a refund in case you bought it. But who would like to try it out knowing all the red flags?
I personally won't be wasting my time on this product because there's evidence that it does not work.
What you decide to do is up to you, but I have to conclude that it's best to avoid Paid2Post system.
Leave the get-rich-quick schemes behind! Make passive income every day like me!
---
If you don't want to waste any more time on systems that promise you the world for very little, you need to keep in mind that success comes with effort, time and persistence.
It's actually possible to earn over $9,000 a month online by using the affiliate marketing business model, which is the business model I personally use.
This business model has been working for decades and it's here to stay because there are so many products and services to make money from. There are so many affiliate networks where you can find offers to profit from, and lots of these networks are free to join.
If you put in the work and stay committed, I'm completely sure that you can succeed! Don't you worry if you don't have any prior experience or skills, I personally didn't have any experience when I got started, not to mention that English is not my native language.
Here are my top 3 reasons to use affiliate marketing:
Because it enables you to make passive income

Because you will have fun writing/talking about a topic you love 

Because it lets you to work from anywhere
As you can see in one of my payment proofs, I'm living proof this business works: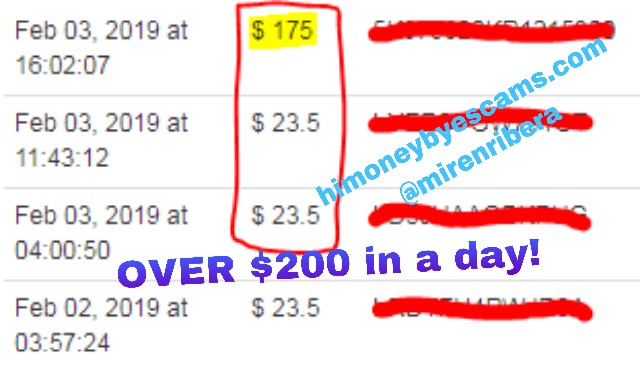 If you want to learn how this method works step-by-step and how you can start today for free, I invite you to check out my FREE guide here: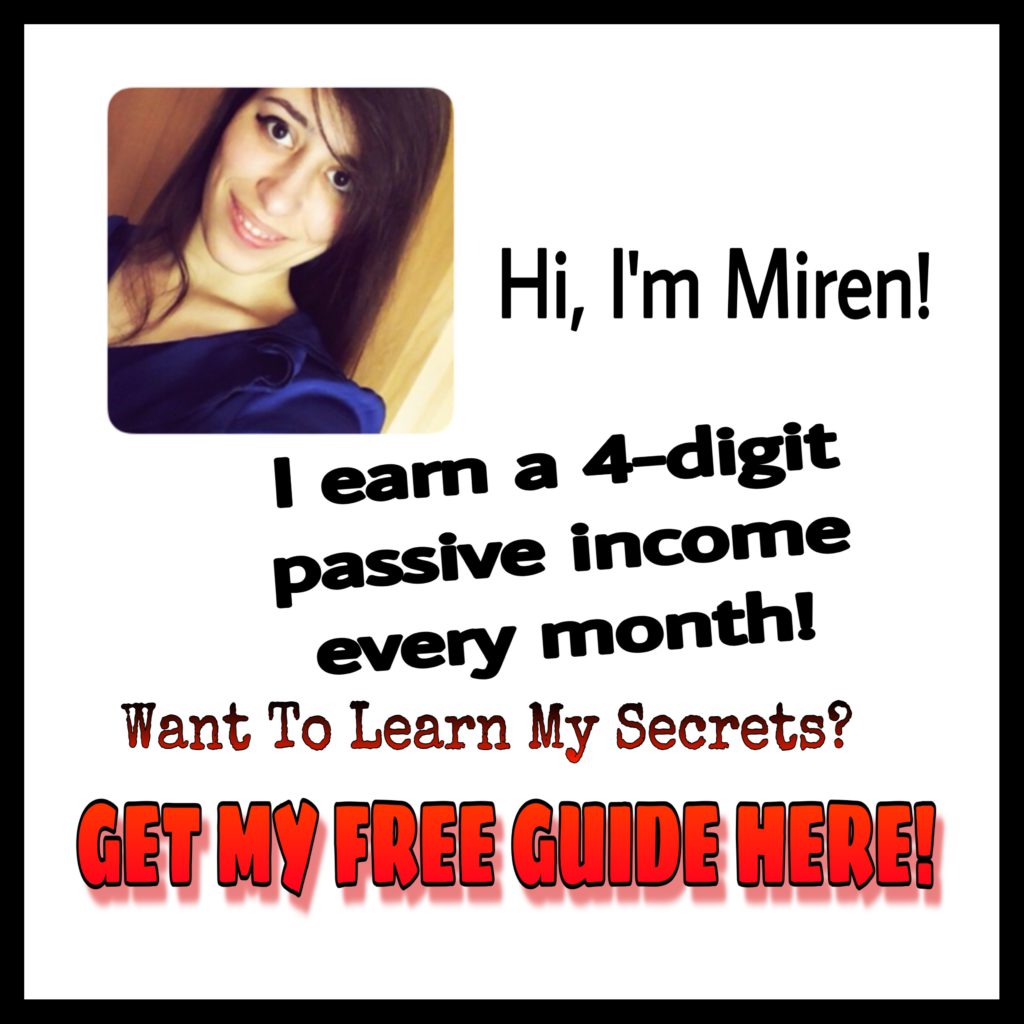 My guide is FREE (no login information required, just click here to start reading it), which means that you have nothing to lose and a lot to gain 🙂
If you read my free guide until the end, you will learn how you can start today for free, what training & resources I have used, the reasons this method works, proof that it works and so on. 
You will also be able to receive help from me and other affiliate marketers. All the details in my guide!
Stop wasting your energy on get-rich-quick schemes and start your affiliate marketing business today!
I will leave this quote here:
If you want something you have never had, you must be willing to do something you have never done.
I hope this Paid2Post System review has been helpful to you and you will make the best possible decision.
Feel free to share it with whoever you believe that will benefit from it!
If there's something else you want to know or you have any questions about Crazy Money Online or would like to share your experience, please leave a comment below. I love hearing from you all!
Whatever you do next, I wish you nothing but the best =)