Will Perpetual Income 365 scam you? Or is perpetualincome365.com a legit system to make $10K/month?
If you have questions like these, I'm glad that you have found this Perpetual Income 365 review because here I reveal everything you need to know about this program.
Knowing that there are too many scams out there, I'm happy to see that you're doing your own research.
That's the way to avoid scams and find the legitimate way to earn passive income every day!
For your information, I'm not promoting Perpetual Income 365, which means that here you will not find any affiliate link.
Instead of that, here you will find all the cons and pros of this program, so that you can make an informed decision.
Perpetual Income 365 review summary
---
Name: Perpetual Income 365
Website URL: perpetualincome365.com
Owner: Shawn Josiah
Launched in: January 2020
Cost: $47 per month + other costs
Do I recommend it? No
---
If you're sick of scams, check out my 1st resource to make a 4-digit monthly passive income HERE!
---
What is Perpetual Income 365 about?
---
The moment I saw the Perpetual Income 365 sales page, I felt something was not right because it looked very similar to other scam/low-quality programs.
But I didn't want to come to a final conclusion without looking deep into it, so I took the time to do my homework.
Perpetual Income 365 is said to be a system that uses a "secret" algorithm that has made billions for big companies like Netflix.
This system will supposedly change the lives of people who are struggling financially or hate their jobs, which sounds awesome, doesn't it?
According to the spokesman, he found a loophole that has helped an inner circle make $10K a month.
He acts as if Perpetual Income 365 was something new and awesome, hence the claim "this may be the most important video you'll ever watch".
But the sales video has too many red flags that I'm about to reveal…
One of them is that he claims there are only 50 spots available, which is not true because that's what he says every time you watch that video. There's no update and the sales page hasn't had any changes since the first time I came across it.
Another one is the fact that the sales page says you don't need a credit card to get access to this system, which is not true because they require you to make a payment, this is definitely not free…
I don't know about you but I personally don't like people or programs are not straightforward or transparent since the beginning… It's not ok to give false expectations.
The spokesman acts as if this program was exclusive and very limited, but the truth is that it's available for everyone.
He basically tells you everything you would like to hear, which is something that scammers and unethical marketers do all the time.
Also, another thing I don't like is the fact that they ask you for your email address without revealing how this system actually works or what you will have to do. 
If you give away your main email, you can expect them to send you promotions of Perpetual Income 365 and other similar products.
How Perpetual Income 365 really works
---
So how does Perpetual Income 365 really works? It definitely does not work as advertised.
I mean, what you find inside the members area is not the same you were promised outside.
If you have watched the two sales videos, you probably think that inside Perpetual Income 365 there's some kind of software or system that you just need to activate to make profits with ClickBank.
Inside the members area there's no code or system you can activate to see hundreds or thousands of dollars come into your account within a short period of time.
You see, in the sales video he does not explain what his students have done in order to earn hundreds of dollars per day starting the same day they opened their ClickBank accounts.
They act as if making money online was magic or something like that, when in reality there's no secret code or algorithm that you can use to succeed.
Perpetual Income 365 has nothing to do with Netflix or other companies that were mentioned in the sales videos. 
If you pay $47 per month to access this program, you will find some basic information on how to make money as an affiliate marketer on ClickBank.
In case you haven't heard of it, affiliate marketing is a business model that allows you to earn commissions by helping other companies or product owners get buyers.
Affiliate marketing is newbie-friendly because it doesn't require you to have a big budget to get started and it doesn't require you to create your own product.
The problem with products like Perpetual Income 365 is that they don't provide the kind of information that can help you make the kind of money they advertise. There are many people out there who sell guides or outdated information just to earn a quick buck.
The videos and pre-made pages you will find inside are not enough to succeed because there are so many factors to take into account that they don't cover in the videos.
For example, in the sales video the spokesman doesn't reveal that they spent money on paid ads to generate profits with ClickBank. 
Honestly, I'm not surprised that the disclaimer on the sales page states that the results shown in the presentation do not reflect the typical's purchaser experience. This is a clear indication that real members haven't got those results.
Sick of scams? Want to make passive income every day?
Check Out My FREE Earn Money Online Guide Here!
The real cost
---
I personally don't like programs or websites that are not transparent about the amount of money you will need to pay in order to achieve the results they talk about.
In the first sales video, they act as if this program was free, which is something that you realize is not true once you are watching the second sales video.
That's when you see that Perpetual Income 365 costs $47 per month, which is far from free.
But that's not all! You also need to take into account the fact that bringing traffic to the pre-made pages is going to require you to spend money on ads. 
Oh, and you can also expect to find some upsells after making the first $47 payment. These ClickBank products usually have upsells that cost hundreds of dollars.
Just the fact that the spokesman is not honest about the cost is enough for me to believe that there are hidden costs he hasn't told you about.
Also, I don't believe that Perpetual Income 365 is worth $47 a month because they don't provide high-quality training that can help you make hundreds of dollars a day.
Fake scarcity
---
Another red flag is the fact that the sales page indicates that registration expires within 24 hours or that there are only 50 spots left.
This is completely fake because you can visit the sales page tomorrow or within a few days and you will see that it says the same thing. 
Scammers usually use this fake scarcity tactic to make potential clients buy on impulse, without thinking about it.
They don't want you to do your research and find the truth about how this program really works because they know that, if you knew it doesn't work as advertised, you probably will not buy it.
The testimonials are not real members
---
Another big red flag is that the testimonials that appear in the sales videos are not real members. They haven't earned any money with Perpetual Income 365.
The spokesman talks about Carol, who's said to be one of his students, but the problem is that she's not a real member. 
I did some image searches and found out that they have used a stock video to talk about this testimonial, which means that everything they say about her is invented, including the results.
Here you can see what I mean: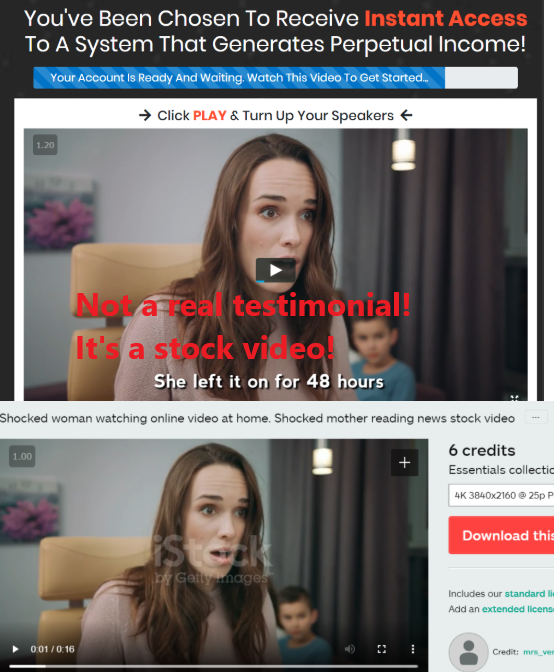 This is a proof that indicates that she's not a real testimonial, which means that what the spokesman says is not true. 
Because of this, I don't believe in what the spokesman says. Someone who lies about the testimonials or members results cannot be trusted.
In addition, there are no positive Perpetual Income 365 reviews out there, which is another red flag because when a company or program has been helpful, people write positive reviews about them.
Perpetual Income 365 is actually a new program, which would explain why it has no positive real reviews.
The owner does not show up
---
The owner is said to be Shawn Josiah, who claims to be a successful 7-figure Internet entrepreneur and a member of the ClickBank platinum circle, but I have my doubts.
He doesn't show any picture of himself and he doesn't even mention how we can contact him. I searched for information about him but I haven't found any ClickBank affiliate or Internet marketer with that name.
There are men who are named Shawn Josiah, but the ones I found are not Internet marketers or millionaires, and they don't have any connection with Perpetual Income 365. 
Because of this, I believe that Shawn Josiah is not the real name of the owner of this program. ClickBank products that have red flags like the ones I have mentioned, also have fake owners or pen names.
Marketers who create low-quality products or scams usually avoid revealing their real identities because they don't want to get caught or reported.
Will Perpetual Income 365 scam you?
---
The answer to "is Perpetual Income 365 a scam?" really depends on how you define a scam. 
If you define a scam as something that takes your money while you get nothing, then Perpetual Income 365 wouldn't be a scam because they provide some training.
But if your definition of scam is something that doesn't live up to its promises, then it would be ok to call Perpetual Income 365 a scam because the sales page is full of false advertising and the product does not work for you to earn the kind of money you desire.
If you take this into consideration, you can conclude that Perpetual Income 365 was created for the owners to make fast money at other people's expenses. They're basically playing with your needs and emotions because they're trying to make money by deceiving you.
Also, there are affiliates who promote products like this to make quick commissions. They send spam emails with high-income claims to make their subscribers buy the product.
These kind of marketers don't really care about the newbies or the people who are struggling to make money online. If they cared about you, they wouldn't create or advertise products that cannot help you.
I personally wouldn't consider Perpetual Income 365 a scam because it's being sold through ClickBank, which means that you can get a refund. 
But you need to remember that you only can get a refund on the first $47 you pay. If you pay for two months or more, you won't get back all the money you invest.
Also, wasted time is worst than wasted money, so that's another reason I do not recommend Perpetual Income 365.
A newbie-friendly method to make commissions every day
---
I personally use affiliate marketing to earn passive income online, and I can say that this is the best business model for beginners. 
Affiliate marketing doesn't require you to have any previous experiece or tech skills, not to mention that you won't have to spend thousands of dollars on paid ads.
In fact, the method I use doesn't require me to spend money on advertising because I know how to drive free traffic to my website.
And that's something that you can do as well! You will be able to start making affiliate commissions without spending much money.
Affiliate marketing has been working for decades and there are many companies that have affiliate programs that you can join. Companies like Amazon have lots of products that you can choose to earn money from, and you won't need to buy them in order to make commissions from them.
I'm living proof this business works, as you can see in one of my payment proofs: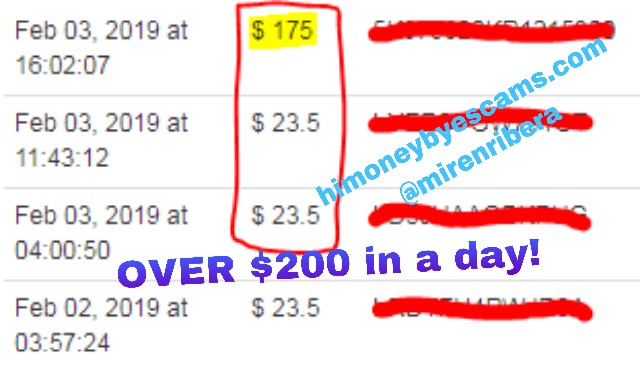 As long as you put in the effort and time, I believe you can achieve great results. This is not a shortcut or loophole to make money overnight, but it can definitely help you achieve financial freedom in the long-term.
There's a lot to say about this business, that's why I create a FREE guide that you can check it out here: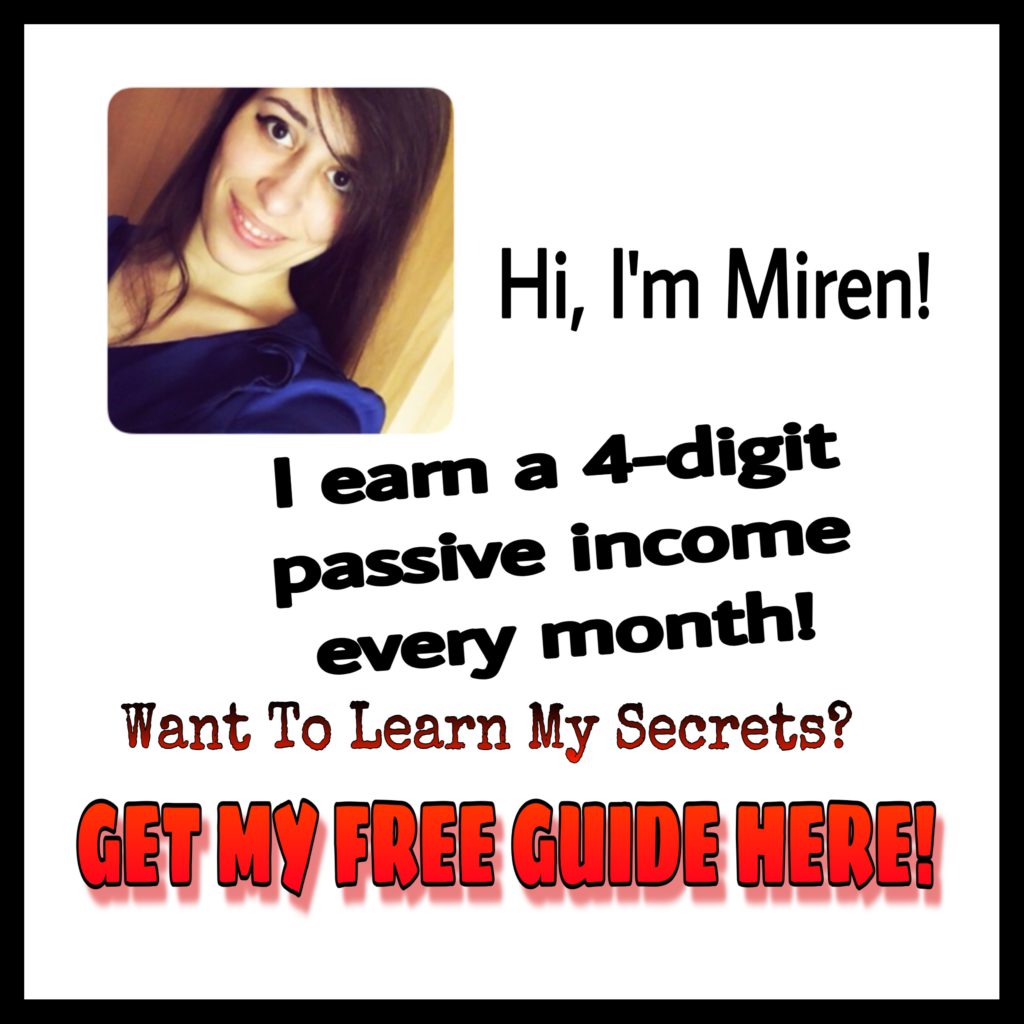 My guide is FREE (no login information required, just click here to start reading it), which means that you have nothing to lose and a lot to gain 🙂
Oh, and what if you ever need help? Don't you worry, I'm not like those unethical marketers because I'm transparent about who I am and I also show you how you can message me. 
If you read my free guide until the end, you will learn how & where you can get started today for free, what training and tools I have used, the reasons this method works, proof that it works and so on. 
Stop wasting your energy on low-quality products and start your affiliate marketing business today!
I will leave this quote here:
If you want something you have never had, you must be willing to do something you have never done.
I hope this Perpetual Income 365 scam review has been helpful to you and you will make the best possible decision.
Feel free to share it with whoever you believe that will benefit from it!
If there's something else you want to know or you have any questions about Perpetual Income 365 or would like to share your experience, please leave a comment below. I love hearing from you all!
Whatever you do next, I wish you nothing but the best =)