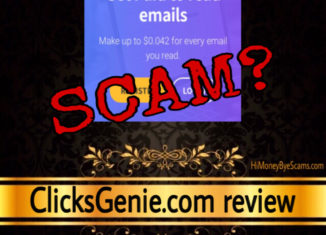 Welcome to my ClicksGenie.com review!
Is ClicksGenie a scam? Have you been told to join ClicksGenie and are wondering if it's worth it?
No matter the questions you have, you're on the right place because here I reveal everything you need to know.
Knowing that there are too many frauds, I'm happy to see that you're doing your own research. 
That's how you can avoid scams and find the best way to earn passive income every single day!
Let me tell you, this ClicksGenie review is not like the others because I reveal something that others haven't told you. 
Instead of that, here I explain everything they have been hiding from you. Ready to know the truth?
ClicksGenie.com review summary
---
Name: ClicksGenie
Website URL: clicksgenie.com
Creator: Hidden
Cost: Free to sign up
Do I recommend it? No
---
If you're sick of scams, check out my 1st resource to make a 4-digit monthly passive income HERE!
---
What is ClicksGenie about?
---
The second I saw the Clicks Genie main page, I thought it was another scam because their main page looks similar to some scam websites I have exposed.
But I decided to take a deeper look before coming to a final conclusion. I noticed that ClicksGenie didn't have the same high-income claims as other sites I consider scams, so that was a good sign.
Clicks Genie (found at clicksgenie.com) claims to be a platform that can make you money by reading emails.
According to them, you can earn up to $0.042 for every email you read, which is not that much but reading emails is something that anyone can do so the pay is low.
ClicksGenie allows you to join for free, which sounds awesome because it makes it seem like it's possible to earn online for free. And the fact that it's available worldwide makes it sound like it can help different kinds of people finally make money online.
All you have to do is to sign up in order to start getting emails to read and get paid.
They claim to make payments via Payeer, PerfectMoney, Bitcoin and FaucetPay. I don't like the fact that they don't include PayPal, since it's known to be a payment method that many people use. 
ClicksGenie is no better than other GPT (Get Paid To) and PTC (Paid To Click) platforms because it doesn't pay more than the others. 
In fact, you don't only need to read emails to get paid, you will have to click links that are inside those emails. Those links come from some advertisers that work with ClicksGenie.
ClicksGenie sends you adverts in the form of emails, you click a link within those emails, then ClicksGenie gets paid by some advertisers and ClicksGenie ends up sharing part of their revenue with you.
This is actually a legit way to make money and there are other platforms that do this, so I can affirm that ClicksGenie is nothing new or special.
How ClicksGenie really works
---
In order to register, you'll have to fill in a form with your name, a username, an email address, a password and your birth year.
After that, you'll get an email with a confirmation link that you need to click to get taken to another page where you have to enter a verification code that you get in another email.
Then you can log in to your ClicksGenie account. You'll be asked to create a FaucetPay or Payeer account to receive payments.
They also claim you can get paid via PerfectMoney, but I have my doubts because when it comes to withdrawals, they don't have the option to withdraw your money to PerfectMoney. They only let you choose between FaucetPay and Payeer.
In order to start making money, you'll have to wait to receive emails to read and links to click. I personally had to wait for hours to receive my first email, so it's clear that ClicksGenie is not the way to go if you want to earn fast money.
Also, there's a limit when it comes to the number of emails you receive every day, so there's not much money to be earned just by reading emails.
When you receive emails, you'll have to click on the links inside those emails and view each ad for a set period of time, some are over 1 minute long.
Once it's completed, you will receive a message like this that says how much you have earned:

On average, you will earn $0.001 per email, not $0.042. So you will have to read and click a few links before you reach the minimum payout threshold.
If you visit the website they tell you, you will get taken to a ClickBank product sales page. Those products are related to making money online, but the problem with many ClickBank products is that they're not high-quality.
In case you bought one of those products, ClicksGenie would earn a commission because they're affiliated with those products. The links they tell you to click are affiliate links, which means that they get compensated when people purchase products through those links. 
This way of making money online is called affiliate marketing, and it's actually legit. There are many people like me who use this business model to make a full-time income online, but the difference between ClicksGenie and me is that I don't promote low-quality products.
Anyone is free to advertise whatever they want, but it's always best to promote something that can help your audience because that would be a win-win situation.
Apart from reading emails and clicking links, ClicksGenie has a referral program that is more like an MLM because you can earn from 5 levels.
Here's the percentage for each level:
First generation referrals – 100% commission

Second generation referrals – 70% commission

Third generation referrals – 60% commission

Fourth generation referrals – 50% commission

Fifth generation referrals – 40% commission
In order to earn at least $1 per day, you would have to get lots of referrals, and they would have to be active because if the more they earn, the more you can earn.
Sick of scams? Want to make passive income every day?
Check Out My FREE Earn Money Online Guide Here!
Hidden owner
---
The fact that the owner or the people behind ClicksGenie don't show up is a red flag to me, since this is what I have seen in lots of scam websites.
Knowing who has created a product or company is very important to me because it helps me know what I can expect from it.
For example, I wouldn't like to get involved in something created by a scammer because I couldn't expect anything good from it. Scam artists only care about themselves so doing business with them wouldn't be good for you.
I have realized that many scammers don't reveal who they are because they know damn well that they could get reported, fined or sued by their victims. And that's something they obviously want to avoid.
So whenever I see that a website's creator doesn't reveal his/her identity, I start suspecting they're trying to hide something. 
I don't know about you, but I personally wouldn't trust someone who's trying to hide something from me.
ClicksGenie wants you to give away some personal info when they're not being transparent about who they are, so don't you think it would be kind of unfair to give them your info?
Lack of info about the company
---
ClicksGenie has an about page, but the problem is that this page is empty, which means that it has no useful info.
Why are they hiding info about the company? Knowing more about the company would increase trust, don't you think?
The fact that they don't reveal when the company was founded, why it was created, who created it, their location… is a scam sign because all legitimate companies have this kind of info.
I have reviewed hundreds of websites, and I have noticed that the ones that lack information tend to be scams or low-quality. 
Honestly, I don't understand why Clicks Genie has an about page if it's empty. If they don't plan on informing about the company, there's no need to have an empty page.
The payout threshold is not always the same
---
Another red flag I have found is that ClicksGenie is not transparent about the payout threshold. 
They claim you at least need $0.01, but once you're inside and want to withdraw, you will see that it's not $0.01.
In case you want to get paid via Payeer, the minimum payout is $0.05, which is 5 times $0.01.
And when it comes to getting paid via FaucetPay, you at least need $0.15, which would be 15 times $0.01.
In my opinion, they should be clear about it because it can mislead members. Any updates they make should be communicated to members.
They don't have PayPal as a payment method
---
Another thing I dislike is the fact that they don't allow members to get paid via Paypal, since Paypal is used by lots of people and companies. I would say it's the most well-known online payment processing company. 
I still haven't heard of another online payment company safer than Paypal, so I believe that it would be good if Clicks Genie adds it to their payment methods.
Members can only join through a referrer
---
Something I have noticed is that you are only allowed to join ClicksGenie if it's through someone. 
In other terms, you need to click someone's affiliate link if you want to become a member to start receiving emails and making money.
I personally tried to sign up from the ClicksGenie main page, but I couldn't. So I had to search for another ClicksGenie member and click on their link to sign up.
This may not seem a big red flag, but I thought I would point it out because it indicates that the owners of ClicksGenie want all members to become affiliates and participate in the business opportunity.
It's like they're forcing everyone to promote ClicksGenie, which leads me to believe that most money is earned by recruiting.
For me, this is a red flag because many of the programs that require you to recruit a lot of people to make most part of the money end up being unsustainable, since there's a limit when it comes to the amount of people who can sign up.
I personally believe that the ones who benefit the most here are the owners of ClicksGenie, since the more people who sign up, the more people who will click on their affiliate links and the more they profit.
What about a sign up for advertisers?
---
I noticed that they have a page for advertisers, but I checked it out and I have to conclude that this page is useless.
This page does not have a sign up form for advertisers or companies that want to advertise their products, so I don't understand why they even took the time to create this page.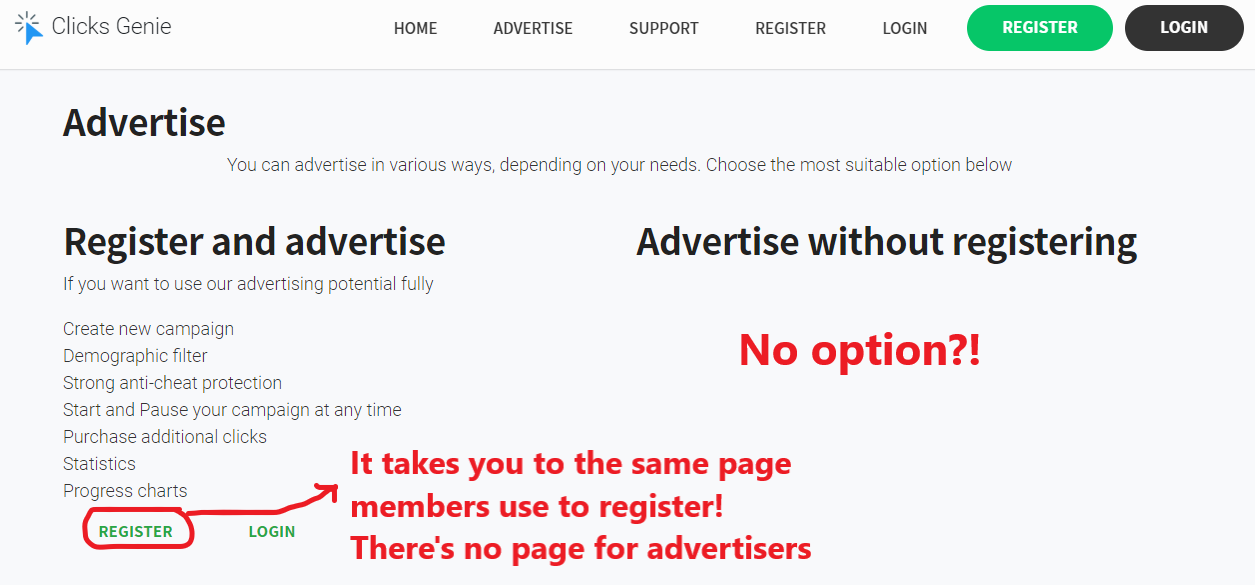 If you click on "register", you'll be taken to the page that members a.k.a. viewers are using to sign up. I checked out if there was another sign up form for advertisers, but nothing.
"Advertise without registering" doesn't even make sense because they don't explain what to do, there's no option or button to click on. 
You see, if Clicks Genie is the middleman between viewers/affiliates and advertisers, don't you think there should be a sign up form for both? Perhaps they're not partnered up with any company and the revenue they share with you comes from the ClickBank products ClicksGenie sells as an affiliate.
If that's the case, it definitely makes no sense to have a page for advertisers. 
Sick of scams? Want to make passive income every day?
Check Out My FREE Earn Money Online Guide Here!
It has been a waste of energy for some members
---
There are members who have made efforts to get lots of referrals but have ended up losing their earnings without explanation.
Below you can read a complaint: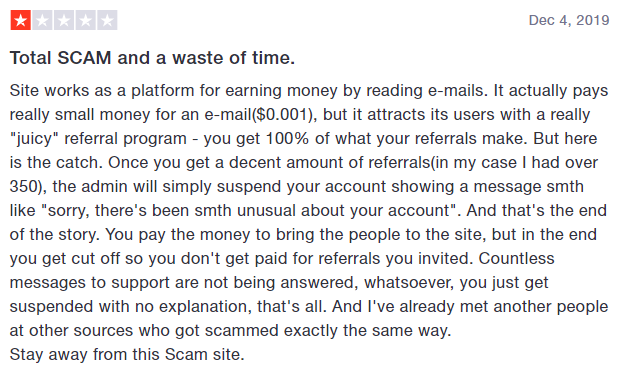 This member had lots of referrals but when it came to getting paid, he got his account suspended for no reason. 
The fact that ClicksGenie didn't reply to his messages and didn't offer any explanation is a big red flag because it indicates that they don't really care about some (or all) members.
If this person knew who's behind ClicksGenie, he probably would have reported or sued them. So I believe that ClicksGenie doesn't have any info about its owners because they don't want to get reported or sued for this kind of behavior.
Will ClicksGenie scam you?
---
Whether ClicksGenie is a scam or legit depends on how you define a scam. 
There are people who have got paid, so they will not consider ClicksGenie a scam. 
But the ones who have got banned for no reason will definitely call ClicksGenie a scam. 
I wouldn't call ClicksGenie a scam because it makes it possible for people to make money, but I don't believe it's worth it.
Just like other GPT sites, ClicksGenie pays very little and the fact that most money can be made with recruiting is something that I don't like. 
I personally don't like to do business with people who are not transparent about their identities or their purposes, so this is another reason I won't be spending my time promoting ClicksGenie.
There are lots of ClicksGenie reviews and I have noticed that many tell others to sign up without mentioning the red flags. For me, that's not ethical because they're not being transparent with their audience.
But you know, there are people who care more about their own benefit than they care for others.
Reading emails and clicking links will not even make you $1 a day, if you can get referrals and ClicksGenie doesn't ban your account, you could probably get to $1 or $2 per day.
Knowing that it's possible to earn hundreds or even thousands a day, I don't think Clicks Genie is worth our time.
What you decide to do is up to you, but I have to conclude that I don't recommend ClicksGenie.com.
Stop wasting your time on GPT sites! Here's how to make the big bucks
---
Get Paid To sites like ClicksGenie don't pay the kind of income that can make a difference in your life, that's why I don't recommend these kind of websites.
I'm sure that you want so much more than that. You want something that can at least help you replace your job salary, am I right?
Instead of promoting other websites or businesses, what about creating your own? Getting referrals for ClicksGenie benefits ClicksGenie the most, since they make money when members purchase their affiliate offers.
That's right! Remember that earlier in this post I mentioned affiliate marketing as the business model I and many others use? This business has been working for many years and it allows regular people like you and I to earn passive income every day.
There are lots of companies that allow you to choose products to profit from, you could choose something you love or something you believe that will help other people. When someone buys something through your link, you will earn affiliate commissions =)
And there's no limit when it comes to the amount of products people can purchase through your link, so the income potential is huge!
If you have got referrals for a site like ClicksGenie, I'm convinced you can succeed in this business.
Here are my top 3 reasons to use affiliate marketing:
Because you can make passive income

Because you'll enjoy writing/talking about a topic you love

Because you'll be able to work from home and anywhere
I'm living proof this business works, as you can see in one of my payment proofs: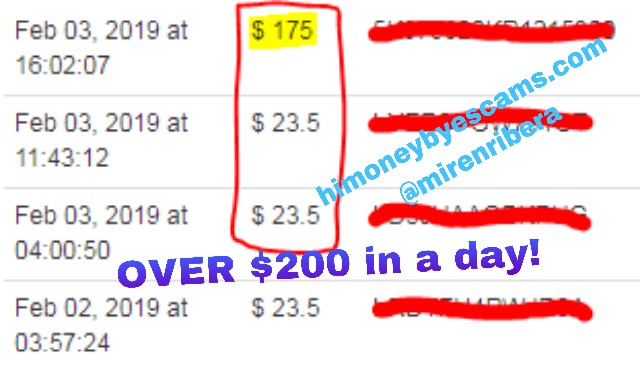 If you're serious about making a full-time income online, I invite you to check out my FREE guide here: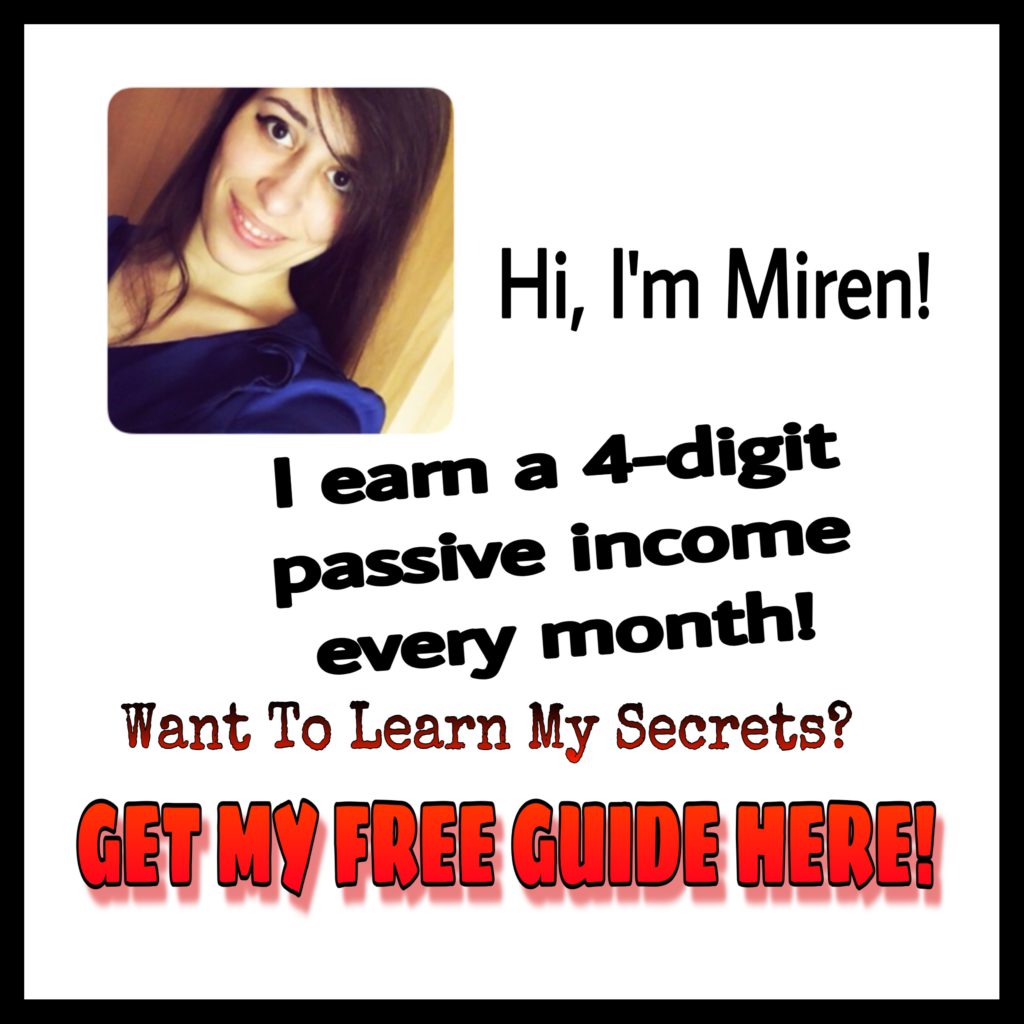 My guide is FREE (no login information required, just click here to start reading it), which means that you have nothing to lose and a lot to gain 🙂
If you read my free guide until the end, you will learn how you can start today for free, what training & tools I have used, the reasons this method works, proof that it works and so on. 
Stop wasting your time on GPT sites and get your passive income journey started today!
I will leave this quote here:
If you want something you have never had, you must be willing to do something you have never done.
I hope this ClicksGenie.com review has been helpful to you and you will make the best possible decision.
Feel free to share it with whoever you believe that will benefit from it!
If there's something else you want to know or you have any questions about clicksgenie.com or would like to share your experience, please leave a comment below. I love hearing from you all!
Whatever you do next, I wish you nothing but the best =)