Will Zendyx scam you? Or is zendyx.com a legit affiliate system that will help you make $1000 a day?
If you have questions like these, I'm glad that you have found this honest Zendyx review because here I reveal the complete truth about this system.
I have to say that, knowing the Internet is full of scams, you're very smart for doing your own research. 
That's the way to avoid frauds and discover the legit way to earn passive income every day!
Before revealing the truth about Zendyx, I want to point out that this post is not like other Zendyx reviews you have probably found.
Why do I say that? Because this Zendyx review doesn't contain any affiliate links, since I am not promoting this system and I will explain why.
Instead of advertising Zendyx, my purpose is to help you decide whether this system is right for you or not.
Zendyx review summary
---
Name: Zendyx
Website URL: zendyx.com
Founder: "Mark Evans"
Type: ClickBank affiliate marketing
Created in: September 2019
Cost: $39 + upsells
Do I recommend it? No 
---
If you're sick of scams, check out my 1st resource to make a 4-digit monthly passive income HERE!
---
What is Zendyx about?
---
The moment I came across the Zendyx (zendyx.com) sales page, I didn't like what I saw because it reminded me of other scam pages I have exposed in the past.
What did I not like about it?
The fact that the spokesman claims you have been invited to watch a private video and that it will change your life forever.
I have heard claims like that too many times and they're simply not real. The video is not private because anyone with an Internet connection and smartphone/laptop can watch it…
But the truth is that he wants you to think that you have been invited to make you feel special. He wants you to think that this is a life-changing opportunity.
He claims that this affiliate system has helped lots of beginners make over $100,000 in just one month, which sounds awesome! But it also sounds like a get-rich-quick scam because he makes it sound like making 6 figures a month has been easy.
Also, if you do some math you can conclude that $1000 a day does not equal $100,000 a month like the spokesman claims.
But anyway, what is Zendyx? "A new system designed to make money from affiliate markeitng".
The spokesperson, "Mark Evans", says that this is the best system for beginners to make $1,000 a day with affiliate marketing.
He even claims that you can make that kind of money by spending less than 30 minutes a day working. He also shows you some income snapshots of thousands of dollars a day.
So is it real? Is it possible to achieve financial freedom by only working 30 minutes a day? 
To me, it sounds too good to be true because I've heard the same thing hundreds of times and I have realized it doesn't work like that.
The Zendyx sales video is advertised in a way that can lead you to believe you can start making $1,000 without doing much work, and it also can make you believe that you can quit your job within a short period of time.
But you see, if making a full-time income online was that easy, don't you think most people would be rich by now?
I mean, why go to the office to work 8 hours a day if you can make so much more by spending 30 minutes a day in front of your laptop?
If making money online was like "Mark" claims, things would be so different right now. Many people wouldn't be struggling financially, don't you agree?
So how does this Zendyx affiliate system really work? Let's see…
Sick of scams? Want to make passive income every day?
Check Out My FREE Earn Money Online Guide Here!
How does Zendyx really work?
---
Zendyx does not work as advertised because it doesn't include a system that can help you make $1,000 a day by only working 30 minutes a day.
Let me say that it's actually possible to earn $1,000 a day as an affiliate marketer, but it takes a lot of effort and time, and it won't happen in your first month, not even your first year. I'm an affiliate marketer myself, so I know how this business model works.
If you pay $39 to buy Zendyx, you'll get access to the members area where you will find some tools and information on how to get started to build your affiliate business.
First of all, you'll be taught how to build an affiliate site with WordPress, and the training is quite instructive. I think this is good for beginners not to get lost in the process.
Apart from that, they also tell you to use ClickFunnels to help you build a sales funnel and market your affiliate offers better, but you need to know that the cost to use ClickFunnels is $99 per month.
And that's not all! When it comes to building your website, they tell you to use Bluehost to host your website, which costs $3.95 per month for the first 12 months.
All of this is basic for building your affiliate business, but you know what? I don't like the fact that you're not told about these extra costs in the sales page.
Not only that, "Mark" doesn't even tell you about some upsells that cost hundreds of dollars! Such a lack of transparency, don't you think?
I personally don't like programs that are not honest about the total cost because as a beginner who hasn't made any money online yet, it's best for you to know how much something costs before making a purchasing decision, am I right? 
Additionally, the training you can find on the members area is not enough for you to make affiliate sales because it doesn't contain any training on how to get visitors to your website, which is essential because without people seeing your offers, no one will buy through your affiliate links.
All of this is not disclosed in the sales page, which indicates a lack of transparency and can mislead potential buyers.
It can definitely make you feel ripped off because making the advertised income ($1,000 a day) requires you to spend hundreds (if not thousands of dollars) and work waaay more than 30 minutes a day.
Is Mark Evans the real owner?
---
We're told that the owner is called Mark Evans, but I'm not sure if that's true because he doesn't show any picture of himself.
He talks about his life and how much money he's made online, but he doesn't even reveal if he has a website, if he's on social media or how we can get in touch with him.
I personally didn't like the sales video because I have heard other similar stories that ended up being fake. If he's a real person and he has created a system that is helping so many people, don't you think he should be more transparent?
So I did my research and I found out that there's someone called Mark Evans who helps other online businesses get leads, but there's nothing about Zendyx on his website, which is strange because marketers use their websites to promote their products.
For example, on his website here there's a list of his services and he even has a book, so don't you think that if he were the real owner of Zendyx, he would advertise it too?
Because of this, I believe that Mark Evans is not the real owner of Zendyx. Many products like this actually have fake owners.
Scammers don't reveal their real identities because they don't want to face the consequences of ripping people off. So they usually use fake names for every program or scam that they create.
Has anyone made money with Zendyx?
---
In the sales video we can see some people who claim to be making money with Zendyx, but I've found out that they're not real members.
These people are paid actors from a freelancing website called Fiverr. This is no new to me because I've exposed lots of websites that have used Fiverr actors as testimonials.
This is basically done to make you believe that there are people who have made money with Zendyx. But what they say also sounds fake because they are not realistic, since they don't talk about the hard times of their path to success.
Any successful person out there has had some hurdles before achieving success. You can ask any successful marketer and you won't find anyone who made it overnight.
So don't be fooled when you see someone act like their success was fast or easy. 
Here you can see the Fiverr gig of one of these fake testimonials: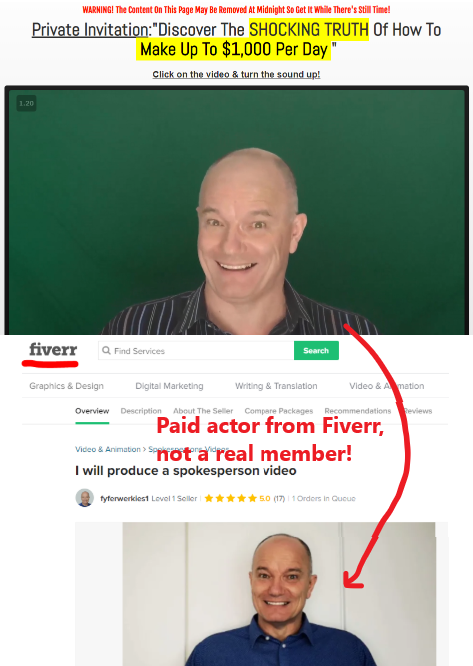 This is enough for me to believe that no members have made money with Zendyx. If Zendyx really worked, there would be some real positive Zendyx reviews, but all reviews I've found are negative or from affiliates who want to make money with it.
I also want to point out that they encourage you to promote Zendyx as an affiliate, which I don't believe is ethical unless you make money thanks to it.
In other terms, why would you tell other people to buy something if you haven't made it work yourself? I personally wouldn't promote it because it does not work as advertised and many buyers would feel ripped off.
In my opinion, the only people who promote products like Zendyx are affiliates who only care about the money, without taking into account if the product will help customers.
Sick of scams? Want to make passive income every day?
Check Out My FREE Earn Money Online Guide Here!
"We only make money if you make money" lie
---
"Mark" claims that he only makes money if you make money, but that's not true.
First of all, if you buy Zendyx, he makes money but there's no guarantee that you will make money.
Second of all, if someone buys Zendyx, "Mark" makes money but you don't.
Third of all, he shows us a ClickBank income snapshot, but that income is vendor income, not affiliate. This means that that income has been generated from his own products, not other people's products.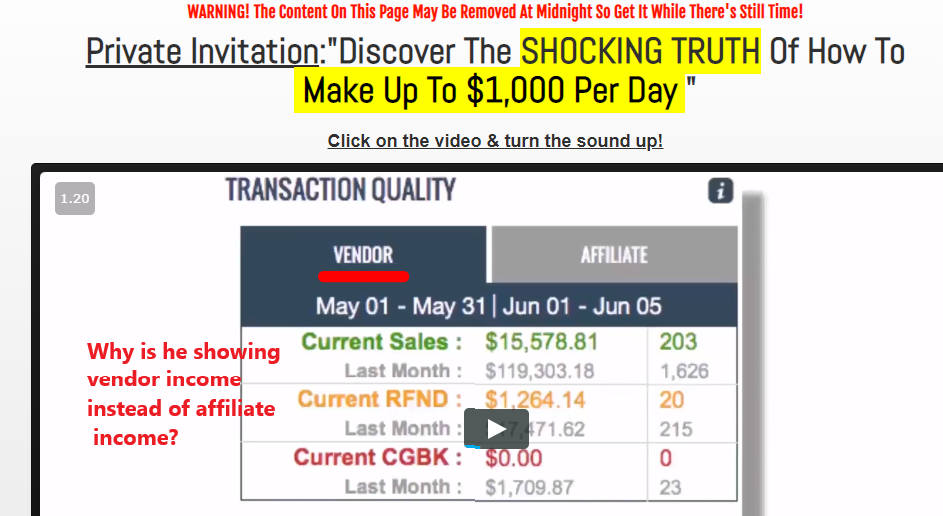 This is an indication that he makes money without you making money because his income doesn't depend on other people's products. 
If he's talking about affiliate marketing, I don't think it's accurate to show his vendor income because it's not the same as affiliate income, and it can be misleading.
I mean, if he's not making money as an affiliate marketer, why is he teaching people to earn money as affiliates?
"The content on this page may be removed at midnight" lie
---
Another red flag on the sales page is the fact that they want us to believe that the sales page will be removed at midnight.
This is a fake scarcity tactic that many scammers use to make you buy on impulse. They want you to be afraid of missing out so that you buy Zendyx without thinking logically.
You can confirm it's fake because if you visit the page tomorrow, it will say the same thing. 
Will Zendyx scam you?
---
Whether Zendyx is a scam or not actually depends on how you define a scam. 
Some people will not consider it a scam because you get something for your money, and there's also a 30-day money-back guarantee.
The good thing is that Zendyx is being sold on ClickBank, which is a marketplace that I consider quite responsible about refunds.
There are other people who will call Zendyx a scam because it doesn't work as promised on the sales page. The testimonials are fake, there are hidden costs that they don't tell you about, they don't give you real income expectations, Mark Evans is more than likely not the real owner, they push you to buy the program…
We can conclude that the real goal of the owner is to make money himself instead of helping you. If he really wanted to help you, he would provide you with real support and he would be transparent about his identity.
I personally don't like programs whose owners are not transparent because it means that they don't have your best interest at heart.
What you decide to do is up to you, but I have to conclude that I do not recommend Zendyx.
Here's how you can make passive income as an affiliate marketer
---
Like I said before, it's possible to make money with affiliate marketing, but you don't need to spend as much as "Mark" wants you to spend.
You don't even need to buy low-quality programs or spend money on paid traffic if you use the same method that I'm using.
This is a newbie-friendly method that also allows you to start for free and learn how it all works before spending a dime.
I believe that anyone who learns a step-by-step method and takes action can make passive income as an affiliate marketer.
I'm living proof this business works, as you can see in one of my payment proofs: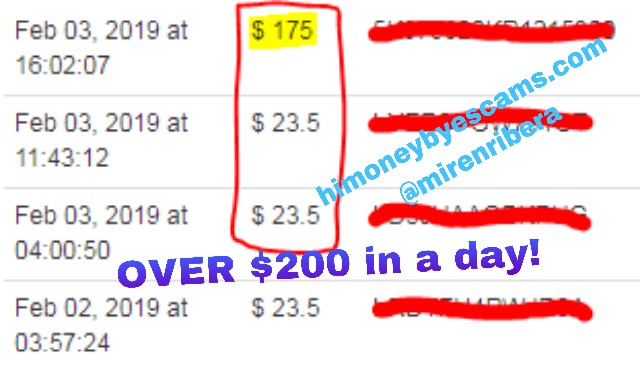 You won't need to create your own product and you won't have to promote websites that don't work. You'll be able to choose between thousands of products & services you want to earn money from! 
Once you know how it works, you won't fall for those ugly scams again. Con artists don't want you to know how this business works because once you know, they won't make money at your expense.
If you're serious about making passive income, I encourage you to check out my FREE guide here: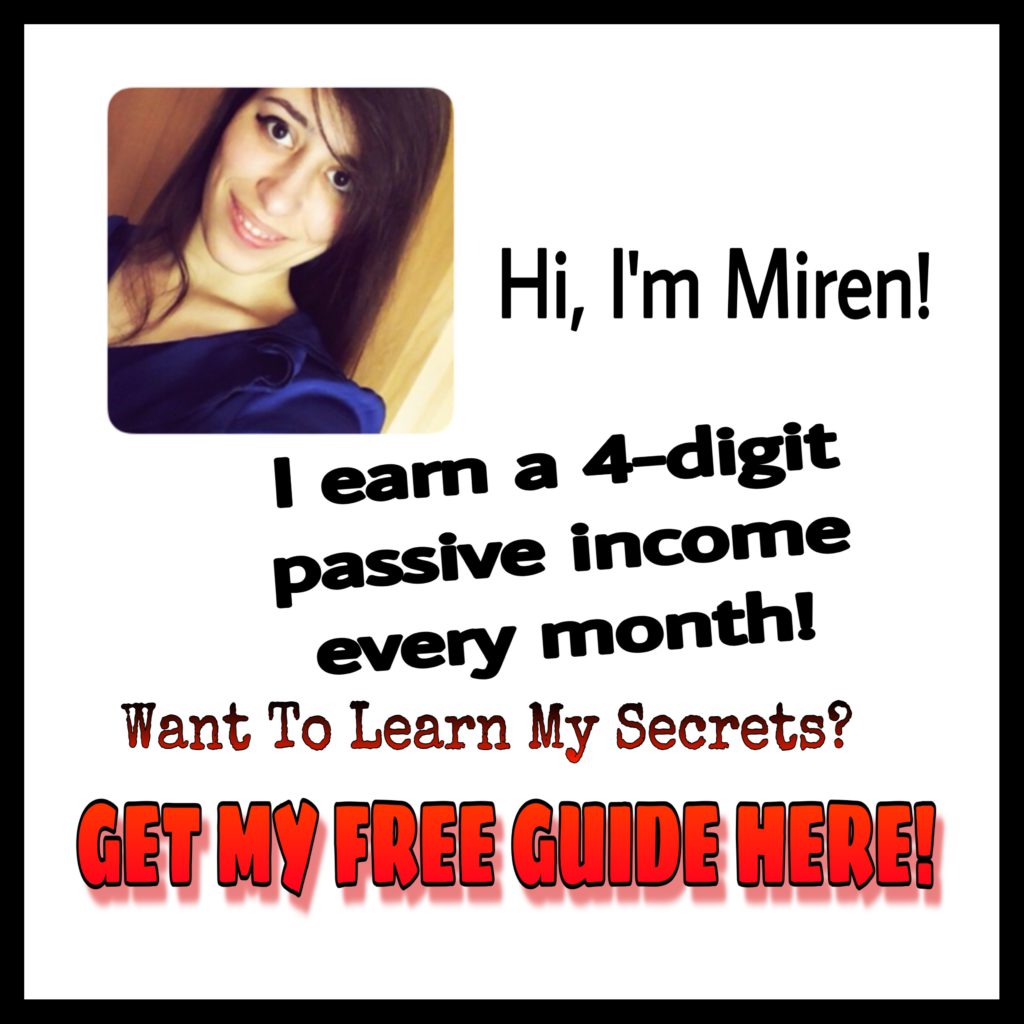 My guide is FREE (no login information required, just click here to start reading it), which means that you have nothing to lose and a lot to gain 🙂
Oh, and what if you ever have questions or need help? No problem! I'm not like "Mark" because I'm honest about my identity and I also show you how you can get private access to me.
If you read my free guide until the end, you will learn how you can get started today for free, what training and resources I've used, why this method works, proof that it works and so on. 
Stop wasting your energy on low-quality programs and get your affiliate marketing business started today!
I will leave this quote here:
If you want something you have never had, you must be willing to do something you have never done.
I hope this Zendyx scam review has been helpful to you and you will make the best possible decision.
Feel free to share it with whoever you believe that will find it useful!
If there's something else you want to know or you have any questions about Zendyx or would like to share your experience, please leave a comment below. I love hearing from you all!
Whatever you do next, I wish you nothing but the best =)