Welcome to my Max Income System review!
Have you come across this system and are wondering if you can earn $12K per day? Or is maxincomesystem.com another scam that will leave you with less money at the end of the day?
First of all, let me tell you that I'm glad that you are doing your research before getting involved in another business opportunity.
The Internet is full of frauds, so doing your due diligence is the way to avoid the ugly scams and discover the genuine way to make a full-time income online!
When it comes to Max Income System, it's very similar to many of the systems I have reviewed, so here I am to tell you the complete truth.
In this review you will find how this program really works, what's cool and not so cool about it and more!
Max Income System review
---
Name: Max Income System
Websites: 
digitalbusinesskickstarter.com

maxincomesystem.com
Owner: Shaqir Hussyin
Price: $47 + thousands of dollars in upsells
Overall Rating: 3/10
Recommended? No
---
If you're sick of scams, check out my 1st resource to make a 4-digit monthly passive income HERE!
---
What is Max Income System about?
---
The moment I came across the Max Income System sales page, I didn't like what I saw because it reminded me of some scam pages I had come across in the past.
But I didn't want to think it was another fraud, so I thought I would do my homework before coming to any final conclusions.
I actually found two sales pages for this program, so what I'm about to explain applies for both.
According to the spokesman, this system can help you earn $50K a month and you don't need any technical skills or previous experience.
Also, this method apparently doesn't require you to spend much time working. All you have to do is follow 14 steps and you are good to go.
In the sales video we can also see some people who claim to have earned thousands of dollars in commissions, which sounds awesome because it makes this system seem like it works.
Oh, and the spokesman also says that everything is done for you, so is this system the ultimate solution for everyone to achieve financial freedom online? 
His purpose is to expand the team, so now he's giving you the chance to join them for $47. So is this really worth it? Or is there something that he has not mentioned yet?
I have reviewed hundreds of programs like this, and I remember watching other sales videos that have the same sales pitch as Max Income System, so I have an idea of what this is really about.
Truth be told, the spokesman doesn't tell you everything you need to know before buying this program. Everything he says is to get you excited, so that you end up getting involved.
RECOMMENDED: Check Out My FREE Earn Money Online Guide Here!
How does Max Income System really work?
---
Max Income System is basically a page that funnels to another program. Yes, Max Income System is not the real name of what they are trying to get you into.
Honestly, I don't like the fact that the spokesman doesn't mention the name of the real program because that's what has happened with many programs that have got shut down.
For example, MOBE and Digital Altitude are two high-ticket programs that got shut down by the FTC last year (as of this review). I remember that they were marketed the same way as the program I'm reviewing here, so this is not a good sign.
The name of the real program is Wealth Academy, which was created by Shaqir Hussyin in 2018. So it hasn't been much since it was created, but the fact that it's being promoted the same way as some pyramid schemes is a big red flag.
Purchasing Max Income System for $47 is only the beginning of the massive spending. Yes, they have a lot more in store…
Wealth Academy is no different than the other high-ticket programs for several reasons:
It has pricey upsells

It's focused on its own promotion

Recruiting is required
In order to make money, you will need to buy these upsells and convince other people to join and do the same as you, which is to spend money on the products & memberships and get more people to do the same. It's a never-ending cycle.
Do you remember that some testimonials who appear in the sales video claim to have earned like $10,000 with one sale? The reason for this is that they have recruited someone who has bought one of the most expensive upsells.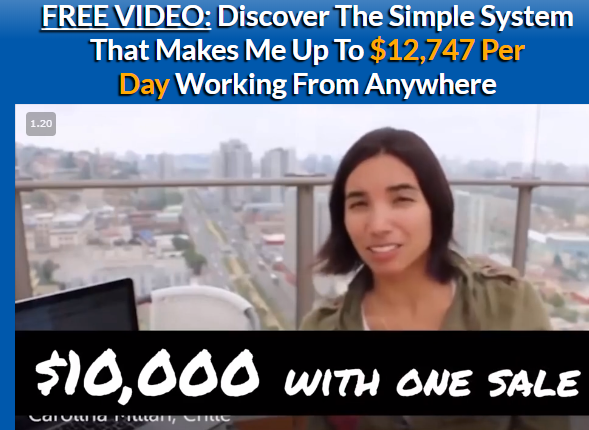 One of the high-ticket offers is Wealth Academy is Wealth Academy Accelerator, which costs $2,997. And another expensive offer is Wealth Academy Elite, which costs $19,997. 
If you want to make $10K per sale, you will first have to buy Wealth Academy Elite because they only allow you to earn commissions from the memberships/products you have bought.
What about your success mentor?
---
Your success mentor is said to guide you and help you make money within your first 30 days, but the truth is that he/she will try to persuade you to buy the expensive offers I have mentioned.
You see, if you buy those pricey upsells, he/she will make huge commissions. 
This is what happens in these kind of high-ticket programs. In case you can't afford to invest in those upsells, you can expect your mentor a.k.a. your sponsor a.k.a. your recruiter to tell you to get a loan.
I remember that, when Digital Altitude and MOBE were still operating, lots of people went into debt just to buy those massive upsells and qualify to make money from them. 
Therefore, the ones at the top used to make thousands and even millions of dollars, while the ones at the bottom ended up losing money. 
It's not risk-free
---
In the sales video, the spokesman says that this is risk-free guaranteed, but this is completely fake.
Yes, they give you the option to get the initial $47 back, but they do not allow you to get any refunds if you buy the expensive upsells.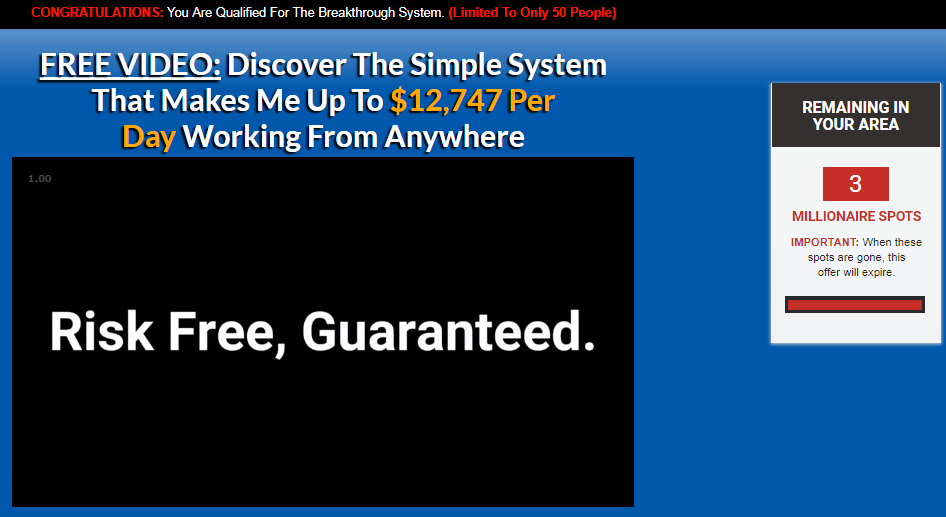 Therefore, it's not risk-free because there's no guarantee that you will make your money back. There's no guarantee that you will find other people who are willing to invest those thousands of dollars.
Not only that, you also need to consider other costs of building this business like paid traffic.
In order to get people to join this system, you will have to get traffic to the pages & websites they provide you with.
They will recommend you to buy traffic to promote this system, so you will need to spend hundreds or even thousands of dollars on advertising.
Paid traffic is a fast way to drive traffic to your sales pages, but it's also highly risky because it requires a lot of trial and error to find a winning campaign.
In my opinion, this is not beginner-friendly because many newbies don't have thousands of dollars laying around waiting to be spent on a program like this. And people who have that kind of money don't need to spend it on high-ticket offers.
RECOMMENDED: Learn How I Make a 4-Digit Monthly Income Here!
It's a done-for-you system
---
Another red flag is that this is a done-for-you system, which may seem great at first because you get the websites, the tools and the training.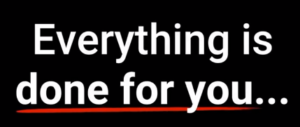 However, if you think about it, everyone who gets involved gets and does the same. Also, everyone depends on this system to make money.
So, if one day this system gets shut down, you will be left with nothing. You'll stop making money if you only rely on this system.
Investing in a done-for-you system is not investing in your own business, it's investing in someone else's business! 
In my opinion, spending thousands of dollars to promote another person's business is not worth it because you wouldn't be building a business you have control over and you wouldn't be investing for long-term success.
Other done-for-you systems I have reviewed are the following:
Is Max Income System a scam?
---
Max Income System is a scam or not depending on your perspective.
I would call this system a scam because the sales presentation is quite misleading and lacks information about what you are really getting into.
Also, the whole program is very expensive and is not the kind of program designed for you to be successful in the long-term.
I wouldn't call Max Income System a scam because you get something for your money and you can also learn something from the training.
I've never liked high-ticket programs because they are not sustainable and most people who join them end up losing money. Most part of the money that enters the scheme gets passed from the members on the bottom to the few members on the top, so most members spend more money than they earn.
Also, they are not for everyone because not everyone likes the following:
Recruiting

Promoting the same as everyone

Spending money on advertising
This system works the same way as other programs that are not legitimate or legal, according to the FTC. 
At the end, you can do whatever you want with your time and money, but I have to conclude that I do not recommend Max Income System.
A legitimate, sustainable business model that you can use
---
When I was getting started, I got involved in some done-for-you systems that required me to recruit other people and spend hundreds of dollars before I could start making money.
I ended up losing more than I made, but I'm glad that I realized this kind of systems weren't the way to go to make a long-term income online, and I'm also grateful that I learned about a legitimate business model.
This business model has already been working for decades doesn't require you to recruit or promote the same stuff other people are promoting.
In fact, you don't even need to purchase whatever you want to promote, so if you want to promote a product that costs thousands of dollars, you don't need to spend that kind of money. 
Not only that, you don't need to pay to get traffic to your offers. That's right, I personally didn't spend a dime to get you to read this post! Sounds cool?
With that said, I want to be completely honest with you, so I'm not going to say that this is a shortcut or get-rich-quick scheme. This business takes time, learning, patience and consistency. 
This is definitely not for everyone. It's only for people who are committed to doing what it takes. If you are that kind of person, I invite you to check out my FREE guide here:
If you take the time to read my guide until the end, you will learn step-by-step how this business works, why it works, how I got started, the income potential, real success stories…
Your business will be based on a topic you have a passion for, so you will have fun during the process =)
Additionally, you are not alone in this new venture because you get the chance to get help & support from me and thousands of like-minded individuals! You will be able to ask as many questions as you need =)
Oh, and did I mention that you can get started today for free? In my free guide I reveal how and where you can start without spending a dime, so you can decide if this business is right for you risk-free 🙂
I love the kind of messages I have been getting lately. This one below is from one of the 3K people who have decided to join me:
So what about you? Will you keep wasting your time on expensive & unsustainable systems? Or will you get on the right way to build your digital business today?
CHECK OUT MY FREE EARN MONEY ONLINE GUIDE HERE!
I hope this Max Income System review has been helpful to you and you will make the best possible decision.
Don't hesitate share it with whoever you believe that will benefit from it!
If there's something else you want to know or you have any questions, please feel free to leave a comment below and I'll get back to you ASAP! 
Whatever you do next, I wish you nothing but the best =)