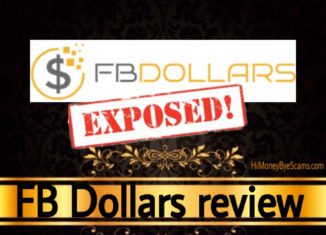 Welcome to my FB Dollars review!
Are you wondering if fbdollars.com is a scam or a legit site that can help you make $500 a month?
If your answer is yes, you are in the right place because I have looked deep into this website and now I'm going to tell you the complete truth.
Before answering your questions, let me congratulate you for taking the time to do your own research before getting into another money-making opportunity.
You see, there are too many scams out there, so doing your due diligence is the way to avoid the fraudulent websites and find the real way to earn passive income online!
When it comes to FB Dollars, there are some things that they don't tell you, so here I am to show you what this is really about and what you need to take into account before making a final decision.
FB Dollars review
---
Name: FB Dollars
Website URL: fbdollars.com
Owner: Hidden
Price: Free
Overall Rating: 1/5
Recommended? No
---
If you're sick of scams, check out my 1st resource to make a 4-digit monthly passive income HERE!
---
What is FB Dollars about?
---
FB Dollars (FBDollars.com) claims to be a social media marketing company that is specialized in Facebook ads.
They claim to have a Google Chrome extension that you can add to your browser in order for them to rent your Facebook ads account.
Why do they want to rent your Facebook ads account? They say that they want to rent other people's accounts because Facebook has limited the amount of money they can spend.
It actually doesn't make any sense, like why would Facebook limit how much you can spend on their ads? Facebook wants to make money after all!
So if you let them rent your account, they will apparently pay you $500 per month. Renting a Facebook ads account is free to do, so is this an awesome opportunity for you to make $500 without doing nothing?
Honestly, I couldn't help but laugh because it sounds way too good to be true. And as you may already know, when something sounds too good to be true, it really is.
The only requirements you need to meet to qualify are the following:
Have at least 100 Facebook friends

You must be the person behind your account

Your account must be at least 1 year old

You must be at least 21 years old

Your Facebook ads account must be untouched

You need to have a PayPal account
So, if you have never used your Facebook ads account, should you let them use it? They claim that it will not affect you and your friends will not see the ads. You would only have to respond to emails in case there's a problem with your account.
Also, they claim that you can make more money if you convince other people to join them. They will provide you with a referral link that you can share on social networks and wherever you want.
During my research I've seen some people share their links, which is something that I wouldn't feel good about doing because FB Dollars is not something I believe in.
RECOMMENDED: Learn How I Make a 4-Digit Monthly Income Here!
How FBDollars.com really works
---
In order to get started, you need to fill out the form on the fbdollars.com site and then they tell you to install their Google Chrome extension.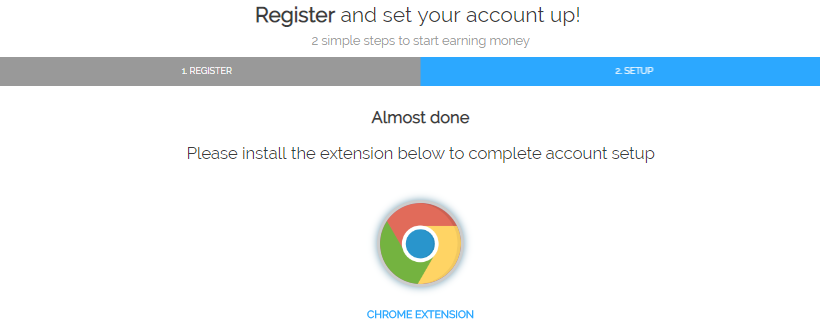 Installing their Chrome extension is something that makes it easy for them to steal your account, which is very dangerous because they could take advantage of your friends or the people you care about.
Another thing they tell you to lure you in is that you will receive your first payment within 24 hours of signing up, which makes this program look like a get-rich-quick scheme because they are basically telling you that you can get paid within a short period of time without doing much work.
Therefore, I decided not to get involved because of this.
Who's behind this site?
---
One of the main red flags is the lack of information of this company. There's no information about the people who have created it, so how can we trust people who promise the world but are not transparent about who they are?
They don't mention their names and they don't show any pictures of themselves, so there's no way to know who we are dealing with.
Also, they don't explain how we can get in touch with them and they don't even provide any customer support. So, if we have some questions about FB Dollars, how can we get some help?
In my opinion, they don't want to hear from us because if they wanted, they would mention their email address or phone number, or would provide a chat or form for us to contact them.
But there's nothing about that, so how can we trust these people? 
I have reviewed hundreds of websites like this and I have noticed that most websites whose owners don't show up end up being scams. 
You see, legitimate companies tend to reveal who's the owner or the people involved because they are proud of their work. 
Scammers or cybercriminals usually hide their real identities because that's how they can get away with their crimes.
They are marketing it in an unethical way
---
The way they are marketing this FB Dollars website is unethical because they are marketing it the same way as other scams.
They are using fake news articles like the one below to make people believe that there's someone who's using this program. 
I know this article is fake because the photo of the woman with the child is a photo that appears in various websites, which means that this woman is not connected to the news article.
Scam artists behind this scam have used her picture to create a fake character and a fake story.
Therefore, how can we trust people who have created a fake success story to lure you in? They have proved they are not honest, so this is another reason for me not to trust them.
If this program really worked, they wouldn't need to invent success stories.
It's the same as FBCash.net
---
I found out that there's another site almost identical to FB Dollars, which is called FB Cash (fbcash.net).
The layout and the words are the same, which makes me believe that these two sites have been created by the same scammers.

Honestly, after having realized that FB Dollars is a scam, I'm not surprised to see that there's another page for the same scam. 
After having reviewed hundreds of websites like these, I have noticed that scammers usually create various websites to promote the same scam.
What will it happen if you get involved?
---
If you are wondering what you will experience in case you sign up, you can't expect anything good from this scam.
First of all, you will not get paid a dime, and even though I haven't tried it myself, I have some proof that the owners of FB Dollars are not paying any members.
Apart from this, you can expect these scammers to use your account to promote scams or try to make money illegally, which can make Facebook suspend your account or even worse, you could end up in jail or having to pay thousands of dollars in legal fees.
You see, these scammers can give you a bad reputation and can also harm people you care about, so I don't recommend that you let them use your account.
If you provide them with your personal information like your email address, your phone number and your PayPal address, it can also be dangerous.
This is what it can happen:
They can sell your information to other scammers.

You might receive sales calls and spam emails from them.

They can try to hack your PayPal account to steal your money.
These are things that usually happen when scammers have other people's information, so my advice is that you don't give them any personal info.
After all, con artists do the most the profit at other people's expenses.
RECOMMENDED: Check Out My FREE Earn Money Online Guide Here!
Is FBDollars.com a scam?
---
Yes, after everything I have read and found during my research, I have no doubt that FBDollars.com is nothing but a dangerous scam.
Just because it's free, it doesn't mean that something it's legit. When someone promises that you will make money in no time for free, start suspecting they are lying to you because people who make this kind of promises tend to be scammers who want to take as much money as possible from you.
Also, renting another person's Facebook ads account is illegal, so even if they paid you, it wouldn't be legal and you could still get in trouble.
Another thing I want to point out is that relying on a website like FB Dollars to make money online wouldn't be a smart decision because it's not a website that has been around for long.
It's not even been around for a year, so I don't think it will last for the long-term, especially if there are negative honest reviews or people file complaints against them.
At the end, you can do whatever you want with your energy a.k.a. your time & money, but if you don't want to get in lots of trouble and don't want the people you care about to get damage, I don't recommend FB Dollars.
Here's a safe, real way to generate passive income online
---
When it comes to making a full-time income online, you need to take into consideration that it's not something that happens overnight or without making efforts.
This is just like anything worth achieving in life, so you will need to be committed to learning and taking action if you are serious about this.
I'm glad that I learned how making money online works and I discovered a legitimate business model that is making possible for me to earn a 4-digit monthly passive income online.
This business is not about recruiting or promoting the same products as everyone else. Instead, you will be able to earn money from products/services you love!
It's a business model that has been working for many years already and many people are using it to earn passive income, so if they can do it, who says you can't?
I believe anyone who learns learns a proven method and puts in the effort & time can make it happen. Want to know how to get started? I invite you to check out my FREE guide here:
You will see that there's nothing hidden in my free guide. You will learn what steps you need to take to build this business, the reason this business works, what you need to make it work, income proofs…
You will probably laugh or not believe me when I tell you that it's completely free to get started lol, I know it's easy to be skeptical due to the sea of scams there's out there…
However, you see that I'm a real person and I don't hide my identity, I'm not making any unrealistic promises and I always reply to my readers, so trust me when I say that you can start today for free =)
I also let you know that you are not alone in this! You will be able to ask as many questions as you want because the place I show you has a community full of like-minded people who are willing to give you a hand. I'll personally be there to guide you as well =)
I'm very happy with the type of messages I have been receiving lately. This one you can read below is from one of the thousands of people who have joined me:
So what about you? Will you keep wasting your time on fraudulent websites? Or will you get on the right way to build your passive income business today?
CHECK OUT MY FREE EARN MONEY ONLINE GUIDE HERE!
I hope this FB Dollars review has been helpful to you and you will make the best possible decision.
Don't hesitate share it with whoever you believe that will benefit from it!
If there's something else you want to know or you have any questions, please feel free to leave a comment below and I'll get back to you ASAP! 
Whatever you do next, I wish you nothing but the best =)