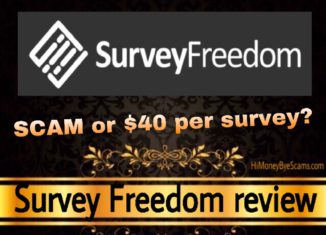 Are you wondering "Is Survey Freedom a scam? Or is surveyfreedom.com a legit site to make money with paid surveys?".
If you have questions like these, I'm glad that you have landed on this review because here you are going to find the truth it.
First of all, I need to congratulate you for taking the time to do your own research before getting into another money-making opportunity.
There are too many frauds out there and they come in different forms, so doing your due diligence is the way to avoid scams and discover the genuine way to make a full-time income online!
When it comes to Survey Freedom, there are some red flags that I want to point out, so keep reading to discover how it all works.
Survey Freedom review summary
---
Name: Survey Freedom
Website URL: surveyfreedom.com
Owner: Envision Web Inc.
Launched in: June 2018
Price: Free to join
Recommended? No
---
If you're sick of scams, check out my 1st resource to make a 4-digit monthly passive income HERE!
---
What is Survey Freedom about?
---
The moment I saw the website for Survey Freedom, I was glad to see it didn't look like most money-making websites I have come across.
It actually looks quite professional and easy to navigate, which is a good sign because it makes it different from most sites that don't work.
According to the information on their site, you don't need any special skills or previous experience to start making money with surveys.
This is actually true, but having some experience and skills can really help you because not all surveys are for everyone. So the more experience you have, the more surveys you can qualify for.
You see, companies don't want fake information on their surveys because it doesn't help them with their market research, so some surveys are only for people who have experience in a determined area.
With that said, Survey Freedom claims some surveys pay $40 and most surveys pay between $5 and $15, which is not true. 
I don't like the fact that they lie about the kind of money you can make because it gives people fake expectations. Most surveys pay from cents to $3, surveys that pay $40 don't exist.
After taking a look at Survey Freedom and signing up, I realized this is no different than these other survey sites I have reviewed:
Survey Freedom doesn't provide you with paid surveys, it's a website that works as an intermediary between you and other survey sites.
RECOMMENDED: Learn How I Make a 4-Digit Monthly Income Here!
How Survey Freedom really works
---
In order to get started, you have to answer some questions to see which surveys you qualify for.
They ask you if you are female or male, how old you are, how much money you want to make with paid surveys every month, how many hours you can dedicate and when you can start taking surveys.
I answered the same questions multiple times to see if I would get a different result, but all the times I answered those questions I got the same result: 3273 surveys from 3 survey providers.
In my opinion, I believe that anyone who answers those questions will get the same result which is a little bit misleading. It's definitely something that leads me to believe that it's not true that everyone qualifies for 3,273 surveys.
The reason they want you to believe there are lots of surveys you qualify for is to make you believe that you get the chance to make a lot of money doing this (more paid surveys equal more money).
Anyway, once you have answered those questions, you have to complete a form with your name and your email address.
After that, you get access to the members area, where you are told to register to Survey Junkie, Inbox Dollars and i-Say.
What about the 3,273 I had supposedly qualified for? I didn't get access to them, which makes me believe that it was fake. I believe they tell the same thing to everyone to get them excited, so that they complete the form with their name and email address.
I don't like sites that make fake claims to get visitors to do what they want, it's not ethical in my opinion. 
You see, the reason they want you to join Survey Freedom and then sign up to these other survey sites is because the owners of Survey Freedom get compensated when people join these sites through their referral links.
These survey sites are legit and it's completely possible to make some money with them, but there are some drawbacks:
The link to join Survey Junkie doesn't work. This is something that shows some neglect and a lack of professionalism.

i-Say is not available everywhere. You will not be able to make money from this site if you reside in a country where it's not available.
In my opinion, it would be better if they gave you more than 3 options just in case one of them are not available for you.
Also, you don't need to join SurveyFreedom.com to register to these sites or qualify for surveys. For me, joining Survey Freedom just to find 3 survey sites was not worth my time.
They give you false expectations
---
Something that I don't like about Survey Freedom is that they don't give you realistic expectations, especially when they ask you the initial questions.
It's not possible to earn over $1000 a month with paid surveys, so asking you if you would like to make that kind of money with surveys is misleading.
Paid surveys are just a way to make extra money online, not a full-time income. So it's unrealistic to say that you can earn from $5 to $40 per survey or $2500-$5000 per month.
Making $40 per hour is not going to happen because most survey sites pay from cents to $3 per survey, so you would have to take more than 10 surveys per hour. This is not possible because most surveys take at least 15 minutes to complete.
Therefore, if you can complete 3 or 4 surveys per hour you could consider yourself lucky because it's very easy to get disqualified when you are answering questions.
That's right, you can find yourself answering questions and then be told that you don't qualify, so you could spend 15 minutes trying to complete a survey but not make a cent.
Fake testimonials
---
Another red flag is the fact that there are false success stories on the Survey Freedom main page.
Those people haven't earned any money thanks to surveyfreedom.com and they haven't even joined that site. They have nothing to do with it.
How do I know they are not genuine? 
I did some image searches and I discovered that those images are located on different websites, which indicates that the owners of Survey Freedom have taken advantage of other sites to create fake testimonials.
As you can see below, the picture of these three children can be found on other websites:
You see, this picture was first found on September 2010 and surveyfreedom.com was created on 2018, so it's obvious that Survey Freedom wasn't the first site to have that picture.
I don't like websites that lie about the people who have succeeded because it's a way to give potential customers false expectations.
They are operating in a dishonest and deceitful way, so there's no way for me to trust Survey Freedom.
Lack of information about the owners
---
There's no information about the people who have created Survey Freedom, which is another red flag because it indicates a lack of transparency.
In their privacy policy page there's information on how a company called Envision Web Inc. is going to use your personal data, so I guess that's the company behind Survey Freedom.
I looked for information about that company but I found nothing that confirms it's connected to Survey Freedom.
If they were transparent, I believe they would have mentioned this company in their "about" page, but they don't. 
I have reviewed hundreds of websites and I have realized that the ones that hide their owners tend to be scams or low-quality sites, so this is another reason I don't trust Survey Freedom.
RECOMMENDED: Check Out My FREE Earn Money Online Guide Here!
Is Survey Freedom a scam?
---
Whether Survey Freedom is a scam or not depends on your perspective.
If you join this site expecting that you will make a full-time income with paid surveys, you will call it a scam because that's not going to happen.
Also, if you get involved with the expectation that you will earn some fast cash, you will get disappointed because this is not the way to go to make money fast.
Yes, you can definitely make money taking surveys, but when you first get started, it can be hard because you will not get many surveys to complete.
The more time you dedicate to it, the more money you can make. But you could dedicate 40 hours a week and still not make a full-time income.
In my opinion, paid surveys are only for people who have a lot of free time and enjoy taking surveys. This is definitely not for people who have the goal of becoming financially free for various reasons.
First of all, each survey can make you as much as $3 and they take a lot of time to complete. So you could spend a lot of time doing this and earn very little.
Second of all, paid surveys don't allow you to scale your income. This is similar to a normal job because if you don't work, you stop making money.
Paid surveys is not the way to go to earn passive income, which is the kind of income you need to become financially free.
I don't know about your current situation, so you can do what's better for you. I hope this information has been helpful.
Because of everything I have mentioned, I conclude that I do not recommend Survey Freedom.
The way to go to earn a substantial income online
---
When I was starting out, I remember that I liked the idea of making money with paid surveys, but after realizing that I couldn't make much money and spending a lot of time answering questions only to get disqualified, I quitted taking surveys.
I looked for other alternatives and I'm glad that I found a legitimate business model that has given me a way to make passive income every single day. 
There are days that I have earned over $200, as you can observe below: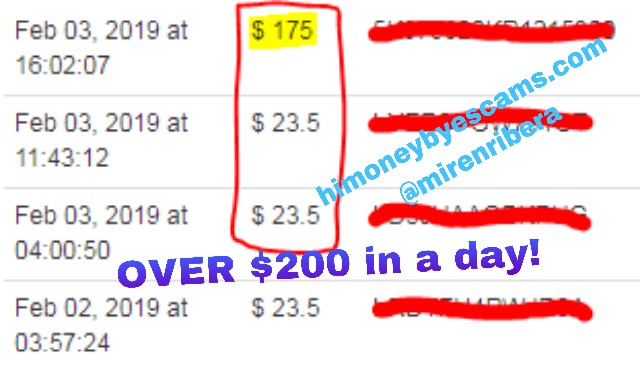 To be completely honest, this business takes a lot of work and time, but it's worth it in the end. It feels so good to make money when I'm doing anything different than working =)
This is not MLM and it doesn't even require you to recruit anyone. This is a business model that takes advantage of the millions of products & services that are for sale online.
Also, it has already been working for decades and many people are using it to make a full-time income online.
If you want to know more about how this business works, I invite you to read my FREE guide by clicking the button below now:
Honestly, I only recommend that you read my free guide if you are committed to learning and taking action. People who read my guide but don't take any action will not change their lives for the better.
You will see that there's nothing hidden in my guide. I explain the 4-step method I used, the reason this method works, real success stories…
Your business will be based on a topic you are passionate about, so you will have fun during the process 🙂
Oh, and did I say that you can start today for free? I'm not kidding, you don't need to spend a dime to get inside my favorite platform and check out how it all works. You will be able to decide if this business is right for you risk-free!
Not only that, you are not alone in this new venture because you get the chance to receive my personal guidance and help!
I love the messages I have been getting lately. This message you can read in the screenshot below is from one of the +3,000 people who have joined me:
And now let me ask you: Will you keep wasting your time on paid surveys that can make you little money? Or will you start building your passive income business today?
CHECK OUT MY FREE EARN MONEY ONLINE GUIDE HERE!
I hope this Survey Freedom review has been helpful to you and you will make the best possible decision.
Don't hesitate share it with whoever you believe that will benefit from it!
If there's something else you want to know or you have any questions, please feel free to leave your thoughts below and I'll get back to you ASAP! 
Whatever you do next, I wish you nothing but the best =)