Welcome to my RetailRecruit.org review!
Wondering if this Amazon work-from-home opportunity is real or a scam? If your answer is yes, you're in the right place at the right time.
First of all, I want to congratulate you for taking the time to do your own research before getting into another money-making program.
You may already know that there are too many fraudulent websites out there, so doing your due diligence is the best thing you can do to avoid scams and find the legit way to earn a full-time income online!
When it comes to RetailRecruit.org, the truth is that it's not a legitimate opportunity, so I decided to put together this review where you can find the complete truth.
RetailRecruit.org review
---
Name: RetailRecruit.org
Website URL: retailrecruit.org
Owner: Not revealed
Price: $47 + upsells
Overall Rating: 0/10
Recommended? No
---
If you're sick of scams, check out my 1st resource to make money online HERE!
---
What is RetailRecruit.org about?
---
RetailRecruit.org is a domain name that con artists have been sending through messages and phone calls.
You have probably received a voice mail or call from Sarah, who claims they're hiring people from your area for an Amazon work-at-home job that can make you $27 an hour.
And then, you are told that all you have to do is to go to RetailRecruit.org to find more details about this job.
Once you go to retailrecruit.org, you're redirected to a news article or a sales page called Real Profits Online.
Scammers are using multiple domain names like amazonrecruiter.org, amazonprofits.co or amazonwealth.org to drive potential victims to the same scam program.
They sometimes redirect you to a fake news article like Cash Website Success or Real Profits Online. And other times they lead you to sales pages like MSW System or Real Profits Online.
What I know for sure is that they're using different names to market this scam to mislead potential victims.
They don't want you to find honest reviews like mine because they don't want you to know that their program is a complete fraud. That's why they do the most to mislead you.
I have exposed lots of scams like this one, so I know how they operate.
In the fake news article, they claim you don't need any experience or special skills to earn $14,000 a month.
They also say that you only need to work 1-2 hours a day to earn that kind of money, but this makes no sense.
I mean, if they told you that you could earn $27 an hour, there's no way you can make $14,000 a month if you only work 2 hours a day.
In order to make $14,000/month, you would have to make $466-467 a day, which means that you would have to work 17 hours a day, given that you got paid $27 an hour.
See how their claims make no sense? The purpose they have with the fake news article is to get you to purchase a work-from-home kit that you allegedly need to succeed.
RECOMMENDED: Check Out My FREE Earn Money Online Guide Here!
How they try to scam you
---
They try to convince you to purchase this work-from-home kit, but the truth is that this kit doesn't contain anything valuable.
This kit is supposed to include training and tools to help you achieve success in your Amazon job, but it's not like that.
You see, this is not a real Amazon job. Amazon is not partnered with retailrecruit.org or Real Profits Online, so this is not a real Amazon work-from-home opportunity.
These scammers are using Amazon to market this scam, since Amazon is very well-known and they want you to believe that they're working with Amazon to lead you to believe that this is legit.
Also, they're marketing this program as if it were a job because they want you to believe that you will start making money the same day you get started.
They want you to think that this is an opportunity for you to make money fast without doing much work, which is known as a get-rich-quick scheme.
The real scam program
---
Something doesn't feel right when they tell you to visit retailrecruit.org and you're taken to a different page like called Real Profits Online.
I mean, they don't tell you anything about Real Profits Online in the call or voice mail, which doesn't feel right. 
Not only that, in the Real Profits Online sales page they don't tell you anything about an Amazon work-from-home job, so what is this really about?
You see it cannot be a job because they want you to pay an initial fee of $47… If this was a job, you wouldn't have to pay a dime.
Real Profits Online is a program that's focused on affiliate marketing, which is a business model that can be used in different ways to make a substantial income online.
I'm very familiar with this business model because I personally use it to earn a 4-digit monthly passive income online, but I use it in a different way than Real Profits Online because I don't use this business to rip people off.
The truth is that Real Profits Online doesn't provide any value because they don't teach you the right way to make money with affiliate marketing.
They tell you that you can make $500 a day fast without doing much work, and this is not how affiliate marketing or making money online works.
There are people who have bought this program and haven't received anything. They weren't able to access the members area.
Remember that I said this program has been marketed with different names? Some months ago it was called Amazon Cash Websites and I wrote a review where I received comments from people who have got nothing after making the payment.
Just take a look at this one…

As you can read, these con artists don't provide any support or way to contact them. It's clear that they don't care about their customers.
These scammers just want your hard-earned money and then run & hide to avoid getting caught.
That's the reason they don't show any picture of themselves. They don't want you to know who they really are.
Some red flags
---
There are lots of red flags in the Real Profits Online website, so I'm going to point out some of them because they're very common in this kind of scam sales pages.
No information about the owners
There's no information about the people who are running this program, which indicates a lack of transparency.
If they claim this program is so good, why don't they show up or tell you how you can get in touch with them?
After having exposed lots of scams, I can say that most scammers don't show who they really are because they don't want to face the consequences of scamming like getting sued or persecuted.
So that's the reason the unethical people behind Real Profits Online don't show up.
The fact that they don't provide a customer service or don't reveal any way you can ask them questions to get some help is another big red flag.
Do these people care about their customers? No, they don't. Their actions tell me that they only care about their own benefit.
RECOMMENDED: Learn How I Make a 4-Digit Monthly Income Here!
The people who appear in the Real Profits Online sales page are not genuine testimonials. They're Fiverr actors who have got paid for saying what the scammers wanted them to say.
These people haven't earned any money with this program. They have appeared in other scam videos Free Ad Cash System and The Ecom Formula.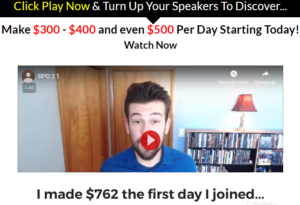 The truth is that there are no real members who have benefitted from this program. There are no positive Real Profits Online reviews so I believe the only ones who are making money from this scam are the owners and some unethical affiliates that are sending it to their subscribers.
Another lie they tell you is that there are only 150 spots available, since there's no limit when it comes to the number of spots available.
There are unethical affiliates who are promoting this scam to their email subscribers, and they have been doing it for a long time. Their goal is to get as many people as possible to fall for this scam.
So, these scammers would never limit the people who can buy their BS program, since their goal is to make as many sales as possible. 
Is RetailRecruit.org a scam?
---
Yes, RetailRecruit.org is a scam because it's not even the name of a real program and they try to get you to spend your money on the Real Profits Online scam.
They don't even give you the chance to get a refund, so this is a total scam when we take into account that they don't provide anything valuable.
I have exposed many money-making programs, but some of them let you get your money back, so that's a reason for me not to call some programs scams.
However, in this case, RetailRecruit.org a.k.a. Real Profits Online takes your money for nothing, so this is a complete scam to me.
It's not ok to take other people's money without giving something, it's illegal and so cruel to the people who get scammed.
You're free to do whatever you want at the end, but I have to conclude that I do not recommend RetailRecruit.org.
Use affiliate marketing the proper way
---
Like I said earlier in this review, I use affiliate marketing to earn a 4-digit monthly income online.
When you use this business model in a way that helps other people, then you make money.
It's possible to make money promoting scam programs, but this is not good for the long-term because when people realize that the products/services you promote don't work for them, they don't trust you.
So, if you're serious about making a substantial income online, focus on providing value to other people.
The cool thing about affiliate marketing is that you can choose a topic you love to build your business.
This business takes a lot of time and work to make it profitable, but it will allow you to make passive income and work anywhere you want as long as you have a computer & Internet connection. So I believe this is something worth working on.
If you're committed to putting in the effort, I invite you to check out my FREE guide here:
In my free guide, you will find how this business works, the reasons it works, how I got started, real success stories…
Want to know what's cool? I show you how and where you can start today for free! 
Exactly, you don't need to spend a penny to check it all out and decide if this is the right business for you!
Also, know that you get the chance to get my personal guidance and help! You're not alone in your new venture because tin my favorite platform there are lots of affiliate marketers willing to support you =)
I'm so excited for you to say bye to the dangerous scams and start your affiliate business today!
CHECK OUT MY FREE EARN MONEY ONLINE GUIDE HERE!
I hope this RetailRecruit.org review has been helpful to you and you will make the best possible decision.
Feel free to share it with whoever you believe that will benefit from it!
If there's something else you want to know or you have any questions, please leave your thoughts below and I'll get back to you ASAP! 
Whatever you do next, I wish you the best =)