Welcome to my Copy And Paste Ads review!
Looking at this system and wondering if it's legit? Or is copyandpasteads.com another scam that you don't want to mess with?
If that's what you want to know, I'm glad that you are taking the time to do your own research before getting into another business opportunity.
There are sooo many fraudulent websites out there, so doing your due diligence is the best you can do to avoid scams and find the genuine way to make recurring income online!
When it comes to Copy And Paste Ads, the truth is that it's no different from other systems I have come across, and here I'm going to tell you what you need to know about it.
Copy And Paste Ads review
---
Name: Copy And Paste Ads
Website URL: copyandpasteads.com
Owner: Hidden
Price: $149.95 + other costs
Overall Rating: 1/5
Recommended? No
---
If you're sick of scams, check out my 1st resource to make a 4-digit monthly passive income HERE!
---
What is Copy And Paste Ads about?
---
The moment I saw the Copy And Paste Ads sales page, I thought I was in front of another system that wouldn't be as awesome as advertised.
According to the information on the sales page, you can use this system to earn $300 a day just by copying and pasting pre-written ads.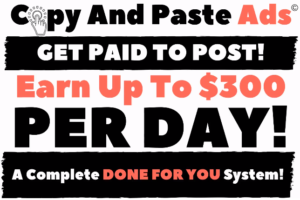 Something that sounds great is the fact that this is a done-for-you system and that 99% of the work is already done.
All you have to do is to copy the ads that they provide you with, paste them on the websites they recommend, use their software to reply to the people who respond to your ads and that's it! Sounds great?
It doesn't sound too complicated. It sounds like a system that can help everyone make money online because copying and pasting stuff is something that anyone with basic computer skills can do. So does this mean that Copy And Paste Ads is the ultimate system that will enable everyone make easy money?
Well, the truth is that it's not as easy as it sound because you do not get paid just to copy and paste ads.
You see, the reason you are going to copy and paste these ads is to promote this exact system. So you only earn $100 commissions when people buy this system through your link. If people respond to your ads but don't purchase this system, you don't earn a cent.
Also, another thing I don't like is that the spokesman claims you can start making money the same day you get started, so can you really make $100 today straight to your PayPal account?
If you are starting out, I don't believe it's possible for you to start making money today because you first need to learn how making money online works and acquire some marketing skills.
If earning an income online was as easy & fast as the Copy And Paste Ads sales page makes it seem, everybody would be already making thousands (if not millions) of dollars online, don't you agree?
Don't be fooled by unethical marketers or scammers who claim you can start making money quickly thanks to their done-for-you system that works on autopilot. There's no secret website or shortcut when it comes to achieving financial success online. 
The fact that he claims you get this system for only $149.95, but you have to hurry up because this is a limited time offer, is another red flag because this is very common in scam programs. This is a fake scarcity tactic they use to get afraid of missing out, so that you make the payment as soon as possible.
In my opinion, this is not an ethical way to market a system so this is something that makes me not trust Copy And Paste Ads. 
Not only that, there are other drawbacks that come with this system, which I'm going to explain next.
How does Copy And Paste Ads work?
---
Copy And Paste Ads does not work as advertised because this system was not created for you to earn money. It was created for the owner to profit.
Yes, you can make money with this system but it's not ethical and definitely not the best way to make money.
To get started, you have to pay the $149.95 initial fee and then you get access to the members area. Out of the $149.95, $100 goes to your recruiter a.k.a. your sponsor and $49.95 is the admin fee.
Once you are inside the members area, you will find different tabs where you can see your contacts (the people you recruit), the pre-written ads, your capture pages, a list of websites to post ads, follow up messages for your referrals, a tracking software, some training on what steps to take and other tools.
You see, all these tools are to promote this system. There's no tool that you can use for another purpose. So you are basically paying $149.95 to get the right to promote this system, which is not worth it in my opinion. More on this later.
After posting your ads on websites like Facebook, LinkedIn and Craigslist, you will have to wait until people see them and text your unique codeword (your tracking id) to the 24hr hotline.
Then, your prospects will receive an auto-reply message that will link them to the Copy And Paste Ads sales page (the exact page you have joined through).
If they make the payment, you will get paid $100 per sale. In order to keep making money, you will need to keep recruiting more people into the system. Recruit, recruit, recruit… t's a never-ending cycle.
RECOMMENDED: Check Out My FREE Earn Money Online Guide Here!
The ads are misleading
---
In my opinion, the ads they provide you with are quite misleading because they are marketing this money-making opportunity as if it was a job, when it's a business.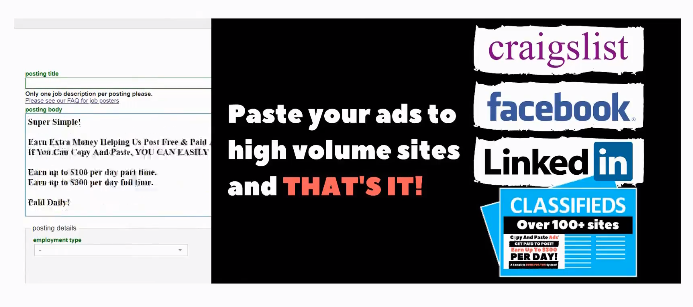 If this was a job, you would get paid depending on the amount of hours you worked. But it doesn't work like that, since you only get paid if you make sales.
It really doesn't matter the amount of hours you work because it doesn't guarantee that you will make money. Yes, the more you work, the more likely you are to make money, but it's still not guaranteed. That's why this is not a job.
Also, it would make no sense that this was a job because jobs don't require you to make a payment to get started.
This is not a good way to promote this system because when people find out the truth, they can feel ripped off. 
It seems that the reason they are promoting it as a job is that this is the way to make people believe they can start making money the same day they join, so that they end up buying this system with the expectation that they will make fast money.
So the main goal of the people who have created Copy And Paste Ads is to profit themselves. If they really cared about you, they would be transparent about this system.
Who's the creator of this system?
---
The fact that the owner of this system doesn't present himself is a big red flag because it shows a big lack of transparency.
He doesn't show his face and he doesn't even reveal his name, so it's not possible to know who we are dealing with.
From my experience, I can say that programs whose owners don't show up tend to be poor-quality programs or scams.
Therefore, the fact that they don't reveal their identity is not a good sign because it means they are trying to hide something.
Scam artists usually avoid showing who they are because if they did, they would get sued or persecuted by their victims.
It's not risk-free
---
Copy And Paste Ads comes with risks for several reasons.
First of all, there are no refunds, so you cannot get your money back in case you buy it but don't like it.
Second of all, there's no guarantee that you will make your money back. You need to make at least 2 sales to get your money back.
Third of all, you will have to spend money on paid advertising to drive leads to your capture page.
Paid traffic is very risky because it takes a lot of trial and error to find out what works and what does not work, so it would require you to invest hundreds or even thousands of dollars. 
Because of that, I believe that this is not a newbie-friendly method because many people who are getting started don't have that kind of money to invest, so it's best for them to learn how to drive free targeted traffic to their offers.
It's similar to other systems that didn't last
---
Copy And Paste Ads works the same way as other systems that are now defunct, like Ad Copy Pros which I reviewed last year.
That system worked in a way that also required members to recruit other people and that was the only way that money came into the scheme.
Honestly, I wouldn't be surprised that the people behind Ad Copy Pros were the same people behind Copy And Paste Ads. Even their names are similar.
These are not the only systems that require massive recruiting. There are lots of systems like these and many of them end up falling down in a matter of time.
The thing is, recruiting schemes are not legal, legitimate or sustainable. They have no retail sales or real products/services that people can benefit from so they don't last long.
There's a limit when it comes to the people who can buy Copy And Paste Ads, so the point where no one joins will come and the money will stop coming into the scheme, which will make it fall down.
If this system offered something apart from the main membership, then it would be more sustainable because it wouldn't only depend on a source of income. But that's not the case.
Also, it uses the same business model as high-ticket programs like MOBE and Digital Altitude, which got shut down by the FTC last year (as of this review). 
Other similar systems that need to be avoided are the following:
RECOMMENDED: Learn How I Make a 4-Digit Monthly Income Here!
Is Copy And Paste Ads a scam?
---
Copy And Paste Ads is a scam or not depending on your perspective.
If you only care about making money and it doesn't matter how long, then this system wouldn't be a scam for you because it makes it possible for you to earn money.
However, if your goal is to generate a substantial income online for the long run in an ethical way, then you would call Copy And Paste Ads a scam because this is the kind of system that is not long-term lasting and it doesn't even teach you to build your own business in an honest way.
You see, investing in a system like is not worth it in my opinion because you could be using those $149.95 to invest in your own business.
Another thing that I don't like about this system is that there are always people who get to spend more money than they earn, not to mention that there are people who don't get the chance to earn their money back.
For example, when a system like this is on its late stages, many of the people who make the $149. 95 payment will not get the chance to promote this system if it falls down at the same time they make their payments. 
And the fact that there are no refunds makes it even worse because those $149.95 will be gone forever, not to mention the wasted time.
At the end, you can do whatever you want with your time and money, but I do not recommend Copy And Paste Ads.
Learn to build a real business
---
If your goal is to make money online for the long haul, then it's best that you focus on building your own online business.
In order to make your business profitable, you need to focus on providing value and helping your audience. 
You see, trying to recruit other people into a system that doesn't provide anything valuable is not the way to go because you wouldn't be building a business that you own and you wouldn't be offering anything relevant, which is very important.
I'm glad that I realized that and I stopped wasting energy on done-for-you systems & scams that promised the world but didn't work. 
I learned about a business model that has been working for many years already and many people are using it to earn a full-time income online.
It's a business that doesn't require you to recruit anyone and you don't even have to promote the same stuff as everybody else.
This business will allow you to make money from products and services that you love, so you will enjoy the process because you will be talking & writing about a topic that you are passionate about =)
I know this business works because I'm living proof. I'm no millionaire but there are some days that I earn over $200, just like you can see in the screenshot below: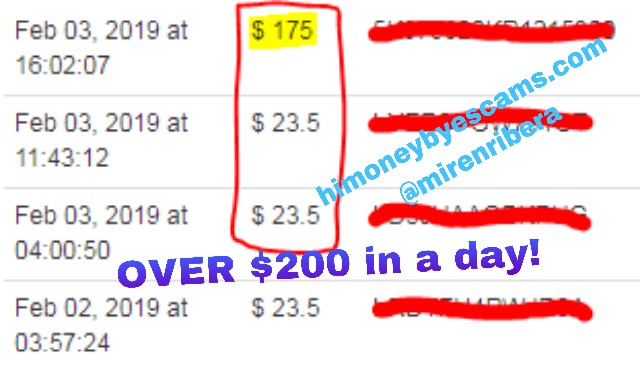 To be completely honest with you, this business is not for everyone because not everyone is committed to learning and taking action. 
If you are one of the few who are willing to do what it takes, then I invite you to check out my FREE guide here:
If you click the button above and read my guide until the very end, you will discover how this business works, the reason it works, how I got started, what training and tools I used…
Oh, and you will also find how and where you can get started for free today! Inside my free guide I tell you how you can start without spending a dime, so you can see how it all works risk-free =)
And this is not all! I also show you how you can receive my personal guidance and help, so you can rest assured knowing that you are not alone in this! You will also discover a community full of like-minded people who will support you 🙂
I really appreciate the messages and comments I have been receiving lately. This message below is from one of the 3,000 people who have joined me:
Now it's your turn! Will you keep wasting your energy on done-for-you systems that don't last? Or will you get on the right way to start building your own biz today?
CHECK OUT MY FREE EARN MONEY ONLINE GUIDE HERE!
I hope this Copy And Paste Ads review has been helpful to you and you will make the best possible decision.
Don't hesitate share it with whoever you believe that will benefit from it!
If there's something else you want to know or you have any questions, please feel free to leave a comment below and I'll get back to you ASAP! 
Whatever you do next, I wish you nothing but the best =)