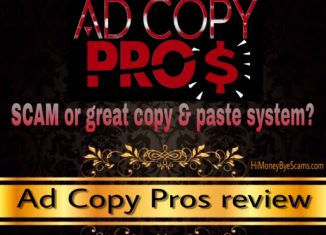 Welcome to my Ad Copy Pros review!
Have you come across Ad Copy Pros (adcopypros.com) and are wondering if you can earn real money with this system? Or is it a scam that you need to stay away from?
There are lots of scams out there and they come in different forms and shapes so it's good that you're doing your research before getting involved in these money-making opportunities.
Here in this Ad Copy Pros review, I will show you what this program is really about, how it really works and more. You will find out everything you need to know to make an educated decision.
.
Ad Copy Pros review
---
Name: Ad Copy Pros
Website URL: adcopypros.com
Owner: Pamela James?
Price: $25 and $100
Created in: March 2018
Overall Rating: 15/100
.
---
If you're sick of scams, check out my 1st resource to make money online here!
---
.
What is Ad Copy Pros about?
---
I personally don't like the fact that the first page of Ad Copy Pros doesn't contain all the important information.
I mean, there's only this overhyped claim "This super simple copy & paste system that splits out unlimited $25 payments!!", but there's no information about how it works and who the people behind this amazing system are. 
And then, if you want to know what this program is about, you have to complete a form with a name and an email address so I completed it with dummy information because I felt something was not right about this system.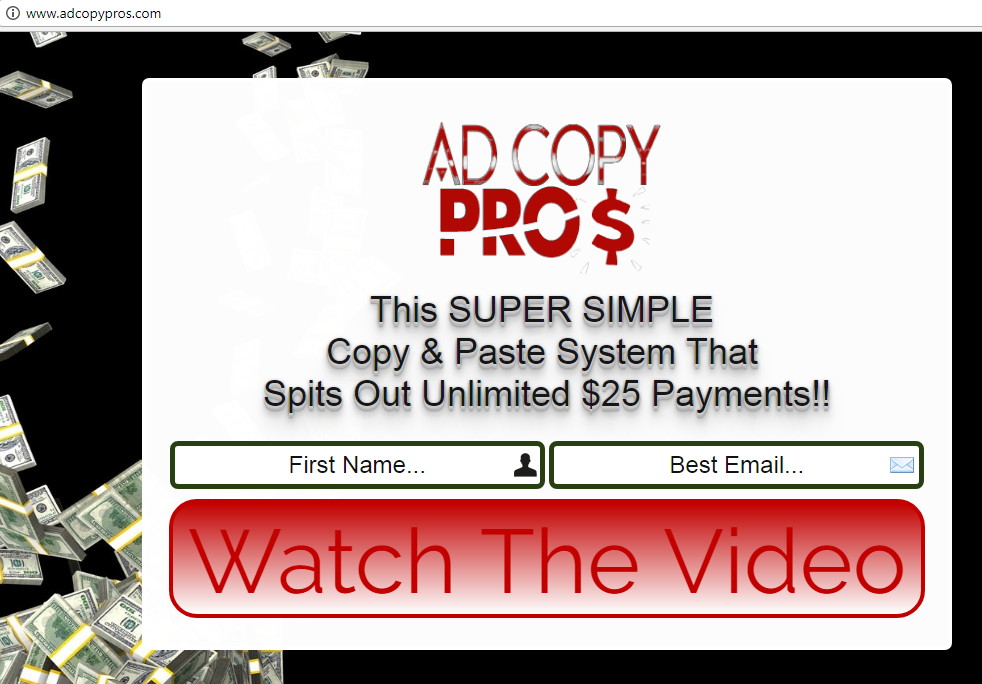 Then I got access to another page where I could start watching the sales video, which is not long.
So what's this system about?
According to the spokeswoman, you can earn $25-$500 per day just by copying and pasting the ads they provide.
It sounds like an amazing system that anyone can make money with because you're not required to have any experience or technical skills, this is not a MLM opportunity and you don't even need to sell anything.
They make it seem like this program is making it so easy and simple for people to start earning money online, so let's see how this really works because it's not what it appears to be.
.
How Ad Copy Pros really works
---
They're supposed to give you over 100 pre written ads, email swipes, headlines and more.
They claim these are pre written ads for the hottest opportunities online, but the truth is that all of this is focused on getting you to promote Ad Copy Pros itself.
All you have to do is to copy and paste these ads on various social media platforms like Facebook and Twitter. In fact, I've seen some people promote it and I personally do not like the way they're doing it. More on this later.
Once you promote or copy the ads on social networks and get other people to buy into this program through your referral link, you will earn commissions.
There are two package to make money from:
The first package costs $25.

The second package costs $100.
In order to earn 100% commissions ($125 per sale), you'll have to purchase both packages and also pay a $10 licensing fee.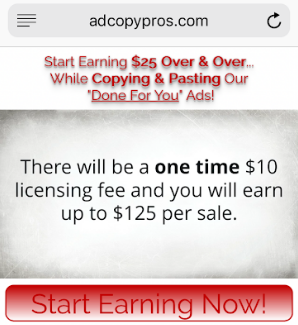 For example, if you only buy the first package but your referral buys both packages, you will only earn $25 and the rest ($100) will go to whomever has qualified (whomever has purchased the two packages).
The payment is a one time fee so there are no monthly fees but you will not be able to earn residual income either because everyone who's taking part in this money-making opportunity only makes a one time payment.
When it comes to getting paid, they claim to send payments via PayPal, Money Gram, Money Order, Western Union and Bitcoin.
So is it possible to earn money here? Yes, doing massive recruiting is what you will have to do to make a lot of money.
.
Is Ad Copy Pros a scam?
---
After seeing how this "make money online" opportunity works, I've reached the conclusion that this is a cash gifting scheme a.k.a. a ponzi scheme, which is a scam.
Yes, it's possible to earn some money from this, but it's not legal or ethical.
I'm going to explain some of the problems and red flags that come with this system.
.
No information about the owner/s of Ad Copy Pros
---
There's no about section and the spokeswoman doesn't even present herself.
According to whois.com, the registrant contact of the adcopypros.com domain is Pamela James, but who is she? There are many people with this name, so there's no way to know who this person really is.
The fact that she does not show up is a red flag to me, it means that she's hiding her identity which is an indication of a lack of transparency. 
I've been reviewing "make money online" sites and programs for a while and have noticed that most sites whose owners do not show up have ended up being scams.
.
Lack of important pages
---
The Ad Copy Pros sales pages have no privacy policy, no terms & conditions and no disclaimer pages. Pages that you would expect from legitimate companies/businesses.
This is a red flag because these pages are essential to make an educated decision concerning a company, so the fact that they have not provided any legal pages for Ad Copy Pros means that they do not really care about us making an informed choice.
How are they going to use the information we provide? What are their rules when it comes to terminating accounts? No way to know it.
.
It has no value
---
What about the product? They're supposed to offer an ad copy service, but the truth is that this service is only to get you to get other people to buy into Ad Copy Pros.
If their focus really was in the service, then they would offer this service apart from the Ad Copy Pros packages. They would allow people to buy the service without having to become Ad Copy Pros members.
So what does this mean? Simply put it, people are buying into it just to make money from recruiting others.
.
It's marketed as a get-rich-quick scheme
---
Another huge red flag is the fact that this is being marketed as a get-rich-quick scheme.
You can observe below the typical get-rich-quick claims: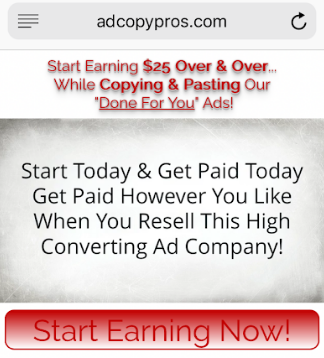 "Start earning now!" and "get paid today" make this sound like a system that is going to help people make money immediately without doing much work. 
They make it seem like you just have to copy and paste some ads and then will start making money right away. 
But don't get too excited because there's no such thing as making money fast or easily. 
No matter the method you use, you will have to put in the work and time so don't fall for these money-making programs that promise you can earn money fast.
If it were that easy, don't you think everyone would already be rich?
.
False expectations
---
The way people are promoting this is by giving false expectations to other people.
Take a look at the Facebook post below:
As you can observe above, this Facebook user is promoting Ad Copy Pros in a very unethical way.
He/She's telling people they can earn $500 per day just by sharing a 5 min video, which sounds very unrealistic and know this is not possible.
He/She's not being transparent about what it takes to earn money online, this person just wants to make a quick buck by getting other people to purchase this system.
And then, people who buy into this will get disappointed when they see that there's no such thing as making hundreds of dollars per day without putting in the work.
So if you do not care about ripping people off just to make money, then go ahead and try this system for yourself.
I personally will not buy into this because I don't like deceiving people and the business model this Ad Copy Pros system is using is not sustainable for the long-term.
.
It will not last
---
I don't believe Ad Copy Pros will last. It was created on 9th March 2018 so it's practically new as of this review (today is 21st March 2018).
This program will not last unless they provide a valuable service because the money only comes from people who make the one time payment as of now.
Therefore, the moment people stop buying into this, the money will stop coming into the program so it will get shut down.
This is how these ponzi schemes work. They last for a few months or even a year and then they get shut down because there's a limit when it comes to the amount of people who are willing to buy into this.
Apart from that, it comes with a risk because there's no guarantee you will make any money. I mean, you can spend $125 on the two packages but you cannot get a refund in case you don't make any sale.
.
A real way of making money online
---
I highly do not recommend that you buy into Ad Copy Pros, but the final decision is up to you.
After everything I've found out, my conclusion is that this program is not the best option to make a full-time income online, especially if you're looking for something that works for the long run.
The way you can stop falling for the get-rich-quick hype is by keeping in mind that earning money online doesn't happen overnight. Without putting in the effort and time, you will not earn anything.
Another thing is, you also need to know what you really want. Are you looking to earn a living online or you just want to make extra money?
If your goal is to make a job-replacing income online, then building your own online business is the thing to do.
The business model I'm using allows me to earn a consistent income month after month while helping other people.
It doesn't require me to recruit anyone and I don't have to promote the same thing everyone else is doing. I can choose the products I want to earn money from.
I had to (and still have to) work my butt off but it's worth it in the end. Great things take time to build, no matter what you want to accomplish in life.
And I believe that anyone who's willing to learn, work, have patience and stay persistent, can make it happen. Having the proper education and tools is something that is also important.
By clicking the button above now, you will learn how this business works, how and where you can get started for free and more.
You will get to know the active and ethical place where I got started back in 2016 and haven't looked back since.
I also want you to know that you will not only get my personal help and support, you will also get to meet other bloggers and Internet entrepreneurs.
LEARN ABOUT MY TOP RANKED PROGRAM NOW!
It's your time to stop falling for scams and get your online business started today!
I hope you have found the answers you were looking for regarding Ad Copy Pros.
If there's something else you want to know or want to share your opinion, don't hesitate to leave a comment below and I'll get back to you soon.
Best wishes 🙂