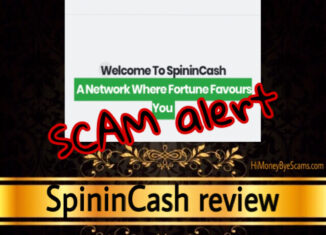 Welcome to my SpininCash review!
Is SpininCash.com a scam or legit earning network? Should you try it out or should you avoid it?
No matter the questions you have about SpininCash.com, here you will find everything and anything you need to know about it. 
You know, there are lots of websites that promise you will make money online, but many of them are scams that don't pay.
So knowing what's a scam and what's legitimate will help you discover how you can earn passive income every single day.
I'm glad to see that you have found this SpininCash review because I'm sure that it will help you decide whether this so-called network is right for you or not.
For your information, here you will not find any referral link because it's not my purpose to recruit you into spinincash.com, I'm here to tell you everything they are hiding from you.
SpininCash review summary
---
Name: SpininCash
Website URL: spinincash.com
Owner: Hidden
Registration date: 3rd June 2020
Cost: Free to sign up (but it can take your money)
Who is it for? The owner
Do I recommend it? No, it's BS!
---
If you're sick of scams, check out my 1st resource to make a 4-digit monthly passive income HERE!
---
What is SpininCash about?
---
SpininCash.com is a new website that claims to be a network where fortune favours you, which can allegedly get you assured prizes daily. It sounds wonderful, but I have seen some red flags that lead me to believe their claims are not real.
They say that you can earn money every day by using social networks like Facebook, Twitter, Instagram and Snapchat. These networks have lots of members and users, so just imagine how much you can make if you get lots of referrals.
It all sounds awesome because SpininCash sounds like a website that makes it easy and fast for people to start making money online.
I mean, the fact that it's free to sign up and the $35 sign up bonus makes it sound like a great deal, don't you think?
SpininCash claims you can earn $15 per referral and $2 per every unique link click, which sounds amazing but unrealistic at the same time.
I mean, SpininCash can be considered a GPT (Get Paid To) website because it's about completing tasks, but if you take into account how much other GPT websites pay, you can conclude that SpininCash promises too much.
GPT websites are only good to earn some extra cash, not a full-time income like SpininCash promises. I don't know 
However, legit GPT websites are only good to earn some extra cash, not a full-time income. I haven't heard of any legit GPT website that pays a full-time income just to complete tasks or get referrals.
Some of the alarming red flags I have found indicate that SpininCash.com is no better than these other websites:
How does SpininCash.com really work?
---
SpininCash.com claims you only need to join for free, share your referral link on social media, complete some tasks and that's all! Doing that will allegedly make you money.
If you get referrals, clicks and complete tasks, you can see your spinincash account balance increase and increase, which probably makes you think that you're earning real money.
However, if you think about how SpininCash makes money as a company and where the money comes from, you can conclude that it's not possible to generate the kind of money they promise.
SpininCash has exactly the same business model as other websites that are scams, so I believe that spinincash.com cannot work as advertised.
For example, they claim you can earn $35 per token and each task compensates you with 4 tokens which equals $140, which I believe it's too much because each task takes about 10-15 minutes to complete, which is little time.
Each task is not hard to complete and anyone can do it because they consist in filling out forms, downloading apps and giving away personal info, so they are basically telling you don't need to do much work to make money.
You see, it makes no sense… who on Earth would pay $140 for something that can be done in a few minutes and many people can do?
Most people don't even earn $50 in an hour, so how can SpininCash afford to pay over $140 for something that takes very little time & effort?
Also, if you take into account that other legit companies pay cents for doing those kind of tasks, you can conclude that SpininCash sounds too good to be true.
If you were an advertiser/partner and had to pay SpininCash, would you pay $140 or more for getting a simple phone number or knowing someone's opinion? I believe most people could definitely not afford to pay that.
So, I'm sure that SpininCash cannot afford to pay $140 per task because they are getting paid as much as $3 when a member completes a task. So the numbers don't add up.
SpininCash also promises to pay $2 per click, $15 per referral and $35 after signing up. But how can they afford it, knowing that they're not generating any ad revenue and they're not even selling any services or products?
Oh, and they not only need to pay members, they also need to pay employees and cover other expenses, so how can they even profit as a company? If they paid members, they wouldn't profit as a company.
So I have to conclude that they're not paying members!
No info about the creators of SpininCash
---
The fact that there's no info about the people behind SpininCash is definitely a red flag to me.
Knowing who's behind a website or company is important because it can help you determine how your experience will be.
I mean, you wouldn't like to join a website whose owners are known scammers, right?
The creators of SpininCash.com are not doing anything differently than most scam artists because these unethical individuals lack transparency, and that's something that can be said about the people behind this platform.
There are no photos of themselves and they don't even mention their names, so there's no way to know who you are dealing with.
Without knowing who they are, there's no way you can trust them. So why would you join a website whose creators cannot be trusted?
I personally stay away from websites whose owners are being dishonest. If they want you to give them your personal data, they should at least be real about their identities, don't you think?
Fake website stats
---
SpininCash claims to be global and has allegedly paid over 300K people, but I have a deep belief that their claims are completely fake.
And it's not only something I believe, it's something that can be concluded if you think logically.
According to a reputable website called whois, the spinincash.com domain name was registered in 3rd June 2020, so it's basically been a month (as of this review) since SpininCash was created.
As a website that has only been around for a month, do you think they have paid millions of dollars to members? No way! It's way too new of a website to have been able to make that amount of money.
If you add the fact that the business model doesn't allow SpininCash to earn the kind of money they promise, you can conclude that SpininCash is lying about its stats.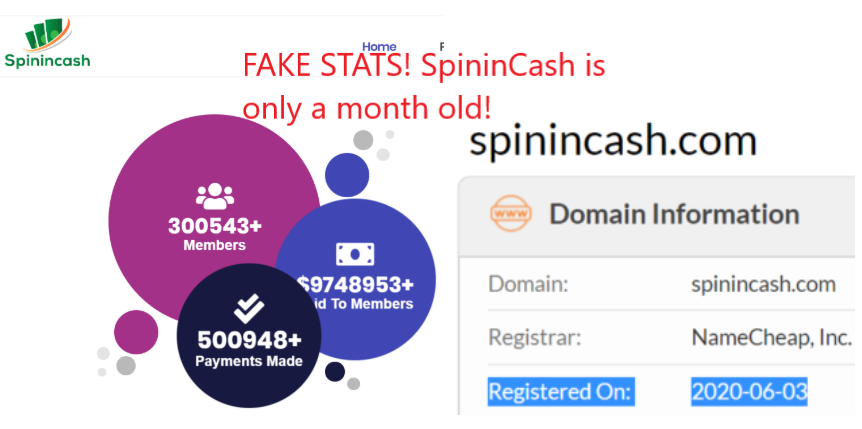 This is definitely a red flag because it indicates that SpininCash wants you to believe you'll make money, when in reality they haven't paid anyone.
Lack of real testimonials
---
Another big red flag is the fact that there aren't any positive real testimonials or payment proofs.
Yes, the SpininCash website has some payment proofs, but the problem is that they're fake…
I know this because those payment proofs are prior to the existence of SpininCash, which indicates that they're not real because members could not get paid by a platform that didn't exist back then.
And when it comes to testimonies, they're completely fake too. Those tweets are not real because they don't exist.
For example, this tweet by "Denise C. Perry" is completely fake because it cannot be found on Twitter, not to mention that the username @lour1993 is not connected to SpininCash.
Below you can see what I mean:
This is proof that no real influencers are talking positive about SpininCash. All the tweets that can be found on spinincash.com are invented, and you can confirm it by looking for them on Twitter.
I personally didn't find any real tweet, which leads me to believe that there are no real testimonials. The only ones who are promoting SpininCash are people who want to recruit others because they think that they will get paid.
You see, if SpininCash was real, they wouldn't have had to create fake testimonials & payment proofs. 
Are you even allowed to use SpininCash.com?
---
I know this might sound like a stupid question because you've probably joined already, but the reason I've asked this is because I want to point something out.
In case you haven't read their terms & conditions, you need to know that they state that if you are under the age of 99, you are not allowed to use SpininCash.
I'm completely sure that everyone using SpininCash is not 99 or older, so why do their terms & conditions state that only people of 99 years of age or older can use it?
Well, that's the way that the owners of SpininCash can get away with not paying you! They will say that you were not allowed to use SpininCash because you are under 99.
They're basically taking advantage of the fact that they know most people won't read their terms.
Is SpininCash.com a scam?
---
With all the scam signs that SpininCash.com has, don't you think it has to be considered a scam?
In my opinion, the people behind SpininCash are the same who created CashGem and the other websites I mentioned, since they have similar claims and work the same way.
These fraudsters want as many people as possible to join their websites because the more people who register, the more personal data they collect.
With lots of email addresses, names, passwords and other info, they can sell it all to other scammers and hackers who will do the same.
They also ask for your payment information because they want to get access to your paypal and bank account to steal all your money. 
You see, the more info these fraudsters get, the worse it can get for you. They will not only steal your money, they will also try to steal your identity. 
All of this can give you lots of problems that I'm sure you don't want and you don't deserve. 
So for me, SpininCash is a complete waste of time and effort, that's why I have decided not to promote it. I don't want anyone to get scammed.
Many of the people who have fallen for this kind of websites end up not only feeling frustrated, but also guilty for having told others to sign up.
What you decide to do is up to you, but my final verdict is that it's best to avoid SpininCash.com at all costs.
Stop falling for frauds! Here's how I make daily passive income online
---
You don't deserve to fall for frauds, you deserve to earn passive income every day, just like I and other people do.
If you have wasted time on a scam site like SpininCash, it's time for you to take action to achieve your goals.
You know, you cannot get your wasted time back, so it's important to ensure that your next efforts go towards a real way to make you money.
I'm not going to say that you don't need to put in the effort or time because I would be lying, and I hate lies. 
The truth is that if you put in the time and effort, you can make your dream a reality! The business I'm using is called affiliate marketing, which is about helping people find solutions to their problems, and if they purchase something that can help them, I earn commissions.
I'm living proof this business works, as you can see in one of my payment proofs: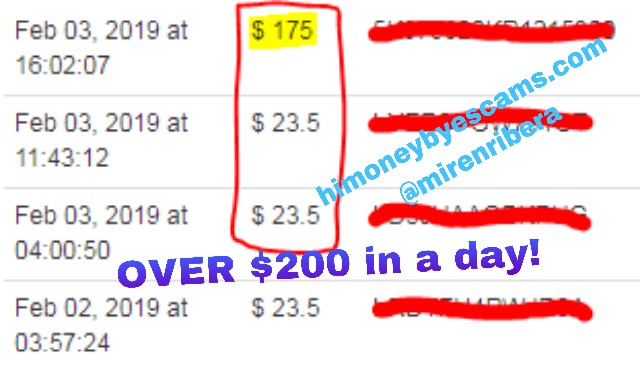 Why am I showing this? Because I don't want those scammers to make you lose hope, I want you to see with your eyes what's possible.
If you're committed to earning passive income every day, I invite you to check out my FREE guide here: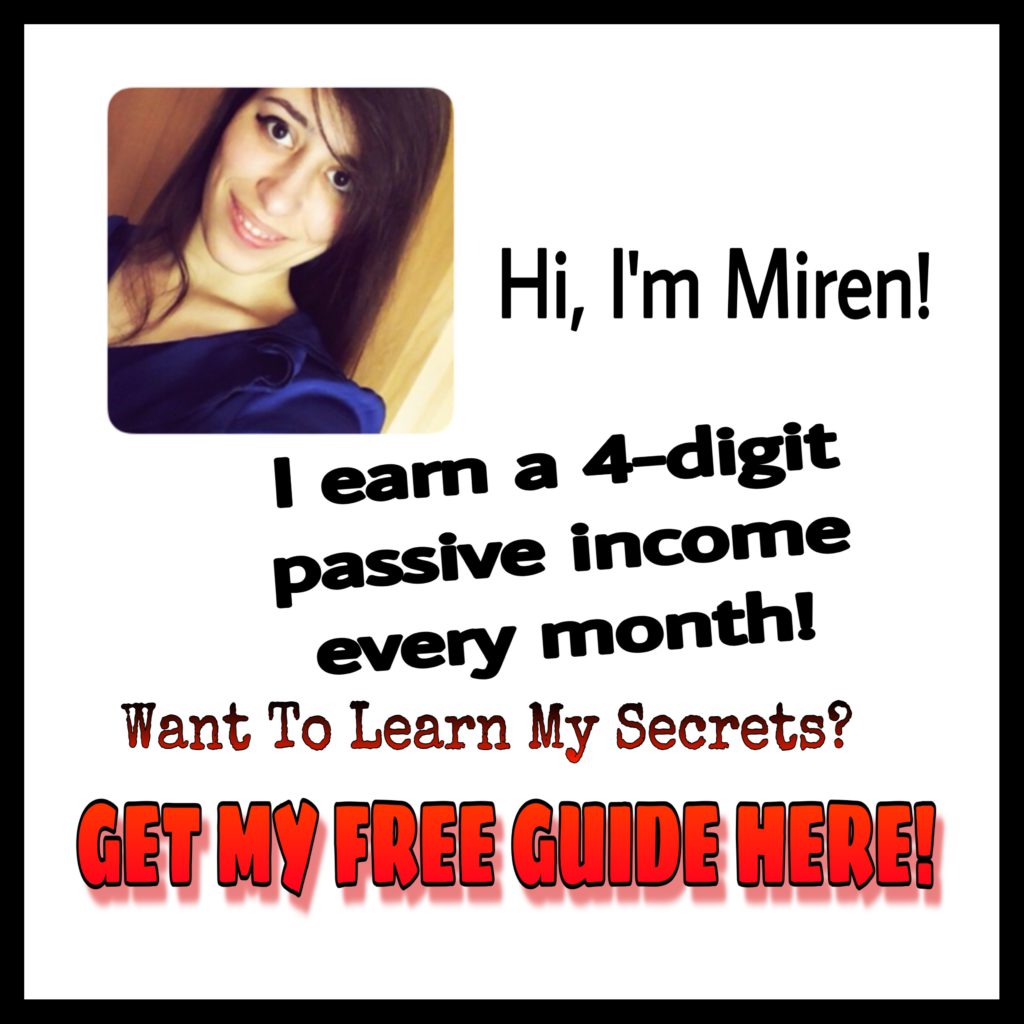 My guide is FREE (no login information required, just click here to start reading it), which means that you have nothing to lose and a lot to gain 🙂
Oh, and what if you ever have questions or need support? No problem! I'm not like those scammers because I'm transparent about who I am and I also show you how you can get in touch with me. 
If you read my free guide until the end, you will learn how you can get started today for free, what training and tools I've used, the reasons this method works, proof that it works and so on. 
Stop wasting your time on fake websites and start your affiliate marketing journey today!
I will leave this quote here:
If you want something you have never had, you must be willing to do something you have never done.
I hope this SpininCash review has been helpful to you and you will make the best possible decision.
Feel free to share it with whoever you believe that will find it helpful!
If there's something else you want to know or you have any questions about SpininCash.com or would like to share your experience, please leave a comment below. I love hearing from you all!
Whatever you do next, I wish you nothing but the best =)