Welcome to my MoneyRewards.co review!
Has someone sent you to this Money Rewards platform and you are wondering if it's a scam?
Or is this a legit GPT site that can help you make $10 per referral?
If that's what you want to know, I'm happy that you are on this post because here I reveal the full truth about this platform.
As you can imagine, there are too many frauds out there, so it's great that you are doing your due diligence because that's the way to avoid scams and find the legit way to make money online!
When it comes to moneyrewards.co, the truth is that it's not a legitimate platform you can trust and this honest review proves it, so keep reading to discover what they are hiding from you!
MoneyRewards.co review summary
---
Name: Money Rewards
Website URL: moneyrewards.co
Owner: Hidden
Price: Free
Recommended? No
---
If you're sick of scams, check out my 1st resource to make a 4-digit monthly passive income HERE!
---
What is MoneyRewards.co said to be?
---
Money Rewards is a website is said to be the #1 influencer platform that can help you get paid for using social media.
You just need to sign up for free, get your referral link and share it on social networks like Facebook, Twitter or Instagram.
When someone joins through your link, you supposedly earn $10, which is too high in my opinion.
I mean, $10 per referral is too high because joining is free. No one is paying to sign up!
So where does the money come from? It makes no sense that they will pay $10 when someone joins for free because they are not getting paid when people sign up.
According to their stats, there are 55K members and Money Rewards has paid them over $14 million dollars. But don't you think it sounds too good to be true?
They definitely make the process of earning money online sound too easy and fast because anyone can join for free and share their referral links.
You see, there are lots of GPT (Get Paid To) sites that claim you can get paid to get other people to join. But the ones that work usually pay cents per referral.
All the sites that claim you can earn $10 when someone joins for free have ended up being scams!
That's right, there are many sites like Moneyrewards.co that are scams that don't work, and this is something that people realize when it's too late and they have already got ripped off.
Well, now that you are reading this honest review, you are about to discover why MoneyRewards.co doesn't work for you to make money.
RECOMMENDED: Check Out How I Make A 4-Digit Monthly Income Here!
---
The fact that MoneyRewards.co is free to join is something that can make you think it's not a scam.
You might be wondering "how can a site that doesn't ask for payment be a scam?"…
Well, the truth is that there are multiple ways to make money at other people's expenses and scammers know it. They know the way to make money at your expense without asking you to make a payment.
In this case, when someone registers to moneyrewards.co, the con artists collect their personal info like their email address, password and name.
Their goal is to collect as many personal information as possible because they can use this information to profit at your expense.
Therefore, when they tell you that you will get paid to get other people to sign up, they are lying to you because they will not pay you. They want you to do their dirty work, which is to promote this scam!
The more people who join moneyrewards.co, the more money the scammers make.
Once they have collected lots of email lists and passwords, they will sell this information to other scammers, who will do the same.
Not only that, they will also send you emails about this fraud or other scams. They will do the most to take your money.
You can also expect them to use the password (you have used to sign up to moneyrewards.co) to get access to other personal accounts like your PayPal account and steal your hard-earned money.
Because of this, I recommend that you change your passwords or add extra protection to your accounts. 
And this doesn't stop here! Inside the moneyrewards.co scam site, you can find a "paid offers" section with some tasks that can supposedly make you $30.
However, these tasks require you to visit fraudulent sites or download games/apps that contain viruses & malware, which can harm your device!
I definitely don't recommend that you spend time on those tasks because they will not pay you! They have not paid any members, everything on the moneyrewards.co site is fake!
The testimonials are fake
---
What about the positive comments about moneyrewards.co? They have allegedly been written by members who have money with this.
Well, that's what they want you to believe. They want you to think that other people are making money, but the truth is that those comments are fake!
How do I know they are fake? Well, some of them are said to be from members who joined in 2018, but that cannot be possible because MoneyRewards.co didn't exist in 2018.
According to whois.com, the domain name moneyrewards.co was registered in February 2019, which is an indication that Money Rewards didn't exist last year (as of this review).
In my opinion, all the comments on the moneyrewards.co site are fake and have not been written by real members. They have been written by the scammers instead.
The "recent payments" and "latest payouts" sections are also fake because no one has got paid.
As you can see, there's no real proof that can verify those payments are real. 
If people were getting paid, don't you think that there would be some real positive Money Rewards reviews outside the moneyrewards.co site? All real reviews I found are negative!
There's no information about the creators
---
So who has created moneyrewards.co? What are the names of the people behind it? They don't provide this information.
I also took a look at their social media profiles but they don't say anything about who they are.
In my opinion, they don't show up because they don't want us to know who we are dealing with.
They are scammers who know that if their victims knew them, they would get sued or persecuted. They definitely don't want to face the consequences of ripping people off.
I know that the moneyrewards.co site has been created by scam artists because they are the same scammers who created other scams like viraldollars.co, kidshavemoney.com, kidsearncash, viralpay.co, Notion Cash…
All these platforms are very similar because they have the same structure, same lies, same fake claims, they work the same way… 
Sick of scams? Want to make passive income every day?
Check Out My FREE Earn Money Online Guide Here!
Other red flags
---
There are other red flags, such as the "as seen on" fake claim and the lack of support.
First of all, the "as seen on" is not real because MoneyRewards.co hasn't been recognized by CNN, Forbes, Yahoo or Business Insider.
If you click on the icons, you can see that they take you nowhere. You can also go to their websites and search for moneyrewards.co and will see how there's no connection with those famous companies.
The truth is that moneyrewards.co has these icons to gain credibility. The scammers want you to think that moneyrewards.co is such a famous website that is positively recognized, when the truth is that moneyrewards.co is a new copy of other scams.

Apart from that, the email address contact@moneyrewards.co is fake because it doesn't exist, which means that you will not receive any response if you send them a message.
As you can see below, there's no mail server for that email address:

What does this mean? The owners of moneyrewards.co don't want you to get in touch with them. They don't want to hear from you.
A legitimate company that cares about their customers or affiliates wouldn't lie about their contact information, don't you agree?
MoneyRewards.co review – Final verdict
---
MoneyRewards.co was only created to make the scammers richer. It was definitely not created to help you earn money online.
As I told you, it works the same way as other scams like Kids Earn Cash, which didn't pay anyone but the unethical marketers who created it.
I personally have only seen complaints and negative comments about this kind of scams. When members claim their payments, they never receive their money. 
Instead, the scammers will do the most to steal their members money. That's why they want their personal & financial information.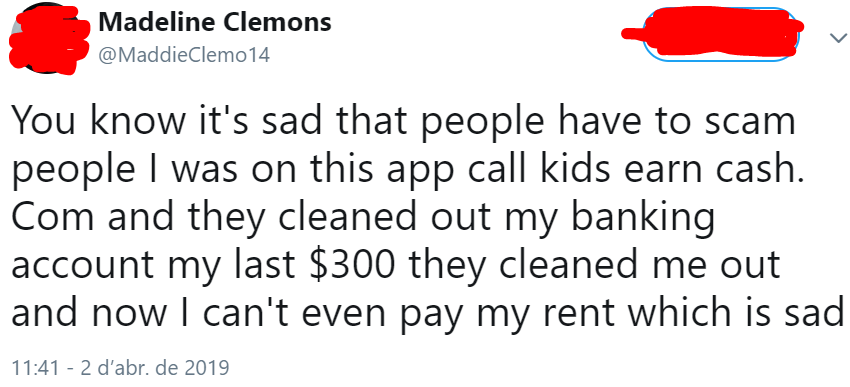 Therefore, if you get involved with moneyrewards.co, you will waste your time and money, and will also end up feeling frustrated and disappointed.
Scams like this are also bad for your emotional health, since the feeling you have after you realize you have been scammed is obviously negative.
What you decide to do is up to you, but I have to conclude that I highly do not recommend MoneyRewards.co.
What does it take to make passive income every day?
---
Some days ago, when I came across moneyrewards.co and other similar scams like viraldollars.co, I saw that some members said they were happy they would get paid for doing nothing, which made me conclude that most newbies don't know what it takes to earn money online.
I actually feel bad for people who think they can make money for doing nothing because they don't know the value of things. Why do people think that making money online is easier & faster than making money offline?
Just because it's online, it doesn't mean you can make money quickly or without doing much work.
When people realize that making an income online takes time and effort, they'll stop wasting their energy on websites like moneyrewards.co.
No matter the method you use to make money online, you'll have to make efforts! This is like anything worth achieving in life, without real work you can't expect to get what you want.
If you accept this and you're committed to learning and taking action, I believe you will love to use the legitimate business model I'm using to earn passive income every day.
This business has nothing to do with recruiting, trading or pyramid schemes. Instead, it's a business model that gives you the chance to make money while researching, writing & talking about a topic you are interested in.
In other words, this is your opportunity to make money while doing more of what you love =)
I'm living proof that this business works, as you can see here, there are days that I have earned over $200: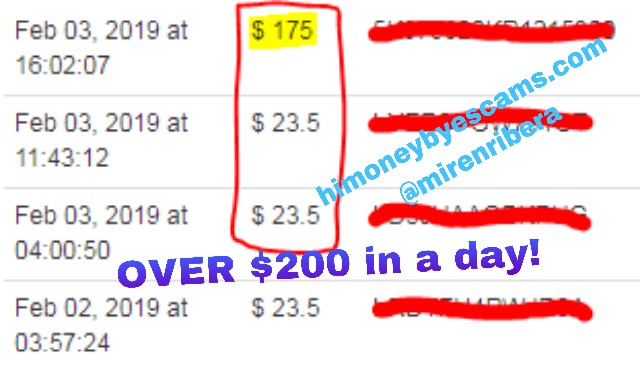 There are many people who are working from home thanks to this business, so if others are doing it, I don't see any reason you can't do it as well.
You see, when I got started I didn't have any experience or special skills, and English is not even my first language. The truth is that the only limits that exist are the ones in our minds.
If you are interested in learning how this business works, I encourage you to check out my FREE guide now: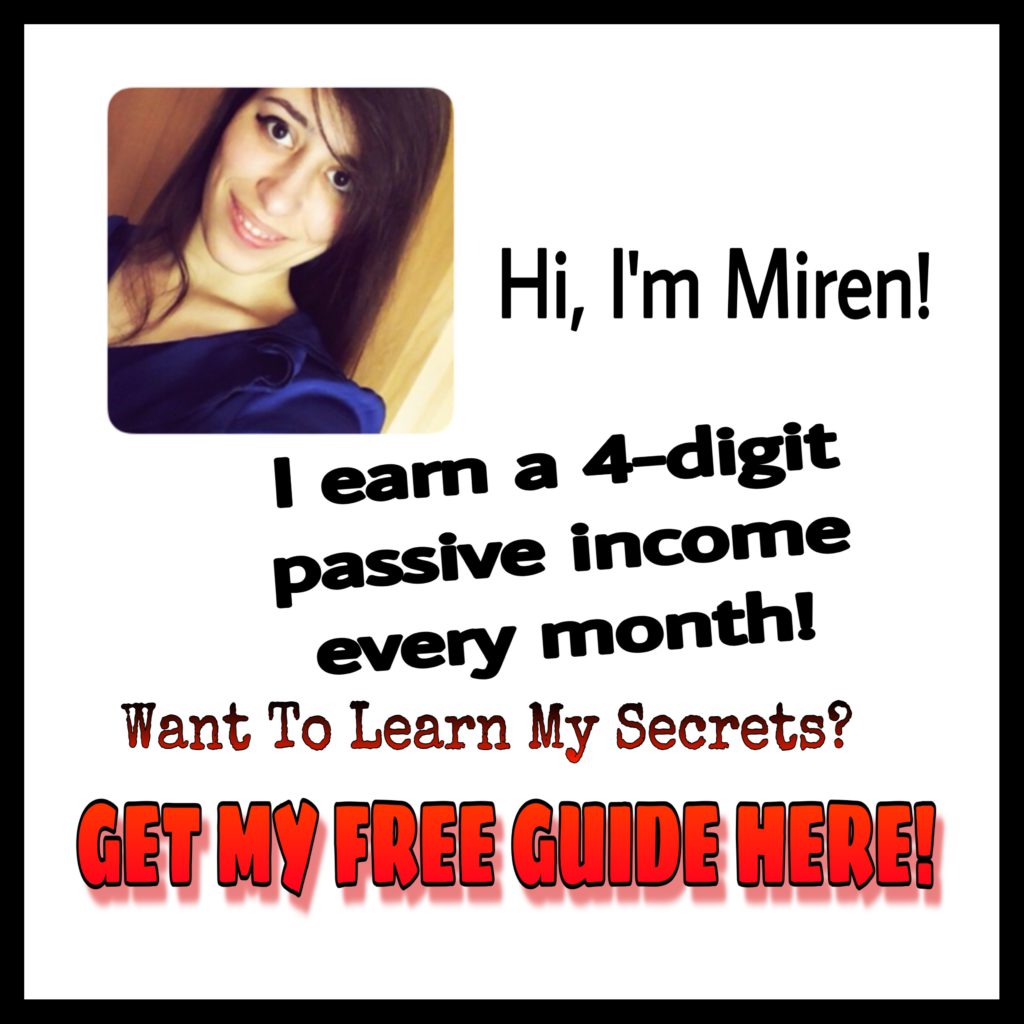 You see, my guide is FREE (just click here and start reading it), so you have nothing to lose and a lot to gain!
You will learn the method I used to build this business, the reason this business works, the benefits of this business, the income potential, real & inspiring success stories…
Also, if you read my guide until the end, I will show you how you can receive help and support from me and thousands of Internet marketers. You can rest assured knowing you are not alone in this new venture!
Are you ready to get on the right way to make money online?
I'll leave this quote here:
If you want something you have never had, you must be willing to do something you have never done.
I hope this MoneyRewards.co review has been useful to you and you will make the best possible decision.
Feel free share it with whoever you believe that will benefit from it!
If there's something else you want to know or you have any questions about moneyrewards.co or anything else, please share your thoughts below and I'll get back to you ASAP!
Whatever you do next, I wish you nothing but the best =)