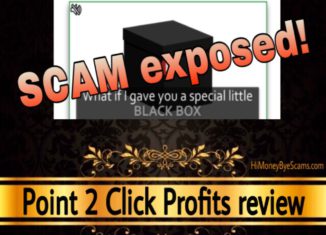 Will Point 2 Click Profits scam not work to make you money? Or is this a legit system?
If that's what you are wondering, you are in the right place because this Point 2 Click Profits review reveals everything you need to know about it.
Before getting started, I must congratulate you for taking the time to do your own research before buying into another money-making program.
There are so many frauds out there, so I believe that doing your due diligence is the way to avoid scams and discover how to make a full-time income online.
When it comes to Point 2 Click Profits, there's a lot that they are hiding from you so keep reading to find out everything you need to know.
Point 2 Click Profits review
---
Name: Point 2 Click Profits
Website URL: ggsystemstm.pro
Owner: "Charles MacAllister"
Price: $47 + upsells
Recommended? No
---
If you're sick of scams, check out my 1st resource to make a 4-digit monthly passive income HERE!
---
What is Point 2 Click Profits about?
---
I recently received an email about this Point 2 Click Profits system, so I decided to click on the link and take a look at it.
I usually receive plenty of emails with links to scammy products, so I didn't have high hopes for this one. But I was like "why not check it out to see if this is better than the others?", so I went to the Point 2 Click Profits sales page.
When I saw the sales page, I felt something wasn't right because the sales page looked like other scam sales pages I have come across in the past.
With that said, I took the time to do my homework before coming to a final conclusion.
According to the spokesman, you are going to get access to a secret little black box that will help you earn $500 per day with Amazon.
He says that this black box has a button that you just have to push to get $500, so does he mean that you just have to click once a day to earn $500 per day?
In other terms, this secret black box is even better than the lottery! You could just click 10 times a day to get $5000 per day lol. Doesn't it work like that according to "Charles" (the spokesman)?
He also claims you need to do nothing after clicking the button on the black box. You just click and let the system do all the work for you.
Now let me ask you: doesn't this sound too good to be true? Why isn't everyone doing this instead of working at jobs they hate to make waaay less than $500 a day?
You see, when you think logically you realize it makes no sense that someone is going to give you something that can make you $500 per day while doing nothing. 
If it really worked, then he would use this black box to make that money himself, don't you think?
Truth be told, there are no push-button systems or websites where you can get money on demand for nothing. People who tell you otherwise are scammers who want to profit at your expense, so when something sounds too good to be true, it's usually (not to say always) a scam!
In this case, "Charles" is saying what you would like to hear to get you excited about this "system". He knows that if you believe Point 2 Click Profits works, you'll probably buy it, which is his real goal.
RECOMMENDED: Check Out How I Make A 4-Digit Monthly Income Here!
How Point 2 Click Profits really works
---
Point 2 Click Profits does not work like "Charles" told you. This program works to make money to the people who have created it.
It's a get-rich-quick scam that only works to make the con artists richer, while it's a waste of time and money for you.
First of all, it's not possible to make $500 per day at a click of a button, not to mention that clicking a button will not even make you a penny.
When it comes to making money online, it's possible to earn $500 a day and even more, but it takes a looot of effort and time to reach that point.
Apart from that, it's possible to earn money with Amazon, but it also takes work and time. All money-making methods require you to put in the work.
The reason it's not possible to earn money with Amazon the same day you get started is that you first need to get approved.
For example, if you want to make money as an Amazon affiliate, you need to have a website or a mobile app to get approved. The approval process takes a few days, so you cannot expect to profit on the same day you start out.
Also, after getting approved, you need to drive visitors to your website because without traffic, there's no money to be made.
This is something that "Charles" doesn't tell you because if you knew, you probably wouldn't buy Point 2 Click Profits.
He acts as if making $500 a day was kind of magical, when in reality making money online is like making money offline because if you don't work, you don't earn a dime.
What will it happen if you buy Point 2 Click Profits?
---
If you purchase Point 2 Click Profits for $47, you will not get a system that can make you $500 per day.
In fact, you will not even get something that can help you make little money. 
As I said, their aim is not to help you make money. Their aim is to make as much money as possible off of you.
Therefore, after making the $47 payment, you can expect some upsells that cost hundreds of dollars. 
They also ask for your email address and phone number, which means that you can expect them to send you emails related to this Point 2 Click Profits scam or other scam products.
And you can also expect some sales calls aimed at convincing you to spend more money on their BS products.
They will also share your email address and phone number with other unethical gurus, who will not hesitate to sell it to others. 
The truth is that these scammers never stop trying to steal money from hard-working, honest people. 
You see, in the checkout page they lie to you when they say that the page will expire. This is a lie they tell you to make you buy on impulse.
Point 2 Click Profits scam signs revealed!
---
Still doubting if Point 2 Click Profits is a scam? You don't need to take my word for it, I'm going to give you solid proof!
No information about Charles MacAllister
---
The truth is that Charles MacAllister is not the real owner of Point 2 Click Profits.
There are other scams that are very similar to this one, such as Real Profits Online, Money Sucking Websites, Website ATM, Cash Bonanza…
These programs have the same structure, same sales pitch, same lies and same red flags as Point 2 Click Profits, which is an indication that Point 2 Click Profits is a copy of these other scams I exposed.
Also, they lied about the owner! So how can we trust a site that has a fake owner? No way I can rely on it!
"Charles MacAllister" doesn't even provide you with a way to get in touch with him. If he's trying to make you his customer, why doesn't he give you a way to contact him to receive help and support? This is indeed another red flag.
The testimonials are fake
---
Do you remember the people who appear in the sales video and mention the thousands of dollars they have earned thanks to Point 2 Click Profits?
I know it's exciting to hear that other people have made money with this program, but the problem is that these people are not real members.
In other terms, these people have not earned any money with Point 2 Click Profits. They are fake testimonials that the scammers are using to gain credibility.
For example, this man you can see below is not a real member: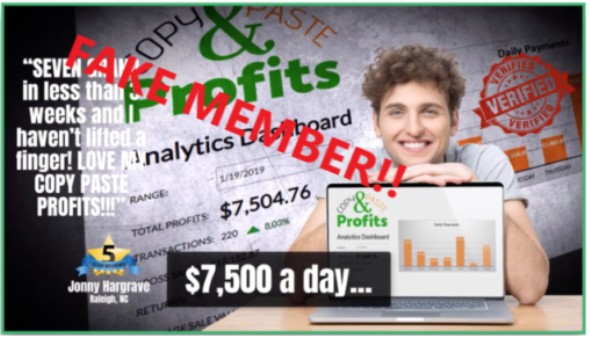 His real name is not Jonny Hargrave and he has nothing to do with Point 2 Click Profits. Something weird is the fact that the name in the background is "Copy & Paste Profits" instead of Point 2 Click Profits.
As you can see below, this picture of him is a stock photo that can be found here: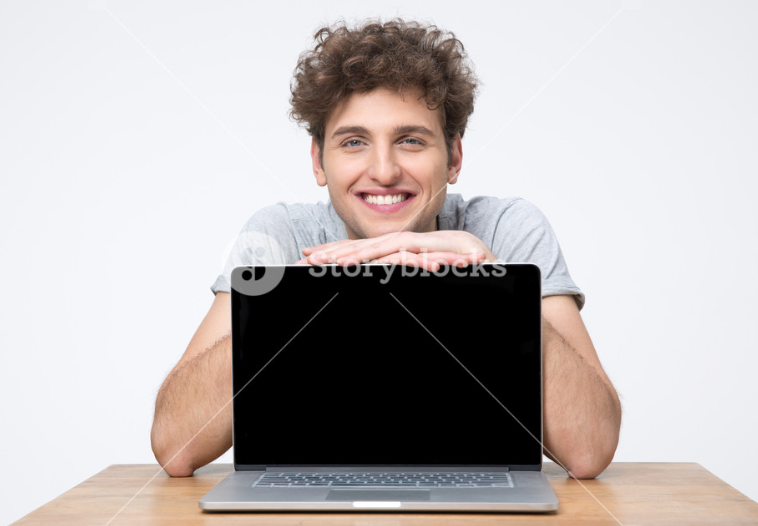 If members are making thousands of dollars a day with this "awesome system", why are they using fake testimonials? Obviously, no real members are making money. The only ones who profit from this are the unethical owners.
Sick of scams? Want to make passive income every day?
Check Out My FREE Earn Money Online Guide Here!
This company is behind other scams
---
The scams I mentioned earlier (Real Profits Online, Website ATM, MSW System…) have been created by the same scam company that has created Point 2 Click Profits.
This is something I know because their privacy policy mentions easykits.org, which is the same domain name that the other scam pages mention.
So what's wrong with EasyKits.org? It's not a legitimate company. 
This website has lots of negative comments and complaints that prove they cannot be trusted. They definitely don't care about their customers.
Just read this complaint from someone who got scammed by them:
You see, they even deceive people to charge them as much money as possible. This is completely unacceptable!!
They definitely cannot be trusted because their actions prove that they only care about the money & information they can steal. 
Point 2 Click Profits scam review – Final conclusion
---
Is Point 2 Click Profits a scam? After everything I've found and explained, I believe that Point 2 Click Profits is a total scam.
If you have fallen for it, you can't even expect them to give you your money back because their goal is to take as much money as possible.
In case you email or call them, they will not reply because they don't want to hear from their customers. People who care about you wouldn't deceive you like this.
There are no real members who have benefitted from Point 2 Click Profits because it was only created to benefit the con artists. Such a selfish goal they have!
It's programs like this the ones that give the "make money online" industry a bad reputation because it gives newcomers false expectations. 
So, Point 2 Click Profits is a waste of time and money. And it's also harmful for your emotional health because it leaves you frustrated and disappointed. 
Therefore, I will not waste more energy on this Point 2 Click Profits scam.
What you decide to do is up to you, but my final verdict is that I highly do not recommend Point 2 Click Profits.
Are you serious about making passive income?
---
If earning money online is important to you, then keep reading what I am about to tell you.
As I said earlier in this review, it's possible to make passive income online as long as you are willing to put in the effort and time. 
The business model I use makes it possible for you to earn money with Amazon and other marketplaces.
As a newbie, you don't need to create your own products because you'll be able to choose between thousands & thousands of products to earn money from.
You see, you'll be able to make money from products & services that are related to a topic you are passionate about.
In other words, you have the opportunity to make money while researching, talking & writing about something you love. Pretty cool, don't you think?
I'm living proof that this business works, as you can observe below: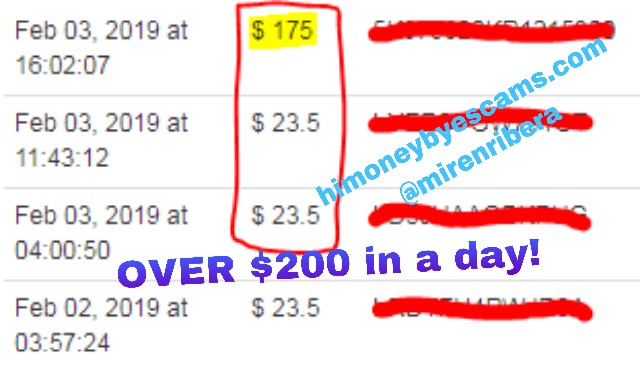 There are lots of people who are generating passive income with this business, so if they can do it, so can you!
Oh, and did I mention that you can get started today for free? If you read my free guide here, I'll get you FREE ACCESS to my recommended training platform!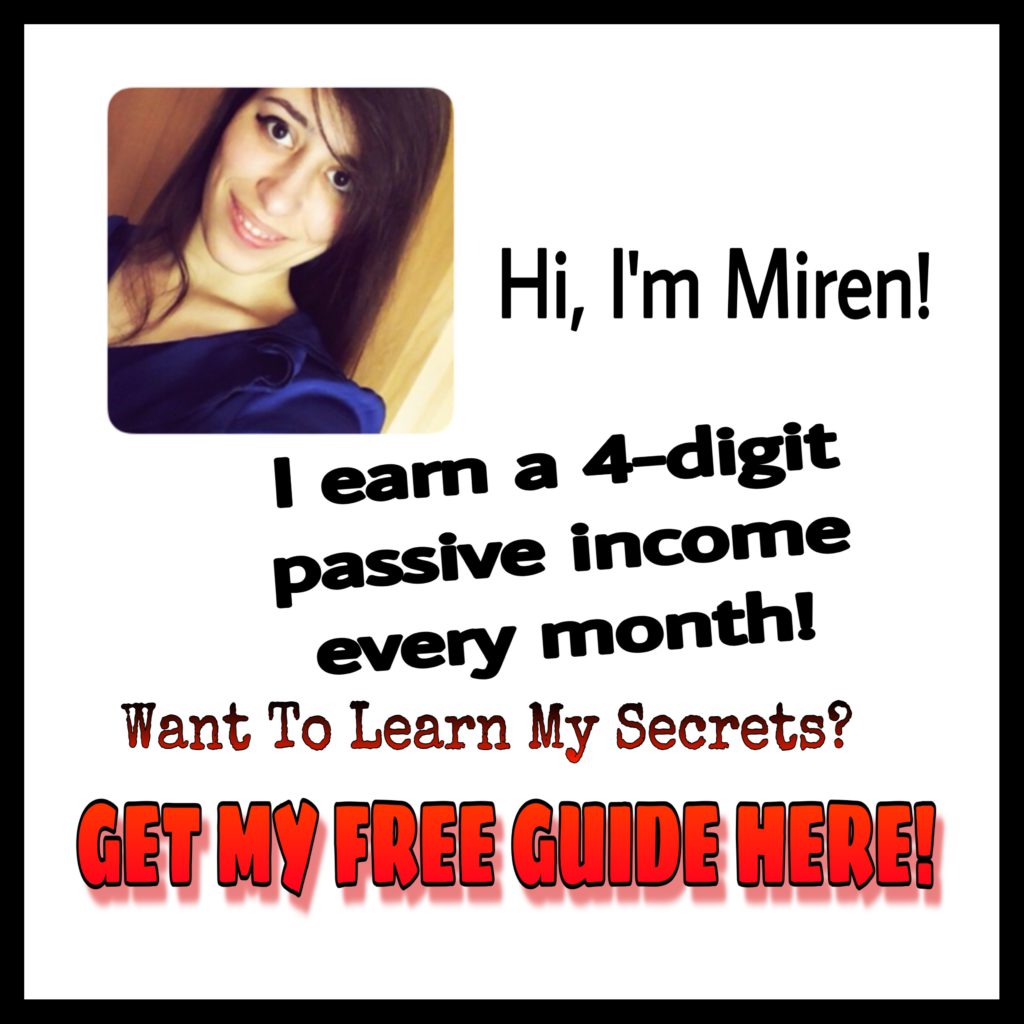 You'll see there's nothing hidden in my free guide! It reveals my step-by-step passive income method, the reason this business works, how I get free traffic to my website, the income potential…
Also, my guide will show you how you can get help and support from me and thousands of Internet marketers. I can guarantee that all your questions will be answered!
Are you ready to start your online passive income business today?
I'll leave this quote here:
If you want something you have never had, you must be willing to do something you have never done.
I hope this Point 2 Click Profits review has been useful to you and you will make the best possible decision.
Don't hesitate to share it with whoever you believe that will benefit from it!
If there's something else you want to know or you have any questions, please leave a comment below. I would love to hear from you!
Whatever you do next, I wish you nothing but the best =)