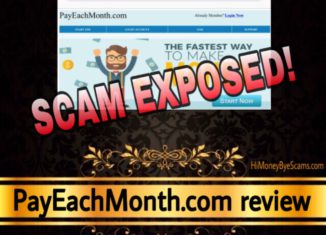 Will PayEachMonth.com scam you and waste your precious time? Or is it a legit online money-making opportunity?
If that's what you need to know, I'm glad that you have come across this honest Pay Each Month review because here you will discover the complete truth about this platform.
It's great that you are doing your due diligence because that's the way to avoid the ugly scams and find the legitimate way to earn money online!
When it comes to Pay Each Month, the truth is that it's not as awesome as they have told you and here you will see why.
So make sure you read this review until the end, my goal is to point you out in the right direction!
Pay Each Month review summary
---
Name: Pay Each Month
Website URL: payeachmonth.com
Owner: Hidden
Price: Free
Recommended? No
---
If you're sick of scams, check out my 1st resource to make a 4-digit monthly passive income HERE!
---
What is PayEachMonth.com about?
---
Pay Each Month is a website that claims to provide you with the easiest & fastest way to make money online. 
They say that you only have to register for free, copy your referral link and share it on social networks like Twitter, Facebook and Instagram. You can also share it via forums, chats, private messages… wherever you can think of.
Once you have shared your referral link, you apparently earn $5-$10 when other people click it and sign up through your referral link.
Also, you get a $10 bonus after joining for free. Sounds cool?
However, they will not allow you to claim your payment after having reached the minimum payout threshold of $300.
So they force you to share your referral link lots of times to reach the high minimum payout threshold. 
It all sounds so easy and fast because anyone with basic computer skills and an Internet connection can do this.
I mean, most people know how to copy and paste a link. But is Pay Each Month really that awesome? Why haven't most people joined this site and quitted their jobs already?
The truth is that it doesn't work like they say… Yes, you will see that your earnings balance increases as long as you share your referral link, but the problem comes when it's time to cash out because they will not pay you!
Pay Each Month wants you to believe that making money online is as easy as sharing a link, when in reality it's not. It takes much more than that, but those scammers will not tell you the truth because if you knew it, you would probably not join payeachmonth.com.
The owners of payeachmonth.com are hiding a lot from you, which I'm going to reveal in the next section.
Sick of scams? Want to make passive income every day?
Check Out My FREE Earn Money Online Guide Here!
The truth about the PayEachMonth.com scam
---
The truth is that PayEachMonth.com was only created for their owners to profit. It wasn't created for you to earn money online.
Many people are joining because it's free to join, so they don't see the danger. How could a site that doesn't ask for payment be a scam?
Well, scams come in different forms nowadays. The creators of payeachmonth.com want to collect as much personal data as possible to profit from it.
When someone joins for free, the con artists get their email address, name, password and other information like their address.
Then they want as many people as possible to share their referral links because the more people who click on the links, the more people who sign up.
The more members, the more personal data they collect and the more money they make.
If you are wondering how they make money, there are multiple ways that I'm about to explain.
Once they have a big list of email addresses, they sell it to other unethical individuals, who will do the same.
This is a big red flag because they are putting you at risk for identity theft, which is very dangerous!
Apart from that, they will use your information to send you spam emails related to this scam or other fraudulent sites.
They will also use your info to steal your personal accounts, such as your PayPal account. So I recommend that you add extra protection to your accounts. 
And that's not all! They also try to make money when you claim your payment.
You see, after asking them to send you the money, they will ask you to complete a fake captcha test, which is a list of tasks to complete.
If you complete those tasks, the owners of PayEachMonth.com will make money at your expense. You will probably think that when you finish completing them, you will get paid, but the truth is that it doesn't work like that.
Those tasks are about downloading apps/games, filling in forms, signing up for trials (they will ask your financial information) and giving your information to other fraudulent sites.
I personally do not recommend that you spend your time on those tasks for several reasons:
They are infected with malware & viruses, which can harm your device.

It's a way to make money to the scammers.

They will ask you for your personal & financial information to profit from it.
The only ones who benefit when you complete those tasks are the scammers, so don't waste your precious time on them!
Who has created PayEachMonth.com?
---
There's no information about the people who have created payeachmonth.com, which is a red flag because it indicates that the owners are trying to hide something.
Honestly, I'm not surprised that they are hiding their real identities because this is very common in scam sites.
I have reviewed hundreds of websites, and have found that the ones that don't provide any information about its owners tend to be low-quality programs or scams that don't work.
Because of this, I cannot trust PayEachMonth.com.
Lack of legal pages
---
Another red flag is the fact that they don't provide any legal pages, such as the privacy policy and terms & conditions.
These are the pages that you would expect to find in any legitimate website, so the fact that payeachmonth.com doesn't inform us about it is a big red flag.
This is an indication that they don't want you to know how they are going to use your personal data. If they didn't intend to sell your personal info to other scammers, don't you think they would state it? It's clear that they're not going to use your information in an ethical way.
Apart from that, the Pay Each Month site is not safe or secure, since it doesn't have the padlock next to the domain name payeachmonth.com.
My advice for you is that you don't get involved in sites that are not secure because it means your information is in danger.
There's no support
---
So what will you do if you have any questions or issues related to payeachmonth.com?
You probably think that you just need to send them an email and wait for their response. After all, they provide members with this email address…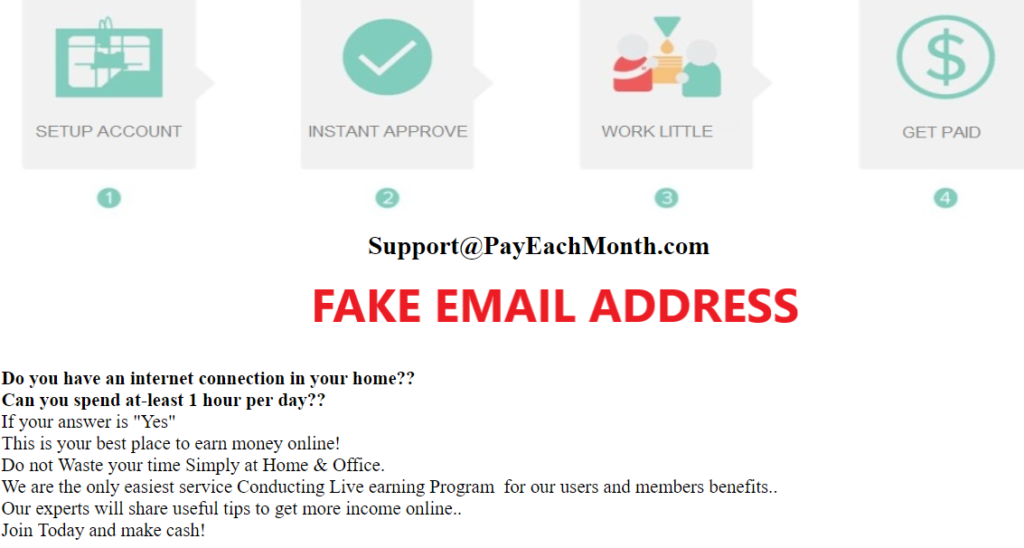 The problem is that this email address is fake because it doesn't exist. I used this website to determine if the email address support@payeachmonth.com was real or not and it says it's unknown, which is a red flag because when an email address is real, it simply says "ok".

If you send an email to support@payeachmonth.com, you will receive the "mail delivery subsystem" message that indicates the email couldn't be sent.
You see, they don't really care about their members because when you care about someone, you don't lie to them about your contact information. This is an indication that they don't want to hear from their members.
RECOMMENDED: Check Out How I Make A 4-Digit Monthly Income Here!
It's like other scams
---
PayEachMonth.com is no different than other scam sites that claim you can make easy and fast money.
There are lots of fraudulent websites like this one. As you can observe below, payeachmonth.com and doweeklyjob.com are identical!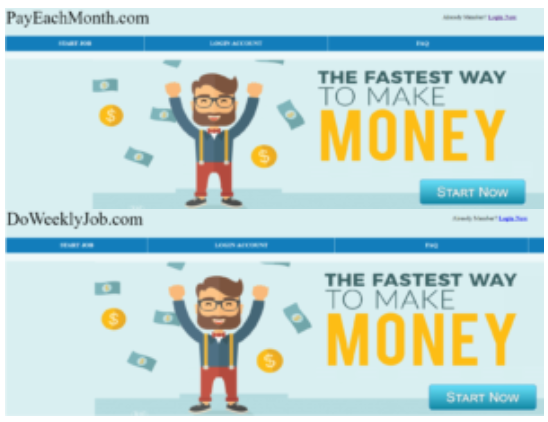 So, which site provides the fastest way to make money? None of them! Both doweeklyjob.com and payeachmonth.com are scams that don't work.
There are many scams like these that take advantage of people who don't know how the process of making money online works.
You see, there are no positive reviews of payeachmonth.com! I only found a negative review. If members were making real money, there would be some positive reviews. 
PayEachMonth.com scam review – Final verdict
---
After everything I've found and explained, it's clear that payeachmonth.com is a scam site that doesn't work for you to make money.
Pay Each Month only works for the unethical marketers who have created it. They are the only ones who profit at other people's expenses.
What they're doing is unnecessary and so cruel because there's no need to make money by lying or deceiving other people. They clearly have no empathy because if they could experience how it feels to get ripped off, they wouldn't do this. 
Scams like this don't only waste your time, they are also harmful for your emotions because when you realize you have got scammed, you feel frustrated, disappointed… and it can also lead you to lose hope when it comes to making money online.
You see, scams like payeachmonth.com are the ones that give a bad reputation to the "make money online" industry because it gives beginners false expectations.
I personally will not be wasting my time on payeachmonth.com because it would only benefit the scammers. 
If you are one of those people who are sharing their referral links, you may want to stop sharing it and share this honest review instead.
What you decide to do is up to you, but my final verdict is that I highly do not recommend the PayEachMonth.com scam.
Want to know how to make real money online?
---
If you are serious about leaving the scams behind and earning real money online, see what I have to tell you.
It's completely possible to make passive income, but it comes with hard work and dedication. Making a living online is like anything worth achieving in life, you are required to make efforts.
If making money online was easy or fast, lots of people would have already quitted jobs they hate, don't you agree?
When I opened my eyes to the truth, I stopped wasting my time on scams and started working real hard.
I'm grateful that I found a business model that has been working for decades because this is what has allowed my to work from home.
In fact, I can work from anywhere I want as long as I have a laptop & Internet connection.
This business has nothing to do with MLM, trading or recruiting. Instead, this is about building a business based on a topic you are passionate about!
In other terms, you get the chance to make money while researching, writing & talking about something you love =)
I'm living proof that this business works, there are days that I have earned over $200, as you can observe here: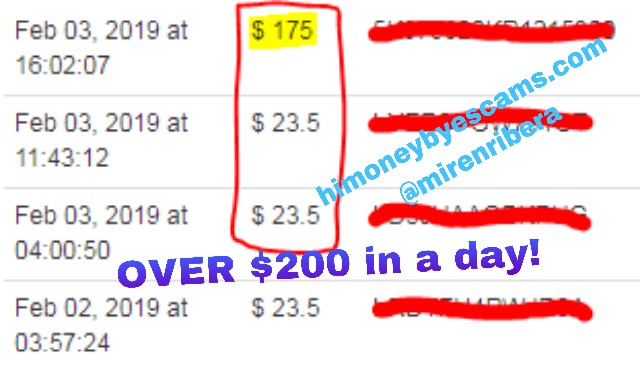 If someone like me has reached this point, I believe you can do it too. I started as a total newbie and English is not even my native language, so I believe this is achievable for anyone.
If you are interested in learning how this business works, I encourage you to check out my FREE guide now: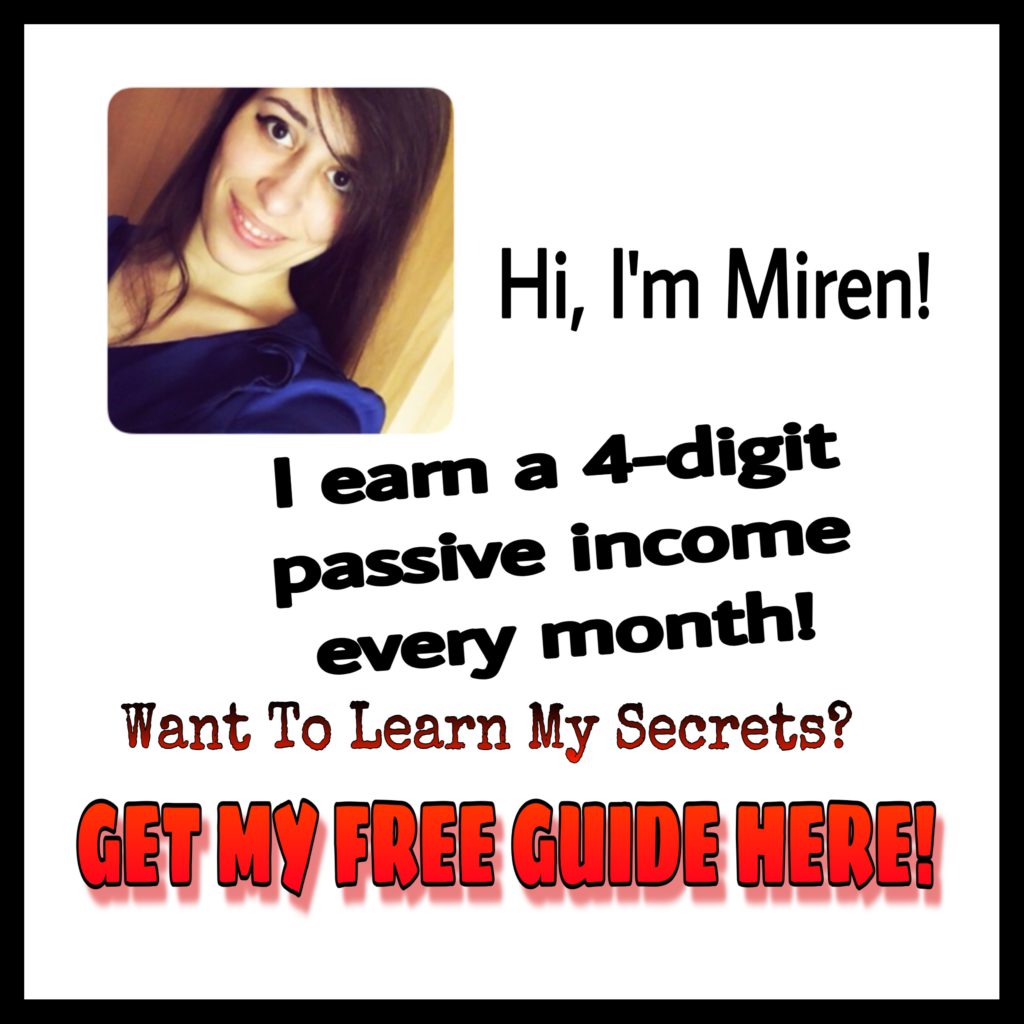 You see, my guide is FREE (just click here and start reading it), so you have nothing to lose and a lot to gain!
You will learn the method I used to make passive income every day, the reason this method works, what business model I use, inspiring success stories from people who started from scratch…
Also, you probably have lots of questions, so let me tell you that you are not alone in this new venture because in my guide I show you how you can receive my personal guidance and how you can receive other people's support =)
Are you ready to say bye to the scams? Are you excited about getting on the right way to make money online?
I'll leave this quote here:
If you want something you have never had, you must be willing to do something you have never done.
I hope this Pay Each Month review has been useful to you and you will make the best possible decision.
Feel free share it with whoever you believe that will benefit from it!
If there's something else you want to know or you have any questions about payeachmonth.com or anything else, please share your thoughts below and I'll get back to you ASAP!
Whatever you do next, I wish you nothing but the best =)