Welcome to The Great Heist review!
Have you landed on thegreatheist.co site and are wondering if it's a scam?
Or is it a legit system that will help you make money online?
If that's what you need to know, I'm glad that you have found this honest review because here I reveal the full truth about this program and how it works.
Before getting started, let me congratulate you for taking the time to do your due diligence! That's the way to avoid the ugly scams and find the legit way to earn passive income online!
When it comes to The Great Heist, it's no better than other money-making products I have come across and this honest article proves it.
The Great Heist review summary
---
Name: The Great Heist
Website URL: thegreatheist.co
Owner: Hidden
Price: $9 + upsells
Recommended? No
---
If you're sick of scams, check out my 1st resource to make a 4-digit monthly passive income HERE!
---
What is The Great Heist about?
---
Someone sent me a link to The Great Heist sales page, so I thought I would check it out to see if this product would be better than the others.
The name "The Great Heist" is different than the names of most money-making products because the others usually contain the words "profit, money, cash".
However, when I landed on the sales page, I didn't get good vibes because it looked similar to other sales pages I had come across in the past.
With that said, we can never conclude if a book is good by only looking at the cover, so I took the time to do my homework before coming to a final conclusion. 
According to the spokesman, a global financial crisis is on the verge of rearing its ugly head in 2019… I remember hearing the same thing in other products like Insider Profit Groups and The China Secret.
I remember reviewing those products when they came out and I've noticed that they are no longer around. They had the same structure, same claims and same price as The Great Heist.
I actually checked out the Insider Profit Groups sales page and it's no longer being sold on ClickBank, which is a big red flag!
As you can see, they violated their terms of service:
Therefore, the fact that The Great Heist and Insider Profit Groups are connected is not good because it means that The Great Heist could be one of those products that don't last, something that is very common nowadays.
Many marketers value more the quantity of products they launch and the amount of sales they make than the quality of their products. It's quite rare to find a product or business opportunity that lasts.
Anyway, The Great Heist is said to include a money-making secret known by a very few people and the opportunity to get involved in a billion dollar market.
He claims this system doesn't require you to have any previous experience or skills and that anyone can do this.
Apparently, the spokesman makes over $4,000 per day thanks to this amazing system and now he's giving you the chance to make it work to make you a lot of money.
Truth be told, he basically gives you unrealistic expectations about making money online and how this "system" works.
Once you are inside the members area, you realize this is not as awesome as they told you outside.
RECOMMENDED: Check Out How I Make A 4-Digit Monthly Income Here!
How The Great Heist really works
---
The Great Heist does not work as advertised. It's not even a system that you can rely on to make money online.
It's basically a product that was created to put more money into the owners' pockets.
If you purchase The Great Heist, you will not get access to a system that can help you make quick money, not to mention that this is not even a program you can trust to make money for the long-term.
So what will you receive? Some PDFs about making money with cryptocurrency and e-commerce. Well, there's another category called The Great Heist that contains an ebook about The China Secret, which contains information about email marketing and Facebook marketing.
These methods are legitimate, but the problem is that The Great Heist doesn't provide any step-by-step directions. The PDFs and ebooks you can find inside the members area are quite basic and generic.
Therefore, when you are inside the members area, it's not easy to know what to get started with because there's no guide on what business is best for you.
I mean, e-commerce, cryptocurrency, Facebook marketing and email marketing are all different so it's easy to get lost.
Because of this, I don't believe The Great Heist is beginner-friendly! It will not help you make any money because it doesn't provide enough information to succeed with these methods they mention.
Don't you think it would be best that they provided useful information about a specific method instead of little information about multiple methods?
I don't like the fact that they don't tell you about this in their sales video because it's important to know what you are spending your money on.
You don't buy something without knowing if it will be useful to you, right?
In this case, The Great Heist will not help you earn any money because it's not comprehensive enough. What you get is not what they advertise in the sales video, which is unethical.
You see, in the sales video they tell you that you can make money for almost no cost, which is not true because the methods they talk about require you to make an investment.
Who has created The Great Heist?
---
If I asked you who has created The Great Heist, what would you say?
You probably wouldn't know, am I right? The spokesman behind The Great Heist doesn't tell us what's his name or how we can get in touch with him.
He doesn't show any picture of himself and doesn't even say if he has a website or social media profiles. So there's no way to know who he really is.
Not only that, at the bottom of their sales page they state that "this letter features the use of a pen name", which is something that I have read in other scam pages.
It actually makes sense. Scam artists never reveal their real identities because they don't want to get caught.
They know that they would get persecuted or sued if their victims knew who they really are.
Does it only cost $9?
---
According to the sales page, The Great Heist only costs $9, which is not that much.
However, after making the first payment, you will get bombarded with a few upsells that cost hundreds of dollars.
This is how these con artists make those thousands of dollars they talk about. They first tell you that you can make money without spending much money to get you to buy the cheap product, and once they see that you have made the payment, they try to convince you to spend even more money.
They will tell you that their upsells can help you accelerate or increase your profits, but the truth is that they don't.
You see, they bombard you with thse upsells before they allow you to get access to the members area. This is a red flag in my opinion!
I mean, why can't they let you see if the product you have purchased is good enough and then tell you about the others? It's clear that their main goal is to make as much money as possible.
Lack of important information
---
Another red flag is the fact that they don't provide any legal information.
They don't provide a privacy policy or terms & conditions pages, which are pages that contain important information you need to consider.
Without privacy policy, you don't know what they are going to do with the email address they ask you for. Websites like this that are not transparent about how they use email addresses tend to sell them to other unethical marketers who will do the same.
Because of this, you can expect to receive spam emails related to other "make money online" websites or scams. They will also ask you for more information to profit from it.
These scammers do the most to get as much money as possible, so I wouldn't trust websites that have no legal information.
Will it last? I don't think so!
---
The Great Heist was created by the same people who created programs like Club 365 (used to be found at club365.co), which is no longer around.
How do I know this?
As you can see, the Club 365 members area is like the The Great Heist members area:
I tried to log into the Club 365 members area but the product is no longer available because it violated ClickBank's terms of service, which is the same thing that happened with Insider Profit Groups.
In my opinion, the owner/s of The Great Heist are the same people who created Club 365, Club Shanghai and Insider Profit Groups.
This is a red flag because these other products didn't last, which is an indication that The Great Heist will probably not last either.
If your goal is to make a long-term income online, you can't rely on The Great Heist.
Sick of scams? Want to make passive income every day?
Check Out My FREE Earn Money Online Guide Here!
The Great Heist review – Scam? Final verdict!
---
Whether The Great Heist is a scam or not depends on your perspective.
Some people will call it a scam because it doesn't live up to its promises and it will not help you make money online.
Other people will not consider it to be a scam because it gives you something for your money.
However, the information provided can be found online for free so I don't consider The Great Heist is worth it.
Another point I want to make is that they don't provide any support! They claim you can contact them via support@thegreatheist.co, but this email address is fake.
I used an email checker to verify their email address and the result I got is that there's no mail server for that email address, which means that it doesn't exist.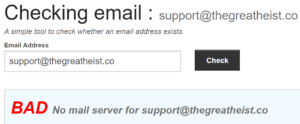 What does this mean? If you email them, they will not receive your message so you can't expect them to give you a response. They don't provide any real contact information to ask them for support.
This is a big red flag because it means they don't really care about their customers! They just care about the money they can make.
The good news is that The Great Heist is sold via ClickBank, which means that you can get a refund in case you have bought it. This is what doesn't make The Great Heist a total scam.
With that said, I will not be wasting my time on this product because it's not worth it to me.
What you decide to do is up to you, I hope you found this The Great Heist review helpful.
Final verdict: I do not recommend The Great Heist.
Are you committed to making an income online?
---
If you are tired of scams and looking for a real way to make an income online, keep reading what I have to tell you.
No matter the method you decide to use to earn money, you will have to put in the effort and time. Some years ago I thought there had to be a secret to make money easily or fast, but I was wrong.
When I realized that making money online is no different than making money offline (it always takes work), I stopped wasting my time on scams or systems that didn't work.
I'm grateful that I found a legitimate business model that has been working for decades and has given me a way to make passive income every day.
This business has nothing to do with recruiting, trading or MLM. This is about helping other people sell their products/services, and the good news is that you can choose what to promote!
I want to point out that this doesn't require you to be good at sales. I'm not good at it and I have managed to make over $200 some days, as you can observe here: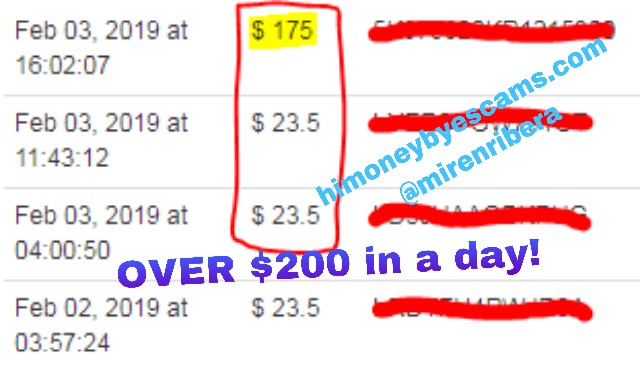 If someone like me can do this, I believe anyone can! I started out with no experience and English wasn't even my first language, so I believe anyone who's willing to learn and take action can achieve these results and more!
This business allows you to make money while researching, talking & writing about a topic you are passionate about. So this is about doing more of what you love =)
If you are interested in learning how this business works, I invite you to check out my FREE guide now: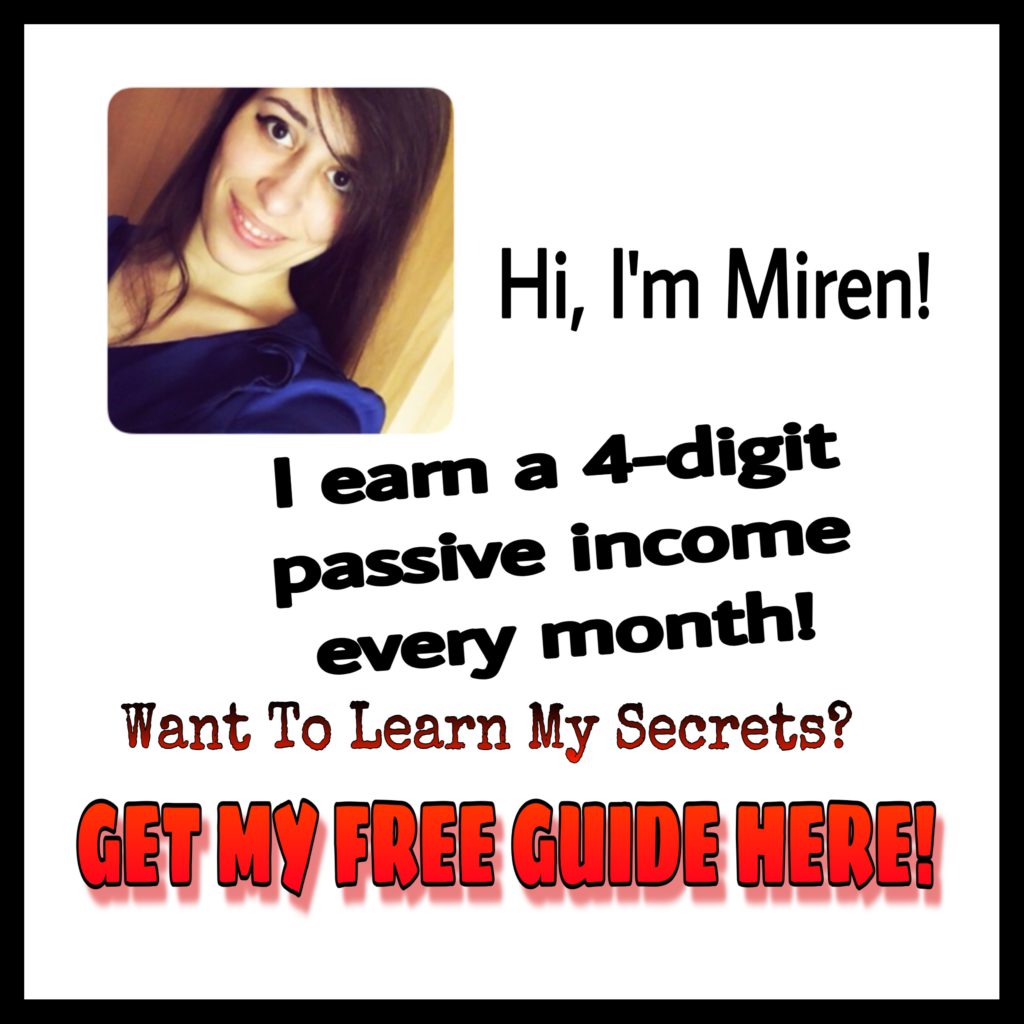 You see, my guide is FREE (just click here and start reading it), so you have nothing to lose and a lot to gain! 
You will learn what business model I use, the reason this business works, the income potential… You will also find inspiring success stories from people who started from scratch, the 4-step method I used…
And that's not all! In my guide I also reveal how you can start today for free! You will be able to check it all out without spending a dime, so you can ensure this is for you risk-free 🙂
Also, you probably have lots of questions, so let me tell you that you are not alone in this new venture because in my guide I show you how you can receive my personal guidance and how you can receive other like-minded people's support =)
Are you excited about leaving the ugly scams behind? Are you ready to get on the right way to start your online business today?
I'll leave this quote here:
If you want something you have never had, you must be willing to do something you have never done.
I hope this The Great Heist review has been useful to you and you will make the best possible decision.
Feel free share it with whoever you believe that will benefit from it!
If there's something else you want to know or you have any questions about thegreatheist.co or anything else, please share your thoughts below and I'll get back to you ASAP!
Whatever you do next, I wish you nothing but the best =)