Welcome to my MyWorkForLife.com review!
Are you wondering my myworkforlife.com is a scam that will not pay you? Or do you hope it's a legit money-making platform?
If that's what you've been wondering, I'm glad that you have found this post because here you will find everything you need to know about this opportunity.
When it comes to websites and money-making programs, it's great that you do your due diligence because that's the way to avoid scams and find the legit way to make passive income online!
To be straightforward with you, here you will not find my referral link because myworkforlife.com is not worth it! Want to know why? Keep reading!
MyWorkForLife.com review summary
---
Name: My Work For Life
Website URL: myworkforlife.com
Owner: Anonymous
Price: Free
Recommended? No
---
If you're sick of scams, check out my 1st resource to make a 4-digit monthly passive income HERE!
---
What is MyWorkForLife.com said to be?
---
MyWorkForLife.com is a website that claims to provide you with a way to make easy and fast money.
In fact, they claim to offer the fastest way to make money, which sounds great but not realistic.
I have reviewed hundreds of websites that claim you can earn money easily or quickly, and the problem is that this kind of websites end up being scams that only make the scammers richer.
In this case, myworkforlife.com promises that you can make money by completing simple tasks, but when you get inside you realize that all you have to do is to share your myworkforlife.com referral link.
You just have to copy your referral link and share it on social networks like Facebook, Twitter, Instagram… Or you can also share it on forums, blogs, chats, private messages…
I personally came across myworkforlife.com on Twitter because there are lots of people sharing their referral links with the hope that it will make them money.
I actually feel bad for those people because they're wasting their precious time and energy on something that doesn't work.
My Work For Life tries to lead you to believe that everyone can make money online without doing much work. Sharing a link is something that most people with a device & an Internet connection can do, so why not try it?
The fact that it's free to join also makes it seem like it cannot be a scam, so many people don't hesitate to sign up.
When you look at the big picture, you can see that it all sounds too good to be true and it doesn't even make sense because if it was possible to make money with myworkforlife.com, most people would have quitted jobs they dislike.
I mean, why have a normal job when you can just share a referral link to make money online & work from home or anywhere you want?
For some people, working from home or with their laptop would be a dream come true, but promoting myworkforlife.com is not the way to go to achieve that goal.
Sick of scams? Want to make passive income every day?
Check Out My FREE Earn Money Online Guide Here!
The ugly truth about the MyWorkForLife.com scam
---
MyWorkForLife.com is a website that only makes money to the people who created it. It wasn't designed for people like you to profit.
Like I said, it makes no sense that you can earn $10 when someone joins through your referral link because joining is free.
The owners of myworkforlife are not receiving any money when members join, so if they are not getting paid, why would they pay members?
Also, if they paid members, they wouldn't pay $10 per referral because it's too much. Legitimate GPT (Get Paid To) sites tend to pay cents per referral!
There are no free-to-join sites that will pay you $10 per referral, so don't be fooled by scammers who promise you lots of money for very little!
What do they want from you?
---
If MyWorkForLife.com is free to join, how do its owners make money? What do they want from you? Let me explain.
When someone like you joins for free, they receive your personal information like your email address, name and address.
Their goal is to get as many personal details as possible because the more information they have, the more they profit.
So they tell you to promote your myworkforlife.com referral link because they want to reach as many people as possible. Sharing the referral link they provide you with means doing these scammers' dirty work.
Once they have collected people's personal & financial information, they will do anything to profit from it.
For example, they will sell it to other con artists, who will do the same. So your information could fall into the wrong hands.
Apart from that, they will also use your information to send you spam emails that contain links to scam websites or files infected with viruses & malware.
What will it happen if you try to cash out?
---
I know it's easy to get excited when you see your account balance increase and increase. It's something that leads you to share your referral link more and more until you reach the minimum payout threshold of $300.
Once you have reached or surpassed $300, you claim your payment with the hope that you will soon receive your money.
However, when you ask to cash out, they tell you to complete a fake captcha test, which is a list of tasks that they want you to complete.
These tasks are about filling out forms, signing up for free trials, downloading apps/games… They are very time-consuming and never end. 
Some days ago I exposed a similar scam called payeachmonth.com, and this is what someone who has fallen for one of these scams commented:

But that's not the worst part about these tasks! The worst part is that these tasks are very dangerous because they require you to download files infected with malware and they also require you to visit fraudulent websites that ask for your personal information.
These are the consequences of doing what these scammers want:
Having your identity stolen

Getting your device infected with viruses & malware

Putting your friends & family in danger

Getting your personal accounts hacked
The only ones who benefit from this are these con artists who only care about themselves. The more people who are active promoting myworkforlife.com, the more money these scammers make.
MyWorkForLife.com scam signs exposed!
---
Still have doubts about MyWorkForLife.com being an ugly scam? Let me show you why it cannot be trusted!
Lack of important information
---
Something very common with these scam websites is that they don't reveal the name of the owners a.k.a. the unethical scammers.
Websites run by scam artists usually contain little to no information about the owners, not to mention that the information they contain is fake.
The creators of myworkforlife.com don't show up because they don't want to face the consequences of ripping people off! They don't want to get sued or persecuted.
Apart from that, they don't provide any legal information such as a privacy policy or terms & conditions page.
This is a big red flag because it indicates that they are not being transparent about the way they are going to use your personal information, which is very common in scam websites.
Whenever I see a website lacking this kind of information, I avoid getting involved with it. Before you give someone your personal & financial information, it's important to ensure they are transparent.
No support provided
---
Another big red flag is the fact that they don't provide any support or customer service.
Yes, they provide this email address support@myworkforlife.com, but the problem is that it's fake.
If you send them a message, they will not receive it which means you will get no response.
How do I know it? I used this email checker to see if their email address was real or not, and this is the result I got:

This means that their email address doesn't exist, so you will get the "mail delivery subsystem" message if you send them an email.
As you can see, they lie about their contact information, which is a big red flag because it means they don't want to hear from you.
This is something that legitimate companies don't do. When people care about you, they don't lie about how you can get in touch with them.
It's a copy of other websites
---
Want to know how I'm 100% sure that MyWorkForLife.com is a scam?
Like I told you before, I have exposed lots of scams so it's not the first time I encounter a fraudulent website like myworkforlife.com. 
There are lots of websites that are copies of My Work For Life and they all have been created by the same scammers. They all work the same way.
For example, payeachmonth.com and doweeklyjob.com are other scams like myworkforlife.com.
As you can see, they have the same structure, same fake claims and same layout as myworkforlife.com.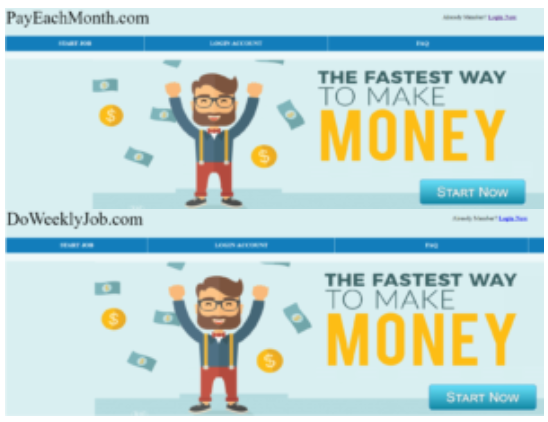 These other sites have never paid their members. It's all the same scam.
The unethical owners use multiple sites to promote this scam because the different names they use, the more misleading it is for potential victims.
You see, there are no positive reviews of these scams because no one has got paid. The only ones who are making money with these sites are the scam artists.
RECOMMENDED: Check Out How I Make A 4-Digit Monthly Income Here!
MyWorkForLife.com review – Final conclusion
---
My Work For Life (myworkforlife.com) is not a website that you can rely on to make money online.
As I have proved, it was created for the owners to profit at your expense, which is completely unacceptable and illegal.
It's not ok that these scammers are using unsuspecting people to make money themselves. Wasting other people's energy is so cruel.
If you have been sharing your myworkforlife.com referral link, I recommend that you stop doing it and tell other people not to waste their time on it.
There are people who only realize they have got scammed when it's too late, so the more people who can know what's really going on, the better.
What you decide to do is up to you, but my final conclusion is that I highly do not recommend MyWorkForLife.com.
If you're willing to take action, read this
---
This is only for those people who are committed to doing what it takes to earn passive income online.
If you are someone who's willing to learn and work, I invite you to keep reading what I have to say.
I know there are lots of scams out there, and some people are skeptical when it comes to this "make money online" thing.
The good news is that not everyone who makes an income online is a scammer. There are honest, hard-working people who make a full-time income online in an ethical way.
I'm grateful that I learned about a legitimate business model that has been working for decades because this business model has given me a way to make passive income every single day.
As you can see, there are days that I have earned over $200: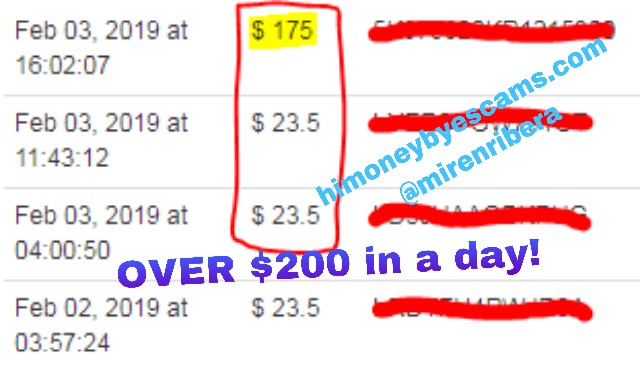 If someone like me has reached this point, I believe you can do it too. I started as a total beginner and English is not even my first language, so I think anyone can achieve this and more.
This business is not MLM, recruiting or trading, it's a business model that you can use to make money from other people's products or services.
You will be able to earn money while researching, talking & writing about a topic you are interested in. This topic can be anything you have a passion for, as you'll see.
If you are interested in learning how it all works, I encourage you to check out my FREE guide now: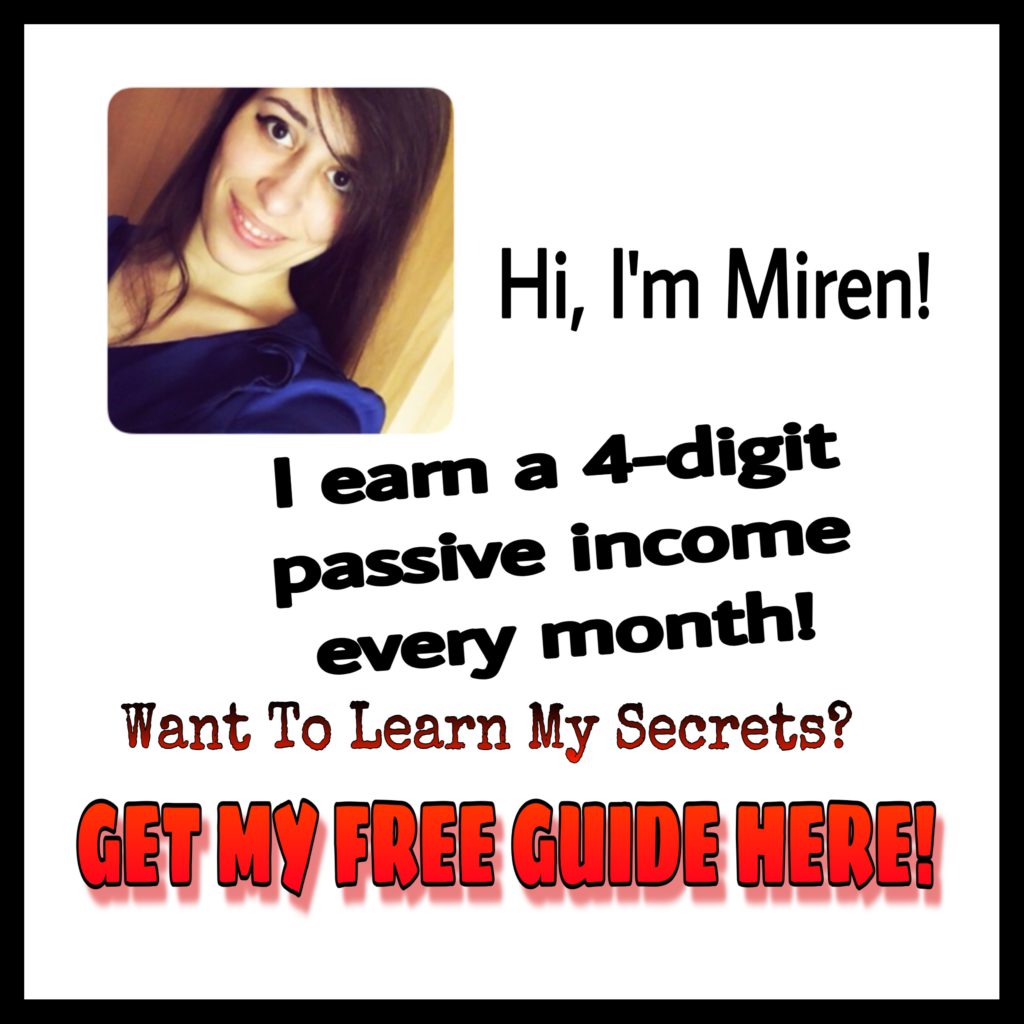 You see, my guide is FREE (just click here to start reading it), so you have nothing to lose and a lot to gain!
If you read it until the end, you will learn what method I used, how I got started and how you can get started too, why this business works, what you need to make it work…
In case you have any questions, you also get the chance to receive lots of help and support from me and other like-minded people. 
This is your time to get on the right way to make money online!
I'll leave this quote here:
If you want something you have never had, you must be willing to do something you have never done.
I hope this MyWorkForLife.com review has been useful to you and you will make the best possible decision.
Feel free share it with whoever you believe that will benefit from it!
If there's something else you want to know or you have any questions or want to share your experience, please leave your thoughts below and I'll get back to you ASAP!
Whatever you do next, I wish you nothing but the best =)