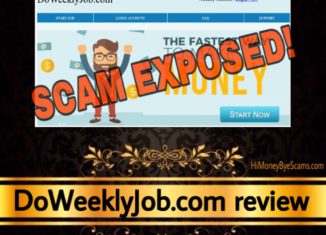 Will DoWeeklyJob.com scam you and waste your time? Or is Do Weekly Job a legit site that can help you work from home?
If you have this kind of questions, I'm glad that you have landed on this review because here I reveal the complete truth about this site.
As you can imagine, the Internet is full of scams that don't work, so I'm glad that you are doing your own research. 
That's the way to avoid frauds and find the legitimate way to generate passive income online!
When it comes to DoWeeklyJob.com, the truth is that it's not as amazing as they have told you. Want to know why? Make sure you read this honest Do Weekly Job review because here I will show you what they are hiding from you.
DoWeeklyJob.com review summary
---
Name: Do Weekly Job
Website URL: doweeklyjob.com
Owner: Hidden
Price: Free
Recommended? No
---
If you're sick of scams, check out my 1st resource to make a 4-digit monthly passive income HERE!
---
What is DoWeeklyJob.com about?
---
I came across the Do Weekly Job website after seeing lots of people promote it on Twitter and Facebook.
When I saw their homepage, I thought it was another ugly scam because it looked exactly like other websites I had reviewed in the past.
But without knowing what doweeklyjob.com was really about, I didn't want to come to a final conclusion. So I did my homework.
According to the information on their website, doweeklyjob.com provides you with the fastest way to make money.
All you have to do is sign up for free, copy your referral link and share it on social media or anywhere you want. 
When people click on your link and join doweeklyjob.com through it, you'll see your earnings balance increase and increase.
However, you can't claim your payment after reaching the minimum payout threshold of $300. 
In my opinion, the minimum payout threshold is very high. But the reason it's that high is that they want you to promote your referral link like crazy.
It all sounds so easy because sharing a link is something that anyone with basic computer skills can do. 
And the fact that it's free to join is something that makes it seem like it's not a scam. This is definitely something that's making a lot of unsuspecting people sign up.
Many people join without doing their research and only realize they have got ripped off when it's too late.
Sick of scams? Want to make passive income every day?
Check Out My FREE Earn Money Online Guide Here!
How does the DoWeeklyJob.com scam really work?
---
DoWeeklyJob.com only works for its unethical owners to profit at other people's expenses.
It does not work for people like you to make easy or fast money. People who are promoting doweeklyjob.com are wasting their precious energy because they will not get paid.
They are sharing their referral links like crazy and the scammers are the only ones who will get paid.
How do I know it's a scam? Well, it's the same as other scams that don't work…
As you can see, doweeklyjob.com is the same as payeachmonth.com and myworkforlife.com, which are two scam sites that I recently exposed.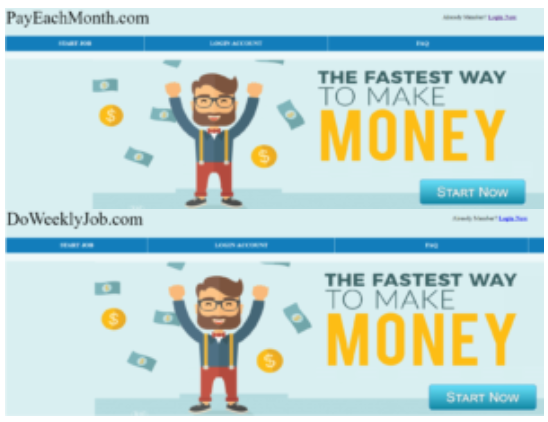 There are many scams like these and so many people fall for them because they don't look dangerous.
Just the fact that they promise easy money is a red flag because making money online doesn't work that way. No matter the method you choose, it takes time and effort to make money.
If making money online was easy, don't you think lots of people would have already quitted jobs they dislike? Many people would refuse to work for someone else if they could make money just by sharing a link.
When you realize what it takes to earn a substantial income online, you'll stop wasting your time on this kind of scams.
You see, what they say doesn't even make sense! If joining is free, then how can they afford to pay you $10 each time someone registers through your referral link?
Just put yourself in their shoes, you wouldn't pay people without you getting paid first, would you? 
Why is DoWeeklyJob.com free to join?
---
You might be wondering why doweeklyjob.com is a scam if it's free to join… Let me tell you.
When someone like you joins, the owners of this platform receive your personal info like your email address, your address and your name.
Their goal is to get as much information as possible because the more email addresses they collect, the more they can profit.
So they are letting people join for free because that's the way people will easily give away their personal info.
The reason they want people's email addresses is because they want to use them to make as much money as possible.
If you have given away your main email address, you can expect to receive lots of spam emails that contain links to scams or files infected with malware.
I personally don't recommend that you click on their links or download their files because it could harm your device!
Apart from that, they also want to collect email addresses because they can sell them to other unethical individuals, who will do the same.
If you have given them your main email address, I recommend that you add extra protection because they will do anything they can to hack your personal accounts.
For example, you can add the 2-step verification or change your email password if you are using gmail. I also recommend that you change your PayPal password if you have used the same password to join doweeklyjob.com. 
These scammers will try to steal as much money as possible and I know it because they have already done it to other people who have fallen for scams like this.
What will it happen if you ask them to get paid?
---
In case you are still promoting doweeklyjob.com and are wondering what it will happen if you claim your payment, I'll tell you.
When you reach the minimum payout threshold of $300 and ask them to send you the money, they will ask you to complete a fake captcha test, which is a list of tasks to complete.
These tasks consist in completing surveys, downloading files, signing up for free trials… They will require you to give away your personal & financial information to fraudulent websites, which can put you in danger.
Also, they will ask you to download files infected with viruses & malware, which can harm the device you are using.
These scammers want you to complete those tasks because they will get paid if you do. They only care about the money they can make at your expense.
In case you have already claimed your payment and are thinking of contacting them because you want to know when you will get paid, I'm sorry to tell you that they will not reply because the email address they provide is fake.
Just read this complaint from someone who fell for myworkforlife.com (the same scam as doweeklyjob.com):
As you can read, their email is not real and they don't provide any real contact information. This is definitely something that a legitimate wouldn't do!
People who want to help you and care about you wouldn't lie about their contact information, don't you think?
RECOMMENDED: Check Out How I Make A 4-Digit Monthly Income Here!
DoWeeklyJob.com scam review – Final verdict
---
After everything I have seen and explained, I can say that DoWeeklyJob.com is a scam that will not pay you.
The creators of this scam are taking advantage of newbies & people who are in need of money to make money themselves, which is illegal and unethical.
There's no need to make money by deceiving people because it's possible to make money by helping people.
I personally will not be sharing my referral link for several reasons:
I will not make money.

I don't want to help scam artists get richer.

I don't want to give other people false expectations.

It's a waste of time.
Sites like doweeklyjob.com are the ones that make many newbies lose hope when it comes to making money online. Many beginners lose hope when they see that there are lots of scams and that this "make money online" thing is not as easy as they have been told.
Because of this and everything I have mentioned, I have to conclude that I do not recommend DoWeeklyJob.com.
See how it's possible to make passive income online
---
Before you keep reading, I want you to know that this is only for people who are willing to put in the effort and time. If you need money fast or are not willing to work, this is not for you.
If you are one of those people who are committed to learning and taking action, I have something special to share with you.
Not everyone makes money by scamming other people, there are people who are doing it in an ethical and honest way.
I personally started out as a beginner and English wasn't even my native language, so if someone like me can earn passive income online, I believe anyone can do it.
Thanks to a legitimate business model, there are days that I have earned over $200: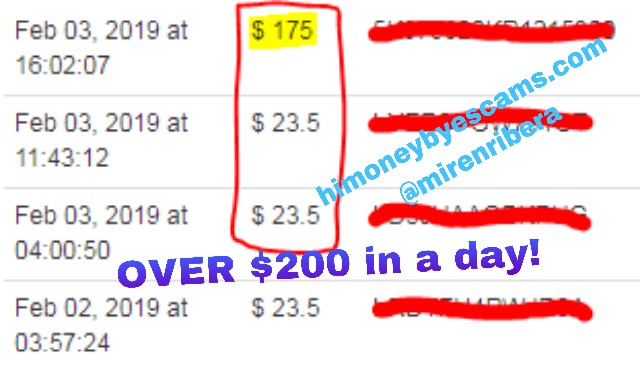 To be honest, I wouldn't have earned this money if I hadn't made efforts. Any ethical marketer who's generating a full-time income online will tell you that there's work involved.
This business model I and many people use will be fun for you because it will allow you to make money while writing & talking about a topic you have a passion for. You will definitely not get bored!
If you are interested in learning more details about this business, I invite you to check out my FREE guide here: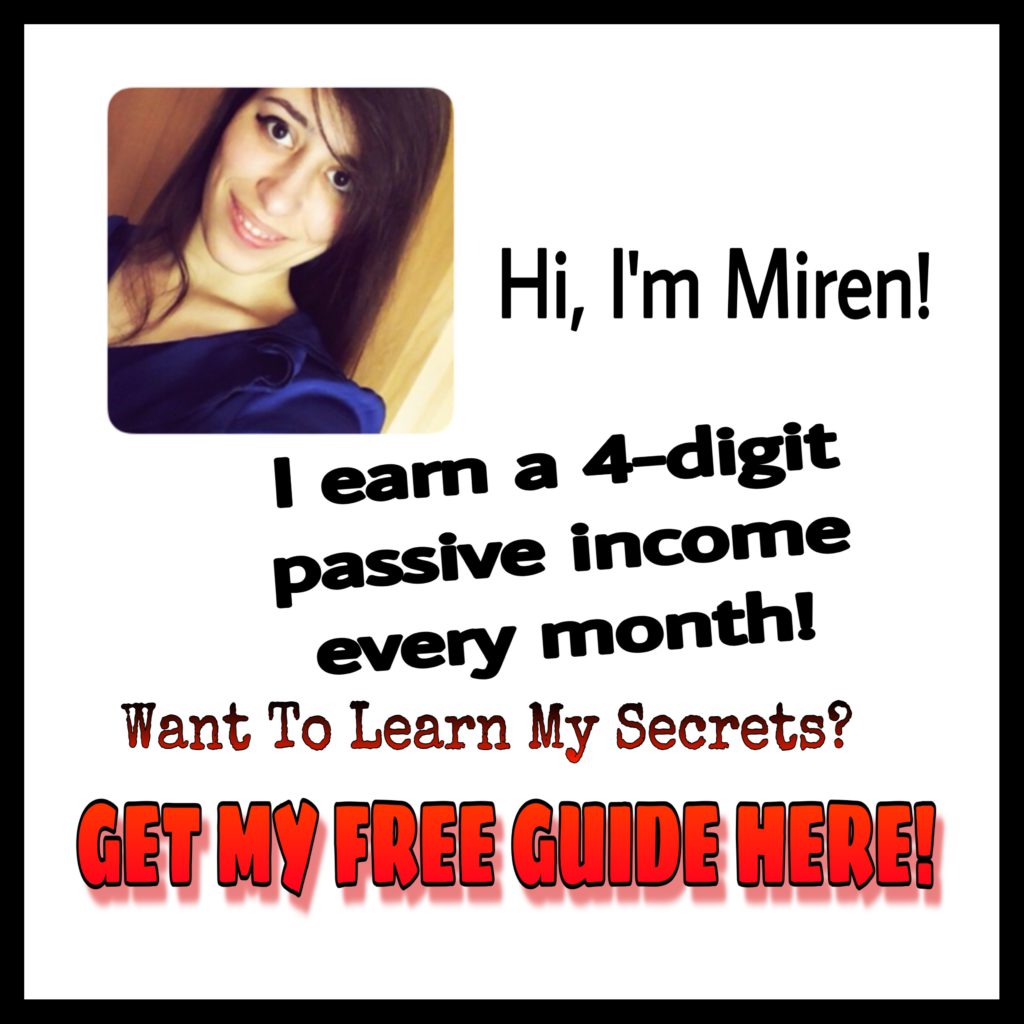 You see, my guide is FREE (just click here to start reading it), so you have nothing to lose and a lot to gain!
If you read it until the end, you will learn how I got started, the reason the business model I use works, the 4-step formula I used, inspiring success stories from people who started from scratch…
If you ever feel lost or stuck during the process, you'll be able to receive support and help from me and other like-minded people. 
This is your time to get on the right way to earn passive income online!
I'll leave this quote here:
If you want something you have never had, you must be willing to do something you have never done.
I hope this DoWeeklyJob.com review has been useful to you and you will make the best possible decision.
Feel free share it with whoever you believe that will benefit from it!
If there's something else you want to know or you have any questions or would like to share your experience, please leave a comment below and I'll get back to you ASAP!
Whatever you do next, I wish you nothing but the best =)