Hi there!
I've just found out about another trading software that was recently released.
This software is called QProfit System and the first time I came across their sales page the word "scam" came to my mind. 
However, I wanted to check it out and investigate it to make sure what it really was.
If you've heard of it and are thinking whether to give QProfit System a try or not, read this review because I'm going to explain what it's really about and whether it can make you money or not.
.
QProfit System review
---
Name: QProfit System
Websites: 
qprofitsystem.com

qprofit-system.com

q-profitsystem.com
Owner: "Jerry Douglas"
Created in: 2017
Price: "Free"
Overall Rating: 0/10
.
---
If you're sick of scams, check out my 1st resource to make money online here!
---
.
What is QProfit System about?
---
Jerry Douglas, the alleged creator of QProfit System, says that he wants you to be his next success story and that he asks nothing in return.
So this man claims to help people in making lots of money for free. Doesn't it sound amazing? Especially if we consider that nobody does something 100% free, this isn't how things work in the real world.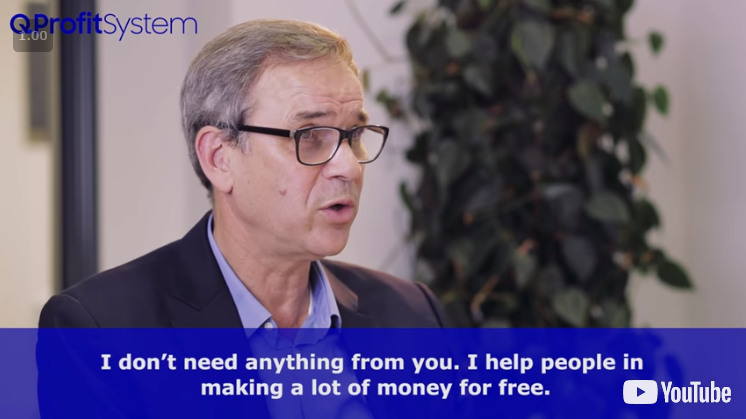 What is he offering? A software called QProfit System that is supposed to make you at least $2,500 per day.
These are some of the features presented in this magical software:
It's 100% risk free.

It works on auto-pilot.

It has a 95% accuracy.

You don't need any experience, skills or knowledge in trading because this software does all the hard work for you.

You can use it from anywhere in the world.
Mr Douglas claims to have worked at a Goldman & Sachs. He wanted to find a way to automate his financial work so he thought that his friend Sasha Petroshenko, a software developer, could help him.
He combined his financial knowledge with his friend's technological expertise. They created the QProfit System thanks to Jerry's experience in big data and its importance for investments, and Sasha's expertise in quantum speed and its importance in predicting trajectories of cosmic bodies that get close to Earth.
They've been constantly updating the software's capabilities so it can reach a 95% accuracy. He claims their software to work and to be able to generate incredible profits on complete autopilot.
He defines QProfit System as a complex combination of big data analysis and a quantum speed technology which is able to predict future market movements with an astonishing accuracy and is fully capable of generating unmatched results.
Now they're giving 50 people the opportunity to get this software for free. They're also planning to release this software to the public at a very high price point next year.
Some of the claims he makes I've heard them in other scam videos. If the software is completely free and can make you lots of money, then he's going to make you rich for free? I personally don't know anyone who'll give you everything for free, do you?
After watching the sales video, taking a look at the sales page and doing some research, I came to the conclusion that QProfits System should not be trusted. I will explain the reasons in the next section.
.
Is QProfit System a scam?
---
QProfit System is a devious scam that you need to avoid at all costs. Their site looks kind of legit but it presents some scam signs you need to be aware of when you come across any online money-making product or system.
Let's see some of the red flags that expose QProfit System as the fraudulent software it is.
.
What private invitation?
---
The moment you stumble upon the QProfit System website, you can read this:

What do they mean with "private invitation"? Unless they're referring to Google as the one that has invited me to access the QProfit System page… That site isn't in any way private because anyone with an electronic device and an Internet connection can check it out. 
I guess they want you to believe that you're invited so you think that it's something exclusive that not everyone will get to see. I've read the same in other scams like 1K Daily Profit and CFD Society.
.
Who is Jerry Douglas?
---
So that man who introduces himself as Jerry Douglas claims to be one of the creators of QProfit System, but this is completely false.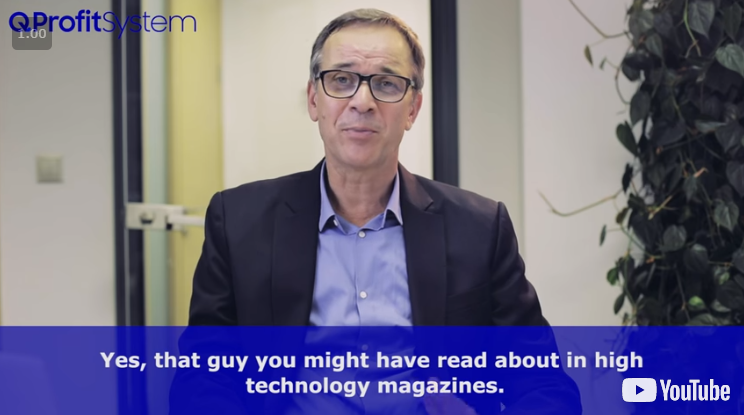 He has not appeared in any kind of magazine. There's no information about him outside the QProfit System site. If you search for information about him you'll only find reviews of QProfit System, some of them fake by the way.
He's nothing more than a hired actors that has been paid to recite the script the con artists have invented. Remember the shady creators of these scam softwares never show their faces.
.
There are no real members of this system
---
In the second page of QProfit System (after entering your name and email address), you can read some comments that are supposed to be written by people who have tried this software.
Let's take a look at one of them below:
Ashley Donovan is supposed to be financially independent thanks to QProfit System, but after doing an image search I could conclude that it's all fabricated.
The person who appears in the picture has anything to do with QProfit System and the name, profits and comment are made up.
Below you can see that picture has been purchased in a stock photography site named iStock: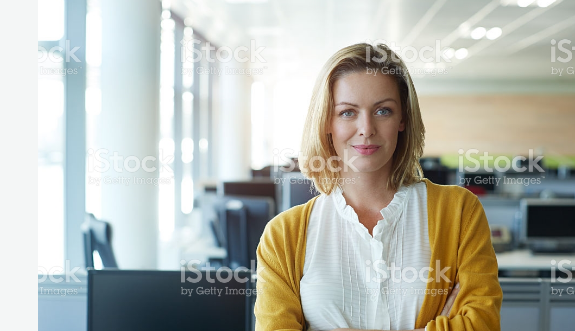 None of the comments and testimonials are authentic. If they were real, we would be able to find them on social networks like Twitter or Facebook, but it's all invented and designed to make you believe that this software has worked for other people and give you hope that it will work for you.
.
This software is not free
---
Another lie told by most scammers is that they're giving you something valuable for free. However, we realize this is not true when it comes to using what they're offering for free.
In the second sales video, this man says that you'll have to make an initial deposit of $250. This is not free because you'll need money to start trading with that software. 
Note that funding your account with $250 means that you'll need to give them your credit card information, so you can't try that software for free.
They first claim it to be free so you give them some of your personal information like your name and email address, and when they have your information then they reveal the real price.
.
They pressure you to join
---
They claim that there are only giving the chance to get that software to 50 people, but that's just to make you join as fast as possible.
They want you to believe it's "now or never" so you don't think twice about joining. Truth be told, spots are unlimited and you can check out the sales video in some days and will see that nothing has changed.
This is an ancient tactic that scam artists have always used to force you to do what they want.
.
Will QProfit System benefit you?
---
Unfortunately, QProfit System will not benefit you in any way. It will only give you a negative experience.
If you're wondering how they're going to steal your money, let me explain:
They'll first ask you to enter your personal information like your name, email address, phone number and password to sign up and get your trading account.

Once inside, you'll need to fund your trading account with $250 to turn the auto-trader on.

Then you'll start seeing how the software loses the trades instead of winning them.
The moment you make the $250 investment is when the scam comes into play. These crooks work with unlicensed brokers that steal trader's money. The broker will pay big commissions to the people behind QProfit System and will leave you with nothing.
Another thing you need to know is that they'll call you (they ask for your number before joining) and try to convince you to invest everything you can. These fraudsters have no limits when it comes to the amount of money and important information they can steal.
They'll also send you spam emails related to other scam offers. They always do their best to steal everything they can.
I've noticed that they have a disclaimer in the second page, and the fact that you need to give them your name and email address before being able to get access to it, it's a red flag. We should be able to find out the true nature of this software without giving our information.
Here's the disclaimer:

As you can read, the QProfit System sales video is fictional, success and profits are not guaranteed and people behind it are not responsible for your losses. 
Therefore, you're the one who's assuming the rish of losing the money you invest. 
.
The bottom line
---
I believe I've provided enough proofs and information that show that QProfit System shouldn't be trusted.
This software is a scam that will waste your time and money and leave you frustrated and in a worse situation than you were before.
Most of these softwares only serve to make money to their inventors, investing in it will only make those fraudulent people richer.
I've read some fake reviews about QProfit System. They claim it to be legitimate, but the truth is that they're lying because they're affiliated with it and just want to earn a quick buck. All those people who own fake review sites don't really care about your success and well being.
QProfit System works the same way as these scam softwares:
I highly suggest that you stay away from all products and systems or anyone that promises you easy riches. Getting rich fast and without effort is something that plainly does not exist, we would all be wealthy otherwise.
If you're really committed to generating an online income, know that you'll need to work really hard, have patience and be persistent.
If you're willing to do what it takes, there's a digital marketing platform that I know you'll love.
This platform (free to join, no credit card necessary) provides the proper training and step-by-step courses to help you create and grow an online business. 
You'll be taught to build a business based on your interests or hobbies, so apart from working hard you'll also enjoy the process because you'll be doing something you're passionate about.
That's not the only thing I like about this platform, I also love how supportive and helpful the community members and owners are.
There has always been someone who has helped me out with any questions and issues I've had, so you can rest assured knowing that there will always be someone willing to give you a hand.
If you would like to learn more about my favorite platform, click now the button below to read the detailed review I wrote about it:
.
I hope this review has been useful and has answered the question "is QProfits System a scam?". Now you have enough information to make the decision that best suits your needs. Feel free to share it with whoever you believe that will benefit from it.
If you have any questions or opinions regarding QProfit System or other online products or systems, leave a comment below and I'll be very glad to reply. I always love hearing from you all! 🙂 
All the best 🙂