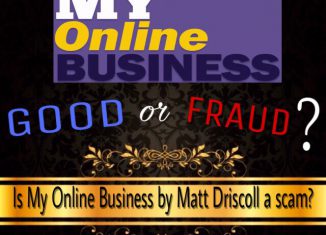 Hey people!
I'm always coming across new online products and programs that I want to review to let you all know which ones can make you money online and which ones are not worth your time.
The latest I've found out is called My Online Business. To be honest, it looked like a scam the moment I saw their sales page, but I wanted to look deeper into it to find out the truth about it.
I'm going to explain what My Online Business is really about, how it works and whether can benefit you or not.
.
My Online Business review
---
Name: My Online Business
Website: my-online.biz
Owner: "Matt Driscoll"
Created in: 2014
Price:  $97 + upsells
Overall Ranking: 20/100
.
---
If you're sick of scams, check out my 1st resource to make money online here!
---
.
What is My Online Business about?
---
The moment you come across the My Online Business site, a video starts playing.
The narrator congratulates you for having come across a secret money-making system that generates over $10,000 per day. Doesn't it sound amazing?
Then some people who appear in the video talk positive about this system by saying things like they've made like $9,589 in a single day.
This man who's narrating the video says that you can forget about your normal job because you've won the lottery and you don't even know. Oh, and you're guaranteed to get $500 for free at the end of the video.
So what is this fantastic system about?
The narrator says that you can make $10,000 in commissions every day by mastering 6 easy steps.
He claims that there's a "secret online society" where members learn to make $10,000 by selling specific products, and nobody outside that club has access to the 6 steps that have made him a millionaire.
This system is supposed to be completely safe, legal, moral, ethical and 100% risk free, there's no way you can lose money.
You'll be working closely with a publically funded company that pays between $1000 and $10,000 in commissions just for sending them amounts of traffic that convert into sales.
Matt Driscoll, the alleged creator of this system, claims to have not had an easy past. He was in debt and his identity was stolen. Eventually it all changed for him when he got in the right place at the right time. 
He claims to have made over $6.5 million dollars and has the goal of making $50 million dollars this year. He found out he can accomplish it by partnering with 70 people because he'll earn a 5% off the profits the other people generate.
So he says that you'll get access to a company that sells extremely expensive products and you'll be assigned a mentor that has made millions with that system to educate you, keep you on track and motivate you to go beyond what you thought is possible.
You'll also get a personal sales team that will make phone calls for you to sell very expensive products.
Here's what you're supposed to get with this program:
The simple 6 step training

Your millionaire mentor

The "done-for-you" sales team

A new Mercedes Benz
He even says that he's paid for your entrance fee to the company, so you're getting free access. How generous of him, don't you agree?
However, then he claims that he can't do it completely free because he needs to make sure you're serious about it so it's finally going to cost $49. 
To be honest, I've heard something similar in other scam videos, they first tell you that their product or system is absolutely free and then they make you pay before getting access to it. They first lie about their price, which is a red flag.
At the end of the video he tells you to complete the form below to see what that system is like.
.
How does My Online Business work?
---
After entering your email below the My Online Business sales video, you'll get access to a checkout page. And here's the surprise:
What about the My Online Business training we've been introduced to?
You'll get led to purchase Auto Home Profits, another bogus product. It doesn't say what you'll get with it and not to mention that there's nothing about My Online Business in the checkout page like it makes no sense.
As you can observe above, it will cost you $97 instead of $49. It's all very misleading because you expect to purchase a product and then you're redirected to another one you know nothing about. 
For example, let's say that you're looking to buy a formal dress and then when you click the link to purchase it, it appears a swimsuit instead. Would you like it? I surely would not like it, I would be like "what a waste of time!".
Another thing is, would you pay $97 for something you don't know anything about? Auto Home Profits may contain some training, but it doesn't say exactly what you're getting or what you will be doing to make money. Knowing what you're paying for is essential not to get scammed.
.
Is My Online Business a scam?
---
My Online Business is a scam, in my opinion. Their sales video and page present some scam signs that make you distrust this system. 
It's important that you're aware of these scam factors because some of them are used in most online money-making scams.
Let's see some of these infamous red flags.
.
The owner is unknown
---
Matt Driscoll is supposed to be the owner of My Online Business, but there's no way to verify this.
We're only shown a picture of him but we don't get to see the face of the person who is narrating the sales video.
He doesn't even tell us how we can get in touch with him or know more about him. I've searched for information about him but there's no one that coincides with that name and that picture.
There are other men named Matt Driscoll but they look different than the one from My Online Business site.
Therefore, it could be possible that Matt Driscoll from My Online Business was an invented character and the real creators of that system remain hidden.
Would you trust a site whose owner you don't know? I obviously would not.
.
The video testimonials are fake
---
Some of those people who claim to have made at least $9,000 in a single day thanks to My Online Business are nothing more than paid actors.
I've already seen one of them in other scam products. This is who I mean:
This man above has appeared in other sales videos of scams like 1K Daily Profit and Retired Millionaire.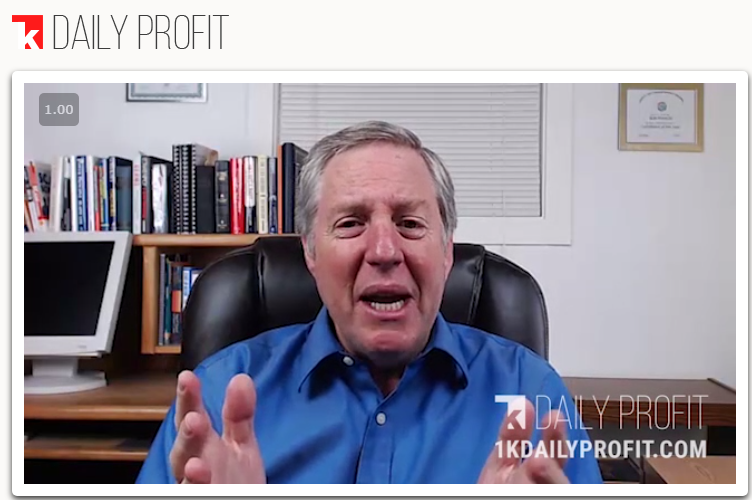 I guess he earns a living by taking part of scam videos. He promotes himself in Fiverr and charges like $5 for each video testimonial, so that's not a big deal for the scam artists. They always do the most to try to convince you that their product works.
This old man might not even care about getting involved with scammers and the consequences of it, how sad.
.
What about the $500 at the end of the video?
---
If you've watched the My Online Business sales video, you may still be waiting for the $500 they promise you'll receive at the end of the video.

I actually wasn't expecting to get paid $500 after the video because nobody will pay you for nothing. Free money doesn't exist. Making money requires you to invest a certain amount of time into something that provides value. 
People who're behind the My Online Business would already be broke if they had paid $500 to everybody who's watched the video.
Another thing is, they don't even say how they're going to pay it so it's completely a fake claim and a red flag. I guess they make these kind of empty promises to get you to watch the video until the end and then get you to fall for their crap.
.
More fake claims
---
So one of the numerous lies they tell is that you have been selected out of hundreds of thousands of people.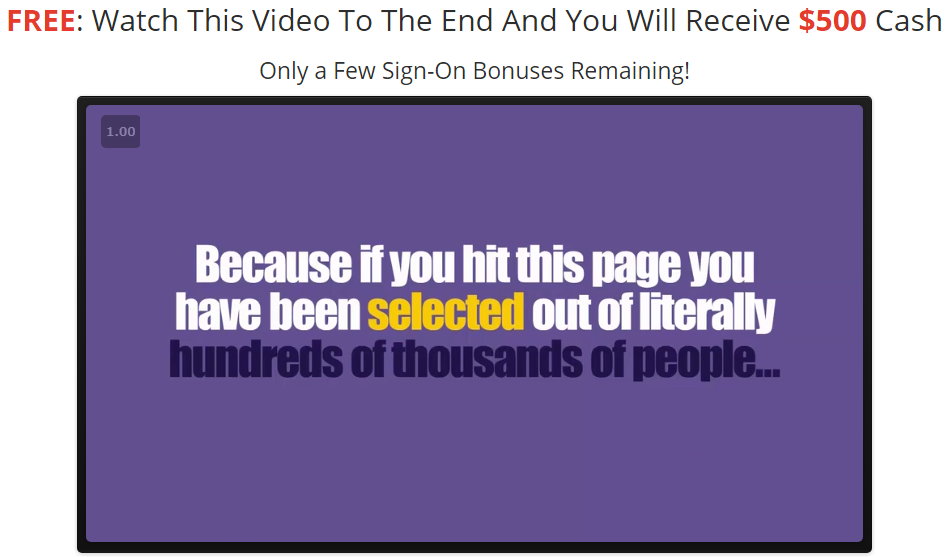 This claim is similar to the "private invitation" thing. They want you to feel important and lucky to get you excited and interested about what they have to tell you. It's a simple trick to hook you up.
.
My final conclusion
---
My Online Business is nothing more than a sales page to get you to purchase Auto Home Profits, which is another waste of time and money. 
There are lots of sales pages out there that are created with the purpose of getting you to purchase another product or get you inside another company.
Some of these pages I've reviewed before are the following:
Auto Home Profits may offer some training but the fact that they don't explain what you're getting with it and the lies they tell you on My Online Business sales video are some of the reasons why I don't recommend this product to you.
It's not what they're offering, it's the way they're promoting it. What can you expect from people who lie to you? What can you expect to learn from them? Nothing ethical or moral.
I guess that people who've created the My Online Business sales page are affiliated with people behind Auto Home Profits, so they'll earn a commission for every person that buys the second one.
Apart from that, they'll send you emails related other scam offers or products and will try to get the most the can from you.
With that being said, I advise you to avoid all systems and products that promise to make you a lot of money for nothing because anybody who claims that is clearly trying to rob you blind.
If you want to earn a living online or more, I highly suggest that you start thinking in terms of building your own digital business. 
If you're willing to do what it takes, let me introduce you to an online business platform that you'll love.
This platform includes the proper lessons, training and courses that will teach you to start an online business from scratch and take it to the next level. 
I also love this platform because it was created by people who genuinely care about their members success. It's already been in business for 12 years, and they're always improving and updating the platform to make its members lives better.
Moreover, the community members are very supportive and there's always someone there who will help you out with any questions or issues you may have. You don't have to do this alone! You'll also have my full support and help. 🙂 
This platform is free to try and they don't even ask you for your credit card, which I believe it's great because this way you can join and see if you like it without worrying about revealing your financial information.
If you would like to know more about my top recommended platform, you can now click the button below to read my full review about it:
.
I hope this review has resulted helpful to you and you now know what's the right decision for you to make.
If you know someone who may benefit from this review, feel free to share it with them.
In case you have any questions, would like to share your opinion or want to request a review, don't hesitate to leave a comment below. I'd love to hear your thoughts and connect with you! 🙂 
Cheers =)