Hey there!
Today I'm going to review another product I've recently come across called My Mobile Money Pages.
In fact, this product is not new, it's already been 7 years since it came out.
If you've been wondering whether My Mobile Money Pages is worth your time or not, take time to read this review because I'm going to explain everything you need to know before purchasing this product.
.
My Mobile Money Pages review
---
Name: My Mobile Money Pages
Website: mymobilemoneypages.com
Creator: "Andrew Davidson"
Created in: 2010
Price: $39.95 + upsells
Overall Ranking: 11/100
.
---
If you're sick of scams, check out my 1st resource to make money online here!
---
.
What is My Mobile Money Pages about?
---
My Mobile Money Pages is a ClickBank product that was released back in 2010.
The alleged creator of this product, Andrew Davidson, says that you only need a computer or a mobile phone to get started.
He claims to have earned $547.43 per day thanks to a mobile money page, but he doesn't show any real proof to verify this.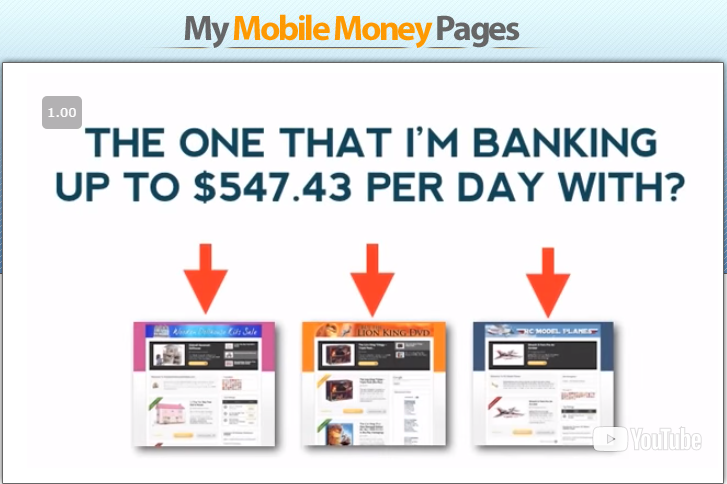 My Mobile Money Pages offers a software that is supposed to build niche mobile friendly websites, get high rankings in search engines like Google to get lots of visitors and then make you money from advertising and other people's products.
This is an amazing opportunity because the amount of people who are making purchases through their mobile phone has been increasing.
According to Mr Davidson, this software does it all for you so you'll only need to spend some minutes to make it work. He makes the following claims:
You don't need any technical experience.

You are not required any programming or web design skills.

You don't even need your own website.
Doesn't it sound too good to be true? I mean, everybody would be using this software if it were that quickly and simple.
Well, let's see how this product really works in the next section.
.
How does My Mobile Money Pages work?
---
In order to get access to this product, you'll have to pay $39.95.
Then you'll create a website with My Mobile Money Pages software.
Note that this software has its own site builder. You'll only have to enter a subdomain, a title for your site, an email address and a password. 
It's supposed to take 2 minutes to build that site. To be honest, you don't need to spend a penny to build a site that has a subdomain, you can build one for free with SiteRubix.
Well, once the site is built, you'll need to choose a keyword related to your niche and type it in the "MMMP Keyword Interceptor" tool.
After that, this tool will generate from 40 to 50 "actual buyer keywords" related to the main keyword. Then you'll export and copy them.
The 3rd step consists in pasting the keywords to put them into the box and that's it.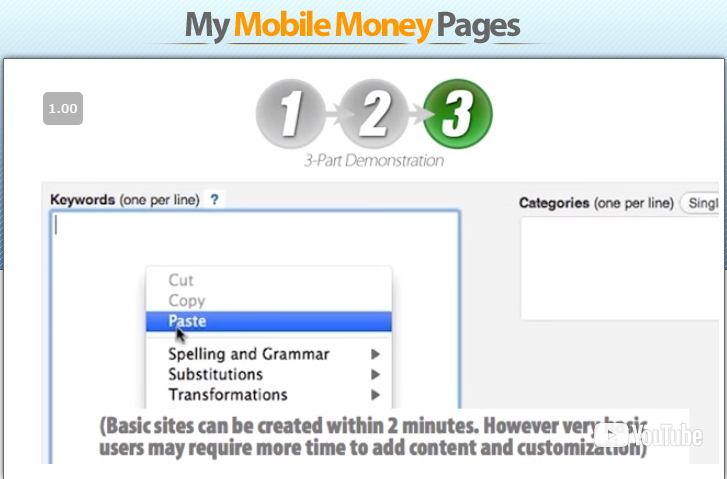 The software adds content to your site and your mobile money page is supposed to be ready to start making affiliate commissions, but he doesn't show any proof that this is actually possible.
Your site is presumed to look like this:
According to Andrew, you'll make money when someone clicks a Google Adsense ad and when someone clicks on one of the products advertised and purchases it through your affiliate link.
So doesn't it sound so easy to make this software work? He even claims that you could create hundreds of mobile money pages to increase your profits, but does it really work this way?
After watching the My Mobile Money Pages sales video, I could reach a conclusion that I'm going to explain next.
.
Is My Mobile Money Pages a scam?
---
My Mobile Money Pages is a scam, in my opinion. It doesn't work how it's explained in the video so it doesn't deliver what they promise.
Let's see the reasons why My Mobile Money Pages doesn't work and the problems it presents:
You don't own the site. Your site is actually owned by the people behind My Mobile Money Pages because you don't have to buy your domain or worry about the hosting. The problem is that sites with subdomains are harder to get ranked and you'll lose everything if they delete your site.
Your site won't get ranked. Content is king when it comes to getting ranked. This software will add content to your site by grabbing it from other sites, so the content will be duplicated which is a big problem because your site can get banned and penalized by the search engines.
It's not really automated. Search engines take into account unique and valuable content when it comes to ranking your site, so you'll have to spend time updating and improving the content so it makes sense and it's helpful.
The site is full of ads. Apart from your content being copied from other websites, the site will be full of ads, which is useless because you won't be getting any visitors. Also, would you like a site that's full of ads and has no quality content? I obviously would not.
Backlinks are not that important. "Andrew" mentions that it's very important that your site has backlinks so it gets high rankings, but they won't be useful because of the low quality content your site has.
Your site won't get any traffic so it won't earn you any money. Your site will get banned and penalized as I explained before, so it will have no visitors. Without visitors coming to your site, no one will click on the ads or purchase the products, so you won't make a penny.
Poor website design. The sites are based on a default template that doesn't look decent. 
It's outdated. This software was created back in 2010 and has not been updated in at least 5 years. This is a problem because strategies and tactics like spinning content that worked 5 years ago may not work anymore. 
The real creator of My Mobile Money Pages is unknown. "Andrew Davidson" doesn't show his face and provides any way to get to know more about him or contact him, what makes me think that he's an invented character. I don't know about you, but I wouldn't purchase a product whose creator I don't know. 
The sales video has been narrated by voice actors. This is a red flag because it shows that the real owner of My Mobile Money Pages is hidding his identity, something that scam artists do.

They sell you a dream. They want you to start daydreaming so you don't question what they say, that's why they talk about everything you could do (not having to worry about money, going on vacation, buying what you want) if you purchased the software.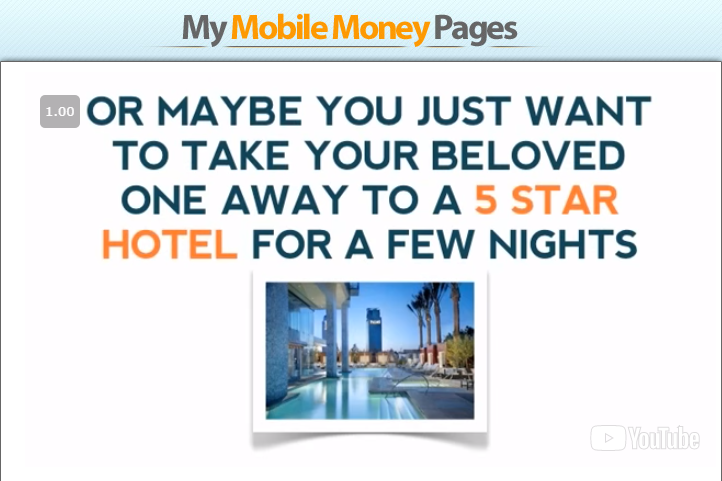 Exaggerated claims. The narrator makes claims that I've heard in other crappy products or scams like "make $547.43 per day", "only some minutes to make it work", "no experience required". We all know that anything worth having requires real work, training, patience and doesn't happen overnight.
The fake scarcity. If they're offering unlimited hosting, how come the amount of spots are limited? They claim to take a limited number of customers to pressure you to buy the product. This product has existed since 2010 so all the spots should already be filled by now lol.
.
My closing thoughts on My Mobile Money Pages
---
I remember My Mobile Money Pages has been advertised in other scam products like EZ Money Team. 
Another thing you can expect if you purchase My Mobile Money Pages, is to receive emails about other scam offers, or even expect them to offer you some upsells. 
I'm sure the creators of that product are not even making money with My Mobile Money Pages method, they're making money by selling it.
The last thing you should expect is to make money with this, since the methods they teach don't work anymore. Apart from that, the sales page and video present some scam signs, what tells me that this product shouldn't be trusted.
They don't even say that making money online doesn't happen quickly and without effort. It requires real hard work, patience and persistence, among other factors. 
My advice for you is to avoid these scams and crappy products that promise you easy or fast money.
If you're committed to earning a living online or more, there's a digital marketing platform that I know you'll love.
This platform (free to join by the way) offers courses, step-by-step training and video trainings that will help you build a long-term online business from scratch, the proper way, the way that works.
This business you'll learn to build will be a business based on your passions/interests, what will make the process more enjoyable because you'll be doing something that sets your soul on fire! 🙂 
Not only that, I also love how supportive and helpful the community members and owners are. You can ask any questions you may have and there's always someone who will help you out. You don't have to do this alone! I've been a member for more than a year and my questions have always got a reply.
If you're interested in learning more about my top recommendation, you can now click the button below to read the detailed review I wrote about this platform.
.
That's it for today, guys! I hope this review has been of help to you and you have enough information to make the choice that best meets your needs. Don't hesitate to share this review with whoever you believe that might benefit from it.
Have you ever purchased My Mobile Money Pages? If you have any questions, opinions or experiences regarding My Mobile Money Pages or would like to request a review, feel free to leave a comment below and I'll be more than happy to help you out. 
Best wishes! 🙂